In this post, I'll talk about how to make money online.
I've tried several money-making methods that work. While some earning methods make you just extra money on the side. This post, however, is dedicated only to ways to make a considerable income, like $1000+ a month.
I'll show proof of payment to answer the question: "is earning money online legit?".
How to Make Money Online In 2023?
I'll list 15+ ways to make money online while working from home. You can make extra money in your spare time and/or build a long-term passive income.
Let's start with my favorite online earnings opportunity:
Ready to start and grow your business?
Start a website, run email marketing, sell online courses, all in one place.
For a limited time, get 15% off 12 months of paid plans
1.- Start Affiliate Marketing and Sell Affiliate Products
For me, the best way to make passive income online is to sell affiliate products.
You don't have to create any product, nor do business tasks such as customer support, hiring and managing employees, etc… You get paid commissions per sale for recommending products.
You can make money with referral programs. They usually give you cash rewards for referring friends. You can make more cash with Pay per sale affiliate programs.
You promote people's products, and because they're digital, you get paid up to 300% per sale.
If you're new to affiliate marketing, I've written detailed guides to learn the affiliate marketing best strategies and find the best affiliate marketing products to promote.
You can start affiliate marketing without a blog. That's why I list them separately.
Recommended reading:
I highly recommend you build highly converting sites that make a sustainable income for you. You don't fight for attention once they reach your site. You have full control over the content and have full power to optimize for conversion.
This brings us to the 2nd of the best ways to make money online.
2.- Start A Money Making Blog
You can make huge money online with a blog. In fact, this is the main way online entrepreneurs are using to bring in recurring income.
You can make money blogging directly with display ads and affiliate marketing. You can use it to get people to buy your online courses or services.
If you don't have a blog yet, read the tutorial to learn how to start a blog that earns you money.
I recommend Siteground Hosting to start a blog. You can start a blog for $3.95/month and get your site hosted on fast and secured servers. AskEustache is hosted on Siteground.
The easiest way to make money with a blog is to display ads. In a post, I listed the highest-paying ad networks you can use to earn cash with your blog traffic. Learn how I earned $15 for every thousand visitors to my blog.
I started with Google Adsense + Media.net.
Then, I moved to Ezoic which is a premium ad partner. I wrote an honest review of Ezoic earlier you can check it out.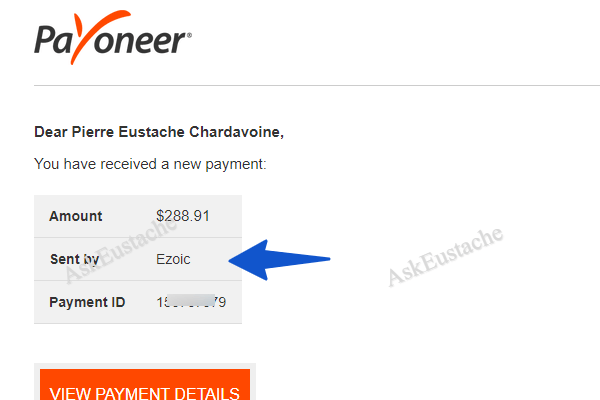 With $15 per mille visitors (RPM), you'd need 66,667 visitors to make $1000 each month with blog ads. However, this is not the method I recommend to make money blogging.
The most profitable way to make money blogging is to sell your products or affiliate products. This is mainly what I teach on AskEustache.
Like we saw earlier, you can make up to $7500 per affiliate sale. With recurring programs paying around $50 each month per customer, you need less traffic to earn money online.
In my early days, I worked hard to get traffic and then sent those visitors to advertisers for $1 or less with ads. I don't recommend that to anyone in a high-demand blog niche where you can sell products.
Now I build an audience of people I can help and make repeated commissions recommending affiliate products. I write blog posts optimized to get organic traffic and affiliate sales.
3.- Grow a YouTube Channel to Make Money
YouTube is the 2nd most popular search engine. You can make money on YouTube by creating a channel and uploading videos.
The most common way people are making money with YouTube is by using display ads. However, the best way to make $1000+ a month with YouTube is to sell something to your audience.
You're not limited by the number of video views and an average of $2 per 1000 views. You get paid when your video viewers take action and buy something.
Tip: Take your readers out of YouTube and add them to your sales sequences. Add a freebie as an incentive in your videos so they join your email list.
4.- Sell Printed Designs on T-shirts, mugs, etc…
Can you create a design that fits on a t-shirt, mug, or pants? You can make money selling printed designs online. To be frank, you can just type text if it resonates with a specific audience willing to wear it.
All the hard work is done for you. You don't have to manage inventory, print t-shirts or ship them to buyers. The Print-On-Demand company takes care of that.
You just have to upload designs, do keyword research to optimize for organic traffic or promote through social media, and cash out earnings when you make a sale.
The best sites I know where you can make money selling t-shirts are TeeSpring and Spreadshirt:
Their printing is high-quality.
They have promotion methods to help you make sales.
They really pay and have convenient payment methods.
I've written a detailed post about the best sites to sell t-shirts online.
I still sell t-shirt designs online and make money through them.
and here's a screenshot from a TeeSpring payment: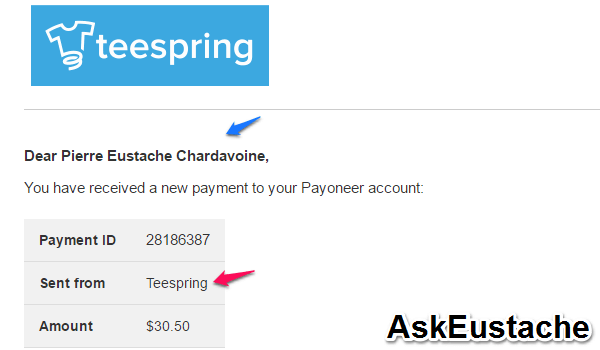 You can make money selling designs & text printed on t-shirts, hoodies, caps, mugs, pants, phone cases, pillows, etc…
5.- Create & Sell Online courses
Another way to make money online is to sell courses. Most bloggers earning six figures are making 60%+ of their income from the courses that they sell.
You can sell courses on your blog or on platforms that make the work easier.
Thinkific, Udemy, and Teachable are three of the best platforms to sell courses online.
You can start for free, even if Thinkific and Teachable have paid plans as well where you pay fewer fees and have more features.
Your course assets (videos, PDFs) are hosted for free. payment processors are already integrated. So, it costs less than doing it all yourself even if you upgrade.
Personally, I don't create courses to sell online. I don't have the payment gateways available for checkout. But I stilln make money promoting online courses as an affiliate.
You can also create courses and still make money by giving them away for free.
6.- Sell Electronic and printed books
You can sell downloadable items online to earn money working from home. You can sell e-books, music, and videos for free.
I have a detailed article about places to sell digital stuff and services online. You can check it out to explore your opportunities.
You can also sell physical books with print-on-demand companies. You write your book electronically and make it available for sale.
When someone requests your book, the company will print the book and ship it to the customer. You just have to cash out your earnings.
The best print-on-demand book platforms I know are Amazon KDP and Blurb.
Amazon is one of the best platforms to sell stuff online. You can sell physical items such as a computer, books, and gym equipment. And they have a really large audience of buyers.
One of the best features that I like on Amazon though is the ability to sell e-books and print-on-demand books at the same time.
It means, people can buy an electronic version. But if they like, they can order a print version and it's Amazon who will print and ship the book on your behalf.
7.- Create a store to sell digital and physical products
You can make money selling in your online store. Taking solutions provided by Shopify as an example, here is why you'd need to start an online store:
you'd like to sell both online and offline.
the items you are selling need a customized store. Not a store selling only courses, downloadable or limited to a specific product.
you want to read credit cards at the post office, online, and use PayPal while you get paid directly into your bank account.
As I said, Shopify can do all of this if you want to start your store to sell online. Plans start at $9.99 per month.
Alternatives to Shopify are platforms such as BigCommere or 3DCart.
You could start a store with just Woocommerce and WordPress. I just find the plugins expensive and integrations time-consuming.
8.- Find Freelance Jobs Online
The fastest way to make $1000 a month online is by freelancing. You work from home and get paid to do jobs for people all over the world.
You can find freelance jobs on a marketplace such as freelancer.com or upwork.com.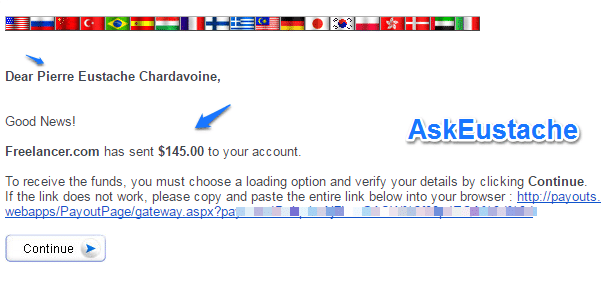 You can also make money online with [online micro jobs]](/earn-money-online-micro-jobs-websites/) where you get paid to complete small tasks.
One withdrawal from Seoclerks via Payoneer!
For example, you can promote a post on four social accounts for a client and get paid $5. I've got into the details of micro online jobs in a recent post.
You can find such jobs on micro-jobs sites like Fiverr, SEOclerks, or PeoplePerHour.
9.- Work as a Virtual Assistant
You can earn extra cash online by working for established companies.
There are a lot of opportunities. Just look for notes saying: "We're hiring". You can google it or similar sentences to look for jobs.
You can work as a developer.
You can be the customer rep. for the company in your country.
or anything else you can do that they need.
10.- Get Paid to Write Articles
Get paid to contribute articles on someone else's blog.
You can write for established blogs and get paid up to $500 per post. so, if you get two articles accepted per month, you earn $1000+ in extra income.
Digital Ocean: You get paid $300 or $400 per article you write for Digital Ocean. The article must be about Linux and FreeBSD cloud hosting because they are hosting companies.
ListVerse: The site requires that your post has more than 1000 words and should be a list of 10 elements. It is about general topics. You get paid $100 per list.
Income Diary: Get paid $200 – $500 writing on IncomeDiary about blogging, affiliate marketing, social media, SEO, etc… They let you know the subjects they want an article on.
11.- Make Money by Uploading and Selling Photos, Videos, and Documents
Earn extra income on DailyMotion: It works the same way YouTube does. You earn money when pre-roll, in-middle, and post-roll ads are shown on your videos. You can also make money with pay-to-play videos.
make money uploading photos on sites that share advertising revenue with you. You give away photos for free, you earn a small revenue from traffic. I've talked about revenue-sharing stock photography sites recently.
You can also make money by watching videos.
12.- Buy And Sell Domains & Websites
Buying and selling domains and websites is a great way to earn money online.
You can buy a domain for $10 and then sell it for $500.
Or you can start a blog, and develop it within a few months to sell it for $150,000 after. I am not a fan of flipping websites because I am attached to mine. But if you'd like to, you can go to Flippa.
When a domain name is not sold, you can monetize with domain parking.
13.- Start A Dropshipping Business
Dropshipping is a kind of business where you sell products that you don't own. It means, no inventory, no need to spend money on buying products first, no need to worry about shipping.
But it's not like print-on-demand or affiliate marketing.
You do stuff like building the online store, and customer support. You buy the product from a merchant at a low price who then ships the product to the customer.
You spend money when you make money.
Shopify has several articles about dropshipping. To start, you can read these articles:
14.- Earn Money Online With Cashback Sites
You can make money with cashback sites when you shop online.
First, you make money by saving money. You get the money you already spent back by using a cashback site that shares the affiliate income with you.
How much money you'll make this way depends on your buying behavior.
Then, you can also make money by referring your friends to save money using these sites.
There are a few you should check out:
Ebates: Get a $10 signup bonus. Get deals and up to 40% cashback.
You can also earn $25 per referral. When Ebates run bonuses, you can earn bonuses as explained in the image below. Payment is made each quarter via Paypal or cheque.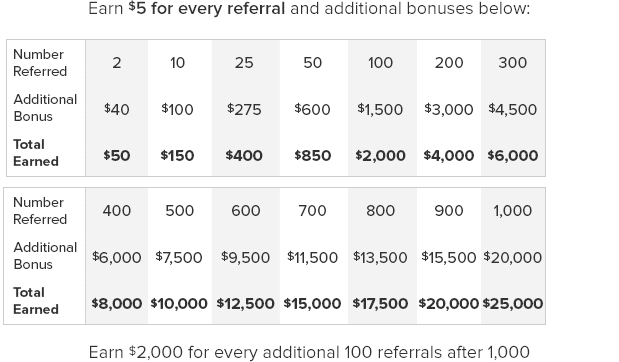 Only by referring friends, you can make $1000 per month with Ebates. If you shop online, make money by saving money.
Mr Rebates: Same as Ebates. You earn money by saving on your online purchases.
The minimum payout is $10 via PayPal or cheque. You earn 20% referral cash with their refer-a-friend program
15.- Make Money Testing Websites and Apps
Some sites pay you to test websites and apps.
UTest is one of these websites.
You get paid to find mistakes or to confirm that the website or app is working properly.
Earn Money Online – Earn Extra Cash From Home
This is an in-depth review of the best methods to earn money online. You don't have to use all of them. But you can use more than one to earn extra cash working from home.
All these methods can earn you $1000 in extra income per month. However, it is your job to do your homework. Invest time learning how to use more money with your chosen method.
In other posts on AskEustache, I give more details about each of these money-making ideas. Take the time to read them.
Do you think this post will help a friend? Will you need to check it out again?
Share it with your friends on social media or save it on Pinterest.