You actually need just two types of traffic to your blog:
Potential customers buy the products that you create, your services, or the affiliate products that you promote.
Influencers who like your content and who share it with a wider audience.
Eventually, You'll want a visitor to be a customer and an influencer for your business.
You need to grow your blog traffic with visitors that make you money.
How do you get blog traffic? And how to convert those blog visits?
That's what we'll talk about in this post.
Even better, I'd like you to think of getting blog traffic as to how to get visitors into your sales funnels.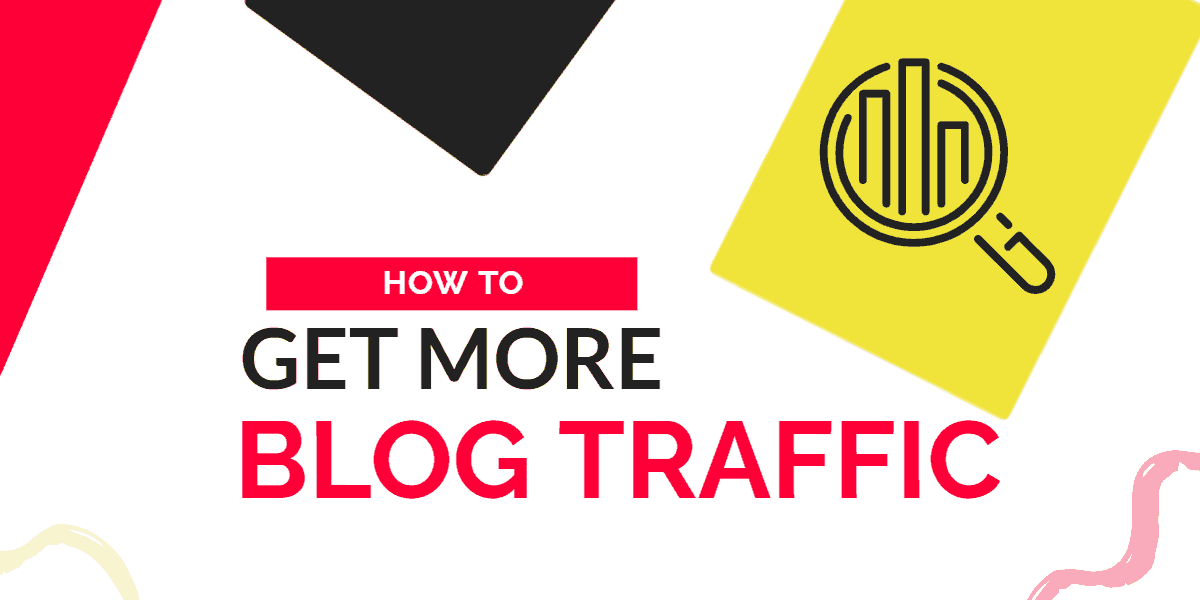 Table Of Contents
Let me explain…
How to get traffic to your blog?
In theory, getting blog traffic is simple as following those three steps.
Search for a topic with an audience.
write content that ranks.
Promote that piece of content.
Here's the step-by-step process.
Ready to start and grow your business?
Start a website, run email marketing, sell online courses, all in one place.
For a limited time, get 15% off 12 months of paid plans
Step 1: Plan your content to be seen using market data.
Plan your content to get traffic before you start writing it.
You can achieve that by doing proper keyword research prior to content writing.
I use SEMrush for competitive and keyword research. (Get 14-day of SEMrush pro trial here)
Using a good keyword research tool like SEMrush, you'll find:
keywords your audience is using to search for the kind of content you want to produce.
existing content that performs well and how you can model them.
problems your audience has and looks for solutions.
Step 2: Write the content optimized to be found
Most traffic sources use an algorithm to deliver the best content to their users. You need to optimize your content so it gets recommended.
For search traffic, understand how search engines rank websites and optimize your site accordingly.
For social media, use visuals and post when users are online.
We'll go deeper into those methods below.
Step 3: Promote that content where your audience gathers.
Go and promote that content where your audience is. They don't know that your content exists until you tell them.
You'll follow these three steps whether you're looking for organic traffic, social traffic, or referral traffic.
How To Get More Blog Traffic?
Are you already getting blog visitors and would like to get more traffic to your blog?
Quick Tips to get more blog traffic:
Write More Helpful Content optimized for SEO. Sure, favor quality over quantity. But what about a higher quantity of quality articles? More articles are more possibilities for promotion.
Write Headlines People Click on. Your headlines are the first thing people see in searches, social feeds, etc… A headline that gets people to click on it will bring you traffic.
Add Eye-catching visuals that catch people's attention in your content. They appear on search results and social feeds too.
Create Shareworthy articles to reach a wider audience. When your marketing efforts pay off, the earned visitors may share your articles for greater impact.
Reshare old articles through social media. Even if you write evergreen content, the traffic declines over time… unless you keep promoting those articles.
Repurpose blog content to reach prospects who like other forms of content. Turn your blog posts into videos, slideshows, etc…
Best Traffic Sources To Increase Blog Traffic
One of the best ways to increase blog traffic is to use more channels to advertise your website.
But, not all channels are created equal.
Some channels are powerful to get initial engagement with your posts. Others are useful to get long-lasting and passive traffic over months.
It's not about getting 1,000+ daily visitors, 100,000+ monthly pageviews, or anything like that.
We go beyond vanity metrics.
100 targeted visitors a day is viable to make a decent income with a blog.
We want traffic that converts into subscribers, customers, social shares, ads earnings, and affiliate commissions.
So, let's tap into the best traffic sources to get 1,000 daily visitors, and 100,000+ monthly pageviews that make you money, build your brand awareness and grow your subscribers' list.
Ready? Let's do it.
1.- Get targeted traffic from search engine
The best traffic source for a blog is search engines.
Here's why…
They are more likely traffic that converts when you do blog SEO the right way.
You already know the intent behind a search by doing proper keyword research. You can easily optimize your blog post to answer the user's query.
Here's how to get more blog traffic from Google, Yahoo, and Bing.
Do keyword research to reach more people.
Write Optimized Content that ranks in Google.
Structure your content around topics.
Make your website load fast.
2.- Get returned visits with email marketing
You can increase your traffic to your blog via email. It is a guaranteed source of steady traffic at will.
First, build and grow your email list with an email platform like ConvertKit. (Get 1-month free of Convertkit).
When someone lands on your blog, do your best to get their permission to contact them. That person may never visit your website again.
So, make sure you add an email signup form in popular places such as:
sidebar
right after the blog post
site footer
between paragraphs
Give them freebies such as email courses, PDF documents, tips in exchange for their email address. You can then ask your subscribers to visit your site again each time you publish a new post; or each time you have a new product or a promotion.
I wrote about how to build an email list and get targeted subscribers recently. You can learn from that post.
3.- Boost blog Traffic With Social Media
You can increase social media traffic fast.
But to make it converts, you need a solid social media strategy.
It's easy to lose focus with all available social networks.
One strategy is to focus on one or two social media platforms. I give my focus to Pinterest and Facebook, but I still maintain my other social profiles.
I use Tailwind to organize and schedule pins.
I also use automation to post on Facebook when I share something on Pinterest using Tailwind. I sometimes use SEMrush to post to Twitter, Facebook, LinkedIn in one place.
There are bloggers who found it easier to go with twitter or Instagram.
Test and find your way. It's not one size fits all.
Make sure your social traffic converts.
The problem is that social media traffic sometimes bounce. They land on your page, scan, and go back to social platforms.
The solution is to set up your page to collect emails, or to send social traffic to landing pages.
4.- Increase Blog Traffic Using Forums and Q/A Sites
This is a goldmine for affiliate marketers. This is where you find people looking for a solution to their problems.
Sure, you will not get a lot of traffic from forums instantly. You have to be active and to provide values.
But the traffic you'll get is from people who really care about your content.
To prevent spam, most forums don't allow links in post content. However, you can add your links as your signature. It appears under each of your posts.
You can get traffic to your blog also using Q/A sites like Quora. The more meaningful answers you give, the more traffic you get in return.
Interesting reading: How to get traffic from Q/A and Forums.
5.- Promote your blog on Publishing Communities
You can get a lot of traffic to your blog via social communities sites such as Reddit, Digg, Facebook groups.
Those communities help you get the initial traffic and engagement.
Get in front of influencer by sharing your posts on blogging communities such as GrowthHacker, inbound.org.
You can also get more blog traffic by adding a link to things you publish elsewhere.
It can be a video you publish on Youtube, Dailymotion or Vimeo. A slideshow on Slideshare, SlideSix or Docshare. A photo you publish on Flickr.
Take Action To Get More Blog Traffic
You get more blog traffic by taking action.
Go create more optimized blog posts.
As I am writing about getting paid residual commissions with affiliate marketing, I recommend you to create contents that make you money and get traffic that converts using the tips above.