How to make money blogging…
… even if you don't have a high-traffic blog or too much time?
In this post, you'll learn how to make money with a blog with the superhero method. You'll learn to use the best ways to earn money through blogging whether:
you have a high-traffic blog or a few hundred views.
you gained blogging experience or have just started.
have time to commit to your blog or need a passive income source.
If you're completely new to the blogging game, that's fine! Anyone can make $500+ a month. The most successful bloggers are making thousands or millions per month, like:
Pat Flynn, from smartpassiveincome.com, is making $150,000+ per month.
Michelle from MakingSenseOfCents.com is making $130,000+ per month with a blog.
Sure, Blogging is not a quick rich scheme. It takes years to reach such a high income and make it steady.
But if you're committed to taking action and building your blog over time, you can earn $500-$1000+ in extra income online in just a few months. Then you can keep it up till you earn five to six figures too.
Why don't you start today? Follow this step-by-step guide to create your blog.
Why do I talk about how to make money blogging and target $500 only? $1,000 would be attractive. $10,000 even more. As I said, the sky is the limit. But $500 is realistic for anyone to reach in a few months.
Furthermore, making money blogging is a "rinse and repeat" process. You'll do the same things months from now to earn $3,000+ or $30,000 a month. You just need to start and set your blog monetization strategies.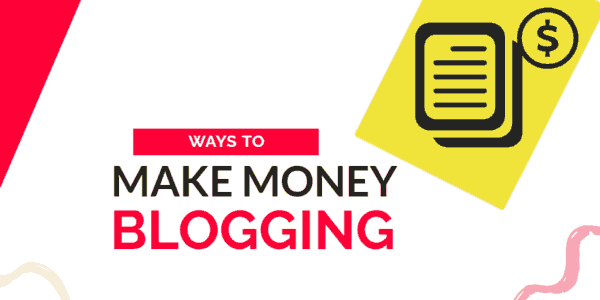 Table Of Contents
How to Make Money Blogging Like A SuperHero
The superheroes get rid of obstacles. They develop specific skills. They use the right tools. And they get astonishing results at the end of the day.
That's YOU making money from a blog using the methods below. You can turn your blog into a full-time income, or you can make a side income with your blog.
1.- Affiliate Marketing
Affiliate marketing is the first option to consider when you want to make money blogging. You promote the merchant's products and earn a commission when you make a sale.
You can make $1 to $7500 per sale.
You don't have to create a product first.
You don't need high traffic to actually earn money.
So, you can make money on day one with affiliate marketing. A lot of programs auto-approve affiliates.
Affiliate programs can pay $50, $200, or $200 per sale. There are a lot of opportunities here. Here are some recommended readings for details:
Bottom Line: You can make money blogging with affiliate marketing even if:
It's not always about sales. You can find sites that pay you for referrals or free sign-ups.
Examples of blogs that make money with affiliate marketing:
AskEustache.com: I make 50% of my blogging income from affiliate programs. You'll see screenshots of my revenue all over the blog. The rest comes from advertising and selling products.
MakingSenseOfCents.com mentioned above earned $68,878 in affiliate commissions for January 2017 alone.
2.- CPC/CPM display advertising
The most used blog monetization technique is advertising. With this method, you display ads next to your content. Each time someone views or interacts with your ads, you get paid.
When you get paid per click, it's called CPC or RPC (Revenue Per Click). When you earn per view, it's called CPM or RPM (Revenue Per Mille or Thousand views). Most stellar programs mix the two types of payment.
It is the easiest way to earn with a blog. But you need some traffic to actually earn decent incomes from ads. Read our post to get some help:
You can display image or text ads. You can turn your actual text into ads. You can earn with video ads as well.
Do you have a site with more than 30,000 unique visits per month? One of the best ad platforms you can use to monetize your blog then is Newor Media. You'll earn with high-paying ads that won't slow down your website. Keep in mind that they only accept sites with more than 30,000 unique visits a month.
Obstacles with ad display: You need a lot of traffic to earn a living from ads. You send your visitors away for less cash than affiliate marketing.
How to make money blogging like a superhero: Write a lot of articles to increase your traffic. Use high-paying ad networks where you get paid a lot per click. Places your ads strategically to get a high click-through rate without competing with your affiliate links for attention.
3.- Sponsored Posts
You can make money with sponsored posts you write on your blog. A merchant can pay you to write a blog post about a product. And agree on a price to get the job done.
Some writers charge up to $300 per post. I don't normally accept sponsored posts on my blog; However, I get monetary compensation for writing about programs I am already an affiliate.
The pros: You can easily earn $150-$900 a month with just 3 articles.
The cons: You get paid once for an article that stays. You have to build a solid brand and get traffic before brands accept to pay you to write for them.
4.- Embed Paying Videos
You can make money from blogging by embedding people's videos on your blog. You get paid from ads displayed inside the videos:
pre-roll ads: video or banner ads before the video.
in-stream ads: display on pause or in the middle of the video.
post-roll video ads: displayed at the end of the video.
streaming ads: small banner ads displayed at the bottom of the video while users are watching.
There are several ways while blogging to make money with videos. You can:
embed videos from DailyMotion on your blog. When you join the partner program, you get paid for each ad viewed on these videos. They pay via Payoneer and check when you reach $100 in earnings.
place video ads on your blog and get paid when they get watched.
add videos on your blog that your users must pay to watch. You can lock the videos with CPA ad networks like MGCash. You can ask users to pay to watch videos with the DailyMotion partner program.
5.- Blog Membership
You can start a blog and make money with memberships. You create free content anyone can have access to. But you create additional stellar contents that people need to pay to get access to.
You need to establish yourself as an authority to convince people to pay you. You need to give away content for free to build trust.
However, once you can make money with blog membership, you'll earn residual income.
You can create a membership blog with WordPress using plugins you can find in the WordPress plugin directory.
Many bloggers use memberships to earn money. However, I prefer the similar method below.
6.- Selling Products
You can make money off your blog by selling products. You use your blog to build your sale funnel.
You teach your audience with epic content. You make them trust you. Once they know you can help them, they'll buy the products you have to sell.
The most used products are digital downloads. Like e-books, WordPress themes, WP plugins, music, videos, and graphics.
But you can sell online courses as well. You can even earn with physical products like selling t-shirts with printed designs.
7.- Selling Services
You can sell services on your blog and make money. You can become a hero while making money blogging…
…Just by fixing people's problems.
Here's how to make money with a blog selling your services:
Find something you can do online and perfect that skill.
Write blog posts about a topic related to your service and share your success.
Offer your service on your blog in highly visible spots: sidebar, top, or bottom of posts.
You can sell services you may not imagine you could make money from. Examples:
Design Pinterest visually appealing graphics.
Move the WordPress site from one host to another.
Create branded social media profiles (like Pinterest board covers).
etc…
Another thing I'll add ad service is "software as a service". If you can create software people will use and pay for its use, you can earn residual income online with your blog.
Take TailWind (Pinterest and Instagram scheduling app), and SemRush (Keyword Research and Competitor Analysis Tool) as examples. You pay each month to use the software. The owners make residual income selling services on autopilot.
How to make money blogging & Feel Like a Super Hero
So, that's it.
Here's how you can make money from blogging like a superhero. But you can be a real superhero, not simply act like one:
A mom, a dad, a brother, and a sister who have time for his family.
A student who pays his fees on his own.
An inspiring person who helps his readers achieve their goals.
But more importantly, you don't let obstacles stop you from making money blogging.
Your struggles can be:
limited time.
limited skills.
low blog traffic level.
Your super abilities can be:
your writing skills.
your services.
your marketing skills.
Your assets can be:
your blog posts.
your email lists.
your computer.
Your goal is to make things work with your actual assets. That's how to make money blogging like a superhero. Earn through your blog with:
Affiliate marketing,
Display Advertising,
Sponsored Posts,
Paying Videos,
Blog Membership,
Your Products,
Your Services.
Recommended tools:
MailerLite: Build a mailing list for free with MailerLite. Collect email addresses, create newsletters, and send autoresponders for free to up to 1,000 subscribers.
TailWind: Drive Pinterest traffic on autopilot with TailWind. This tool will help you to schedule Pins to be sent at the right time. Use high-paying CPM ad networks like Ezoic and make money blogging with Pinterest Traffic.
Grammarly: Fix your grammar mistakes with Grammarly. Install this extension for free for basic features; you can upgrade to pro for more grammar features.
Explaindio: Create professional-looking videos with CreateStudio. Make animated, hand-drawing, and 3D videos with no experience. Use your videos on your commercial blogs without additional costs.
You'll also find free web hosting platforms if it suits your needs. Otherwise, you can see my review of the best hosting platforms.