Design and sell t-shirts online can be amazing and profitable.
It is a viable online home business anyone can start. It does not take much time to earn with it; the process is simple.
And, you can start that t-shirt business, without investment, TODAY!
Such opportunities to start an online business from scratch without investment are awesome. Still, so many people jump into it without any success. Hence, there is a fierce competition waiting for you.
However, if you take the time to read the full article, you'll learn how to sell t-shirts and where to sell them for profit.
Perhaps, those questions pop on your mind:
Does it really work?
If yes, how does it work?
Do I need to print and ship t-shirts?
How to start a t-shirt business?
The answers are simple, indeed motivating! So, keep reading.
Of course, yes, you can make money selling t-shirts online. There are entrepreneurs who make $1000 a week selling t-shirts.
Let's break it down:
how it works.
what you need to start and excel.
where to sell t-shirt designs.
And how to turn it into a passive and residual income source.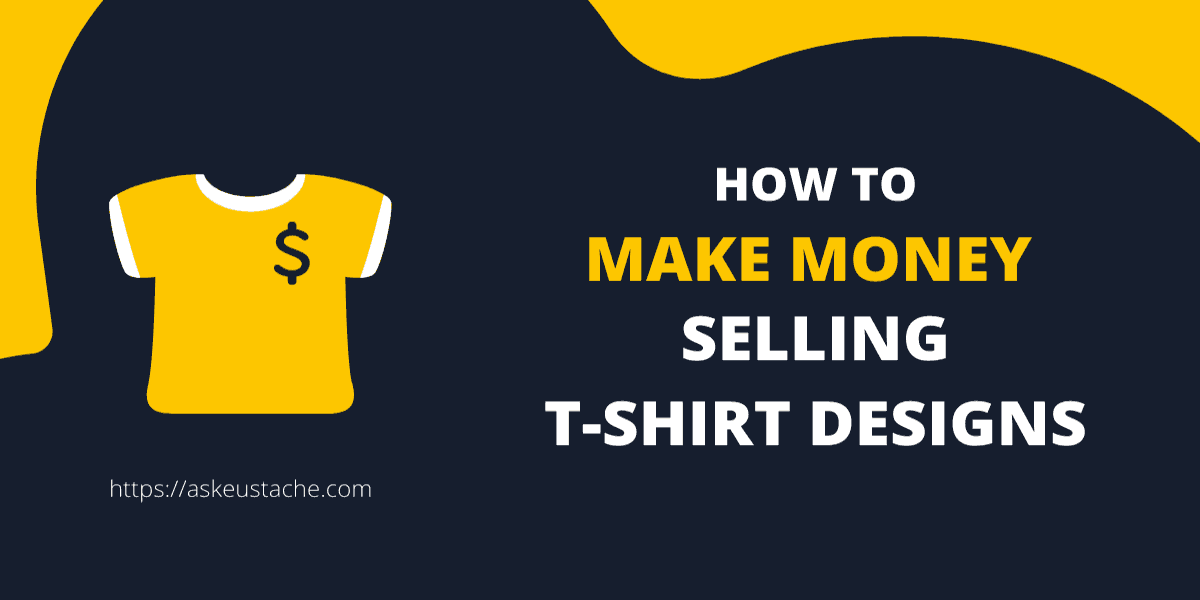 How to make money selling t-shirts online?
There are several ways to earn money by selling t-shirt designs.
You can sell customized t-shirts, you can sell the designs, you can make money with t-shirt affiliate programs.
It is print on demand (P.O.D) affiliate programs. It means you don't have to print, you don't have to ship t-shirts. You just have to:
create a design
customize t-shirts, mugs, hoodies with them.
Set how much money you want to make per sale.
Promote your design.
Each time someone buys it, the company print and ships the shirt. And you get paid.
As I said, there are several ways to earn money with t-shirt designs. I will talk about the best sites to sell t-shirt designs and talk about how you can make money with them.
Ad by
Where to sell t-shirt designs online?
Starting a t-shirt business is very important. You need a company with high-quality prints, great policy on shipping and returns. I will show you four sites that may fit your needs.
I have used Teespring and Spreadshirt the most.
With proper competitive research, you can take advantage of organic traffic coming to these sites.
Let's start.
TeeSpring is a crowdfunding t-shirt selling site. The site is very intuitive and allows you to make money even if you're not a designer.
How does it work?
1.- You design a t-shirt. (thousands of graphics available free or make your own)
2.- You set your revenue tag and start a campaign.
3.- You promote your t-shirt and get sales.
4.- If you set a price that earns you and gets at least 5 t-shirts, the t-shirts are printed and shipped by TeeSpring. Otherwise, they are not printed and shipped.
5.- You get paid via PayPal or ACH ( Payoneer US payment services or Wise).
Just an update: Recently, a reader told me he had toubles cashing out using Payoneer from SpreadShirt. I recently moved to Wise for lower fees.
You can set your campaign to end in 3, 7, 12, or 31 days. When your campaign end, the t-shirts are printed and shipped to your customers by TeeSpring.
You set how many t-shirts you'd like to sell, minimum 5. The more t-shirt you sell, the more commissions you get. But if you don't reach your goal, your t-shirt is printed as long as you sold 5 shirts during the campaign.
Perhaps, your first 10 campaigns will be a complete fail starting from scratch with no audience. But you can ask your friends to buy your shirt, promote it on Facebook or talk about it on your blog.
Ah, before I forget. You can sign up through this TeeSpring link. Defeat procrastination, start now.
This is one of my favorite sites to create and sell designs online. You can reach more people with your designs with Spreadshirt because it's not time-sensitive.
And better, Spreadshirt allows you to start an online store to sell t-shirts, caps, mugs, phone cases, leggings, hoodies, top tanks, and more.
How to make money by selling t-shirts with Spreadshirt?
Spreadshirt is the best site I know to start a t-shirt business and make passive and residual income. It's a place to sell t-shirt designs where you can make money without active promotion.
You can earn money in four different ways:
First way: You create and upload SVG, ai, eps, and cdr designs on the website. You can create them with Photoshop, Inkscape (The open-source and free tool that I use), or Paint.NET.
You set how much money you want to receive each time your design is used. You add that design on the marketplace and tag it well so it can be found. Each time someone uses it on a t-shirt, either to buy or to sell it, you get paid.
You can upload a beautiful design, use it on T-shirt and promote it. You can even just upload the vector design, other Spreadshirt partners use it and you get paid on EACH sale.
Second way: You customize t-shirts, hoodies, tanks, mugs, caps with your own design, or design available on the marketplace.
You create one or multiple shops free to add and promote your products. You set how much money you want to receive for each sale. You earn even more if you use your own designed art.
Third way: You can also make money with a design shop. You create a design shop and promote it. Each time someone designs a product and buys it from your designer shop, you earn money.
Fourth way: They have an affiliate program where you earn money linking to apparels available at Spreadshirt.
Enjoy making money with Spreadshirt. Take the time to pick a niche, build an audience to earn more money when you release a new design.
Sell custom tees with no minimum. Get paid each month when your account balance reaches $10. Spreadshirt pays through PayPal and Direct Deposit (Payoneer or Wise).
I made totally passive extra income with Spreadshirt.
You can customize your shop with HTML and CSS. Start selling designs today.
Who is Spreadshirt for?
Anyone who wants to earn residual and passive income making designs.
Anyone who wants to create t-shirts for a cause, a group, an event, and pay less.
Anyone who wants to design t-shirts for his blog, brands, or for fun. It's there!
Anyone who wants to create a t-shirt store for a specific audience. You can get designs from the marketplace, add text, and promote to earn the price you set per t-shirt sale.
Zazzle
Zazzle is a marketplace where you make money selling designs on t-shirts, mugs, caps, phone cases, wedding invitations, and more… They have an affiliate program on ShareASale, you can join it there!
Create an account and start making money selling print arts online.
Sunfrogshirts is similar to TeeSpring. You design your t-shirt and start a campaign to promote it. But, it prints and ships your tees even if you get only one sale.
They pay through ACH and PayPal. But, like Zazzle, they have an affiliate account on ShareASale where you get paid up to 35% per sale.
Comparing to TeeSpring, Zazzle, and Spreadshirt, Sunfrogshirts is limited. They just have men, women t-shirts, and hoodies.
Enjoy making money designing t-shirts with SunfrogShirts.com!
T-shirts designs Ressources
Do you get t-shirts design ideas? Here are some places to look for inspiration.
teespring.com/discover
teeview.phatograph.com
I suggest you to start learning to use Inkscape. You can look for tutorials on YouTube.
Over to you…
Did you find that post useful? Do you have something relevant and informative you'd like to share? Have you experienced selling t-shirts online?
Sign up for our newsletters to get notified when we publish a new article and left your thoughts using the comment box below!
Share on: