I'm glad I've learned how to make money with affiliate marketing.
It's simple. You're helping people and you make affiliate commissions.
If you're familiar with AskEustache, you know I teach how to make passive income with affiliate marketing and free organic traffic. I focus on affiliate marketing strategies where you get paid over and over for a single sale.
In this post, I am about to show you how affiliate marketing works.
You'll learn how to make money with affiliate marketing… even if you're a beginner. I share advanced techniques for even experienced affiliate marketers.
Now, back to affiliate marketing techniques to make money online.
Let's cover some basics. (I have this Table of Content to help you jump to where you want)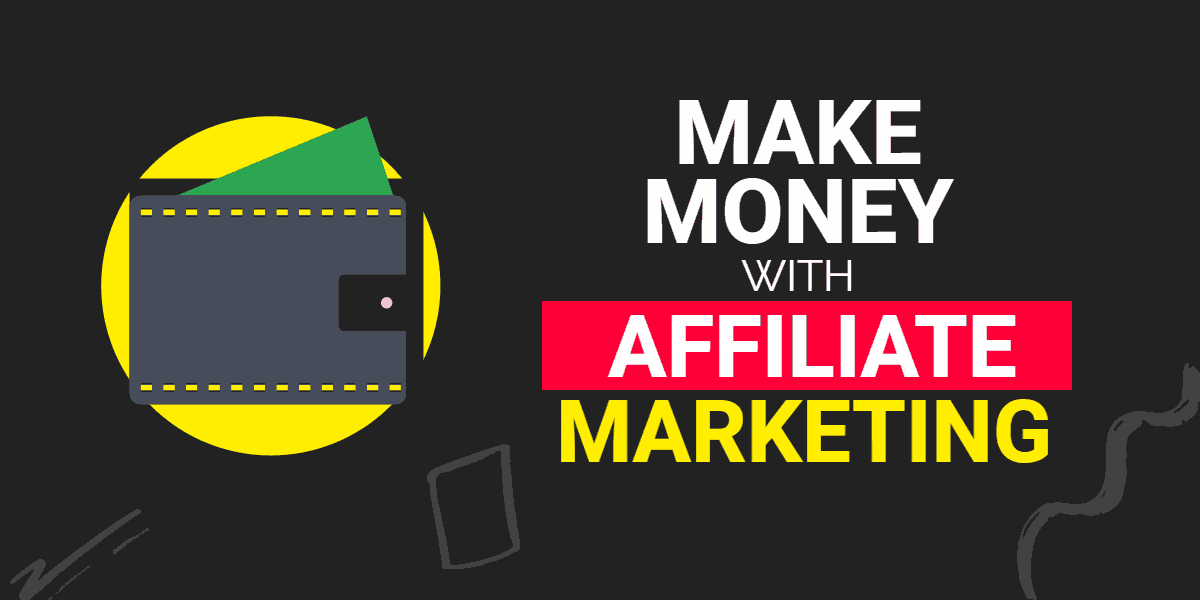 Table Of Contents
What is affiliate marketing?
In simple terms, affiliate marketing is the process of promoting and getting paid to sell someone else's product.
Rewarded Performance is mostly sales or leads generated (purchase, sign up, trial, demo completed).
I wrote posts where I list affiliate programs that:
In this post, you'll learn how to make money with these affiliate programs.
How Does Affiliate Marketing Work?
So far, we've seen that you earn money when someone buys something or joins a program based on your recommendations.
How does affiliate marketing really work?
It is performance-based marketing involving three parties.
1.- A merchant or business creates a product or service to sell. Also known as the seller, vendor, the advertiser.
2.- You, the affiliate or partner, use persuasive techniques to promote the product or service to people who want it.
3.- A customer then decides to buy based on your recommendations.
This creates a win-win-win situation.
The affiliate, I mean you, earns a percentage of the sale.
The customer buys a product or service he needs to get rid of a problem.
The merchant makes a sale from someone he would not reach without you.
Sometimes, a fourth party is involved: an affiliate marketing network. An affiliate network is a company that hosts multiple affiliate programs. It is then responsible for giving the software for link tracking and processing payouts.
How do you get the sale attributed to you?
It starts with an agreement with a merchant. You apply to join the affiliate program and you are given a unique affiliate link or ID.
You promote the affiliate product by sharing your unique affiliate link.
Each time someone clicks on your affiliate link, a piece of code called "cookie" is added to the user's browser. If the visitor buys something, the company knows who sent the sale. You get paid the affiliate sale commission.
The cookie lasts for a certain period. It's called the "cookie window". I've seen cookies that last one day for up to 10 years. During that time, if the person revisits the merchant website and buys something, you still get paid.
However, an affiliate cookie can overwrite another. Two affiliate cookie policies are mostly used then.
First touch attribution: the first affiliate who sent the customer to the website gets paid for the sale.
Last cookie attribution: the last affiliate whose link got clicked before the sale gets credited.
How do you get paid?
Your commission gets approved after a certain time. Once approved, you can request your commission via the available payment methods such as PayPal, Payoneer, wire transfer, cheque, ACH, etc…
Most companies have refund and cancellation policies. You wait for the companies to ensure that the customer doesn't request a refund or that the transaction was not fraudulent.
Some affiliate programs also have a payment threshold. You can request your payment when you reach that threshold.
Can you really make money with affiliate marketing?
Yes! You can make real money with affiliate marketing. There's no cap on how much you can make either.
Some affiliates are making $300, $1000, $5000, or even $100,000+ each month with affiliate marketing.
Find a list of some of the highest affiliate commissions you can make for a single sale.
I use 20+ affiliate programs where commissions add up.
Affiliate marketing is really lucrative. Your earning is highly dependent on how much effort you put in and how well you do affiliate marketing.
How do you make money as an affiliate?
A step-by-step guide to making money with affiliate marketing:
Step 1.- Find A Profitable Niche & Profitable affiliate programs
One important thing to note is people buying behavior. A customer buys to get rid of a problem or to feel good.
Isn't affiliate marketing around selling? So…
…The first step to start making money with affiliate marketing is to define your target audience.
How to find an audience for affiliate marketing?
Ask yourself those questions: who can you help? How can you help? What are their problems? What questions do they have? What results do they want?
Tap into audience research tools to find an affiliate niche and problems you can solve.
Audience research tool #1: SEMrush
SEMrush is a suite of 40+ tools for search engine optimization (SEO) and search engine marketing (SEM). SEMrush gives you all those tools for the price of one. We'll use one of them to get profitable affiliate niches.
Go to SEMrush "topic research" and add your topic or keywords.
You'll get content ideas that actually work and resonate with your audience. A free plan and a pro plan is limited to two research topic per month. But it's data for several weeks. You can also upgrade to the guru plan to get 800 topic research per month.
In the sidebar, you'll find questions your audience has. Answers those questions.
The questions will let you know the problems they are facing. Give them solutions.
You'll find a lot of market data in SEMrush to make money with affiliate marketing. I highly recommend that you open a tool like Trello or SEMrush Calendar to organize ideas for your next posts.
Audience research tool #2: Quora
Go to Quora to find topic ideas. You'll find questions people are asking and even existing answers they found useful.
Step 2.- Build A Platform to promote affiliate offers
To really make money with affiliate marketing, you need to build a platform.
Can you make money with affiliate marketing without a website? Yes, you can.
But if you need to make high-paying and residual commissions with affiliate marketing, you need a platform.
You need people to trust you to buy high-priced affiliate products based on your recommendations. You can do that only by helping them through an affiliate business. You could do that with just YouTube videos that I highly recommend anyway.
But only with a website, you're not competing with anyone when someone lands on your pages. There are no people's recommended videos or pages in the sidebar. You have full control over the changes you want to make.
Get 60% OFF Siteground hosting today and start your affiliate website.
Buy a domain name. I bought my domain on Namecheap. They have cheap domain names. (domain only).
Get hosting and install WordPress. I use and recommend Siteground. They offer really fast hosting.
Install a theme. When I was using WordPress, I've use and still recommend GeneratePress. You can customize it to make it unique without coding.
Create essential and legal pages for your new website. (contact, disclaimer, about).
If you need help, check out my step-by-step tutorial on how to start a blog.
Step 3.- Produce contents that solve problems and call to action
Create content that makes affiliate sales.
When you're doing affiliate marketing, you're convincing someone to get a product. As we saw earlier, find out the problems and questions your audience has first. Then, produce content that fixes those problems using the products that you recommend.
Write the kind of contents people buy when they are ready to buy such as:
reviews
comparison posts (vs, best of)
list
Step 4.- Get High-Quality Buyer-Traffic
Affiliates focus on what matters. Pageviews mean nothing to you. conversion does.
Get buyer traffic to your affiliate offers.
The highest converting traffic comes from organic search results and email lists. Someone searching for "best blog hosting" is more likely to convert than someone who checks out your website following a Facebook sharing.
1.- Learn how to do SEO to Get Organic Buyer Traffic from Google, Bing, & Yahoo
Read our post on the best blog SEO tips to grow your blog with organic traffic with buyer intent.
2.- Learn how to Get Organic Traffic from Pinterest & YouTube
You can get search traffic from Pinterest and YouTube as well. They are all search engines people are using to search for solutions.
They are both visual search engines. On Pinterest, you get traffic to your landing pages using images. On YouTube, you can do everything you do on your website to convert a prospect.
The best strategy for YouTube is to try to convert visitors on YouTube, then give options to join your email list or Facebook group.
Step 5.- Capture traffic and make it convert
Traffic problem #1
Writing high-quality content that gets highly targeted organic is only half of the process.
Some people will land on your website and buy right away if you target buyer traffic.
However, a large chunk of your traffic will not convert into sales. In addition to that, you'd like even the converted visitor to buy from you over and over again.
The solution:
Build an audience you can help along the journey. Have a way to contact someone who was interested in what you have to offer.
That's why it is recommended to build an email list from day one. You can recommend products over and over to that person while genuinely helping. Just make sure that you attract subscribers that will buy from you.
Offer for you: Start building your email list with Convertkit and get your first month free.
The process goes as follows:
You create high-quality content and insert an email sign-up form.
You give something in return for signing into your email list.
You send a welcome email
You keep sending them well-written emails for years to help them with their problems.
You recommend affiliate products as part of the process to get rid of the problem.
It's Simple. But, there's a right and wrong way to do it. I will help you with AskEustache to make money with your email list.
Traffic problem #2
Someone coming from searches may not know who you are. If they don't trust you, they will go back to the search results and get opinions from someone else.
The solution:
Build trust with your readers, even the ones who land on your website for the first time.
Add screenshots of what you've achieved, and proof of payments you received. Let them know you're qualified to teach them. To help them understand that they can trust you, give them freebies they can resist and build on that with email autoresponders.
Traffic problem #3
People coming to your website are at different stages. Thus, each of them needs to be guided differently.
Prospects who don't even know they have a problem.
Prospects who know the problem but don't know a proper solution.
Prospect who know both the problem and the solution but do not decide yet.
The solution:
Build sales funnels and set up email automation to convert those visitors.
You can set up affiliate sales funnels with just your blog and email marketing. Advanced sales funnel with checkout, down-sell, up-sale, etc… can be built with tools like ClickFunnels or Samcart.
You can use a tool like MouseFlow to find out how you can optimize your website for better conversion.
Now, let's talk about the best affiliate marketing strategies to increase affiliate income.
Best Affiliate Marketing Strategies
Affiliate Marketing Tip #1: Promote relevant & High Paying products
I recommend that you add an affiliate link when you reference a product that you recommend.
However…
1.- To see the best results with affiliate marketing, focus on 1-2 affiliate programs only per category.
you don't confuse your readers.
you're more credible because you'll wisely pick the best program that converts.
I have less than ten core affiliate products.
I have more time to search for my audience for those programs and produce high-quality content.
Promote relevant programs, I mean, promote the product where it makes sense in the context of what you're writing.
2.- Spend time promoting residual and high-paying affiliate programs. It's the same effort to promote low-paying affiliate products. However, you'll make more money.
#2 Of my Best Affiliate Strategies: Highlight benefits
Your audience doesn't care about the features of the product you're promoting. In fact, technical lingo confuses them.
Show them the benefits of the products; what they get by using them.
Best Affiliate Marketing Strategy #3: Manage Affiliate links
Ease the process by properly managing your affiliate links.
Cloak affiliate links: Cloaking affiliate links is the process of making long and ugly URLs short.
As an example, the long URL: https://shareasale.com/r.cfm?b=229096&u=941349&m=27182&urllink=&afftrack= …
will become an easy-to-remember URL like https://goaskeustache.com/goto/mouseflow/.
It makes it easy for me to change the link too. Imagine that I pasted the links in 200 posts. If I want to make a change, I just have to change it once and it will be reflected in all the 200 posts saving me tons of time.
You can manage your links either with:
Pick one of them based on your needs.
Mark affiliate links as nofollow: Your affiliate links can affect your search engine ranking if you don't mark them as nofollow.
#4 of my Best Affiliate Tips: Be Everywhere
Pick one platform to promote your affiliate offers.
I highly recommend a blog because you're not competing for attention like on YouTube where related videos are sitting next to yours.
However, be everywhere.
Have a YouTube channel for at least three reasons:
Videos have tremendous power to persuade.
It is wise to be somewhere your audience is already gathering.
YouTube is the second largest search engine used all over the world.
Answer questions on Quora to help people where they expect to get help.
Take part in Facebook groups where people get to know and trust each other.
Just make sure you redirected all those traffic to platforms that you own: your website and email list.
Frequently Asked Questions
How much money can you make as an affiliate marketer?
There's no cap. I've seen affiliate marketers making $100, $3000, or $100,000+ a month in affiliate commissions. As an affiliate myself, the only limit is how much effort you put in and the way you follow the best practices.
Is affiliate marketing still profitable in 2022?
Yes! As long as people are buying products online, advertisers will need affiliate efforts. In 2022, people are seeing more affiliate income coming in as more people are working from home.
Can I make passive income with affiliate marketing?
Yes! Some affiliate programs pay residual commissions per sale. And new traffic coming to pages you wrote months ago can still bring in new customers.
what are the pros and cons of affiliation?
Pros: Affiliate marketing is lucrative. You're making money on products that you don't create. Cons: The competition is fierce. You're relying on businesses that can shut down their affiliate program.