It pays to carefully pick among the best hosting sites.
n
But, I know. It can be confusing when you search the web for the best place to host your blog.
n
There are so many options. But you need just one hosting solution.
n
In addition to that, you have to be careful with your investment. Not all web hosts you'll find will fit your unique needs. And some of them are just bad hosts with high paying affiliate commissions.
n
In this post, I will try to help you find the best blog hosting service you'll stick with as a happy customer.
n
I'll review 3 among the top web hosting sites. So, all options are reliable web hosts with fast and secure servers. Only your unique needs will make the difference.
n
PS: I don't want to be too biased. There are other good hosting companies out there. But you can't go wrong picking one of these three web hosts.
n
After the review, you'll know which one is the best to host your blog.
n
The hosting services we'll consider together are: Siteground, Kinsta, and WPX Hosting.
n
To help you choose, let's talk first about what to look for in a web host.
n
What to look for in a web host?
n
I'll specifically talk about what a blogger look for in web hosting.
n
n
Storage and bandwidth: You need storage space for your website assets such as your text, images, scripts, etc… You need bandwidth too which is the amount of data transferred to and from the server for your blog. You need enough resources for your blog to run.

n

Infrastructure: what kind of blog do you want to start? Is this web host suitable for applications that you'll run. What's most important to a blogger is the ability to run a website that loads fast (Ram and server processor), updated programming language (PHP, MySQL, Java).

n

Scalable: Is this web hosting company designed to help you when your blog traffic grow.

n

uptime: the server must be online to deliver your blog when your readers ask for it.

n

Type: Depending on your need, you'll have to choose among managed hosting, shared hosting, or dedicated hosting.

n

Price: When you find services that work for you, an important factor to consider is the price. It is wise to consider the first payment and the renewal rates as they sometimes differ.

n

Security: you don't want your website to be hacked. One of the security breaches can be your host and you can do nothing about it. It is best to start with a secured web hosting site.

n

Limitations: server resources are limited. So, your host will set limits. Knowing these limits before you join will help you make a better choice.

n

Support: you need your web host customer care service to be there if you have a problem.

n
n
We'll review each of these aspects when talking about the hosting providers below.
n
Best Web Hosting For Blogs in 2022
n
CloudWays : Managed Cloud Hosting
n
#1 Recommended web hosting services for low, medium, and high traffic sites.
n
You get dedicated server resources starting at $10 per month. It results in super fast hosting for your blog or website.
n
You'll get free cache plugin, dedicated firewalls, automated backups, etc…
n
Get Hosting on CloudWays (3-Day free trial)
n
Siteground : Web Hosting Services
n
I use Siteground to host AskEustache.com. This is the one I am most experienced with and the one I highly recommend to most bloggers.
n
Their plans range from $3.95 to $11.95 per month for the first bill. Renewals are at a higher rate ($11.95 to $34.95).
n
They are the right web host if you look for:
n
n
a fast loading host: I get TTFB under 200ms with Siteground alone. It goes to up 400ms (more is not better) when I enable Ezoic ads.

n

excellent support: I remember that I got my first presale answer within 30 seconds using the chat. And as a customer, I experienced chat and email support. Both are great.

n

competitive pricing: While the renewal rate is comparable to other hosts in this list, you get up to 70% discount for up to 36 months. I saved $806.4 with my first payment and paid only $430.2.

n
n
and:
n
your website can work within the limits set on shared hosting plans.
n
However, if you need more than shared hosting, the Siteground's cloud hosting services start at $80 per month. The cloud plans don't have these limitations. Keep in mind that shared hosting is not for high-traffic websites with around 200,000 views per month.
n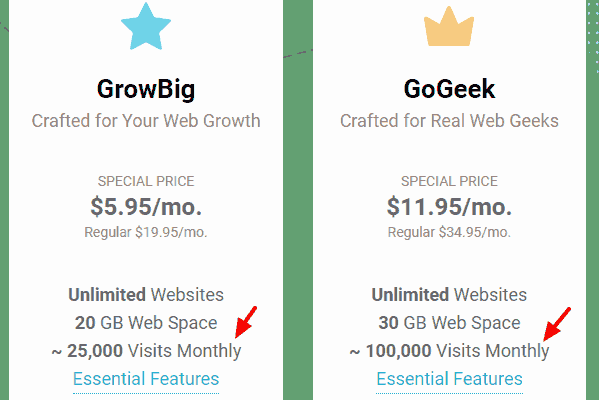 n
Side Note: What About these suitable for 10,000; 25,000; or 100,000 visits?
n
For eight years, I stayed away from Siteground services because I saw those suitable for ~visits on the plan page. Somehow, I was wrong.
n
These are not limits on how much visits you can receive. You can reach your account limit below these numbers or at 5X these numbers. The real limits, on shared plans only, are:
n
n
CPU per seconds: the work your website requires from the server to load. (300,000 to 800,000 per month)

n

Account executions: each time a programming language such as PHP script is executed to generate a page. (300,000 to 800,000 per month)

n

Inodes: The number of files you can host on your account. (150,000 to 450,000 per account)

n
n
The solution:
n
I use CloudFlare as a free CDN to cache static resources. I remove unnecessary plugins that consume server resources. I enable Siteground Optimizer (free plugin for sites hosted on SiteGround), it caches objects and save resources.
n
With that set-up, I never use more than 20% of my allowed resources while getting a decent traffic. So, my plan is suitable for more visits.
n
I use the GoGeek (Semi-dedicated hosting) plan for $11.95 / month (first billing).
n
I highly recommend Siteground to bloggers who need premium shared hosting plan on budget.
n
(I have so many things to say about Siteground. But I think it's best to read my Siteground Review).
n
The thing is that Siteground is old and well established. They are fast and it's not because they do not have enough clients to put load on their servers. They have infrastructure to serve fast pages from low to high-traffic sites.
n
n
I recommend you to pay for full 3 years to save even more. You can always ask a refund within the first 30 days if it is not right for you.
n
Kinsta : Managed WordPress Hosting
n
Kinsta is apparently an expensive service. But when you look closer, it is not that expensive.
n
Like any of the listed web hosting options in this list, they are reliable.
n
Their plans start at $30 for 20,000 visits.
n
But this price include KeyCDN services, security protocols and firewalls, things you would pay for separately.
n
Unless the pricing isn't good for you, you'll look no further for a managed WordPress hosting company.
n
Kinsta will migrate your website for free. And it is a good thing because it is likely that you started blog on a shared plan.
n
Why Kinsta?
n
n
They use 18 premium Google Cloud Platform to store your pages near to your visitors and deliver your pages fast.

n

They give free SSL and free CDN.

n

They take care of security measures so you don't have to buy security plugins.

n

Their architecture (PHP 7, MariaDB, SSD drives and NGINX servers is designed for speed.

n

They have daily backups and proactive hack prevention.

n
n
n
WPX Hosting : WordPress Hosting With Free CDN
n
WPX Hosting offers hosting plan starting at $24.99 per month, $20.83 per month paid annually, for up to 5 sites. Their limits are storage space and bandwidth. Somehow, it gives more flexibility than Siteground or Kinsta.
n
For now, it performs slightly better than them in tests I've read. I am not a current customer to testify if it stays the same.
n
Positive aspects:
n
n
They have their own CDN which is available for free at any plan.

n

They offer unlimited site migrations

n

Plans include automatic backup and malware scanning.

n
n
n
Web Hosts Reviews: The verdict
n
As you can see. They are all good options. The choice will be based on your needs. Here is my verdict:
n
Choose Siteground if:
n
You want to start on a budget while you want high quality services. You're ready to optimize your site to consume less CPU and scale as your site grows. I personally use and love Siteground.
n
I recommend it to for new to pro bloggers.
n
n
Choose Kinsta if:
n
You want managed hosting and built-in security measure for your site; and you're willing to pay for it.
n
New bloggers may not be able to afford it.
n
n
Pick WPX Hosting if:
n
You want a managed hosting company with bandwidth and disk space limit only. But unlike Siteground, there is no (up to 70%) discount with first billing.
n