Quick review:
Ezoic is a Google approved partner to monetize a blog with high paying ads. They pay on time. They use AI to improve revenue. And you'll earn more money with Ezoic than using Adsense or media.net.
Pros: You're not bound by a contract. There's no minimum traffic needed to join. You can apply with site written in multiple languages, not only English. They give technologies for free that can save you tons of money. Ezoic won't reject your website if the majority of traffic is not from US.
Cons: They can slow down your website. With its different services, it is often a challenge for support team to understand the problems users are facing.
Verdict: If you're not eligible for Mediavine, Newor Media, or Adthrive, Ezoic is a good choice. I've experienced an average of $20 EPMV (per 1000 visits) using them.
Sign up for Ezoic and start earning
Why I Still Recommend Ezoic despite its cons? They pay well: you can start making money with a blog early on. No contract: you can remove it anytime if you don't like it or are qualified for another platform. There's no guarantee Adthrive, Newor Media, or Mediavine will approve your website after a long wait without monetization.
Some users with thousands of pageviews are happily using Ezoic.

For a detailed review of Ezoic, keep reading. Here's a TOC for this article:
You'll learn everything you should know to decide to join Ezoic or not.
Monetize Your Knowledge.
Join Teachable today! An all-in-one platform to easily create and sell courses and coaching services for profit!
Start Free
Free trainings Available!
Ezoic Review (2021)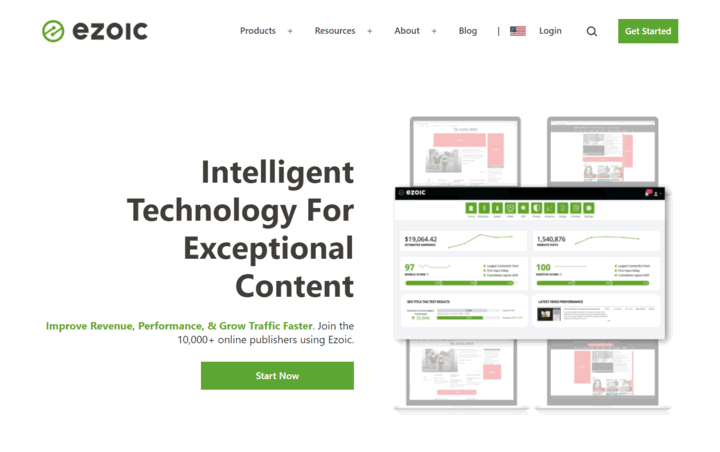 Ezoic can help you make money with high paying display ads on your website. In this post, you'll find:
an honest review of Ezoic,
its pros and cons,
how it compares to alternatives,
my earnings and my experience using Ezoic.
What is Ezoic?
Ezoic is an ad management company, approved ad partner of Google, with a suite of tools to help you make money with ads on your website. Here's how:
Header Bidding: Ezoic makes hundreds of ad networks and ad exchanges compete for your ad space. With the increasing competition, you earn more money for your ad space.
Ad sticky & Refresh: Ezoic refreshes ads and allows you to stick ads to remains visible as user scroll. This will increase ad impressions which will increase your ad earnings.
SEO Optimized video player: You can upload videos on Ezoic and embed than on your website. It is a good alternatives to hosting videos on YouTube. You earn more money with ads in these videos. And there's no related videos to take visitors out. It's also an opportunity to get on video search results for an increase in traffic.
AI Optimized ad placement: Ezoic uses Artificial Intelligence to show the ad sizes, number of ads, and ad position that will increase ad revenue based on a lot of data.
Ezoic makes it possible for low-traffic sites to get access to high paying ads to monetize their traffic.
Sign up for Ezoic and start making money.
Sites with more traffic get access to more advertisers and earn more.
How to start using Ezoic?
Go to Ezoic.com to create your free account. For your first 30 days, you get 100% of revenue without a cut.
Ezoic will give you a list of tasks with instructions to complete them:
integrating your site with Ezoic via a WordPress plugin, name server, or Cloudflare.
creating placeholders manually or adding them via the browser extension.
Apply for Google Ad Exchange as MCM.
Turn ON Ezoic when you're ready.
There is no traffic requirement. But your site needs to be compliant with Google. Still, you don't need a Google Adsense account to join Ezoic. But the website should not be banned by Google Adsense.
I had issues with their WordPress plugin. The site stopped working on plugin uninstall and I had to delete the folder of the plugin using FTP in CPanel. They improved the plugin but I am no more using WordPress to give it a test.
I recommend integration via name server or Cloudflare.
How do you get paid with Ezoic?
Ezoic pays monthly, at the end of the month, for the previous month's earnings. The minimum payout is $20.
They pay via PayPal, Direct deposit (US), check/cheque, and Payoneer.
It is one of the aspects where Ezoic thrive. I was using Ezoic since October 2016, and they never miss a payment.
What is Ezoic Pricing?
Ezoic is 100% free for the first 30 days.
After that, it is either "ad funded" when Ezoic adds an ad at the bottom of the website; or "revenue share" where they keep 10% of ad revenue.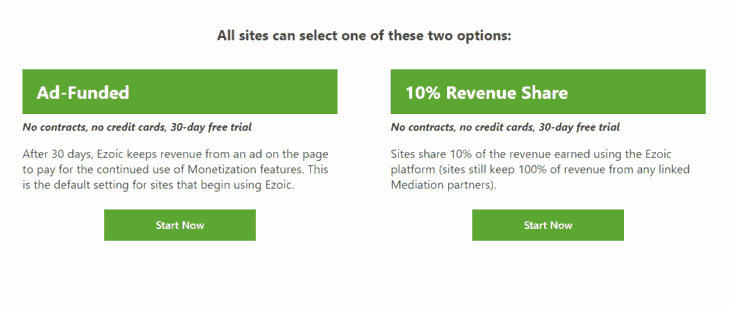 You can access their features for better site experience for users, monetization, analytics for free.
They have a premium program where you pay a subscription to get access to direct deals.
Ezoic Pros
Control over ad placements: with Ezoic, you keep full control over number of ads on pages, ad placements, size, quantities, etc… This is one of my favorite aspects of Ezoic.
No Contract: You don't sign a contract when you join Ezoic. You're free to leave whenever you want. PS: There's a fee for leaving early when you take advantages of premium annual payment.
Big Data Analytics: with Ezoic detailed analytics reports, you get the data you need to grow your site and make more money. You see pages with highest RPM, keywords with highest EPMV, etc… You can focus your efforts on publishing articles that make you money.
Minimum withdrawal of $20 and on-time payment: You don't have to wait to get paid with Ezoic. You get paid monthly, on Net-30. And the minimum payout is only $20.
Ezoic Cons
Incompatibility with some useful technologies: the way Ezoic works makes it incompatible with a lot of technologies. As example, it is incompatible with Cloudflare full-page cache, not compatible with certain hosts and some WordPress plugins.
Support always respond but not always helping: You'll always get a reply from a human. But you won't always get a helpful answer. Sometimes, it seems they do not take the time to read the email or look at your site. At times, they just recommend you articles in their helpdesk not always related to your issue.
Control over DNS: Their most recommended integration method and their best is through cloud (DNS or Coudflare). It gives them too much power. They can create pages and install scripts on your domain. Also, it is another point of failure when you're trying a get a better speed. Ezoic DNS stands between your visitors and your host.
Is Ezoic better Than Adsense or Media.net
Absolutely. You'll earn more money with Ezoic than with Adsense or Media.net.
It's because Ezoic have adsense PLUS other ad partners bidding for the ad space. You can set ads sticky and to refresh.
In the other hand, Media.net pays mostly per click and with search ads where users have to click twice.
Also, while the minimum payout of these networks are $100, Ezoic pays at $20 minimum withdrawal threshold.
The good news is that you can add Adsense and Media.net in mediation inside Ezoic. They'll still compete for your ad space and when they win, you'll see the revenue directly in Adsense or Media.net dashboard.
Ezoic Premium Review - Is It Worth The Investment?
Ezoic premium is a paid subscription to get higher paying ads from direct deals.
I have mixed feelings about Ezoic Premium.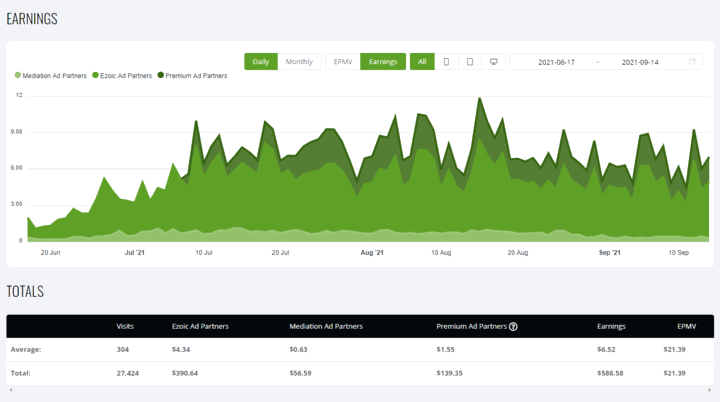 Actually, with premium you'll see more revenue in your account. The system will always adjust the revenue so you get your investment back.
Still…
You should not have to pay in advance for high paying ads. Ezoic should have given those high paying ads in the first place. Also, why am I paying a fixed rate in advance when Ezoic doesn't know yet the deals I'll find?

Premium, when paying annually, comes with a contract where you have to pay a fee if you leave early.

Some days, it looks like Ezoic just move earnings from normal to premium because when premium goes up, normal goes down.
You can try Ezoic premium on invite. They will give you 14 days free trial.
Good to know:
You can't downgrade plans manually. Usually, Ezoic gives 20% reduction when you pay annually. But there's a fee of 50% of the remaining months if you decide to quit early.
Don't calculate your risks based on your starter plan. Once you move through premium plans, you can't go back to lower plans to reduce the fees. The only way to lower your plan is to make less money than your actual plan.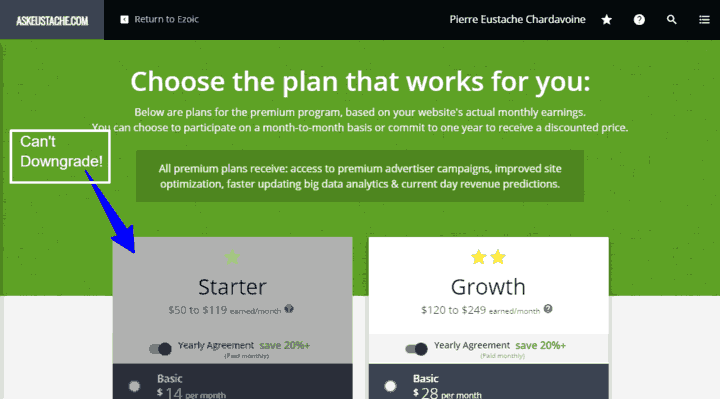 So, it's something to keep in mind when you're tempted to activate auto upgrade.
Is it worth the investment? If you're using Ezoic and get invited to premium, use it. The system is setup so you get full potential with premium. It may affect your normal revenue positively and you'll get what you've paid + extra earnings. Always think twice before committing for a yearly plan.
Also, now you know that EPMV of Ezoic compared to RPS of other platforms are often misleading. When you remove premium cost, EPMV is lower than what is displayed. Still, it is a great source of income if your site is not qualified for Ezoic alternatives.
Ezoic Leap Review For Speed
Most Ezoic users complained about its impact on their site speed. Also because Ezoic had a paid plugin to fix speed issues caused by its scripts. It was called Site Speed Accelerator.
The real problem was because your site was slow because of Ezoic technologies and they asked you to pay to fix it.
At that time, all honest Ezoic reviews mentioned this when they talk about Ezoic speed impact on websites.
Fortunately, they listened to the feedback and came with Ezoic Leap which is free for Ezoic users. It is almost the same features as Site Speed Accelerator but with a different design and now free.
They added features such as scanning website for technologies to give suggestions on better tools.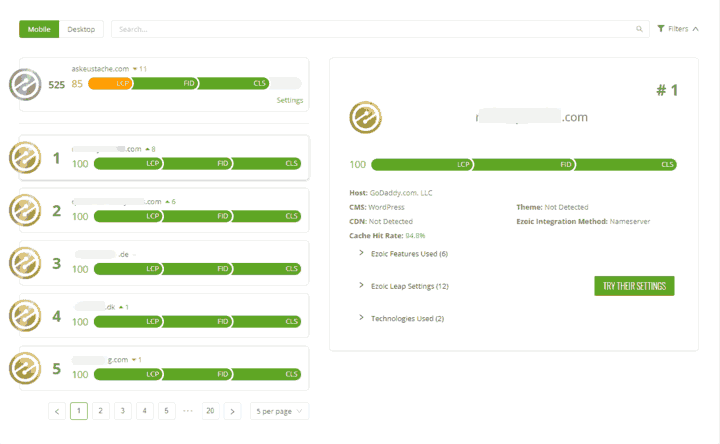 Overall: Leap is a good tool and is doing its job. It works well on dozens of websites using Ezoic.
Unfortunately, it did not work well with my website (see in previous screenshot). Reading reviews of Ezoic on Reddit, I am not the only one in that situation.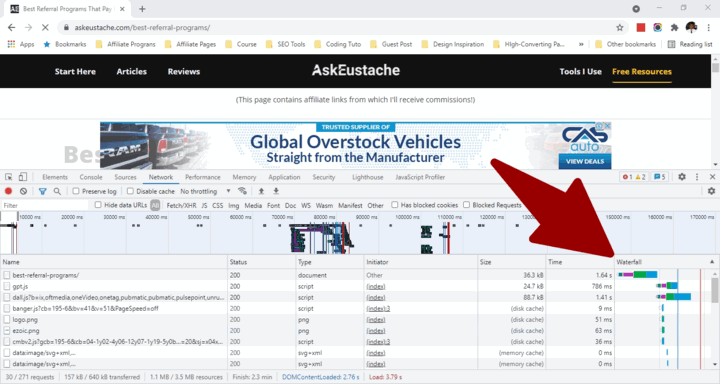 I contacted Ezoic about it and they could not find any issue. Without Ezoic my website pass Core Web Vitals but not with Ezoic ads. Also, some pages may pass core web vitals for a day or two but fail the next days. On top of that, they could not find optimization I could do on my side. So, there were inconsistency with LEAP even if my website was cached by Ezoic for 85% of the traffic it received.
After leaving Ezoic, I found that svg in img tag triggered LCP again in chrome. But it was also because Ezoic inline 50+ KB of JavaScript codes on my site. In one week, I passed LCP again without Ezoic (but with Newor Media ads).
Bottom line: Ezoic leap will speed up some sites. But it will not work on certain websites whatever you did to optimize the site prior integration with Ezoic.
Best Ezoic Alternatives
The best Ezoic alternatives are:
Newor Media (30,000 visits required). This is the platform that I use.
Mediavine (50,000 sessions required).
Adtrive (100,000 pageviews required).
They are all high paying ad management companies to work with and monetize your traffic.
With Ezoic, you join without a traffic requirement, you have control over ad placements, you get paid fast on Net-30. But it takes control of your DNS, impact your site performance in most cases, and ask you to pay to get high paying ads.
Newor Media is a good alternatives of Ezoic because you still have control over ad placement, fast net-30 payment terms, your site remains fast, and you usually get the same revenue with Ezoic with less ads and without paying first. But you need 30,000 monthly visits to join and they don't have a native video player.
Mediavine is a good Ezoic alternative because it has higher paying ads and your site remains fast. But they require 50,000 sessions to join. You have less control over ad placements and they often display more ads than Ezoic. Also, they pay on Net-60 (after two months). Still, I've seen people moving from Ezoic to Mediavine and get 2X the revenue without the fees Ezoic takes for premium.
Adthrive is another good alternatives of Ezoic (if not the best). They have high paying ads, you can set up ad placements, they pay on Net-45, they are focused on improving your ad revenue. The only concern is that they require 100,000 monthly pageviews and reject a lot of applications.
Ezoic Review Verdict
With Ezoic, you can start making money with high paying ads from the start.
Let's take an example:
Imagine that you need 50,000 sessions to join Mediavine. You stuck on 35,000 monthly visits for 6 months. With Ezoic and $15 EPMV, you'd make $525 each month.
When you reach 50,000 sessions, you could decide on joining Mediavine or stay with Ezoic. You're not under a contract unless you pay premium annually.
So, I recommend Ezoic to make money on your blog with ads. Sign up for Ezoic now .
You can leave anytime you want if you don't like them.
Share on: