Out of the box, affiliate marketing is not your business.
Indeed, it's an activity that is generating you income. But you're building someone else client base.
You're getting paid to sell someone's product. You're a salesperson working on your terms.
This is all good. But it can be better.
You can make money with affiliate marketing AND build a list of clients to buy from you.
That's exactly what you'll learn in this post.
Table Of Contents
How do I Start and Grow An Affiliate Marketing Business?
Affiliate marketers get paid when someone clicks on their affiliate links and buys. Merchants give a unique affiliate link to each affiliate partner to track and reward their marketing efforts.
Normally, you get paid per sale. But some affiliate programs also pay per lead or per click. We gave more details in the beginners' guide to affiliate marketing.
Unfortunately, some merchants reduce affiliate commission overnight, close their affiliate program, or can remove you anytime from their list of approved partners. So, it's not a good business model to rely on merchants or other platforms you can't control.
So yes, there's a good way and a bad way of doing affiliate marketing.
Now, let's dive into the details of the best affiliate business model ever.
1.- Build Long-lasting Affiliate Business Assets
To build and grow an affiliate marketing business steadily, you need to focus your efforts on building your assets.
Your affiliate marketing business assets are:
Your content produced to convert,
Your email list,
Your landing pages.
If you only send traffic directly to merchants or solely rely on platforms run by third parties, your income sources are not safe from sudden changes that occur too often in this industry.
The best platforms you can control are:
You can create backups of these assets when changes happen. They also can help you automate part of the process to make passive income online.
Platforms such as YouTube, Quora, or Pinterest are good to create content. They have an audience already waiting for your content. But as soon as possible, redirect the audience you rent there to your owned platforms. We've seen too often years of work vanish in minutes when these platforms ban an account.
2.- Do Keyword Research to Target A Precise Audience Ready to Buy
As an affiliate marketer, you're getting paid to send to the merchant the audience they intended the product for. It's really important to keep that concept in mind. It's that specific audience that:
will convert easily into a customer,
and won't ask for a refund because the product fixes a real problem.
So, the best way to define the audience to target is through market research.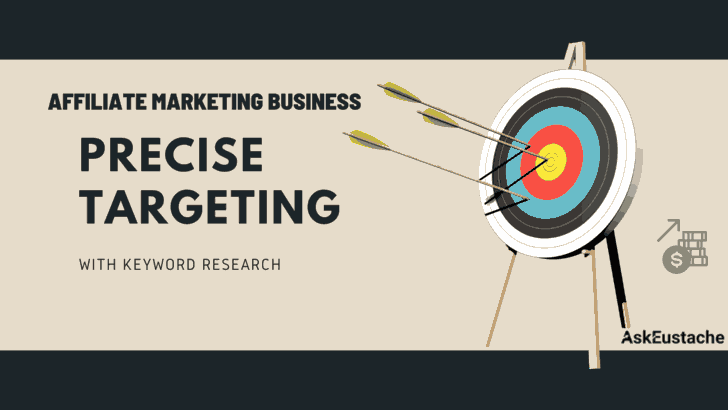 I wrote on how to do keyword research for affiliate marketing here on AskEustache. You'll learn the words they use to describe their problems and seek solutions, and potential obstacles to the buying decision. (here are some affiliate niche ideas).
Note: Being a customer of the product you're promoting will make it easier to know and show how it fixes such problems.
Finding high-traffic and buyer-intent keywords is like building a business in a busy street where people need your services. It results in more people seeing your offers and buying from you.
3.- Create Solution-Oriented Content to Boost Conversion
People go through different steps in their buying journey.
Unaware: They don't know they have a problem or can't name it.
Problem-Aware: Search about the problem and possible solution.
Solution-Aware: Compare different options to pick the best.
You build a profitable affiliate marketing business when you need to help your audience solve their problems. You get paid when they buy the product you recommended through your links to fix their struggles.
Also solution-oriented content will persuade users to invest in helpful products with high-paying affiliate commissions.
So, create more solution-oriented content to get more affiliate sales.
A simple formula is: Problem -> Result -> Bridge.
You'll reach users at different stages when you present the problem, show them the desired result, and how to get there using the affiliate product you're promoting.
4.- Build An Email List of Customers for your Affiliate Products
Your email list is your best affiliate marketing business asset. That's why you should not only send visitors to merchants' sales pages. Focus on building your email list from Day 1.
It's the best way to:
get people to trust you and your recommendations.
help prospects go through the different steps of the buying journey.
promote affiliate offers at launch and discount time.
build automated funnels that convert your traffic for you.
Learn how to get more email subscribers and how to make money with your emails.
5.- Recommend Only Products That you trust
Build a good reputation online when you only recommend products that you trust. It's the same way you'd sell only good products in a local store to get people to buy more from you.
Don't join an affiliate program based on commission without considering the impact it may have on your affiliate business.
Your audience will remember if you recommend a product that makes them lose money. And they won't take your recommendations seriously. This is a bad situation that can have an impact on your conversion rate.
6.- Give Exclusive Discounts & Bonuses
Why should people buy from you and not someone else? Or why should they buy now?
You can overcome these obstacles by giving exclusive discounts and bonuses.
If you start getting sales, some merchants will accept to increase your commission rate and/or give you exclusive coupon codes. These deals will make your audience feel special and they'll be happy to save when buying using your affiliate links.
Bonuses are another way to encourage readers to buy from you.
I love bonuses that show the readers how to fix problems using the products. You're teaching how to use the products which will reduce churn rate or refunds.
7.- Promote Affiliate Products with Recurring Commissions
One of the best affiliate marketing strategies to make a steady income is to promote affiliate products with recurring commissions.
You get paid each month for each customer as long as the terms allow it. Some affiliate products pay repeated commissions for one year, and some pay for the lifetime of the customers.
It's like an investment in a company where you get a share of the revenue. Enjoy the monthly payouts for your marketing efforts.
Recap: The Best Affiliate Marketing Business Model
To build a scalable affiliate marketing business, you need to retain and convert your traffic. Create content that helps fix real problems using the products you're promoting. Set up sales funnels to help users go to the different steps in their buying journey.
Recommended readings: