While there are better ways to make money with a blog, Displaying ads is one of the laziest ways to make passive income online.
With display ads, you just add ad codes on your site and let ad networks and ad tech do the heavy lifting.
Yes, it comes at a price. But there is more than one way to monetize your ads. So, there are workarounds. Also, using the best strategies can boost your income quickly.
In this post, we'll cover how to make money with high-paying ads on your blog.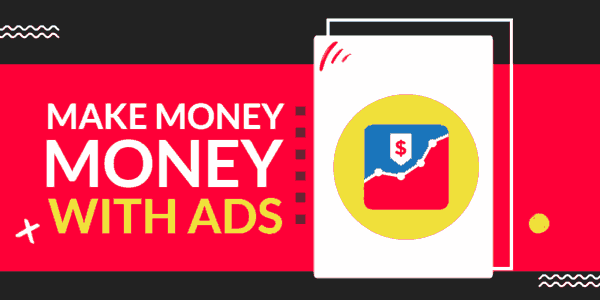 How to Make Money With High-Paying Display Ads On Your Blog?
Like any other form of blog monetization, it takes traffic to make money with display advertising.
But you can actually earn a lot of money by showing ads on your website and doing it the right way.
You can make more money per visit with the same content.
At the beginning, I earned $5 to $15 per thousand views on average using 3 ad networks. Then, it increased to $43.
In today's post, I'll show you how to make money with display ads even if you have little blog traffic. We'll try to tackle the common problems with display advertising such as:
the need for a high-traffic blog to actually earn from ads.
sending your hard-earned visitors away for a few cents.
slowing down your blog.
losing credibility among your readers.
To boost blogging income without the troubles of display ads, we'll use:
Ways to Make Money With Ads (While Building An Audience)?
The goal is to make money with display ads while we still:
make money with affiliate marketing.
build email marketing lists.
sell our own products.
There's one thing that let us know if our blog sucks or if display ad is bad.
If 3 out of 500 visitors interacted with ads. If other revenue sources are not generating any money. There's something else to work on. What happened to the 497 remaining visitors? Your blog needs optimization.
Did they see too many ads and leave? Did they bounce? read your blog and take no action?
Let's go through 4 steps to actually increase ad income on your blog.
Step 1.- Use high paying ad networks and optimize them
To optimize your blog income via display ads, you should use high paying CPM or CPC ad networks.
Why?
Because each traffic type works best with a specific advertising model.
Organic traffic from Google and Facebook converts CPC ads well.
Social traffic from Twitter, Pinterest, etc… does not work well for CPC ads, you need a pay-per-impression model to earn from social traffic.
Therefore, if you can mix both CPM and CPC ads, it would help you to earn a higher income.
Get Access to High-Paying Ads with header Bidding and Google Adx partners
The first advertising management platform I recommend is Ezoic. You can read my ezoic review on AskEustache.
You earn with high paying CPM ads using Ezoic. In June 2021, Ezoic removed the requirements of 10,000 monthly visits. Now, new websites can apply. You'll just have to go through a learning experiences and unlock features as you use Ezoic features.
Adsense and Media.net used to be the ad networks that accept new sites without traffic requirements. They both use CPC and CPM models.
Now, Ezoic is my #1 recommendation to monetize a website with display. Particularly after their successful attempt to fix slow loading ads.
Increase Competition on Your Ad Spaces to Increase Revenue
Media.net and Adsense can be added inside Ezoic to bid on placements. The higher paying ad will win the auction and make you more money.
Here is a screenshot report for one of my media.net ad, (when I was using Media.net directly), sorted by most revenue per day.
It was their ads or nothing. My website was not qualified for premium ads.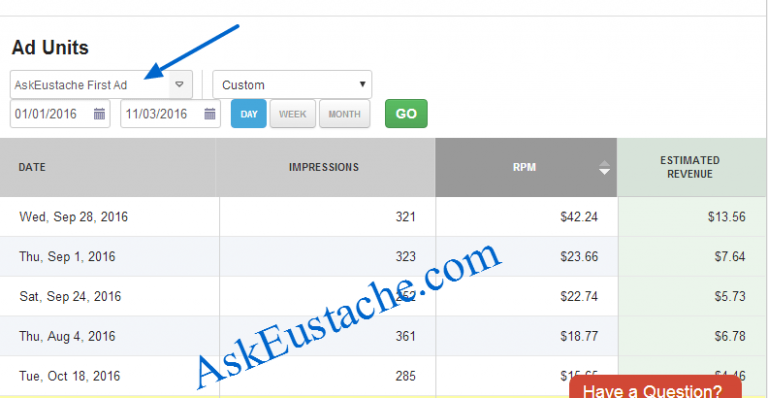 It was up to $42.24 CPM. (I focus on $15 CPM in the title as the average. Here's the proof that you can go beyond $15 CPM). And remember that's just revenue for one ad unit. I used 3 media.net banner ads on each blog post.
With High Paying Google Adx certified partners, you get dozens of advertisers competing for your ad spaces.
Some CPM ad management platforms you can use are:
Ezoic (#1 recommended ad platform. No traffic requirement.)
Newor Media (30,000 unique visits per month required.)
AdThrive (100,000 monthly pageviews required.)
I recommend you to use certified Google partners such as Ezoic, Newor Media, or Adthrive to maximize your ad spaces for you. They'll just take a small percent of your revenue.
Step 2.- Leverage High-Quality Traffic Sources
The traffic source and the reader's location play a big role in how much you earn from ads.
Advertisers will pay higher for top tiers countries such as United States, United Kingdom, Australia. Traffic from Google, Bing, and yahoo will get better targeting around high paying keywords than traffic from social media.
You can learn how to get high-quality traffic that converts reading an article I recently wrote.
Using the keyword tools and the tip below, you can use the words that get people in the top tiers countries to land on your pages.
Step 3.- Target high paying keywords you can rank for
One of the most common problems with ad networks is that you're sending your valuable readers away.
So, to increase earning, most publishers has to send more readers on someone else's website. They use aggressive ad placements, annoying ads and reduce engagement on their blog.
It is not a good strategy in the long run.
You can fix that with high paying ads. You'll earn higher revenue per engagement. And you'll need just a few clicks to earn higher income or advertising will pay higher to get their ads shown on your website.
I use SemRush and Keyword Surfer to find high paying keywords related to my contents.
I negotiated a 14 days free trial of pro membership for AskEustache's readers. Start yours free today. Get full access to the pro plan for 14 days.
You can cancel anytime during your 14 days free trial. After 14 days, SemRush will charge you for the first paying month.
Semrush makes it easy to know how easy or difficult it is to rank for a certain keyword. It also gives you the website ranking for that keywords and you can spy for their links, ranking features and more.
While their membership plans start at $69 per month where every cent spend is worthy, you can perform 10 searches per day for free.
I just made a search on SemRush for a keyword I know advertisers are willing to pay for.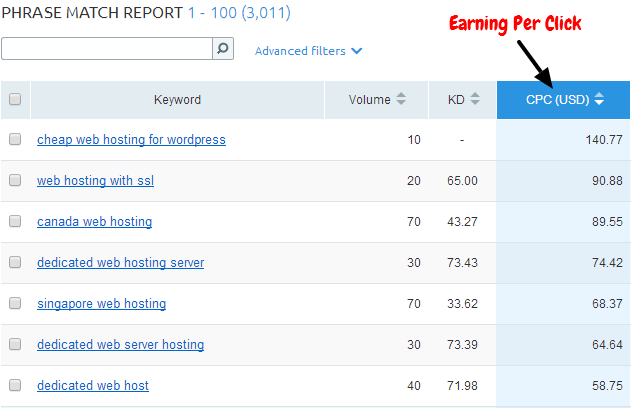 Some keywords worth up to $140 per click. Write around high paying keywords, usually ranging from $5 to $50 per click on average, to get higher income close to affiliate commissions with display ads.
Step 4.- Use the best ad placements for an optimal user experience and revenue
Optimizing your blog for User Experience (UX) is much more important than optimizing it for revenue. Just because with a better user experience, you earn more money.
User Experience goes far beyond how awesome your blog templateis. It is how user interacts with your page like:
the time they spend on your blog.
how many pages they read per visit.
the kind of action that they take.
etc…
A bad user experience can lower your ranking on search engines, and therefore, lower your earnings. But a higher user experience means more revenue.
A post on Link-Assistant related how user signals are important for SEO.
It boosts your search engine ranking. It is one of the most important ranking factors. But you earn more money with eCPM ads.
$5 CPM and 1 pageview/visitor => $5 per 1000 visitors.
$5 CPM and 2 pageviews/visitor => $10 per 1000 visitors.
An optimal user experience is good for more than that. Display ad is not the best way to earn high income from a blog.
You can make higher income through your blog selling your own products or affiliate programs.
So, you should optimize your ads to make you money from visitors who do not convert into email subscribers or customers. Not the other way around.
Unfortunately, I can't tell you the exact ad placement to reach that goal. You should put yourself into your readers' shoes. What would you like to find if you were one of your readers?
Like I said, display ads optimization goes through a lot of testing. You can manually make them or use certified ad partners like Ezoic to do all the testing for you automatically.
Some points I keep in mind optimizing my income:
Is there an opt-in form or link on my website before any ad? (not my sidebar)
Am I showing ads for programs I am affiliated with from which I could earn more income?
Does my website take more than 3 seconds to load on mobile and desktop?
Am I showing too many ads?
You can make money with ads on your blog. It's your job to make it help more than hurt.
Find high-paying ad networks.
Get converted traffic.
Optimize your writing to get high-paying keywords.
Use the best ad placements to get the best of all blog monetization techniques.
Did you enjoy this? Share it with your friends.