Looking for the best referral programs to make money online?
In this affiliate marketing programs series, I already wrote about the:
Let's briefly talk about what a referral program is and dive into the list of the best-paying referral programs.
Table Of Contents
What is a referral program?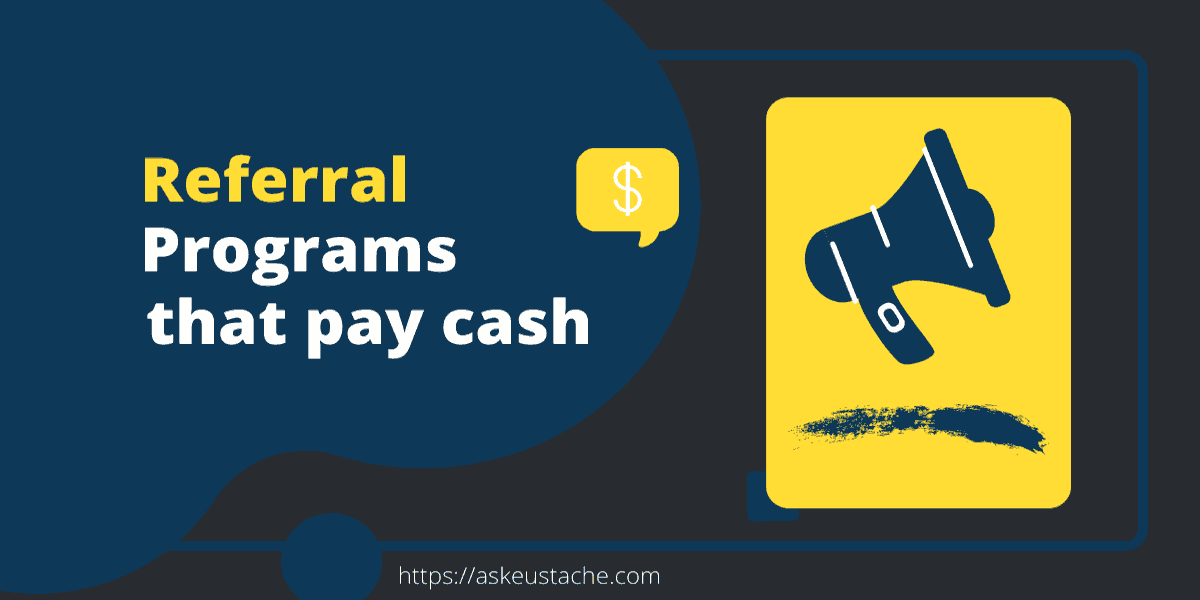 A referral program, or advocate program, is a program that rewards you for recommending a service or product to your friends. It's like an affiliate program. But it's more about referring your friends to a trusted service or product that you actually use.
In theory, you should refer your friends via email or social media. But it acts the same way as an affiliate program because you can share your link anywhere for profit.
While most of these programs give you credit per referral, I'll list the best referral sites that pay real cash rewards.
Picture this: You can convert free organic traffic into referral earnings. Here are some emails I got from the Rakuten referral program, formerly Ebates.

You'll find referral programs that pay $1, $20, $25, $30, $80, or more per referral.
Payment methods vary. But you can get paid for referrals via PayPal, ACH, Cheque, or Payoneer from many of these programs.
Now, back to our main concern… The best referral programs.
Best Referral Programs That Pay Real Cash in 2023
I made that list of the best referral marketing programs based on earning opportunities, payment flexibility, and legitimate status.
You get paid high up-front commissions or residual income per referral. You can get paid per free signup, when referred users start using the services or when they make a sale.
You can imagine how diversified it is to make money through referral marketing. Now, it's time to dig into those referral programs.
Ezoic - 3% Lifetime Referral Commission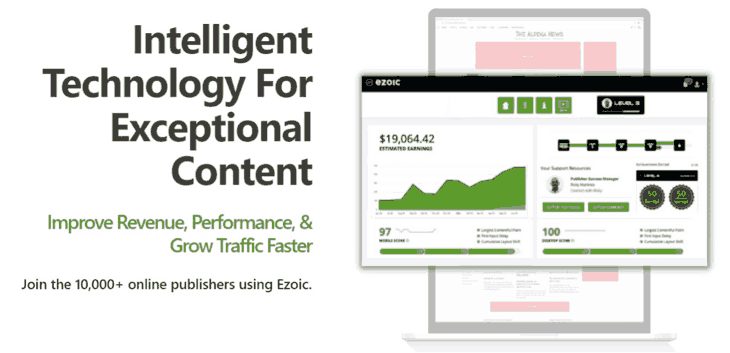 It's one of the highest-paying referral programs that I use.
I use Ezoic to monetize AskEustache and get an average of $15 EPMV. This is the ad platform that I recommend and you can see why in this full review of Ezoic. Earnings are according to your site performance. I've seen screenshots of people making $80 per thousand visitors with Ezoic.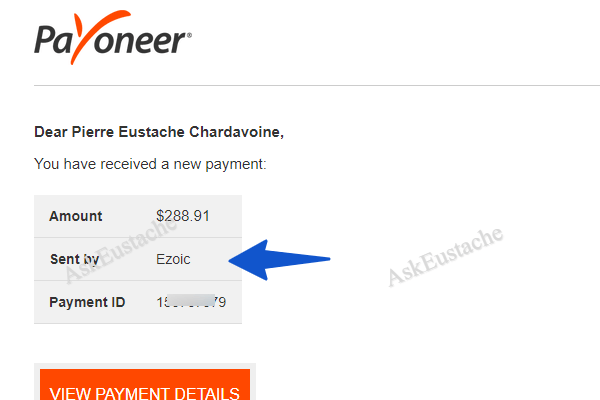 Ezoic referral Program:
Refer your friends to Ezoic and earn a 3% lifetime commission of what their sites earn, taken from Ezoic fees. It's easy to monetize a site with Ezoic—no traffic requirement. You just need a site with high-quality content to get in.
So, 3% of blogs getting 10,000 to 200,000 visits a month and getting $15-$20 CPM is really considerable. It adds up and it is a recurring commission.
Need Proof? See the screenshot below.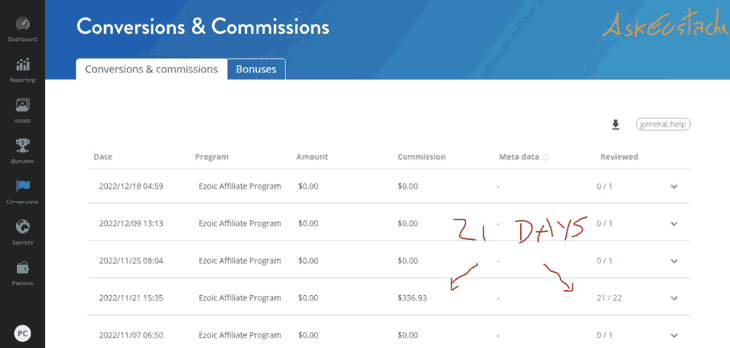 Ezoic is a certified Adsense partner claiming to boost your Adsense revenue by 300%. I've actually seen an increase in ad earnings by using them.
If you want to give monetize your site with Ezoic, (/goto/ezoic/) today.
Click here to join the Ezoic referral program.
You get paid via ACH, PayPal, Wise, international wire transfer, and check. You can get paid via Payoneer if you enter your U.S. payment service account detail in ACH settings.
The minimum payout is $20.
ShareASale - Refer and Earn up to $150 per referral
ShareASale is one of my favorite affiliate networks. There, you'll find thousands of affiliate programs to promote. They use their software to run a referral promotion program. Here are the details:
Referral rewards: $30 per referred affiliate. $150 per referred merchant.
Payment methods: Payoneer, Check, Direct Deposit.
Minimum Payout: $50.
You receive the $30 referral bonus when the affiliate makes at least $20 in affiliate commissions. For referred merchants, they have to generate $100 in fees to ShareASale or be active for 6 months for you to earn $150.
If you don't have a ShareASale account yet, sign up here. Then, look for ShareASale and the list of merchants and apply to be part of their advocate program.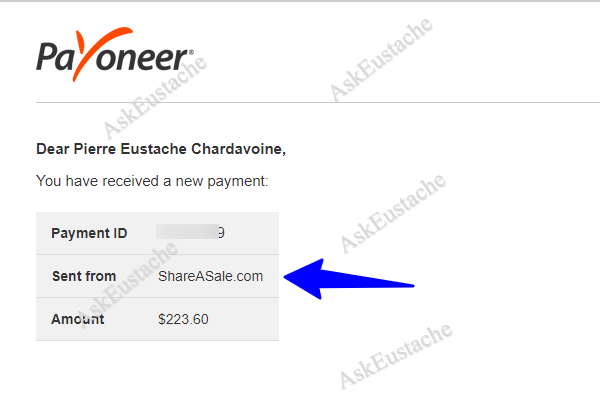 Refer your friends to ShareASale and earn $30 for each affiliate who signs up via your recommendation and makes at least $20 in earnings.
Shopify - up to $200 MRR per referral
Shopify is a powerful platform for starting an online store and selling online.
Shopify makes it easy to sell anywhere: Pinterest, Facebook, online and offline stores, etc… You can keep it simple with a "buy now" button on your existing website and plans start at $9 per month.
Test Shopify free for 14 days.
You also get paid recurring revenue share recommending Shopify to entrepreneurs who want to sell online.
Shopify Partner Program
Shopify has an affiliate program hosted on Impact where they pay $100 per sale. I reviewed the Shopify affiliate program and shared my experience on AskEustache. You can also join their referral program where you earn a recurring revenue share.
Shopify has regular plans ranging from $9 to $299 per month. You earn 20% recurring revenue share referring sellers to these plans. However, the Shopify plus plan costs $2000 per month and if you refer a Plus customer, you earn 10% (min $200) in recurring commission with the partner program.
You can also earn money on Shopify by selling apps and themes for Shopify stores.
Referral Bonus: 10-20% or $200+ per referral in monthly recurring commission.
Payment methods: ACH, PayPal.
Refer-a-friend program URL: Shopify partner program.
Wise - £50 per 3 Invites
Wise, formerly Transferwise, started as a money transfer service with low fees. It's still their main feature. However, they removed Transfer in their name because it's not the only thing they do.
You can open a multi-currency account where you get a bank account in multiple currencies: US dollar, Euro, GBP, etc… You can use a Wise business account for payroll, invoicing, and money management.
Wise gives you a debit card you can use to purchase online or withdraw your money at ATMs worldwide. You can also use Wise to invest in the stock market (for UK residents).
Wise Referral Program:
Referral Bonus: £50 ($75) per 3 friends who transfer a minimum of £200.
Referral Program Discounts: The referral gets the first transfer free for up to £500.
Payment Methods: Wise bank transfer or debit card.
Invite-a-friend URL: Wise Referral Program.
You're automatically part of the Wise invite-a-friend program upon signing up for their services.
You can make the Wise referral revenue multiple times. You just have to keep inviting friends. You still earn the referral fee if the invite money transfer transaction above $200 is not the first transfer.
Wise also has an affiliate program where they pay $10 per confirmed account.
I recently moved from Payoneer to Wise primarily to receive my earnings online. I save both on receiving the transfer and moving it to my personal bank account.
FlexOffers - 5 to 50% residual income from ref earnings
Find a lot of high-paying affiliate offers to promote on FlexOffers. Promote programs such as BlueHost, Ralph Laurent, Samsung, Lenovo, etc… and get paid up to $900 per sale. The minimum payout is $50 via PayPal and $1000 via wire transfer.
You need a high-quality website or social media profile to get approved.
They have a referral program too. Get 5% up to 50% in recurring commission from referral earnings. The percentage you receive is based on referral performance over the last 90 days.
Axos Bank - $20 per referral
Axos Bank is one of the best online banks to open an account with. Earn up to 0.61% APY with Axos.
No monthly maintenance fees.

Zero minimum balance requirements.

$250 opening deposit requirements.

Free ATM card upon request.
Open an Axos High Yield Savings Account. (U.S Only)
Upon signing up, get your link to refer your friends and earn cash.
Axos Bank Referral Rewards: $20 per referral.
With their affiliate program (worldwide), you can make up to $120 per lead.
You can find their affiliate program on CJ or FlexOffers affiliate network.
Rakuten - up to $25 per referral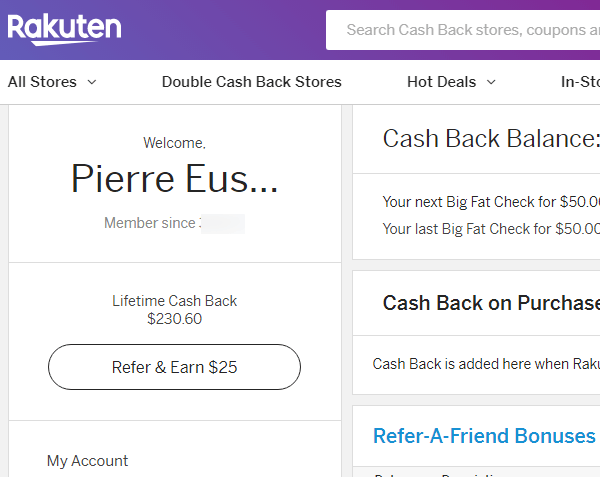 Rakuten, formerly Ebates, is a cashback site where you get a percent of your purchase back. So, it is a helpful service you can recommend to your friends to save money. Signing up is free, and your friend can save up to 40%.
You earn $5 per referral and up to a $20 bonus. Your referred user earns a $10 sign-up bonus.
They pay each trimester via PayPal or cheque.
RevenueHits - 5% per ref for 12 months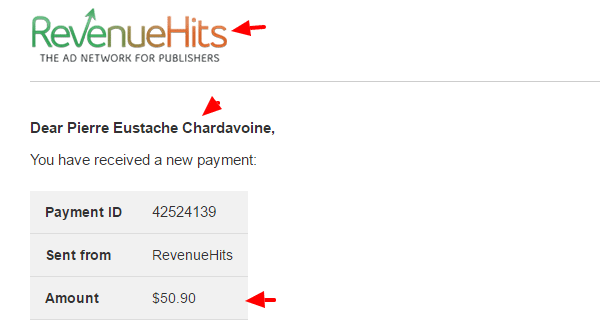 Refer your friends to use one of the best-managed CPA ad networks. Earn 5% per referral for their first 12 months.
It gives you special banners you display on your site. It shows the best CPA offers for your readers and you get paid per completed action.
I earn $25+ per month from a few referrals. So, 5% is considerable if you can tell your friends who enjoy CPA to that site.
They don't have to update offers every time, nor tweak links to show the right one based on geolocation.
Go to RevenueHits. They pay via Payoneer when you accumulate $20 in earnings.
Payoneer - $25 per cardholder
Payoneer is a payment processor to get paid online. It helps you save money on fees allowing payment in more than 210 countries.
It is my best method of payment. You can use it to get paid for freelance jobs, Amazon, Google Adsense, etc… You get paid onto your Payoneer account and you can withdraw using many methods. You can withdraw at a local ATM or purchase in stores locally or online.
It has a referral program. Refer and earn $25 per account holder who uploads or receives $1000 in cumulative transactions. Your referral gets $25 too.
Related: I made a list of programs to earn money online that pay through Payoneer.
Acorns - Investment platform - $5 per referral
Acorns is an investment program you can try now. Plans start at $1 per month and they give a $5 sign-up bonus. Here's what you get:
Micro-investing: Link a credit or debit card to your account and invest in usage. If you spend $4.95 on something, Acorns invest $0.05 from your card to round up.
Make money with remote jobs: Install their app to search for part-time or full-time jobs.
Bonus per referral: From time to time, Acorns offers a bounty per referral. I've seen bonuses of up to $500.
If you're not in the U.S., you can't invest with Acorns. Still, you can join the referral program and get paid to refer your US friends via FlexOffers. You can sign up for a FlexOffers account and search for Acorns once approved. You earn $4 per referral via FlexOffers.
Swagbucks - get paid per referral sign up
With Swagbucks, you get paid $2.5 per referral sign-up. The referred member earns $5 signup and gets paid up to $25 per survey completed.
It's more than just paying for survey opportunities. Members get paid to watch videos, search online, and earn cashback on online purchases.
It accepts referrals from the United States, United Kingdom, Australia, Ireland, and Canada. If you have friends in these countries, refer them and earn real cash per referral.
If you can't create an account because you're not living in these countries, join their affiliate program at ImpactRadius or FlexOffers.
MrRebates - 20% friends earning for life

It's a cashback site like Ebates. But instead of a flat commission on sign-up, you get paid 20% in recurring revenue from your referrals.
It processes payment each month via PayPal or cheque if your earning balance is greater or equal to $10.
Go to MrRebates.com and create your free account. You get a $5 sign-up bonus. It is credited after your first purchase.
SurveySavvy - up to $15 per ref
One of the best-paying referral programs is SurveySavvy. You get repeated commissions per referral.
The commission is $2 each time your referral completes a survey. You can also complete surveys and get paid $3 per survey.
If your referral refers someone, he gets $2 per survey the referral completes, you earn $1 additional. That's a two-tier referral-earning bonus.
So, there are a lot of opportunities there. And it's a global survey site that accepts worldwide members.
You can cash out your earning via PayPal. There's no minimum payout.
They have an app called survey connect. You earn $5 when you install it if you're in the U.S.
Create your free account with SurveySavvy.com.
GetAmbassador - $100 to $400 per referral
Refer your friends who want to start a referral program. It is a referral app to build a referral program for your business. You can reward with cash, points, or gift cards.
The referral software has its referral program. GetAmbassador pays $25 to $400 per referral. You earn $100 when a referrer completes a demo, you get $500 when he pays for a year.
VigLink / Skimlinks - Earn 35% from your referrals
VigLink and Skimlinks are two great referral programs worth mentioning. They work the same way.
You create and set up a free account. You get your code snippet and you paste it onto your website. It turns all normal links (unless you exclude them) into affiliate links. You can then make money if someone makes a purchase following these links.
The good part is that you don't have to manage relationships with all the advertisers. It's managed.
Refer these sites to fellow bloggers and earn 35% of the percentage VigLink and Skimlinks get per sale.
They both pay PayPal. Skimlinks pays via ACH too. The minimum payout is $10.
IBotta - Earn $2 per free sign up
Ibotta is a service to get cash back when you shop online or in-store (US for the latter). You can download the mobile app or install their desktop browser add-on.
You earn $2 per referral with Ibotta. Their program is hosted on ImpactRadius.
Referral program: https://home.ibotta.com/work-with-us/affiliates/
How to Promote High Paying Referral Programs on your blog
If you don't have an affiliate website yet, follow this tutorial to start a blog.
I highly recommend CloudWays or A2 Hosting to start a blog.
You can make huge money promoting referral programs on your blog. Once your post starts getting traffic, referral revenue quickly adds up.
Write content that helps your audience and make money by promoting the best referral programs. However, there are better programs with better payment terms you also need to pay attention to…
At the end of this post, I'll link to higher-paying affiliate programs.
As an example, I promote SEMRush which gives affiliates up to $200 per sale.
You can also get paid monthly for the same active customer with a recurring affiliate program.
Disclaimer: Your results will depend on how effectively you promote the program. There's no guarantee you'll replicate someone's success. There's no earning limit either.
Want to use SEMRush to find profitable keywords to get more organic traffic too?
To get 14 days free of the [SEMRush Pro trial]](/semrush-free-trial/) (worth $99.95), use this exclusive link. You'll need to enter payment details. You can always reach out to SEMRush via email to cancel your 14-Day trial…
You also have a 7-day money-back guarantee.
Refer and Earn With the Best Referral Sites
You can make a lot of money from referral programs. Don't underestimate its power.
In most cases, you earn residual income while your referrals make money instead of spending money. The better they become, the more money you'll make.
Use the best referral programs to refer a friend and get paid for referrals when they take action.
I hope you found this post helpful. Enjoy referral rewards programs that pay real cash.
Save it on Pinterest for a friend's reference or to check it out later. Feel free to share it on any other social network.
As promised, to make steady affiliate income, I recommend you to read my post where I list 50+ high-profit affiliate programs that pay $7500 per sale or recurring commissions.
I highly suggest you read the best affiliate strategies to make the most out of referral marketing programs.
Recommended Resources:
ConvertKit for marketing automation: Highly effective email marketing tool making building an email list and nurturing them simple. It is targeted toward bloggers and content creators who want to make money from their email lists. Start a 30-day free trial.
TailWind for Pinterest and Instagram Scheduling: Save time by scheduling months of posts in advance with TailwindApp.
What I really like is the ability to auto-update your Instagram profile link to match your latest post; the ability to get other users to share your pins with Tailwind tribes; and the possibility to loop your best-performing pins to Pinterest. You can start a free trial now.