A blog is the best asset of an affiliate marketer.
n
You craft a well-written blog post once. It gets you long lasting traffic that makes you passive income online.
n
The only problem is that…
n
…while starting a blog and writing a blog post is easy; only a few affiliate marketers know how to write a profitable blog posts that makes affiliate sales for them… on autopilot… in the long term.
n
So, most blogs last for one year. The owner don't profit enough. Then,  he shuts the blog down.
n
Mainly because the second year is often more expensive by 200% than the first one.
n
Things can be different.
n
How to write profitable blog posts that convert into sales? How to make them drive long lasting traffic to your website?
n
That's the key to passive affiliate income many people are dreaming about.
n
But how to get there?
n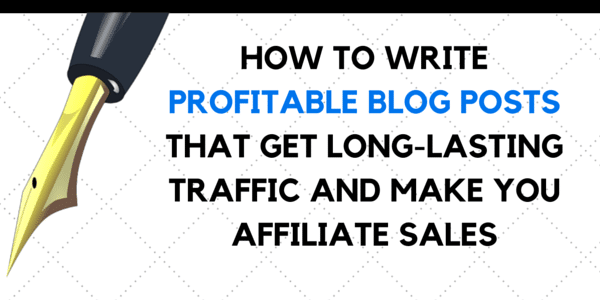 n
First, key elements of profitable blog posts
n
A profitable blog post that make affiliate sales has some characteristics.
n
n
It clearly targets customers it helps to solve a specific problem they are willing to invest for.

n

It appeals to ambassadors who influence the potential customers.

n
n
Therefore, it has to be readable, shareable and actionable.
n
When you add up evergreen as characteristic, you get long lasting traffic. Resulting in long term and passive revenue.
n
How To Write That Profitable blog post that makes affiliate sales?
n
Your readers want the best kind of content. Contents they love and read from top to bottom.
n
In fact, they deserve it. Otherwise, you lose them.
n
Don't you pull out all your efforts to write for them?
n
But in top of that, they need helpful and inspiring content.
n
It is clear that such content has to be strategic. Let's go through a step by step to write a profitable affiliate post.
n
Step 1.- Have a clear goal
n
A good blog post has a goal. Specially when you want it to convert.
n
Here's the deal.
n
You don't want to hurt your readers. You want to earn their trust instead. So, you simply can't make each blog post a sale pitch.
n
What's your goal?
n
Here's a list of what you may want:
n
n
Get your readers to sign up to your mailing list where a have an email sequence that converts. Email Tools

n

Earn their trust so they buy from a landing page which is accessible easily.

n

Make your audience buy a product to solve a problem.

n
n
Take the time to define your audience.
n
It is crucial to target your audience when you start your affiliate website. But it also helps each time you write a new blog post.
n
n
Is your target audience hobbyist who need content more inspiring that helpful.

n

Is your potential customer someone who's just struggling with a trouble he wants to get rid of?

n
n
You will have a clear call to action that appeal to that specific audience. And therefore, you will reach your goal.
n
Step 2.- Make proper keyword research
n
You can't ignore the power of SEO if you want to write profitable affiliate posts.
n
Recall that most profitable blog posts that make affiliate sales solve a specific problem.
n
People are looking for solution for these problems over search engines. And search engines are responsive to redirect that traffic to your website. It tells the user where to look for a solution.
n
If you don't get traffic that way, you miss the biggest opportunity to get customers to your affiliate website.
n
But these searches are made using common words. They are called key terms or keywords.
n
It is important that you search for keywords your potential customers will use. You can then optimize your blog post so you reach them.
n
I use and recommend four powerful online tools to do so:
n
Google Keyword Tools: Within Google Adwords dashboard, you can use their keyword tool to get estimated traffic each keyword gets. You can see how advertisers are willing to pay which reflects how much customers usually pay.
n
KeywordTool.io: This is another free tool which help you to extract potential keywords you would miss within GKT dashboard.
n
It looks for keywords google suggests to searches as they start typing. Suggestions that they often accept.
n
It looks as well for keywords Google suggests at the end of each
n
Google searches: I use Google search to see which sites rank best for my selected keywords. I see which angle those websites take and what can I add to give a unique proposition to my readers.
n
Semrush.com: I enter the websites that rank well in SemRush to spy on them. I discover similar keywords they rank for so I can group. (Google understands synonyms).
n
It also help me find sites that link to my competitor which will help me when I'll promote my affiliate post.
n
Step 3.- Write a catchy and descriptive headline
n
Don't underestimate the power of the headline of your blog post. It is the short sentence that make the big difference.
n
A well-written headline, your traffic grow significantly; a weak headline, no one cares about your whole post.
n
Why are headlines so critical?
n
Your headline is the first thing (and possibly the only thing) your potential readers will see.
n
Your audience will see them on social media sites, social bookmarks, blogging communities, search results, directories and email subject lines.
n
A study made by copy blogger shown that only 20% of people reading your headline will go forward to the whole content.
n
It also helps your search ranking. When people keep picking your website because the headline appeal to them, this is a great signal for Google to rank you up. I wrote a more detailled post about getting more searches traffic by tweaking headlines.
n
Perfect crafted headlines will makes your blog getting noticed. It plays a big role in bringing targeted traffic to your blog post.
n
How to write an headline optimized to drive results?
n
I've learned a lot from articles that I wrote in the past. I have made several searches about headlines also.
n
I found practical tips to create headlines that attract readers, that get social shares, that earn you backlinks and engagements. To keep it meaningful and simple, but still useful, I share with you the best headline tips:
n
n
Add numbered list: Numbered lists get higher CTR on listing. They are intriguing; your readers want to see if there are elements on that list that is not listed elsewhere. Ex: 10 fix to your boring writing.

n

Write "Best Of", "Top list" : Make your post engaging by writing a list of best elements. Teach your readers by searching and picking the best and top elements. Ex: Top high paying affiliates programs. They convert well into affiliate sales.

n

Create detailed How to post: How to post are reputed to be read from top to bottom. They are detailed steps to accomplish something. They address the reader problem. When the article is well written, it gets shares, comments, traffic, … and makes you ex: How to be epic on every social network (and still have free time)?

n

Use strong adjectives and emotion in your headline: Get people to notice your headline by including strong words. Emotions increase CTR and shares. Use power words such as "Awesome", "Must known", Must use, … and level up your headlines.

n

Talk about effectiveness and urgency: let people know that it is urgent to take action; or, let them know that your article is effective. They have no time to lose reading senseless writing; tell them the value in the headline; ex: Start getting 1000 daily visitors to your blog starting today!

n

Include strong and popular keyword: Don't count primarily on search engines for the first weeks of your perfectly writing blog post. But search engine traffic is, of course, a must have. Search engine traffics converts well; Search engines like Google and Bing keep sending you traffic years after you publish a post. You can get millions of daily traffic from that source passively.

n
n
Semantic indexing helps you get traffic from the content body. But your headline will increase your Click Through Rate (CTR). And your CTR will increase your search traffic by 200% and beyond.
n
When someone sees the exact keyword in the headline, he knows that your content is about that subject. Include targeted keyword in your headline and get help from these tools:
n
Step 4.- Make an addictive introduction.
n
You made all your efforts to craft a headline that act like magnet. Each time someone sees the title of your image, he clicks on it. It is time to make them read the whole content with an excellent introduction.
n
Why a good introduction is crucial for your content?
n
The introduction is the small part of your article that can make all the differences. If your introduction is boring, no one will fully read the content body. In fact, people are looking for the best information inside your introduction.
n
Because no one has enough time, they think that your introduction will help them know if your blog post addresses their problem or not. So, it is crucial to write a captivating introduction to keep your visitor reading.
n
How to write a compact and addictive introduction?
n
An introduction must alert the interest of the reader. It has to tell everything. But it has to be short. So, to make an introduction addictive, consider:
n
1.- Announcing the conclusion in the introduction: To keep the reader addicted to your content, let him know where you'll land. The focus of your content is what make it addictive. The content body will demonstrate the ways to achieve the goal. And affiliate programs within the body will make you the affiliate sales.
n
Short example: I made $700 writing a single blog post in 2 weeks. The method I used was amazingly simple…
n
2.- Showing how you'll develop the subject: Such introduction will make your blog post read from top to bottom. Tell your blog readers how you'll discuss the question. It helps the reader but also help you to follow required steps when writing.
n
Example: I wrote an article that got one million views the day he got published. I collected data and facts surprised me. Let's see how different channels drove traffic separately.
n
3.- Adding the most valuable information at beginning. Your introduction being so important; it is wise to add your most important information there. Your readers will read not because it is secret; but because it is intriguing.
n
Example: A recent content audit showed that search engine referral traffic convert at 80%. We found that "best of" lists' post performed best! Here's how we processed.
n
If you need further advice on crafting awesome blog post intro, see what 5 copy-writing experts has to say about it.
n
Let's go to step five.
n
Step 5.- Make content body readable, media rich and skimmable.
n
Love it or not, you can't satisfy everyone. And so, whatever the effort you put out. Even if you try to target an audience that is as much specific as possible.
n
Imagine that someone come from search engine and visit your website. What he looks for is the exact answer to his query.
n
How does he process?…
n
He just scan the page.
n
To convert that reader, he must scan your content easily. And quickly discover that your blog post is the right one.
n
There are two content elements to make your content scannable: table of contents and headings.
n
If you want to make your content scannable. Consider breaking your main point into sub-points.
n
Each point is discussed under a sub-heading.
n
It also helps you to create a table of content. If only a small part of the content interest your reader, they will jump to it.
n
Because a skimmable content helps user make a decision fast, you'll get more reads. But, readability matters as well.
n
Structure your content some way it is pleasant to be read:
n
n
Write it as a story where there's bridge from a paragraph to another.

n

Make paragraph short.

n

Use readable font-family and font-size. A working font size is 16px. Focus on readability over elegance when choosing a font-family: Open Sans, Arial, Ubuntu, and similar work well on most browsers.

n
n
But on top of that, multimedia will perfect your writing. This is the feature that is most either underused or overused in content creation.
n
But a balanced use is what keep your affiliate post readable, and therefore profitable.
n
Images, videos, and slide-shows are awesome for that job. They help you get ranking on searches engines. They perform well on social media. But, just keep in mind that they have to follow some rules.
n
Included media must have a meaning. Don't use media to decorate, but to talk. An image tells a thousand words. Use images to make a point clear, to demonstrate, to prove, to identify something or to give break to your readers' brain.
n
Embedded media should not interrupt reading. It has to be part of the content. Not something people should skip linking the two paragraph that it separate. To wisely add multimedia the right way:
n
n
Think about performance. (multimedia slows down your website speed)

n

Think about reading ease.

n

Think about visual marketing.

n
n
Step 6.- Read -> Proofread -> smile
n
Writing the profitable affiliate blog post is not just write and publish.
n
Take the time to read your article to check that everything's doing well. Ask someone else to read it, or use Grammarly (free grammar checker) to double check grammar and structure and proper word use.
n
If you're not happy with your post, perhaps you did not write a perfect one. Go through the steps again to see where you can improve.
n
Hit publish. Act to grow your blog traffic with your new post with proper marketing methods.
n
Next post in this series will help you attract thousands of people to read your posts.
n
Feel free to Leave your thoughts using the comment form below!