Domain parking can help you make money with your unused domains.
In life, everyone may have his preferred way to make money. Sometimes, it is based on experiences.
But sometimes, the choice is affected by unwanted situations.
Fortunately, you can turn those situations to your advantages.
Have domains you don't use yet? Whatever the reason, you can maximize your profit online with domain parking. Let money comes to you from your unused domains.
Domain parking is such a passive way to make money online.
There are people who make money online primarily parking domains.
But, what is domain parking? What is the best domain parking sites you can use? What do you need to start?
I will talk answer these exact answers today. Keep reading.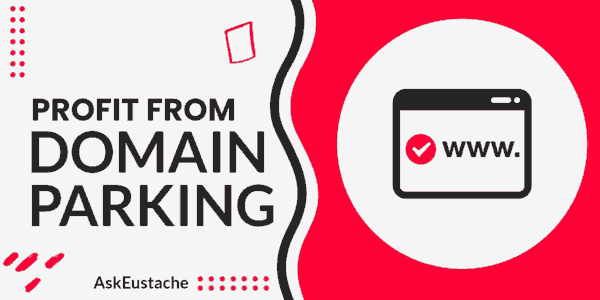 What is domain parking?
A parked domain is a domain name that is not associated with any internet service.
The internet services are email, ftp, websites, etc…
Domain parking is, then, domain not being used for its purpose; also called unused domains.
Recall that a domain name meant to be a memorable name that redirect to an internet service via DNS. Their address are generally difficult to remember:
127.0.0.1 or 11111111 00000000 00000000 00000001 is an example. Localhost is an alias to that address. So domain name simplifies life.
With a domain name parked, you can make money with your traffic.
Your domain name is not associated with any internet service and just host advertising that are shown to your audience.
Each time someone interact with those ads which sometimes look like web content, the domain owner makes money.
Why parking domains?
You may ask yourself why people park domains. Why should you? Do they do it just to make money? It is lucrative?
Yes, but also:
1.- Looking for domain age: You have a plan to start a business and know that it is difficult for new domain to rank well on search engines. You buy a domain name and park it to get it aged till you start your business. During that time, everyone that lead to your page can make you money.
2.- Reselling domain names: Some people just resell domain names.They heed to new domain name and each time a potential high traffic domain is bought, they buy the alternatives top level domains. Then, if the business want that domain, it will have to pay higher than normal pricing. And misspelled TLD domains redirect to your website which generate cash.
People can also afford domain names closely related to new trends and then sell it high to business owner. One of the most popular platform for domain flipping is flippa.com.
3.- Domain you no more need: Imagine that you purchased the domain name eustache-park.com for your website and then realize that askeustache.com is better. You redirect the old to your new domain and wait for 180 days. But you purchased the domain for 2 years, just 3 months passed. You can park the domain and get your investment back. :)
Because a new domain is generally parked: When you first purchase a domain, it is not associated with an web services. then, it is automatically parked. Some web hosting companies will set it up when you buy both hosting and domain from them. For others, you have to modify the DNS settings.
What do I need to start with domain parking?
First, you need money.
It is not a free way to make money online. You can maximize profit and get your investment back fast, but you have to invest in domain purchase. Then, you can either monetize it with domain parking script or domain parking companies.
Then, you need a strategy. If you're just buying domains for selling, you may waste a lot of money for sure. You have to study the market to invest where you can get a smart income passively.
Maximize profit online with domain parking
To maximize profit from domain parking, you may consider the following points. They are not requirements. but they may help you double or triple your ROI fast and keep getting more profit.
1.- Buy cheap domain names
If you are looking for fast return on investment, you may want to lower the investment itself. GoDaddy often offers domain for just $1.99 to $9.99, specially on Friday. If you want also to host a website, you can use my coupon code "1MOREDOMAIN4ME " to get two free domain names when you pick a plan from dreamhost; one for parking, one for your website. However, search the marketplace to get your domain at the lowest pricing. use only ICANN accredited registrar.
2.- Park multiple domain names
Generally, you can't promote a parked domains. It's against most domain parking sites T.O.S. Traffic have to come naturally to them.
So, it may takes time to maximize profit if you only own one domain. People usually purchase bulk domains and start a portfolio. When you combine traffic from all your parked domains, you earn huge money.
3.- Purchase search engine friendly domain name
As traffic has to be natural, if you are not parking an old domain, you need SEO. Purchase domain with popular keywords; imagine that you could afford social media dot com when social media first arise. So, check for trendy topics, check availability and purchase lucrative domains.
4.- make domain name available for selling
You may plan to sell the domain name.The price grow with the domain age; and you will get traffic from marketplace where your domains are listed. Do you ever imagine selling a domain you afforded for $9.99 for $200? Yes, you can and you can make money while it is unsold.
5.- Purchase expired domains
There are free tools to find expired domain names. People don't renew domain name sometimes because they moved to another project. These domains are then free to get purchased by anyone. You can buy those domains, park them and earn money from the traffic and back links they received. expireddomains.net is just one of the free services which list recently expired domains you can buy and then park.
Recommended domain parking sites
There are people who monetize their parking domains with scripts. They do it themselves. But you may want to use domain parking sites that will manage advertising on your parked domain; generally, they are free and share the revenue with you; sometimes, they are paid.
When the domain parking company offers free services, it doesn't mean it is hard to earn money with. But sometimes, you may have additional features with premium domain parking sites such as custom content, promotion and higher market share. Let's talk about about a few i recommend:
namedrive.com: Park your domain name with namedrive and get paid for your traffic on your unused domains. The service is free also; you can customize the look and feel of your pages; you decide to serve link ads or text ad directly. payments are made through PayPal ($20 minumum), wire transfer ($50 EU, $100 US, $200 international) and WebMoney ($50).
GoDaddy Cash Parking: This is the non free domain parking site in the list. You can add unlimited domain name, sell your domain name at Godaddy and get up to 80% share of the market; but you have to pay for the services monthly. Payment through PayPal, ACH (Payoneer) and check.
Sedo Parking: A free and reputed domain parking company. Just signup, add your domain and modify the DNS settings accordingly to instructions. Wait for DNS propagation and your domain start generating you money. You can also sell your domain on SEDO and link to your parked domain available for sale to drive traffic. They are paying through PayPal, Paper check, Wire transfer and direct transfer ( payoneer via US payment services); $20 minimum payment.
There's a few important things you may need to know:
There's law around domain name registration. Some domains buy right and prevent you from purchasing domains related to their brands. Make sure you don't use combination of copyrighted brands.
Making money through domain parking is easy if you follow guidelines. You just have to purchase the domain and don't have to create content. If you park a domain which received traffic and back links, you may earn fast; for a new domain, unless you're experienced, you have to be patient.
Make money with domain parking marketing system. There are people who earn over $100 per day; how much will you make? Share and comment!
Share on: