You can make up to $7500 per sale promoting high-paying affiliate programs.
Some of them will pay you monthly recurring affiliate commissions.
In this post, I'll list 50+ of the top-paying affiliate programs. I'll give you a little guidance on how to promote them too. I'll show you why the best way to make an income with affiliate marketing is to promote the highest-paying affiliate programs.
Here are what I like about those high-paying affiliate products:
High payout per sale.
Most of them will pay you high recurring affiliate commissions every month.
They fit into multiple blog niches.
They are useful products your audience really wants and they are trusted.
their landing pages convert.
Table Of Contents
Without further ado, let's dive in.
Best High-Paying Affiliate Programs to Make Money
This post contains over 50 affiliate programs that pay high commissions per sale. However, here are the top 7 high-payout affiliate programs that I highly recommend among them:
You can make full-time income with these programs that you can promote in many niches.
While I list 50+ of the best paying affiliate programs below, I recommend you to pick 3 to 5 programs only that fix your audience's problem to focus on.
You'll see better results than pasting links all over the place.
Ready to start and grow your business?
Start a website, run email marketing, sell online courses, all in one place.
For a limited time, get 15% off 12 months of paid plans
List Of High-Paying Affiliate Programs
This list includes affiliate programs in high-paying affiliate niches.
They are worth their price. You don't have to fool your readers to make a sale.
They are proven effective programs. You can quietly promote them to your audience that you care about because they fix a real problem.
They can be used in most niches related to online activities.
They are evergreen. It means that you can promote them for years long.
their landing page converts well.
They really pay.
Let's start with one of the highest-paying affiliate niches…
High Paying Hosting Affiliate Programs
To start with the highest-paying affiliate programs you can profit from, let's consider hosting services.
You can promote them within any niche where your audience needs a website.
1) CloudWays | #1 Recommended Managed Cloud Hosting | Up to $200 per sale
Refer customers to CloudWays to earn money.
Get paid up to $200 per sale one-time, based on how many monthly referrals you get; or $30 one-time + 7% lifetime residual commissions. You contact support to choose the payment structure that works best for you.
It is a company where you can get managed cloud hosting services starting at $10/month for 25GB storage, 1TB bandwidth, and 1GB RAM. You get a dedicated environment to run your sites. You can start a 3-day free trial now – no credit card is required. On signup, use the code AEPROMO20 to get 20% OFF the first 2 months.
It's one of the best cloud hosting services with awesome features such as server caching, free SSL, CDN, dedicated firewall, etc…
Get Hosting on CloudWays Join As Affiliate
2) SiteGround | #1 Rated Shared Hosting | up to $125 per sale
I highly recommend Siteground hosting for shared hosting. Personally, I use Sitegound to host AskEustache, the site you're on now. I love their services because:
They are affordable. Their plans start at $3.95 per month. (Side note, I recommend the GrowBig plan which starts at $5.95 for server-side caching, free backup restore, and free site transfer. Your site would handle more traffic than your plan allows too).
They are optimized to deliver fast results within a secure environment. You'll get SSD disks, PHP 7, and AI anti-bot software to filter bad traffic.
They have highly skilled technicians you can reach within seconds via chat, phone, or email. In my experience, they answered and resolved my requests very quickly.
I wrote a detailed review of Siteground hosting you can check out. So, if you need secured and fast sites, get hosting on Siteground now.
It is an awesome hosting service you can vouch for. So, let's look at it as an affiliate.
You get paid up to $125 per sale. It goes as follows:
For 1-5 sales per month get paid $50 per sale.
For 6-10 sales per month, get paid $75 per sale.
For 11-20 sales per month, get paid $100 per sale.
For anything beyond that, contact your account manager for a higher share. It is common to get up to $125 per sale.
You can recommend Siteground to your audience whatever their needs. They have shared, cloud, and dedicated hosting.
If you don't know how to optimize your site for better use of server resources, I recommend you CloudWays.
There are established with thousands of clients but still fulfill customers' needs.
Affiliate payouts are made twice a month. The minimum payout via PayPal is $50; the withdrawal threshold for wire transfers is $5000.
Visit SiteGround Join as affiliate
3) Kinsta Hosting | Google Cloud Powered Hosting | Up to $500 per sale
Super fast Managed WordPress hosting whose plans start at $30 per month. Promoting Kinsta, you'll earn $50 to $500 per sale paid once + 10% in recurring revenue. The commission depends on the plan purchased by the referral.
What I like about Kinsta are:
Premium Google Cloud tier for everyone
Highly secured environment and malware removal.
Support by WordPress experts
Check out Kinsta Join the affiliate program
The above three web hosting are the ones I vouch for. However, there are more high-paying hosting affiliate programs.
4) WPEngine | WordPress Managed Hosting | Up to $7500 / sale
It is one of the top-paying affiliate marketing programs to make money. You can make up to $7500 per sale. But it has a high reversal rate too.
It offers WordPress Managed Hosting Services. However, it does not fit everyone's needs. You'll make money promoting it to businesses or individuals who care about site security, and loading time and can afford it.
Plans start at $29 per month. But the affiliate gets paid a $200 minimum or 100% first payment which can be up to $7500 if the sale is greater than $200. You earn the highest income possible.
You can start a 30 days trial.
They have incentives too to encourage you to promote their services. If you bring more than 10 sales a month, you get a bonus of up to $1500.
If you refer an affiliate, get $50 each time he sells WPEngine to someone. You can apply through the ShareASale affiliate network. ShareASale pays via Payonner and check.
Visit WPEngine Sign up as an Affiliate
5) WPX Hosting | Up to $100 commission per sale
WordPress Hosting plans start at $24.99 per month. It is one of the few managed WordPress hosting where you don't get a limit on how many visits you can get per month.
You get 100 GB, 200 GB, or unlimited GB respectively on the Business, Professional, and Elite plan.
As an affiliate, you earn $70 per referral. If you send more than 100 referrals, you can make up to $100 per sale.
6) Liquid Web | Earn up to $900 per sale + recurring commissions
Promote this managed web hosting company and earn up to $900 per sale. Liquid Web sells Managed WordPress hosting, Cloud hosting, VPS, and dedicated server services.
As an affiliate you promote LiquidWeb, you earn $125 to $900 per sale paid once, + you earn 5% recurring commissions.
Site Builder, Sales Funnels & Shopping Cart Affiliate Programs
9) ClickFunnels - Up to 40% recurring commissions
It's the best affiliate program that I promote. It started as a landing page builder but turned into a complete suite to build landing pages, collect emails, send targeted emails and follow-ups, sell your products, and recruit affiliates.
The thing is that you're sending traffic to high-converting funnels.
Plans start at $97 per month.
$97 a month seems expensive. But you change your mind when you know you could pay that price for a shopping cart only.
Affiliates earn from 20% up to 40% on all sales. If the referral buys a subscription to the software or courses, you earn up to 40% recurring commissions. It's $38.80 up to $118.80 per month per active customer.
You earn $1 when your referrals get one of the free physical books offered by ClickFunnels.
Each plan includes access to FunnelFlix (like NetFlix for entrepreneurs) where you take a lot of courses at no additional charge. (They are even available in the free 14-day trial)
Courses categories include:
Traffic Secrets
Copywriting tips
Business Strategies
They pay affiliates twice a month using Tipalti. So, depending on your location, you'll get paid via ACH, PayPal, check, or wire transfer. The minimum payout for ClickFunnels affiliates is $100.
Join the affiliate program here.
Sign up for a ClickFunnels account here. (Get $5,586+ worth of bonuses).
I'd like to mention that ClickFunnels has a free course where you'll learn how to promote the program to make money. 14 Affiliates who are making $3000+ each month with ClickFunnels as affiliates teach you how to be a super affiliate.
You'll find it inside FunnelFlix (link in the sidebar of your dashboard) after you start your free trial.
As promised, this is a screenshot of my affiliate account at the beginning… before my first payment: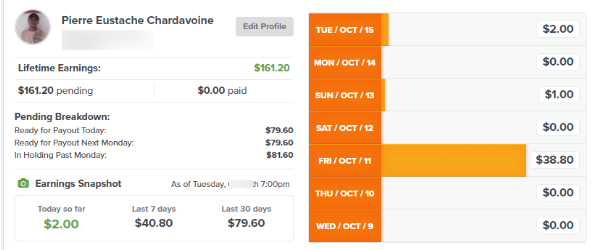 To maximize ClickFunnels results as a customer or commissions as an affiliate, it is highly recommended to take the OFA challenge too; a 30-day challenge where you get coached to build a funnel to sell more. It changed completely how I approach online selling. (Get access inside FunnelFlix when you start your free 14-Day ClickFunnels trial)
10) LeadPages | Landing Page Builder | 30% residual commission
Use LeadPages to build a landing page and nurture your email list. Promoting LeadPages, you earn a 30% recurring commission per sale.
It has way fewer features than ClickFunnels but it is more affordable.
You can get paid your commissions via Payoneer or Check on the ImpactRadius affiliate network.
Join affiliate program hosted on ImpactRadius.
11) Weebly | Site Builder | Up to $136 per sale
Weebly is a drag-and-drop site builder you can use to create an online shop too. It has a free plan but pro plans to have a store start at $12/month.
You get paid 30% per sale. It's up to $136 per sale.
The affiliate program is hosted on ShareASale. So, you can get paid via Check, direct transfer, or Payoneer when you have $50 in account earnings.
Weebly is part of the Square family; a payment gateway.
Join the Weebly affiliate program
12) PayKickStart | Shopping Cart | 25% commissions each month
If you want a shopping cart to boost sales with upsells, order bumps, and abandoned cart recovery, PayKickStart can help you. It also collects and remits global taxes at checkout such as VAT for the EU.
Plans start at $25 per month.
As an affiliate, earn 30% recurring commissions for the lifetime of the customer membership. They process payouts every 30 days via Payoneer and instantly via PayPal.
Get 30 days trial instead of 14 days with this special link.
Start a 30-days free trial of PayKickStart (Special link).
13) Kartra | 40% recurring commissions for life
All-in-one solutions to checkout, landing pages, email follow-up, and membership sites.
As an affiliate, you earn 40% recurring commissions. You also earn 10% 2-tier commissions from affiliates that you refer.
14) SamCart | Shopping cart to sell online
Solutions to create a high-converting shopping cart with one-click upsell, A/B testing, affiliate management, and more.
You'll learn how to make money with Samcart one page Funnel.
Visit Samcart.com
Get paid up to 40% in monthly recurring revenue promoting Samcart as an affiliate.
15) SendOwl | Solutions to sell digital products & membership
Get paid 20% recurring commissions for each customer you refer to using SendOwl. If you're looking for a simple solution to collect payment and deliver digital products automatically and recruit affiliates, you may want SendOwl.
Pricing starts at $15 per month.
Email Marketing affiliate programs
Among the best-paying affiliate programs, email service providers are reputed to be a monthly source of residual income for affiliates.
Once a customer finds good email software, it is unlikely that he wants to switch providers.
It makes it more appealing to build residual commissions every month. Let the commissions talk.
16) ConvertKit| 30% commission each month per referred customer
Earn 30% recurring affiliate commissions promoting Convertkit as an affiliate. The commission starts at $8.70 and goes beyond $600 per month per customer as they upgrade.
This is a stellar email service provider that I use and highly recommend. Paid plans start at $29 for 1000 subscribers. But they have a free plan for up to 1000 subscribers (no automation features included; only broadcast).
They are famous and it's your best choice if you want to:
Pay for one subscriber once per month even if he is in 2 or 5 of your lists' segments. (you save money)
Send email courses on autopilot based on readers' intent when clicking your links.
Segment and send emails to subscribers based on pages they visited on your WordPress blog.
Build advanced automation when it's not complicated.
More and more online entrepreneurs are moving from Aweber to ConverKit. Is it the email marketing solution for you and your audience?
Try ConvertKit with 30 days free trial (no credit card required)
Join as a Convertkit affiliate
17) GetReponse | Email Software & Funnel Builder | 33% residual commission
Get paid 33% recurring share per active referral each month with getResponse. Your earning goes up to $46 per month per active customer you referred.
This is a tool to create landing pages and handle email lists. They allow you to test their service for free for 30 days.
It is the ideal email software if you want to send affiliate links to your lists. It also includes a sales funnel and landing page builder to build a business.
As an affiliate, you get paid via PayPal and check. The payment threshold is $50.
18) Mailerlite | Best Email Software with free Option | 30% commissions
I've used MailerLite before moving to Convertkit. Start building your email list for free till you get 1000 subscribers. Get landing pages, automation (email series), and RSS-to-email.
Once you reach 1000 subscribers, paid plans start at $10 per month. Way cheaper than alternatives but still an awesome service if it fits your need.
An affiliate earns 30% in residual commission per sale for pro subscribers.
(Because it is so cheap, you don't earn much as an affiliate. And the minimum payout is $120. You should bring a lot of referrals to earn the potential high commissions.)
19) ActiveCampaign | 20 to 30% recurring commission
ActiveCampaign is the right software for Advanced automation and CRM. Plans start at $9 for 500 contacts but quickly become more expensive than many alternatives. However, you get advanced email software to build a mailing and manage your subscribers.
Affiliates get 20% recurring commissions to start. But once you start making $200 per month, you can climb to 25% and then 30% residual commissions per month per referral. They pay through PayPal.
You have to be a customer to be an affiliate.
20) Drip | Advanced Email software For E-commerce | 30% residual income per referral
You can set up advanced automation in Drip for your customer's journey. It pays a 30% residual commission per referral. It is more expensive than MailerLite, Aweber, ConvertKit, and ActiveCampaign.
But it is integrated with so many programs that it might be your best option if you have an online store.
21) Aweber | Email Software For Affiliates | 30% recurring commissions
Before ConvertKit, it would be the email service most bloggers would recommend to you. Now, recommendations are split into ConvertKit and mailerLite.
Still, it is a good solution in many cases. In fact, each need deserves a specific solution.
For those who want to build one list on a small budget, Aweber may be the perfect email solution. It starts at $19 per month and the first 30 days are free (credit card not required to test).
Affiliates get a 30% residual commission which goes up to $44 per month per referral.
High-paying SEO affiliate programs
Who does not need SEO tools for his business online?
You need one to earn more passive income by digging into what your readers really want.
Because SEO tool is so crucial and because there is competition, you can expect to find high-paying affiliate programs to promote in that big-ticket niche.
22) SemRush | $200 per sale
Semrush is an all-in-one SEO tool to:
Find high-paying keywords for your blog.
Spy over your competitors to find their backlinks and SEO strategies.
Get SEO suggestions and audits to rank higher on Google.
Find high-traffic keywords with low competition.
and more
Get an extended 14-Day Pro trial (credit card required). You can email SEMRush to cancel your 14-day pro trial if you don't wish to upgrade.
Can it help your audience too?
As an affiliate, you earn $200 per sale.
That SEO tool helps you spy on your competitors; top-performing keywords, and backlinks and show you keyword ranking difficulty and advertising data.
You'll find profitable keywords you wouldn't think a similar page is ranking for.
It helps me to improve my articles for potential keywords I can rank for.
They have a free limited plan and awesome premium plans.
It was a time when Semrush affiliate program paid recurring income. Like $39.98 to $69 per month per referral. Now, it's a one-time payment.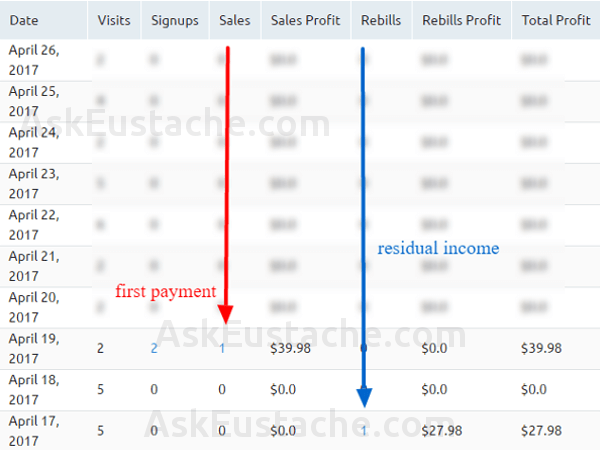 visit SemRush Join the affiliate program
23) LongTailPro | 30% residual income
This is the investment most online business owners are glad they did.
It has a lot of features that make finding long-tail keyword research easy.
You can check out how many backlinks, and social signals your competitor has and how difficult it is to beat them. So, you can wisely pick the most profitable keywords for your business.
You get paid 30% recurring commissions promoting Long Tail Pro. Their plans start at $24.99 per month.
24) Twinword | Keyword Research Tool
Get a list of related keywords. For now, it is a generous program that gives you up to 100 keyword suggestions for free.
Premium plans start at $12 per month for 60 searches a day. It is a great tool if you're looking for LSI keywords for your articles.
As an affiliate, earn 30% recurring commissions. The minimum payout is $100 via PayPal.
25) Ninja Outreach | Outreach software | 20% recurring commissions
This online tool helps you build high-quality backlinks for your blog. It helps you through the whole process. Find influencers and their contact details, use effective templates to save time and get seen, send automated follow-ups, and track performance.
Plans start at $59 per month to $599 per month.
Now, as an affiliate, you earn 20% recurring per month per customer. So, you can make $11.80 to $119.80 per month for each active customer you refer to Ninja Outreach.
the link to join the affiliate program can be located at the footer menu of the website.
26) SEO Power Suite | Up to $197 per sale
This is a complete SEO suite that I often use. It allows you to do keyword research, rank tracking, competitor analysis, search for link outreach opportunities, and so on…
You can download it for free to get to know it. It works on Mac Os, Microsoft Windows system, and GNU/Linux OS. You need to upgrade only when you want automated tasks and saved research.
An affiliate makes up to $197 per sale promoting SeoPowerSuite.
Download now Join as affiliate
You can expect high retention rate when you promote SEO affiliate programs.
Best E-commerce affiliate programs
E-commerce field gives the highest paying affiliate programs for you to use. You get high paying commission repeated over months for one sale.
The advantage of high ticket affiliate products in e-commerce niche is that your audience is merchants. They are willing to invest; it's their business.
You get the highest affiliate payouts and residual commissions.
27) BigCommerce | Make up to $398 per sale
BigCommerce is a complete e-commerce solution to sell online. It helps to collect payment, host and secure your online store, convert visitors and sell on social media.
Affiliates get paid 200% per sale. It's $60 to $398 per sale. Their Affiliate program is hosted at Impact Radius which pay through PayPal, check and EFT (Payoneer via US payment services available) when you reach $50 in account earnings.
28) Shopify | E-commerce solutions | 200% up to $2000 per sale
This e-commerce solution allows you to receive payment at offline stores, to build an online store and even sell on social media like Pinterest, twitter, and Facebook.
Their plans start at $9.99 per month.
Get paid to refer people to Shopify. They pay affiliate one time $200 per sale.
They moved their affiliate program to Impact.
29) Volusion | Shopping cart that pay up to $2000 per sale
Another great shopping cart to sell your products online.
Get paid up to $2000 per sale like with Shopify. It makes it easy to set up payments to get paid via PayPal, Amazon payments, etc…
It has everything you need to start selling online. Starting from hosting, marketing tools to getting paid.
The affiliate program is hosted on ImpactRadius.
Create your free Volusion account
30) 3D Cart | up to 300% per sale
Sell online with 3DCart and ease payment process.
You can enjoy 15 days free trial. Get to know the program to promote it to your audience. (or to use it if you're a merchant).
It makes it possible to sell in person, accept credit card at POS and build your business. You can also sell online and reach customers regardless where they are located.
Pricing Starts at $9.9 per month. no setup fee, no transaction fee.
Promote this high ticket affiliate program and earn 300% per sale. This is up to $297 per sale.
Online Learning | Education Affiliate Programs
31) Thinkific | #1 Recommended Platform to sell online courses
Thinkfific is a great platform where you can sell your courses online. You can create 3 courses for free on their platform and they take 0% fees on checkout.
Awesome if you want to start for free and have PayPal or Stripe accounts.
If you need premium features such as custom domains, manually adding students, integrations, affiliate programs for your courses, etc… paid plans start at $49 per month.
Get 30-Day free trial of pro plan using this link.
If you're collecting payments via PayPal and Stripe; if you are satisfied with the native integrations; it is the best platform to sell online courses I'd recommend.
When you promote it as an affiliate, you earn 20% recurring each month for the first year of your referred teachers.
They host their affiliate program on ShareAsale. So, you can get paid via Payoneer, direct transfer or cheque if you accumulate $50 in earnings each month.
Get 1-month free trial of Thinkific
Join the Thinkific affiliate program
32) Podia | Platform to sell online courses, membership and Downloads
Podia has everything you need to sell online courses and downloadable products in one dashboard. Their plans start at $39.
What I like about Podia is the ability to set up Zapier at the lowest plan.
If PayPal and Stripe are not available for you as payment options, you can collect payments in external shopping cart. Then you'll add your customers via Zapier without paying $97 like in Thinkific or teachable.
You don't pay transaction fees to Podia like you do on Teachable too.
When you join their referral program, you get paid 30% of customers' payments every month. Affiliate payouts are made via PayPal.
Join the Podia affiliate program
33) Teachable | Online Courses Platform | 30% Recurring commissions
Like Thinkific, Teachable allows you to create online courses and sell them online.
It has a free plan where you can sell courses. But they take a percentage of your earnings even on paid plans. 10% + $1 on free plans; 5% on pro plans. And you can get only 10 students using the free plan.
If you want to avoid transactions fees taken by teachable, you need to be on their pro plan which cost $99/month.
When you join their affiliate program powered by Impact Radius, you earn 30% lifetime recurring commissions.
Go to Teachable and you'll find the link to the affiliate program in footer menu.
34) CreativeLive | Free Online Live Classes
CreativeLive is an awesome online class platform where you can sell course, buy classes and even take free courses when they are live.
Check out the courses that are free this week.
As an affiliate, you earn $1 per free sign up. You earn $10 for each successful affiliates that you refer. You also get up to 20% per sale; it's up to $50 per sale.
Create an account on CreativeLive
Webmaster Tools & Themes Affiliate programs
35) StudioPress | Earn 35% per sale
StudioPress provides SEO optimized theme for WordPress with the Genesis framework.
The genesis framework is made to be SEO friendly. Those templates will help anyone buys high-quality designs and makes them their own.
Promote these WordPress templates and earn 35%, up to $350, per sale.
visit StudioPress join the affiliate program
36) Sucuri | WP Security Plugins
You'll need Sucuri to add level of security to your site. It can help preventing and fix site hacked.
It has firewall rules to prevent DOS attacks. It monitors your site for unauthorized file changes and uploads.
Plans start at $199 per year.
You can join their affiliate program via ImpactRadius. When you promote them successfully, you'll make up to $210 per sale.
37) Gravity Forms
Add forms to your WordPress blog is easy with Gravity Forms. You can add contact forms so your visitors can contact you; or you can add payment forms to collect payments and donations.
Gravity Forms give 20% of sales to affiliates; it's up to $51.20 per sale.
You can sign up for the affiliate program on ImpactRadius. You'll find the link on their website.
Marketing Tools & Services
38) ClickMagick | Link Tracking sotware
This tool let you cloak and track your affiliate and ad links.
Visit ClickMagick.com
39) Webinarjam | 40% recurring | up to $198.80 / sale
Powerful webinar software owned by Genesis Digital. The same company behind Kartra (sales funnels builder) and EverWebinar (Evergreen webinar).
It can be used for regular webinar but also for paid per view webinar.
41) ImProvely | Link Tracking | up to $149 + 10% recurring/sale
This tool helps you cloak and promote your affiliate link. It is a good tool for affiliates.
Improvely helps internet marketers also to track their campaign performance online. they can see how AdWords campaigns are doing and take action.
It is one of the best online marketing affiliate programs.
With one sale, affiliates earn up to $149 + 10% recurring income for the first 12 months.
42) Affiliate Manager | up to $500 per sale
Like the name suggests, they are affiliate managers who help brand manage their affiliate programs.
When you refer a business who hire them, you make $500. It's a good fit if you own a business to business oriented blog.
Finance & Credit card Affiliate Programs
Financial and credit card affiliates programs have, usually, high paying affiliate products. I'll start that category with a high ticket affiliate program.
44) Regal Assets | Earn up to $15000 per sale
Regal Assets is a reputed website to invest in gold and crypto.
They are a highly reputed investment website. Rated A+ in the Better Business Bureau, AAA in the Business Consumer Alliance, more than 335 rating of 5 out 5 stars with TrustLink from verified clients.
Minimum investment for cash deals is $5000. The minimum investment for gold is $10000.
Visit RegalAssets.com
Regal Assets affiliate program details:
Refer people who want to invest in gold. Earn 1% to 3% of the net investment amount.
Refer other affiliates and earn 1% to 3% of their earnings. You must earn $5000 to be eligible for two-tiers commissions.
Earn $30 to $100 per lead or call referred by you.
They pay out monthly via PayPal.
Click here to request the Free Gold Investment Kit to learn everything you need to know to invest in gold.
The affiliate approval process is manual and they accept affiliates who has a website in Financial Industry. Qualified?
Join RegalAssets Wealth Partners programs (affiliate program)
45) FreshBooks | Earn $55 per sale
This is my #1 Recommended accounting software for freelancers, bloggers, and small businesses.
It makes income and expenses tracking easy with mobile app and cloud software. You can create invoices with pay button to get paid directly. It has time tracking for freelancers too.
You get paid $5 per free sign up from US, Canada, and some Europe countries. You get paid $55 per sale from customers anywhere on the globe.
Need FreshBooks? Sign up for a 30-Day free trial.
And/Or, Join FreshBooks affiliate program on ShareASale.
Get paid $2 per lead. If the referred user upgrade to Pro or Entreprise, you'll earn 25% recurring commissions for 3 months.
46) Wrike | Up to $300 per sale
Wrike is a project management software. You can join as an affiliate and get paid $100 for professional account you refer, $200 for business account, $300 for enterprise account.
Payment are made through PayPal. No minimum threshold.
Visit Wrike | Join As An Affiliate
47) Personal Capital | Earn $100 per sale
Free financial tools to manage all your accounts in one place. You can use this tool to keep track of your budget and it's an investment tool.
You can sign up for an affiliate on Personal Capital. I join the program via FlexOffers and they pay $100 per referral when they link $100,000 in investable assets.
Phone And Live Chat Support Affiliate Programs
48) LiveChat (20% Recurring affiliate commissions)
LiveChat allows to take care of your customers with instant chat.
As an affiliate, you get paid 20% recurring income for the lifetime of your referred customers. The affiliate program is hosted on ShareASale.
49) PureChat (25 to 30% recurring affiliate programs)
Similar to LiveChat, you earn 25 to 30% in recurring commissions as an affiliate.
50) JivoChat (30% recurring commissions)
Earn 30% recurring commission per sale promoting Jivochat. There is a free plan and paid plans start at $19 per month.
You don't need a website to be approved as an affiliate.
Food & Photography Affiliate Programs
51) Food Blogger Pro | 20% recurring
Promote Food Blogger Pro subscription and earn 20% recurring commission monthly. This program teaches bloggers how to take food photography and build a lucrative food blog.
The affiliate program is hosted on ShareASale.
52) DepositPhotos (40% + 20% recurring + 5% 2-tier)
DepositPhotos is a stock photo site where you find high quality photos, vectors, and videos.
You make money with DepositPhotos as contributors by selling photos or by referring customers and contributors.
As an affiliate, you earn 40% for first time customer's purchase, 20% from returning customers. You also make 5% two-tiers from affiliates that you refer.
53) Crello
Crello is a graphic design tool to make high quality images and social videos quickly online. You get a lot of templates for Pinterest, Facebook, Twitter images, etc… You'll find animation too to make GIF or videos.
Check out Crello Website and start designing
54) ShutterStock (20% - up to $300 per sale)
ShutterStock is an alternative to DepositPhotos. You can use it to find high quality photos, vectors, and videos for your projects.
If you take photos, videos, or design graphic, you can sign up as a contributor to sell your creation.
You can also promote ShutterStock as an affiliate and get paid 30% up to $300 per sale. The affiliate program is hosting on Impact affiliate network.
Best Affiliate Networks to Find More High Paying Programs
55) ShareASale
This is one of my favorite affiliate networks. I wrote a post listing the 10 reasons I love ShareASale. You can check it out.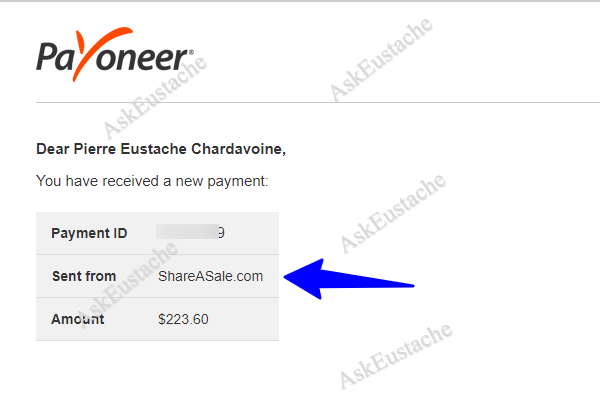 In addition to these 10 reasons, ShareASale allows to promote their network and make $150 when a merchant join. You make around $30 when a successful publisher join and make $20 at least.
visit ShareASale affiliate network
56) ImpactRadius
Impact is one the most popular platforms where you'll find hundred of programs to partner with, and reliable tracking.
You do it!
You reach the end of this top paying affiliate programs list.
I'am continuously testing best affiliate marketing programs that work for several niches. I will update this post to make sure you can find the best affiliate marketing websites to make bigger affiliate commissions.
It's not a complete list. I just wanted to show you the best affiliate programs you can use to make money online.
Share it with your audience if you think they will like it.
How to Earn Money With High-Paying Affiliate Programs?
To make high ticket affiliate sales, you need to convince someone a high paying affiliate products can help him solve an important problem. It's better to show than tell.
Create high-converting pages that demonstrate how to get rid of the problem. Get targeted traffic to those money pages which have well-placed affiliate links.
Read my best affiliate marketing strategies to boost conversions.
Numbers don't lie.
You better focus your efforts on promoting affiliate marketing programs with high commissions.
You spend almost the same time and effort to get an affiliate sale where you get paid $3 in commission than one where you get paid $200 commission per sale.
However, you need to level up your marketing to get someone to spend on high-ticket affiliate programs. Just pasting an affiliate link anywhere we're allowed to is not enough.
You need more convincing posts because people think twice before a considerable expense. Hopefully, Most of the affiliate programs listed below pay high commissions while they are not expensive, high-ticket products.
Recommended Strategies to Promote High-Paying Affiliate Programs
Teach your prospects how your affiliate products solve a considerable problem worth paying for using videos or free online courses.
Write commercial content to help them decide to buy like reviews, comparison posts, and demos.
Learn and use the program personally to provide genuine and trustful recommendations.
Build an email list to guide the prospects into the buying phase through a sales funnel. Use strategies to get engaged email subscribers.
This post is long but updated and relevant. I list the best-paying affiliate programs to promote in 2020 and beyond.
I'll talk only about the high-paying affiliate programs: those programs that pay $50, $100, and up to $7500 per sale.
There are more affiliate programs you can make money with. I have other posts on this site to help you find them:
Now, back to our main concern: high commissions affiliate programs.
Truth is…
… Affiliate opportunities can amaze you when you promote the right affiliate product to the right audience.
Using affiliate marketing programs that pay, you can make over $7500 for a single sale.
And it does not involve additional tasks.
It is the same effort you need to make $10 per sale. Still no product creation, no customer support, but higher income.
If you target blog traffic that converts, you have a steady income source each month.
The list has 50+ best and high-paying affiliate programs; reputable companies with affiliate marketing programs.
There are among the top affiliate programs. Programs you can trust, you can use, and safely promote to your audience.
Do high commission affiliate programs really pay?
You may wonder: "why do affiliate marketing companies pay high commissions to affiliates?"
Is it not an action that will reduce their profit?
In fact, no. It's why not every niche is a high paying affiliate niche.
The highest paying affiliate programs have high customer retention rate. Even if the merchant pays you $200 per sale, he can easily get that $200 back through awesome services and subscriptions.
Often, the cost associated with maintenance is low. So, advertisers can afford to pay you 75% or even 200% for a customer. There's no material cost for future payments from which affiliates get (often) no more share.
That's why the best paying affiliate programs with high commissions are mostly digital products or services.
In addition, affiliates help companies reach out to customers they would never reach otherwise. The marketing efforts from affiliates will boost their trust, search ranking, and native sales.
Here is a screen capture for a sale where I got paid more than the sale amount.
It is possible that you get paid 100% of the sale revenue as well.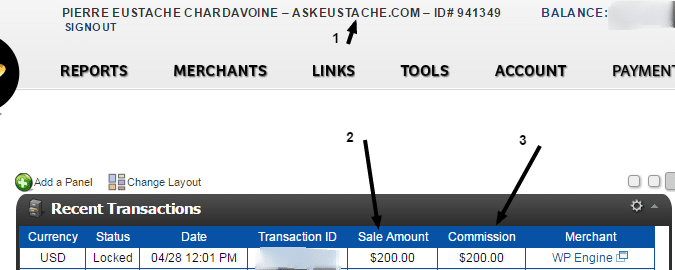 So, yes, they really pay.
Therefore, the fact that a company gives you 100% sale revenue or more is a solid proof that it is reliable. The team behind believe in the quality of their services to retain the customer on board.