Refer and earn on repeat. It's an opportunity to make huge money passively.
With recurring affiliate programs, you get paid repeated commissions for each sale.
It's like a machine that generates money…
… Where you can make up to $219 per month for each customer with the programs listed below.
Without creating a product or doing customer care, you can build an affiliate business making you a sustainable income.
In today's post, I will give you a list of legit programs that pay recurring affiliate commissions.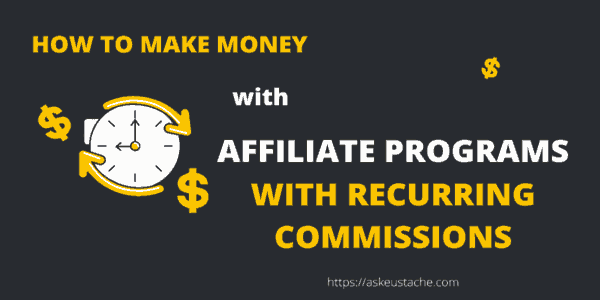 List of recurring affiliate programs to earn residual commissions
Side note:
To earn huge money through recurring income affiliate programs, you need to promote the best kind of products.
The programs giving repeated payments are programs where recurring fees are charged to referred members; Or where referred members keep earning revenue day after day, month after month.
So, they are mostly membership sites, services-based, or money-making sites.
I'll list recurring revenue affiliate programs by category. The description for each item will help you make wiser choices.
Keep in mind that this is not a complete list. But it's good, with enough programs, to earn a living if you can convey the message to convince your readers to buy.
They work within several niches. Let's start with
Ready to start and grow your business?
Start a website, run email marketing, sell online courses, all in one place.
For a limited time, get 15% off 12 months of paid plans
Sales Funnels / Email marketing recurring affiliate programs
Marketers who invest in email marketing and sales funnels get a high return on investment (ROI). Therefore, they are more likely to stick to a product that fits their needs.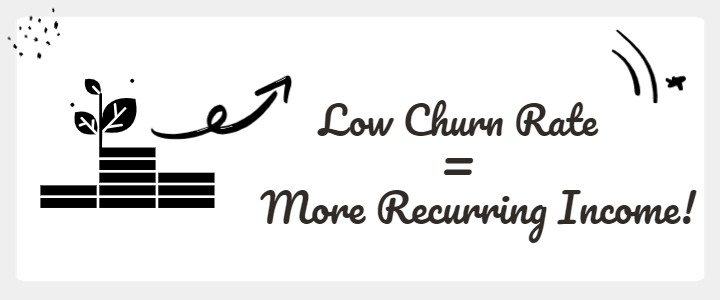 Promoting Sales funnel software and email marketing tools, you can make a steady income with recurring affiliate commissions and a low churn rate.
1.- ConverKit | #1 Recommended Email Platform
I used Convertkit for email marketing.
It is the email marketing platform to choose if you want more automation for less money. You pay once for each subscriber independent of how many lists she is subscribed to.
You can send emails to people who opened a specific email and followed a specific link, all on autopilot. It is great for those who sell online courses, especially email courses.
So, you can create multiple opt-in forms with different incentives. You can install their WordPress plugin to show opt-in forms for specific posts, etc…
Click here to get your first month free (no credit card required). If you're not ready to pay, you can switch to free after.
Their paid plans start at $29 for up to 1000 subscribers.
They pay 30% residual income to affiliate the first 24 months of the referred customer. Their affiliate program is hosted by LinkMink. No minimum payment threshold.
They are working on adding new payment options. But right now, PayPal is the only option.
Start 30-Day Free Trial of Convertkit.
2.- LeadPages
I list LeadPages under list building but it does more than that. It is a landing page builder you can use to:
build your mailing list
recruit participants for your webinar
sell digital downloads online using Stripe's payment processor.
It's an alternative to ClickFunnels.
As an affiliate, you earn a 30% lifetime residual commission per referral. The commission per customer goes up to $59.7 per month.
They host their affiliate program on PartnerStack. You get paid your earnings via PayPal or Stripe.
3.- GetResponse
Get 33% from that email marketing and landing page software. Reputed and used by popular sites like Technorati and CNN.
It has even more attractive features such as autoresponders sent when users take action on a particular email, have a certain subscription age, etc.
It is a tested and proudly recommended online service for email marketing. You can Start now and get the first month free. (No credit card or PayPal link is required).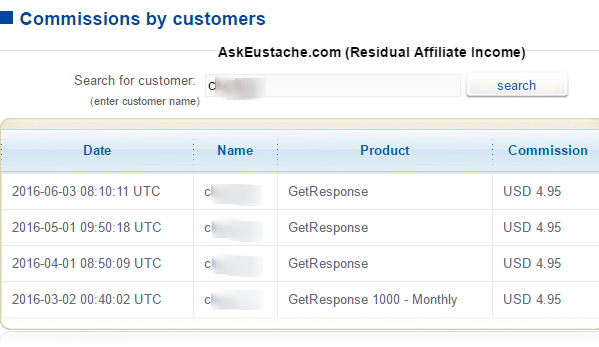 They pay through cheque and PayPal each month when earnings reach $50. I have active referrals using that programs. You can join the affiliate program from the menu on their pages.
4.- ClickFunnels
ClickFunnels is a software bloggers and business owners use to make money from their blogs or business. It gives you what you need to capture leads, host webinars, build mailing lists, convert visitors, and make sales.
It helps you build the sale funnel. i,e, the process you want your visitors to follow to become a buyer.
As an affiliate of ClickFunnels, you earn 40% recurring commissions per referral. You get paid $38.80 to $118.80 each month for each referred customer. If you refer an affiliate, you earn 5% of the sales he generates while he still gets its 40%.
It's one of the best affiliate programs with residual commissions to promote. As software for building sale funnels, you can send people to free resources and ClickFunnels will do the heavy lifting to convert the successful leads that you send.
How to join the ClickFunnels affiliate program?
You need to fill out the application form at whatsyourdreamcar.com. It highlights the opportunity to get ClickFunnels to help you buy a car if you become a successful affiliate. Create an account using the links at the top banner.
Additional moves (Recommended):
Start a free 14-day ClickFunnels trial and get $5,586+ worth of bonuses. You'll learn how to create products that sell, build funnels for conversion, and get traffic to your offers.
They use Tipalti to pay affiliates via ACH, direct deposit, PayPal, check, and wire transfer. You get payment options enabled based on your location.
ClickFunnels will take 45 days to clear sales. Then you'll get paid twice a month for cleared funds.
MailerLite
Get 30% off the best email marketing service called MailerLite. You help your friends to find a cheap but powerful email service provider. And you earn residual income as an affiliate.
This is the email service that I use and it is free for up to 1000 subscribers. All the plans, even the free one, have unlimited email sending and automated email sequences.
Create your free account today.
6.- ThriveLeads
Collect emails with ThriveLeads. The list-building tool from ThriveThemes is one of the most effective I've used.
It is a one-time payment for awesome features such as precise targeting, smart trigger to display exit forms, advanced reporting, and A/B tests.
But ThriveThemes has a subscription plan where you can get all the tools for as low as $9.99 per month.
As an affiliate, you get 50% upfront + 25% residual commissions on all future referral charges.
**7.- Aweber
Earn 30% recurring income from the Aweber affiliate program. All plans include unlimited emails and start at $9 ( one-month free trial ).
Start your list today and get only 3 people in your downline that will help you pay the plan or earn income for your pocket. Send follow-up emails, RSS to emails, and so on…
It integrates the WordPress site and Optin Monster very well.
Search engine tools with monthly referral programs
**8.- SEMrush
SEMrush is an SEO tool you can use to gather keywords, spy on competitions, and optimize site ranking.
You can see how any content performs, how sites link to that content, keyword ranking, and so on…
Use this exclusive link here to get 14-Pro trial of SEMrush.
Earn $200 per sale promoting the pro plans as an affiliate.
Click here to be a Semrush's affiliate at Impact network.
You earn $39.98 per month for a pro plan, $59.98 per month for a guru plan, and $219 per month for a business plan.
It once paid recurring commission like it appears in the image below. But now they pay $0.01 per free sign up, $10 per free trial, and $200 per sale.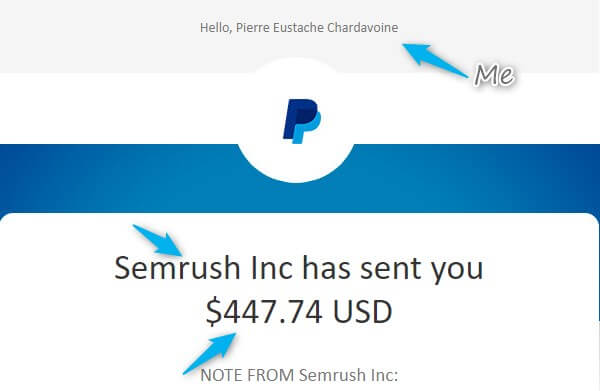 9.- LongTailPro
This is another awesome keyword tool to find profitable keywords. It helps marketers discover long-tail keywords, and see how profitable and how difficult it is to rank for those keywords.
It is one of the cheapest but most robust keyword research tools. You can test it for 10 days for $1.
Then if you like it, plans start at $25 per month.
As an affiliate, you get paid a 30% recurring commission promoting LTP. The affiliate program is hosted on Clickbank which pays through cheque, PayPal, and ACH when you reach $10 in your account balance.
Web Hosting residual income affiliate programs
Web hosting companies allow you to promote their services and earn revenue. You earn a flat rate or recurring payment according to the plan purchased by your referred member.
Some web hosting programs allow you to create your own coupon codes to get more customers. Enjoy the list of reputed web hosting companies where you can quietly refer your friends. You'll also earn recurring money for the lifetime of their membership.
10.- CloudWays (up to $300 per sale or $30 + 7% recurring)
Get Managed Cloud Web Hosting without the (usual) visit limit. They have their caching plugin, Breeze, 60+ datacenters, and CloudWays CDN to speed up your website. You get free SSL so you can run e-commerce sites such as Magento, WooCommerce on WordPress, etc…
Their plans start at $10/month for 1TB bandwidth and 25GB storage. The best part: you can start a free 3 days trial.
As an affiliate, you choose between two payment structures:
Get paid a flat commission per sale ( $50 to $125 per sale) based on the number of referrals you make each month. On special occasions like Black Friday, you can earn up to $300 per sale.
get paid a $30 flat commission per sale + 7% residual commissions per month for the lifetime of the customer membership.
You just email your affiliate account rep if you want to switch structure.
11.- LiquidWeb
It is one of the best hosting sites for managed WordPress, VPS, Cloud, and dedicated servers.
It has no limitations on traffic when you use them; unlike most web hosting services.
It has the latest technologies and makes hosted sites fast.
It has an excellent support team.
On top of that, it is among the rare high-paying web hosting affiliate programs that give residual commissions.
You earn up to $1500 flat commission per sale + 5% lifetime residual income. It's up to $1500 once + up to $56.35 per month per customer.
An awesome income opportunity considering you're sending your readers to a trusted program.
Their program is listed on networks that pay via PayPal, ACH, or cheque.
…the affiliate sign-up link is at the site bottom.
12.- TD Web Services
This host offers Managed WordPress hosting (starting at $15 per month), business hosting (starting at $3.00 per month), and dedicated servers (starting at $85 per month).
Get paid 35% recurring signing up through their managed affiliate program.
They pay via PayPal.
E-commerce residual affiliate programs
13.- Shopify
This e-commerce software allows you to sell online and at local stores.
It supports fully functional e-commerce sites or just a shopping cart for your existing website. Up to 70 payment gateways included and SEO optimized. Get paid 20% of each bill from your referred merchants as a Shopify partner.
You earn up to $2000 per sale with the Shopify affiliate program. I got paid both the lowest ($5.20) and the highest commission ($2000).
14.- Volusion
The affiliate program of Volusion pays 200% per sale up to $2000. But their reseller program allows you to earn 35% residual income.
You can set your store to get receive payments via Amazon payments, PayPal, and so on… Like Shopify, you don't have to pay for hosting, setting up payments, etc…
Just choose the plan that fit your need and start your store… Or as an affiliate, help someone find a plan that fit their needs.
15.- AShop
Get 25% monthly affiliate commissions during the lifetime membership of your any merchant you refer. AShop allows merchants to start an online store easily. It integrates 9 ways to receive money and includes beautiful templates.
It is fully customizable and includes tools to increase sales and take data-driven actions.
As an affiliate, you earn $6.25 to $62.25 per month per customer.
Online Course Platform
16.- Teachable
Teachable is one of the best platforms to sell courses online and make money from your skills.
It is free to start.
It has ready payment processors so you can start right away.
You can host unlimited courses for free.
and you can upgrade for stuff like custom domain, autoresponder email courses, etc…
When you promote Teachable as an affiliate, you earn 30% of paid plan for the lifetime of your referred teacher. You get paid via PayPal.
Visit teachable.com here
Sign up for their free webinar.
Social Media affiliate programs with repeated commissions
Social networking is one of the most active daily tasks. It is used every day by all kinds of users.
Marketer uses it to promote products and build relationships; end users connect with friends and have fun.
They are so popular that everyone needs tools to manage their social media accounts. So, special programs were developed where you can earn recurring revenue for referring users.
17.- TailWind
This is the best Pinterest scheduling tool I've tried. You can use it to schedule, track and improve your pins. Save time with it and get more blog traffic from Pinterest. You can start for free and send your first 100 pins.
As an affiliate, make 15% recurring and $0.20 per free trial with TailWind.
The affiliate program is hosted on ShareASale which pays via ACH.
18.- Tubebuddy
You can start an account for free with TubeBuddy. It helps you boost your video ranking on YouTube and get more video views.
It helps you:
find tags used by popular videos
schedule changes to your YouTube videos
auto-publish your videos on Facebook as native videos
get advanced insights
and more…
It has premium plans too. And you get paid 50% residual commission for life. They pay via PayPal.
19.- SocialOomph
It is a 40% recurring revenue affiliate program. It acts as a social tool to schedule posts, get social insights, and monitor multiple accounts in one dashboard.
It has a free plan you can test today; and it supports LinkedIn, Twitter, Facebook, and RSS.
20.- snapshot publisher
15% recurring income for 12 months. Collect information, create content, and publish anywhere. Forget it, then, track and measure.
Residual income for Community Building and Traffic
21.- AnswerBase
This service allows site owners to add a Q&A section on their websites.
Do you remember how often you searched for a question online and found forums or Q&A sites as results? The service makes it possible that it is anyone's website the next time.
Their affiliates program pays 15% lifetime recurring revenue and 50% from the first payment.
Their program is hosted by ShareASale which pays monthly through ACH or cheque when you reach $50 in earnings.
Online courses/resources paying residual commissions
22.- Affilorama
This is a suite of tools for bloggers to learn how to master affiliate marketing. Bloggers can start learning for free and upgrade if they want to learn more.
It is a lot of included tools such as a traffic analyzer, keyword research tools, and more.
Get 50% off any product your referred student buys.
Affiliate ads and link-tracking programs with repeated commissions
23.- Sinp.ly
SinpLy is a marketing service that allows you to add a message to any link that you share on the internet.
Imagine that you share someone else's post and that link gets 1000 views. For example, you share a post from about.com. Normally, you get nothing. With SnipLy, you can add a message with a link to your site or product and get the traffic back.
You earn 20% recurring by referring a friend as an affiliate. They pay each month via PayPal when you reach $20 in earnings.
24.- Improvely.com
promote this product, get 50% of the first payment, and then 10% recurring. It is a conversion tracking and analytic tool. It can be used to track organic and ad campaigns.
25.- PowerMyAnalytics
This tool allows you to measure your Return on Investment (R.O.I) in a better way. Learn how you can enhance your analytics reports by including more data to track and import. Get 20% lifetime monthly affiliate commissions promoting PowerMyAnalytics. Start promoting now or start your 14 days trial free.
Freelance Marketplace
Make money online working at home with freelance programs. Earn extra money by referring your friends. Get paid recurring payments. As long as your referred friends earn jobs, you earn money.
26.- Freelancer.com

Freelancer is the world's most popular freelance marketplace. Get paid to complete hourly and fixed-pricing jobs. Refer your friends and earn 10% from their jobs and projects for 90 days. Get paid weekly at a $30 minimum Payment through Skrill, Payoneer, and wire.
27.- SeoClerks.com
SeoClerks is a micro freelance marketplace where you get paid to complete small tasks. Refer your friends and get paid a lifetime 10% recurring income from your referred members' revenue.
Get paid through Western Union, PayPal, and Payoneer.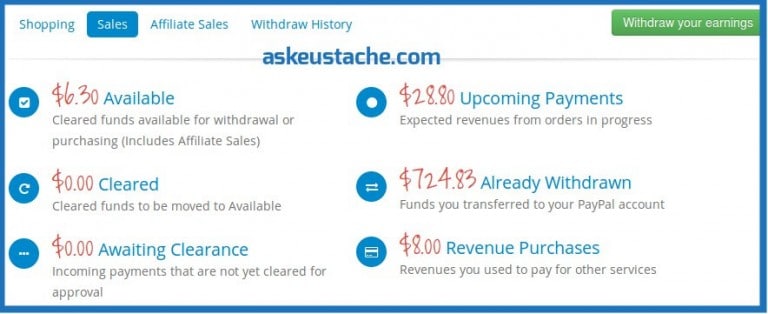 You can promote products with a free trial. So, when you refer the user, you earn nothing but users have time to test the program, like it, and purchase plans. Free services like freelance marketplace and money-making programs convert better.
Make passive money online with recurring affiliate programs.
Like I said, it is not a complete list. So, I did not cover each niche where you can earn with residual income affiliate programs.
These programs can be promoted in many niches, however. I strongly encourage you to test a program before you promote it. you'll be more convincing promoting a product you know and love.
What are recurring affiliate programs?
Like any affiliate program, you get a share of sales resulting from your promotion. But, a Residual income affiliate means that you get repeated commissions per sale.
I'll take SemRush to illustrate this. (it's a real residual income opportunity).
You refer Joe to SemRush SEM/SEO tools and he buys a membership plan for $99.95. SEMRush pays you 40% which is $39.99 for the sale.
Happy with the service, each month, Joe pays for the plan. You get paid 40% again at each payment occurrence without further work.
Outcome for you: You make $39.98 each month. And the company gets loyal customers.
Benefits For Joe: he pays for the awesome services that solve a big SEO problem. He's happy you referred him to that platform.
Outcome for the company: More income because you're bringing more customers and promoting their product more than products with flat rate commissions.
It's that simple. No trick is involved.
If you refer more people, let's say, Joe, Peter, and James. It's $39.98 X 3 = $119.94 per month. The more people you refer to, the more money you earn passively.
It requires work that you do at least once to build a foundation. So, you may want to consider those posts:
Limited or Lifetime residual affiliate commissions?
Some programs pay repeated commissions per sale for one year. Some keep paying for the lifetime of referred customers' membership. Once you refer someone and he's active, you keep making money every month.
They pay either via PayPal, Direct Transfer, Payoneer, Western Union, or Skrill. You can get paid at your convenience. And to help you, I talk about the payment method for each program.
Depending on what you promote, you can get paid from affiliate programs that pay daily, weekly, or monthly.
Why should you promote recurring income programs?
First and obvious, because it gives residual commissions. 😉
With flat commission affiliate programs, you keep working hard. With residual income affiliate, you don't have to worry about mandatory work to make consistent money.
For example: with a one-time payment, if you earned $2000 the last month(the link leads to a story where I made $2000 affiliate commission for a single sale), and it is all spent, you have to work hard to earn that again. But there's no guarantee it will happen again!
With residual revenue, you earn that $2000 without additional efforts. You can just increase the earning with more work.
You work smarter then. You can expect monthly, weekly, or daily payment. Your past work keeps making you money.
A referred customer who stays active is a customer that is happy. Make sure you promote only highly reputed affiliate programs if you go beyond that list.
I shared 5 quick tips to increase affiliate income on your blog.