If you're like me, you don't like paying huge fees to receive your payments…
…You also don't like to wait for months.
Fortunately, Payoneer partners can help you get paid faster. In some countries, they even help you save on fees.
So, that's exactly why we look for Payoneer partners: companies that are using Payoneer to pay us.
In today's post, you'll find affiliate programs, ad networks, and selling platforms where you can get paid via Payoneer.
Table Of Contents
What is Payoner?
Payoneer is a cross-border payment solution. It is available in more than 210 countries. It allows us to get paid online from companies all over the world.
You can receive your money directly in your bank account as a local transfer. Or, you can opt to withdraw your earnings via a local ATM.
If you don't have a Payoneer account yet, you can create an account for free now.
You'll get banking accounts to get paid in US dollars, euros, GBP, and more. This will help you save on currency conversion fees.
Update: While they'll still help you save on fees, Payoneer introduced additional fees for sending and receiving payments. You're now paying $3 per payment load and 2% on withdrawal + currency conversion fees.
It's still cheaper than a wire transfer. However, it's a no-no when you're receiving small payments from multiple companies.
Save on Fees with Wise.
Wise is an alternative to Payoneer to send money abroad and receive payments online.
No fee on receiving payments on your U.S bank account.
Lower fee for withdrawal.

Related Posts:
Ready to start and grow your business?
Start a website, run email marketing, sell online courses, all in one place.
For a limited time, get 15% off 12 months of paid plans
My Experiences with Payoneer
I started using Payoneer in 2010.
Like the majority of people reading AskEustache (this blog), I tried a lot of ways to make money online.
I did freelance jobs. I still sell online. And I make money blogging with affiliate marketing and ads.
PayPal is the most popular payment option online. But, because PayPal is not available in my country, I have to look for PayPal alternatives to get paid. And Payoneer was my best option. Now I can choose to get paid via Payoneer or Wise. But, sometimes, it was the only option I had to get paid.
As a result, I ended up searching for programs using Payoneer as a payment method.
So, I know how important it is to have a convenient way to get paid; to finally get that online earned money in real cash.
Payoneer will help you:
get paid
use your earnings to shop online
send money
shop at local stores
get your online earnings as real cash in your pocket.
Now, I want to share with you a list of Payoneer partners I found. Those programs will pay you via Payoneer.
Create a free Payoneer account now. (Get a $25 bonus after $1000 of transactions).
I am still a Payoneer account holder. And I recommend it in many situations.
How to make money with Payoneer Partners
There's something that I want to clarify upfront.
This post is not JUST about how to make money online with Payoneer refer a friend program or affiliate program. Sure, it's one of the methods listed below. But we'll talk about more than that.
It is more about a list of programs or websites you can use online to make money that is paying via Payoneer.
So, you can use each of them differently to earn money, but all of them will give you the option to receive your earnings via Payoneer.
List of Programs paying through Payoneer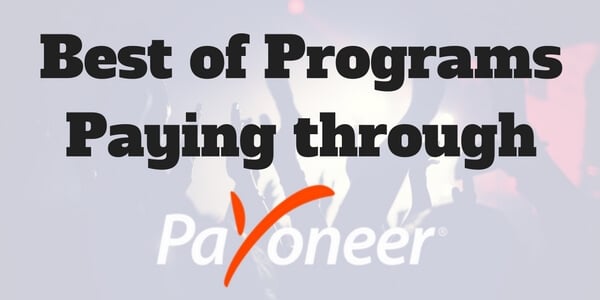 Affiliate Programs & Networks that are paying via Payoneer
With affiliate programs, you get paid when someone buys something based on your recommendations.
I teach the best affiliate marketing strategies to get affiliate sales on AskEustache too.
Below, you'll find a list of affiliate programs and networks with Payoneer as a payment option.
ImpactRadius: $10
Impact, formerly ImpactRadius, is one of the trusted affiliate networks where you'll find affiliate programs to promote and make money online.
The payment threshold is $10 via ACH which can go though Payoneer and $20 via PayPal.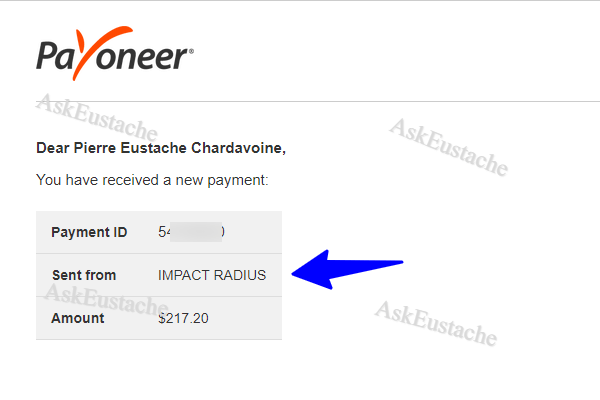 To give you an idea of what you'll find, I list below three companies using Impact to host their affiliate programs.
Teachable: Course Hosting Platform. Affiliates earn 30% recurring commissions per sale. (Join Teachable affiliate program) and/or (start a free trial).
LiquidWeb: Managed and dedicated hosting for WordPress. Get paid $59 to $3000+ per sale promoting LiquidWeb.
BigCommerce: E-commerce software. Get paid up to $1500 per customer you refer that buy a paid plan on BigCommerce to start their online store.
There are a lot of programs you'll find inside Impact.com to promote as an affiliate. When you reach $50 in earnings, you can cash out using your Payoneer account.
Payoneer: $25
Payoneer allows you to get paid to refer your friends. You earn $25 when the referred member accumulates $1000 in transactions using Payoneer services.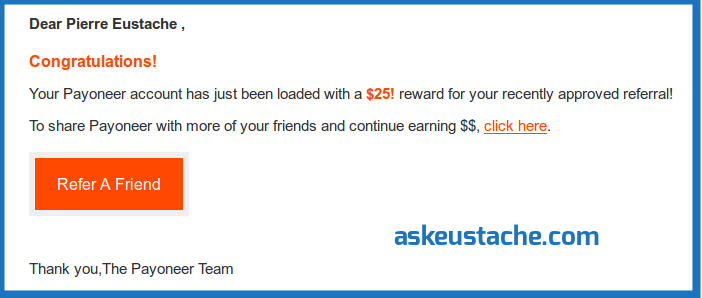 PayKickstart: $25
PayKickStart is a platform you can use to sell online. It helps merchants to boost sales with order bumps, upsells, abandoned cart recovery, etc… It also helps you to collect taxes globally.
You can create an account as an affiliate to promote the software. You'll earn 30% monthly recurring commissions for each merchant that you refer.
You can also join affiliate programs for any merchant that uses PayKickstart to sell their products.
They pay via Payoneer and PayPal.
If you want to sell online with PayKickstat, get a 30-day free trial.
If you want to promote PayKickstart and programs using this network, sign up as an affiliate.
ShareASale: $50
ShareASale is my preferred affiliate network. You find affiliate programs in niches like web hosting, home decor, WordPress themes and plugins, beauty, fitness, etc…
You create a ShareASale account for free. You find affiliate programs you can promote to your audience. You get paid when someone buys using your affiliate link.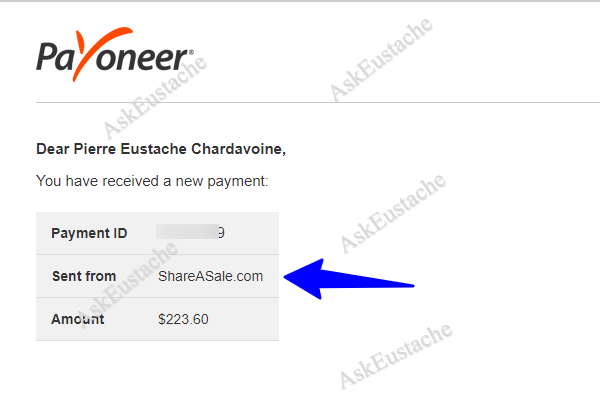 The minimum payout is $50. You can opt to receive your income via Payoneer, check, or direct deposit.
Apply to be a ShareASale affiliate here.
Here are some affiliate programs hosted on ShareASale:
You can also promote the affiliate network to merchants and affiliates. You get paid $30 for each referred affiliate who earns at least $20. You get paid $150 per referred merchants.
TemplateMonster: $100
Promote WordPress, Joomla, and Magento responsive themes and PowerPoint templates. Get paid 30% per sale.
Receive your money through Payoneer when you reach $100 in your account balance. The site pays through PayPal, wire transfer, and WebMoney too! Start promoting by signing up here.
Avangate: $100
Avangate is an affiliate network where you'll find software to promote and get paid per sale.
They pay via Payoneer and wire transfer. The payment threshold is $100.
Earn up to 85% per sale promoting software such as:
SEOPowersuite: A suite of software for keyword research, site SEO audit, backlink checker, etc…
BitDefender: a reputed antivirus software you can promote to anyone using a computer.
You may find an affiliate program for software you're already using.
Platforms to sell online where you can get paid through Payoneer
Amazon: $10
Amazon is one the largest website to buy and sell stuff online. It's one of the greatest sites to make money online and get paid through Payoneer.
It has an affiliate program called Amazon Associates. You can promote any program listed on Amazon and get paid a commission per sale.
But you can also sell your products such as e-books or physical books that Amazon prints on demand. You can also sell designs printed on t-shirts.
Amazon pays via direct deposit when you reach $10 in earnings. You just have to add the US banking details given by Payoneer to receive your money into your Payoneer account.
TeeSpring: $15
Design and sell t-shirts online for free and get paid via Payoneer. TeeSpring pays through US Bank transfer, PayPal, and Payoneer. The minimum payout via Payoneer is $15.
Now, you can sell digital products with Teespring alongside physical print-on-demand products. Use Teespring to sell e-books, comics, music, etc…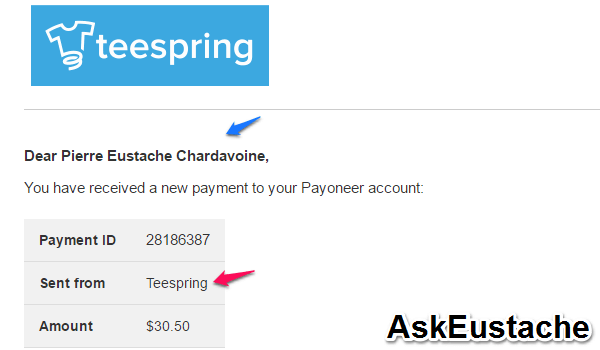 You can also sell your design printed on mugs, towels, etc…
Create your account on TeeSpring.com now using that link. Set your revenue per t-shirt: the average is $7 per t-shirt.
It allows you to create stores to offer discounts and increase your earning.
Once you create your account, consider these two courses to master selling with TeeSpring on udemy:
I do my best to avoid spending on Facebook ads. I promote my designs on Pinterest and Facebook groups.
Related: How to sell on TeeSpring without spending on ads
ViralStyle: $20
Like Teespring, you can use ViralStyle to make money selling t-shirt designs. The minimum payout is $20 through Payoneer. They pay via PayPal too.
You can create storefronts, build email lists of your customers and upsell your t-shirt designs.
Like TeeSpring, you can make money when people buy on their marketplace or you can promote your designs to boost your income. They allow you to sell t-shirts with no minimum and set them to relaunch automatically and indefinitely. Your t-shirt will never be out of stock.
Create a ViralStyle account to sell designs.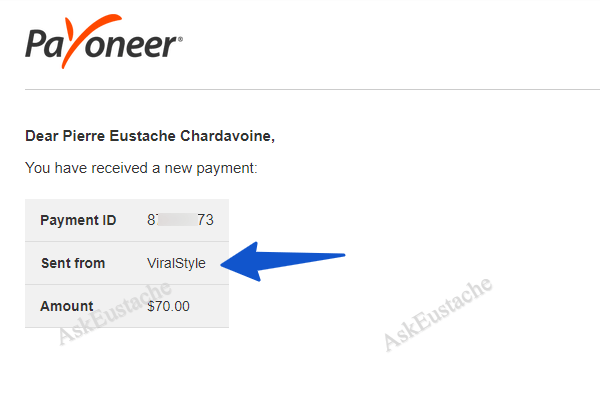 DepositPhotos: $20
Earn up to 40% from referred sales; get paid up to $20 for placing depositphotos.com banners on your photography-related website. You have the option to receive your earnings via Payoneer.
You earn money as a contributor when you sell photos on Depositphotos. You make money too when you refer a customer via the affiliate program.
You even earn money when you refer affiliates who make money. It's called a two-tier affiliate program. You earn 5% from referred affiliates.
Join DepositPhotos Affiliate Program
BlueSnap: $35
Promote products as a marketer and get sales. Get paid through Payoneer, Ach, wire, and PayPal, at a $35 minimum!
You can sell your products online as well using BlueSnap and get paid via Payoneer. But it fits large retailers and developers.
If you want to increase affiliate sales, learn from my best affiliate marketing strategies.
Envato Marketplace: $50
Envato is a marketplace where designers and artists can cash out their earnings via Payoneer, PayPal, and Skrill. The payment threshold is $50. Sell themes, plugins, video, audio, and graphics.
You can join as an affiliate and promote products from any of these sites in the network and get paid via Payoneer.
IStockPhotos: $100
Stock photos site by GettyImages.com! Get paid 15 to 45% per sale of photos you contribute to the photo bank. Get paid through Payoneer, check, PayPal, and MoneyBookers at a $100 minimum.
Dreamstime: $100
Dreamstime is a professional stock photos site for free and paid photos. You earn money as a contributor or affiliate. Earn 10% commissions per transaction as an affiliate.
Earn 25 to 60% per sale for photos that you contribute. Payout options are a $100 minimum payment threshold through Payoneer, Moneybookers, PayPal, and check.
FastSpring: $100
Sell digital downloads using Fastspring and receive your payment via Payoneer. The payment threshold is $100.
You can sell on your WordPress site using their plugin or let them host the checkout page.
Udemy
Udemy is one of the rare sites where you can sell online courses and get paid via Payoneer. It is a marketplace where course creators all over the world host their online courses. So, the competition is fierce.
What I don't like about it is that you don't have much control. They advertise other courses on your course landing page. You don't have access to the email of your students. They can change the price of the courses, etc…
It is free to join. If these limitations do not scare you, go to create a Udemy account now.
I prefer course hosting platforms like Thinkific where I have total control. But unfortunately, the native payment methods are PayPal and Stripe. Udemy is the only online course platform I know that is free and offers Payoneer as a method of payment.
Ad networks that pay using Payoneer
Ezoic: $20
Now, new websites can access Google Adx high-paying ads and make money with Ezoic.
It's no more required to have a blog getting more than 10,000 monthly visits. Sign up for a free Ezoic account today.
You can boost your display ad revenue with this Google-certified partner. As I said, low-traffic websites can join as long as you have high-quality content.
Why Ezoic?
Check out my Ezoic review for more details. In summary, you get higher CPM ads than Adsense alone. I get up to $40 per mille visitors on this blog. Your earnings will depend on your site niche, visitors' location, advertisers' bid, etc… So, your results may be completely different than mine.
Also, you can host videos for free on Ezoic and earn with video ads when you embed them on your site.
Plus, it works with Adsense, media.net, and many other ad networks to display the highest-paying ones.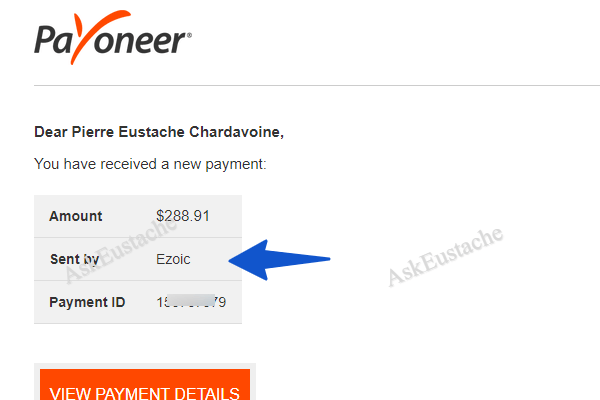 Related post: How I earn up to $43 RPM with display ads.
The minimum payout on Ezoic is $20 via Payoneer PayPal, ACH, or Wise. Sign up here.
RevenueHitz: $20
This is one of the best CPA ad networks because you don't have to manage offers.
They offer sticky footers, interstitials, pop-under ads, and banners. They fill 100% of international traffic and select the best offers to maximize your revenue.
The minimum payout is $20 through Payoneer and PayPal, and $500 via wire transfer.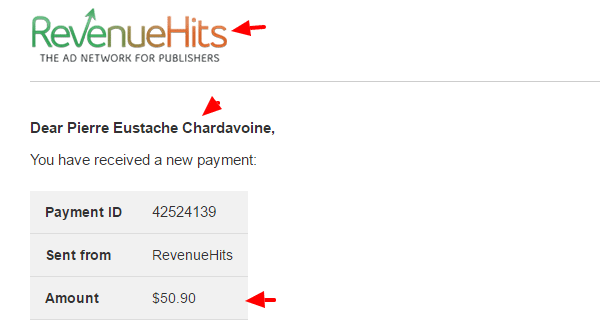 They are not purely CPC or CPM ad networks, even if they display such ads once in a while. Most ads will be CPA ads where you get paid huge money per conversion (free signups, downloads, gameplay, etc…).
Create an account on RevenueHitz.
Infolinks: $50
Monetize your text with Infolinks, they are paying twice a month when you earn $50. Monetize your content, your background, and even your referral traffic.
Newor Media: $100
Newor Media is a great ad platform with high-paying CPM ads. The traffic requirement to join is 30,000 unique visits a month.
I wrote a Newor Media review if you need to learn more about the company.
The minimum withdrawal via Payoneer is $100. They also pay via PayPal and wire transfer.
Media.net: $100
Media.net is a CPC and CPM ad network created by Yahoo & Bing to compete with Adsense.
You get high-paying CPC ads on your blog. They are contextual ads you can customize to blend with the design of your blog.
They pay via Payoneer when your account earnings reach $100.
Sign up and get a 10% bonus for one year on top of your earnings.
Freelance sites paying through Payoneer
SEOClerks: $20
Seoclerks is a micro jobs site paying via Payoneer. Make money online by completing micro tasks and get paid through Payoneer, Paypal, etc…
Get paid into your free Payoneer account when your revenue reaches $20. Earn 20% from your referred members and start completing tasks to get paid from $1 to $250 per task.
( See SeoClerks's proof of payment and tips - I have earned more than $1000 with this site already. More than $800 is referral income.)!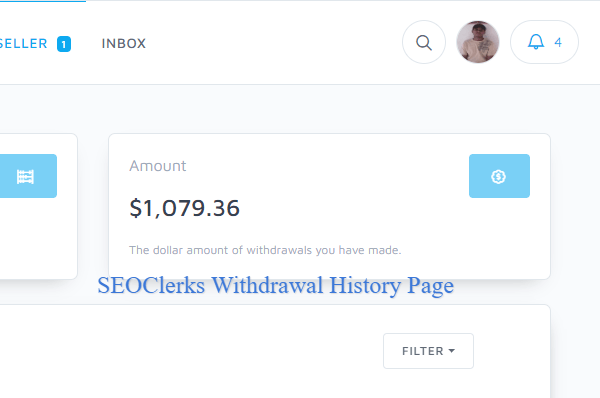 Fiverr: $20
Sell your micro freelance services through Fiverr. It is like SeoClerks. You list your services and get paid when someone hires you to complete such services.
They pay through Payoneer at a $20 minimum, PayPal at $1, Bank transfer at $50, and US bank transfer at a $5 minimum.
Freelancer: $30
It is the world most large freelance marketplace. Get hired and complete outsourcing projects. Withdraw as soon as you accumulate $30 in the balance account.
Freelancer is a good source of income for freelancers and affiliates. I have made more than $200 in affiliate sales with it. Get 10% of jobs from your referred employees and employers for their first 90-day membership.
Upwork: $20
It is an outsourcing and freelance marketplace where you can make money online and get paid through Payoneer at a $20 minimum payment threshold.
99Designs: $50
Make money as a freelance designer with 99Designs. Take part in logo contests, t-shirt design contests, car wraps, and website design. Get paid through PayPal, Payoneer, or Skrill when you accumulate $50.
Money Making Video Platforms that pay via Payoneer
Dailymotion
Publish your videos on Dailymotion or embed Dailymotion videos on your website to earn money each time someone watches videos you own or people's videos you embedded on your website. Get paid when you reach $100 via Payoneer, PayPal, or bank transfer.
Rumble
Upload your videos on Rumble and get paid per video view. The way Rumble works is a little bit different than other paid to upload video platforms out there.
Your video is hosted on Rumble, but it is also uploaded on the Rumble YouTube channel and Yahoo if you opt to. You also get paid for ad display on video views from these channels.
You can create your Rumble account here.
They pay out via Payoneer.
More sites paying through Payoneer
Adsense: You need to be in the US or have a friend's address in the US. You'll be able to set up withdrawal via ACH and add your bank details provided by Payoneer.
Selz: Sell your e-books, music, videos, and services on the Selz selling platform. They don't pay directly via Payoneer. But you can set up to get receive sales revenue via 2Ckeckout which pays through Payoneer.
Join and make money online with Payoneer partners which set a low minimum payment threshold and are reputable among internet money makers. Don't limit yourself to Payoneer's official partners.
Remember that you can get paid through Payoneer from any company by paying through ACH/Direct Transfer. You just have to activate Payoneer Us payment services. Enjoy!…