In this post, you'll learn how to sell photos online and make money.
Recently, I've talked about different ways to make money with photos and graphics.
So today, this post is more specific. I'll dive into:
the best sites to sell photos online where an audience is already waiting to buy from you.
what to shot that people are already buying online.
how to promote your photos to get found.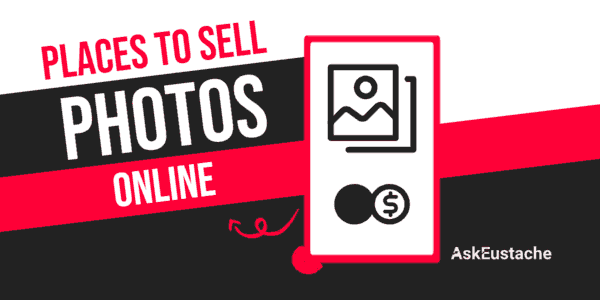 How to Make Money Selling Photos Online?
With a DSLR, mirrorless camera or even your phone camera, you can take photos that you can sell online for a profit.
While there are sites where you can download free photos, people are still looking for high quality graphics on paid stock photo sites. Even the free stock photo sites advertise paid marketplaces.
Furthermore, you can make money selling photos on marketplace of online graphic editing apps.
It's a simple process:
You take high-quality photos or videos with your camera.
You upload these photos to be approved.
When someone buy your photos, you get paid.
Ad by
What kind of photos to sell online?
Promoting your photos online is not as straightforward as promoting your blog or online courses. You better understand the market and take pictures that sell.
Take photos that can be used in different scenarios. Like:
faces with expressions such as joy, sadness…
people doing things like walking, playing, cooking…
human body such as the hands, feet, etc that can be used in a graphic context.
Keep in mind that you can't sell a photo with a person without his consent. You need to add documents for models on most sites.
To help you know what to shoot when you want to get paid to take pictures, ShutterStock has a series of posts. It's called "What to shoot in [Insert Month]"
Best Sites Where to Sell Photos Online
When you sell pictures online on online marketplace, you tap into existing audience. These sites are already used by thousands of buyers. They are already optimized for search engine.
These sites are also spending money on advertising to drive traffic to their sites. This can help you get even more sales if your photos rank well on their marketplace.
You can make up to $65 per sale. However, in most cases, you won't earn a lot of money from a single sale. Over time, these small purchases really adds up to make you passive income.
Here is the list of the best sites I recommend to sell pics online.
DepositPhotos
DepositPhotos is one of the most popular stock photo sites. It's one of the best places where you get paid for selling photos, videos and illustrations.
You earn $0.25 to $33 per image and $3.83 to $64 per video that you sell.
With DepositPhotos affiliate program, you earn 40% of first time purchase of each referral buyer. You also earn 15% recurring on additional purchases.
The minimum payout is $50. You can opt to receive your earnings via Payoneer, direct transfer, PayPal, and wire transfer.
Click here to create a DepositPhotos account.
The contributor sign up link is at the bottom of the page.
DepositPhotos contributors get access to market analytics, keyword and content suggestions. You can use these features to showcase your vectors, photos, and videos to more people.
ShutterStock
When you sell photos as ShutterStock Contributor, you can make from 15% to up to 40% per sale. Your earnings will vary depending on how the user purchased the digital asset. (subscription or pay on demand).
You can make $0.04 for each photo a contributor you referred to ShutterStock sells.
ShutterStock also run an affiliate program where you get paid 20% per sale (up to $300 per sale). So, you can make money by selling photos and recommending people to ShutterStock.
On ShutterStock, you make money selling images such photos, graphics, vectors. But you also make money selling videos and musics.
Create an account on ShutterStock today.
What I really like about ShutterStock is their keyword recommendations and "what to shoot" suggestions. You have handy tools to optimize your listings to sell more images.
The cons of ShutterStock and any other stock phot sites is that you need to sell a lot photos to reach the payout threshold. Though, ShutterStock is lower compared to many sites.
You get paid via Payoneer, PayPal, or Skrill, when you accumulate $35 in earnings.
Dreamstime
Dreamstime is a a leader of stock photography since 2010. It is a reputable space for high quality digital images. It is used to sell, buy and download royalty free images and videos online.
Dreamstime pays very well.
They have a level feature. The "level feature" keeps the photographer uploading high quality pictures. More sales means higher level and high earning. Here's by example the table of revenue for level 5 photos.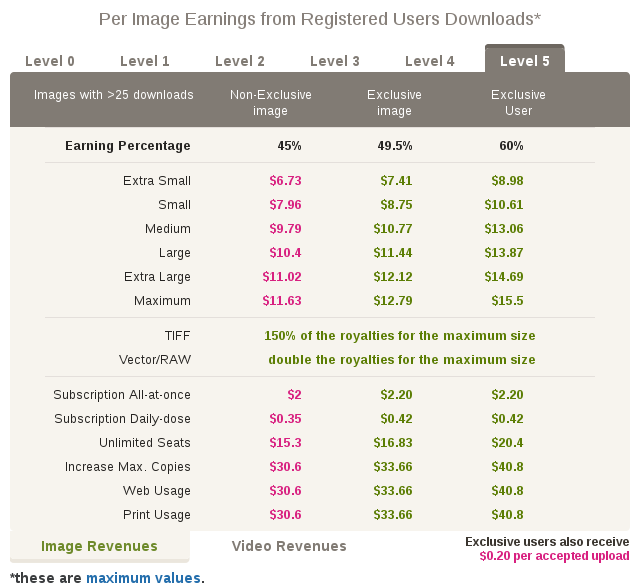 You can make money by uploading and selling video footage as well. With videos, you earn even more per sale.
Dreamstime pay through Payoneer, paypal, Skrill (MoneyBookers) and check. You can request payment when you have at least $100 in account earning ( referral and sale earning). Or, you can convert your money into dreamstime credit to buy photos from other photographers.
Canva
Canva is one of the best graphic design apps online. With its drag and drop interface and plenty of templates, you can create gorgeous graphics in minutes.
You can also make money with photography and vectors on Canva in different ways.
With Canva Contributors, you can upload photos and illustrations to sell. You get a share of what Canva makes when its users use your designs. So, your income is calculated based on how many times it's been used by Canva users with a pro account.
With its affiliate program, you earn up to $36 per pro user you refer to Canva. You can also make money with Canva by selling templates.
Tips on Selling Photos Online
Browse the marketplace to see what other people are selling for inspirations.
Do a research on the website to get an idea of what keywords buyers are using.
Mind the tags used by popular sellers. This can buyers find your photos on search results or recommendation pages.
Upload tons of photos and optimize your listing so revenue adds up quickly to reach payout threshold.
Recommend Gear to Use
A high quality camera. I use a Canon EOS Rebel SL2 for photos and videos.
A tripod for crisp images.
Lens for photos with bokeh. A camera lens with an aperture below 3 will give you beautiful photos with blurry background. I use the cheap but powerful 50mm f1.8 Canon lens.
Share on: