Looking for a replacement for Google Adsense or to complement it?
In this post, I'll compare the best and highest-paying Adsense alternatives to make more money with your blog.
You'll see which network you can use with Adsense as a companion network, which one you can use without an Adsense account, and which one you can use even if your Adsense account got disabled.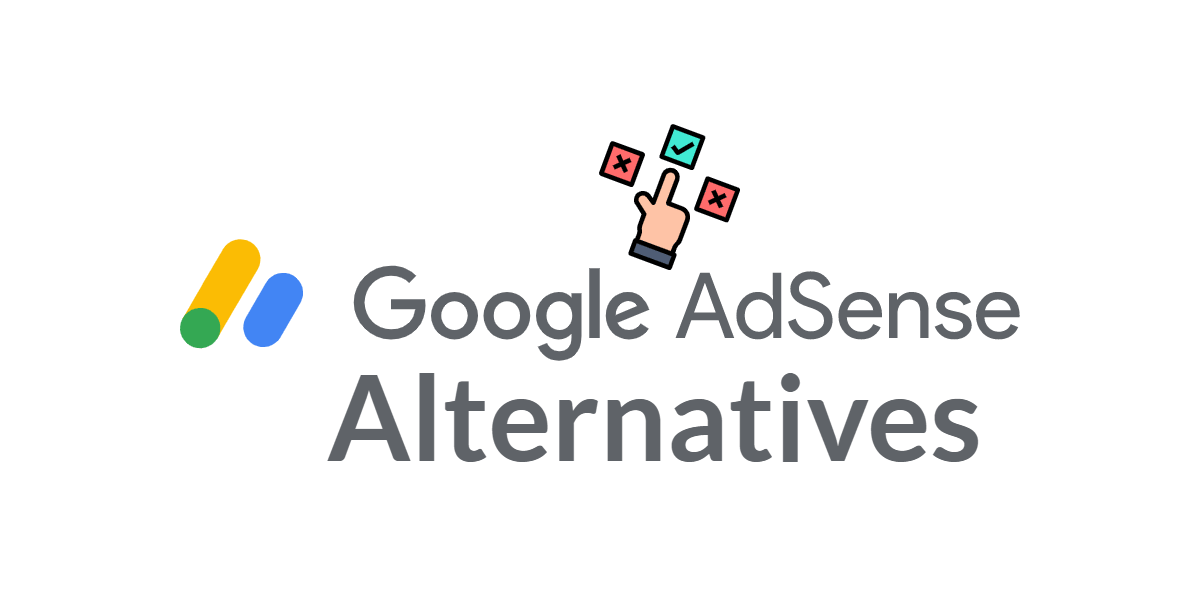 Table Of Contents
Why do you need Google Adsense Alternatives?
You may need an alternative to Google Adsense if:
Your Adsense account is not approved or is disabled.
You need header bidding to increase ad demand and revenue.
You want an easy method to respect GDPR privacy rules.
You need to work with an ad platform where you can contact a representative.
You want to protect your Adsense account from invalid traffic.
There are different advertising networks that fit different scenarios. Let's review and compare them. You should be able to choose the best ad management platform to make more money with your website.
Ready to start and grow your business?
Start a website, run email marketing, sell online courses, all in one place.
For a limited time, get 15% off 12 months of paid plans
Best Google Adsense Alternatives in 2023
When you monetize your website, you can increase revenue dramatically just by upgrading your ad partners. Google Adsense is great when you're just starting. But when your traffic grows, you're leaving money on the table if you're using Adsense alone.
One way is to use other revenue sources such as affiliate marketing. But also, you can use display ads from higher-paying advertising networks.
Here's a list of the top Google Adsense alternatives you can use in 2023 to increase your site revenue.
Ezoic: Best Google Adsense Alternatives for New Sites
Ezoic is perhaps the only Google Adsense alternative with high-paying CPM ads without a traffic requirement. If you produce good content and your site was not banned by Google, even without an Adsense account, you can join Ezoic.
I am using Ezoic on AskEustache. I stopped for a while because it was not compatible with some technologies I am using on my website. I could not pass Core Web Vitals.
I saw the website fast when I visit it and slow in reports. After testing several networks, I found that the anchor ad played a big role. I am back at Ezoic for another test.
In fact, I get an average of $20 EPMV (earnings per 1000 sessions) using Ezoic on AskEustache.
Ezoic asks to wrap Adsense ads because you can split test your traffic. But they can be used together as well.
Ezoic vs Adsense:
Ezoic is an ad management platform that displays ads on your website using Adsense and dozens of other ad networks. Thus, like other ad management platforms in this list, you earn more revenue with header bidding.
It is easier to optimize Google Adsense for speed. Ezoic adds code server-side which in most cases slow down the site a bit. That's why a site with a lot of traffic from countries will slow connections will hardly pass core web vitals.
Newor Media: Best to complement Adsense with High Paying CPM ads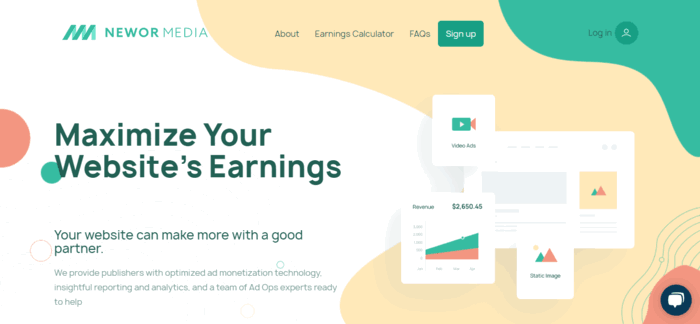 Newor Media is a high CPM Adsense alternative. You need 30,000 unique monthly visitors to join.
You can use it to replace Adsense or as a companion network. They only require you to display 2 up to 6 ad units on pages. You'll earn more money with high paying CPM ads.
When you have an approved Adsense account with units performing well in high CTR placements, you can complement your earnings with Newor Media ads. With Newor Media you'll earn up to $5 eCPM per ad unit.
Another reason to go with Newor Media as a companion network is that it takes care of GDPR for Adsense. If you call Newor Media script before calling Adsense, it will show them only after you get the user's approval to do so in Europe.
Newor Media Vs Adsense:
Adsense selects ads from limited sources whereas Newor Media uses header bidding, sticky ad units, and ad refresh to earn you more revenue with display ads per visit.
Adsense's minimum payout is $100 whereas Newor Media's payment threshold is $50 via PayPal, $100 via Payoneer, and $250 via wire transfer.
However, you can take the best of both worlds. Use Adsense on high CTR placements and use Newor Media on placements with high viewability. Also, Newor Media can take care of GDPR compliance for your Adsense units.
I've used Newor Media on AskEustache. With them, you don't feel the need to plaster ads all over the place. It's was a nice complement to affiliate offers that I display on my website. with CPM ads, I can monetize all of my traffic and I don't have to write only posts with commercial intent.
But I made more money with Ezoic and switched back.
AdThrive: Best Adsense alternatives for high-traffic blogs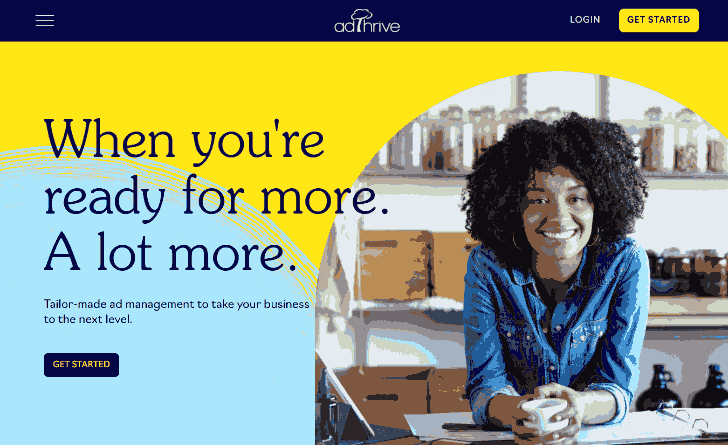 AdThrive is one of the best high CPM Adsense alternatives for websites with 100,000 monthly pageviews or more.
They display text and banner ads similar to Google Adsense. But with header bidding and a direct relationship with advertisers, you earn more ad revenue per visit.
You can increase revenue with in-stream and out-stream video ads as well. With in-stream video ads, you host videos on Adthrive for free, thus increasing traffic to your website with these videos, but also making money with ads playing on those videos.
To join Adthrive, you need 100,000 monthly pageviews with the majority from tier-1 counties.
Adsense vs Adthrive:
Unlike Adsense, you get access to more ad partners bidding on your website using header bidding. More competition increases CPM bids for your ad space. Also, Adthrive uses smart refresh and lazy loading to improve viewability thus increasing your ad space value for advertisers.
While the minimum payout for Adsense is $100, the minimum payout for Adthrive is $25.
Adthrive wants exclusively on your websites, they don't run alongside Adsense or other programmatic ad management platforms.
Mediavine: Best Fully-Managed Google Adsense alternative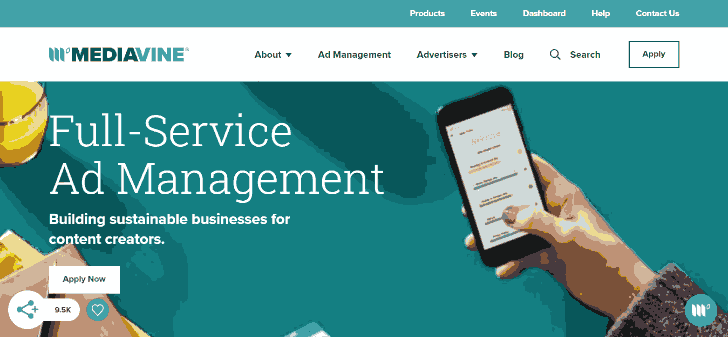 Mediavine is similar to Adthrive but their minimum traffic requirement is 50,000 sessions per month at the time of sign up.
They are among the best high CPM Adsense alternatives for food, travel, and lifestyle bloggers. Mediavine differs from Adthive because they increase your share of ad revenue each year up to 90%.
Also, they offer video player and free video hosting where you earn with video advertising playing on your videos on your website.
The payment threshold with Mediavine is $25 via PayPal, ACH, and wire transfer.
Mediavine vs Adsense:
Mediavine makes you generally more money with sticky sidebar and anchor ads, ad refresh, and lazy loading.
Unlike Adsense which pays per click, Mediavine pays per view. Publishers using Mediavine earn an average of $15 RPM but it goes up to $50 RPM in Q4.
Media.net: Best CPC Ad Network Alternative to Adsense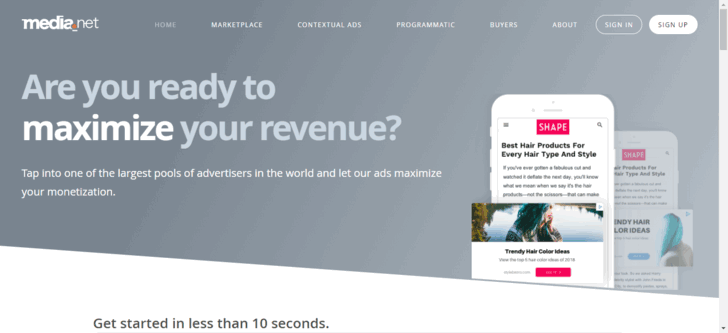 Media.net is similar to Adsense with contextual ads that primarily pay per click. Like Adsense, there's no minimum traffic requirement to join Media.net.
Like Google Adsense, the payment threshold of Media.net is $100. They pay via Payoneer and wire transfer.
With contextual ads you can stick on your sidebar, you can increase revenue with more clicks using Media.net.
Media.net also shows CPM ads for visitors from the US, Canada, and Europe. However, some publishers experienced days with $0 as most ads are paid using the CPC model.
With Media.net, you don't need an Adsense account in good standing. It's one of the top Google Adsense alternatives you can join when your Adsense account got disabled.
Media.net vs Adsense:
Adsense pays per first click on ads whereas Media.net primarily pays when users click twice. First, they click on a link, then they land on a page looking like a search result page with ads. These ads are often high CPC ads because when clicked twice, the risk of accidental click is reduced by a lot.
You can use Media.net as a replacement for Google Adsense, or to complement your Adsense earnings.
Increase Revenue with the Best Google Adsense Alternatives
These Google Adsense alternatives will help you step up your monetization strategy if you're using Adsense alone. Some of these advertising networks will accept your website without a traffic requirement or even if your Adsense account got disabled.
So, increase display ads income on your blog with high-paying ad partners.