It's no wonder.
A good ad company will help you earn more with:
good placements for high viewability.
direct deals that increase competitivity.
The same advertiser can pay a blogger $1 CPM but pay $10 CPM to another publisher with better ad management.
Well, traffic sources and the performance of each site play a big role. But one of the major things to consider is the ad network used.
Some premium monetization platforms can negotiate higher-paying ads for your blog.
Thus, using the best ad networks will make you more money for the same traffic.
It's good news because, in this post, I'll review the best ad networks for bloggers/publishers for higher ad earnings.
Table Of Contents
Best Ad Networks For Publishers In 2022
Most advertising networks aren't worth the hassle. Ads may disrupt the user experience and slow down your site a bit. If you make money blogging with ads, you need to use the best ad networks with high CPM ads.
Quick note: The term CPM is mostly used from advertisers' spending point of view and stands for Cost Per Mille (Thousands) ad impressions. Publishers use terms like RPM (Revenue per Mille or Thousands view) or similar terms instead that focus on revenue and not cost.
Depending on your site traffic, here are my recommendations:
For starters (no traffic requirements, high-paying ads): Ezoic.
For High Traffic Site (100,000+ Pageviews): Mediavine.
Now, let's dive into the potential of these ad management or ad networks with high CPM advertisements.
Ready to start and grow your business?
Start a website, run email marketing, sell online courses, all in one place.
For a limited time, get 15% off 12 months of paid plans
Top Display Ad Networks with premium & high CPM Ads
Using private marketplace, header bidding, and other technologies, premium monetization platforms can negotiate high-paying ads for your blog.
With the best ad networks below, other bloggers and I have experienced earnings like $5 up to $50 per thousand visitors. If your blog niche has high-paying CPC and CPM ads, you can make monthly passive income just by driving traffic to your site.
Let's have a look at the options below so you can pick the best-paying CPM ad network suitable for your blog.
1.- Ezoic - High Paying Display & Video CPM Ads
Ezoic is a premium ad platform for publishers. It is one of the most friendly premium ad management services out there.
And it's the one that I use at AskEustache. You can read my honest Ezoic review here.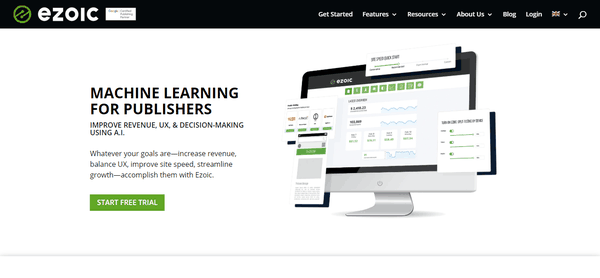 Previously, they requested a minimum of 10,000 visits per month to apply. Now, you can join with a new site. Furthermore, you keep relatively good control over ad placements on your site.
Ezoic technologies allow you to host and monetize videos, earn with programmatic ad display, create PWA version of your site, etc…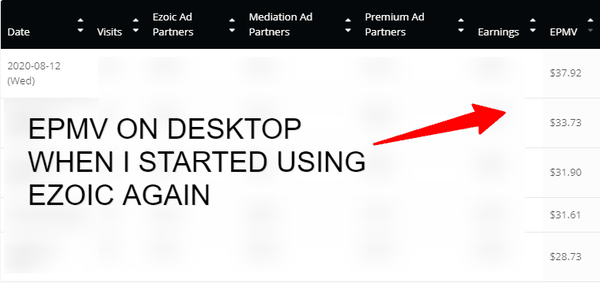 Ad performance varies from site to site. But I have seen sites making $2 up to $60 EPMV with Ezoic. I personally use Ezoic and my EPMV goes up to $43. EPMV is what you earn per 1000 visitors on your blog.
EPMV is the term used by Ezoic and it's stands for Earnings per thousand visitors. It's like RPM (Revenue per thousands impressions) except it's about visits not pageviews.
Mini Ezoic Review
What I like about Ezoic:
Flexible payment options: Monthly payout via Payoneer, wire, ACH, or Wise.
Low payment threshold of $20.
you don't need the majority of your blog traffic to be from the US to get accepted.
Get paid monthly for your ad earnings. NET-30 payment policy.
low entry traffic requirements: no minimum traffic.
you have control over ad placements, ad sizes, etc…
You get detailed analytics reports: high-paying keywords, page-level reports, etc…
Ad earnings keep on improving over time.
What I don't like with Ezoic:
Ezoic technology is not user-friendly for site optimization.
I don't like the design of some ads with big buttons.
However, I don't see the speed issues affecting my site performance more than the revenue it makes me.
Want to sign up with Ezoic? Create an account here.
Ezoic is free. You receive 100% of your earnings for the first 30 days. After that, Ezoic either shows a banner ad at the bottom of your site or keep 10% of your site ad earnings.
Ezoic also offers a premium plan where they negociate higher paying deals for your website.
It's one of the best ad management platforms with high CPM ad rates. No traffic requirements.
You can see how Ezoic ads look on this website.
2.- AdThrive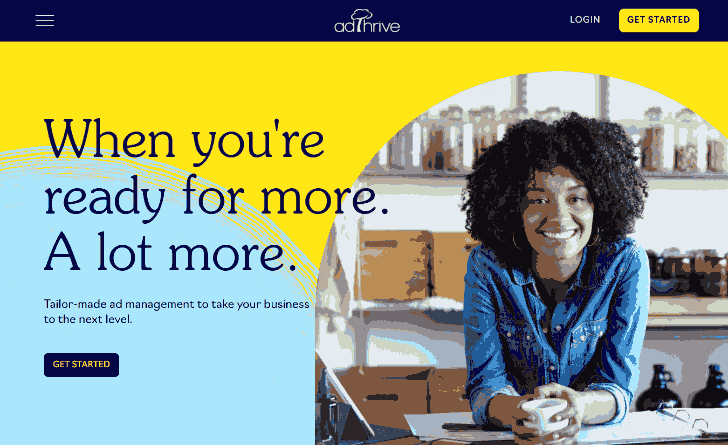 AdThrive is the top choice for a blog generating more than 100,000 monthly pageviews. To get accepted, your blog should receive the majority of its traffic from the U.S.
They give you technologies to make money with your blog and videos. They have programmatic guaranteed deals and private ad offers in their marketplace just like Ezoic premium.
AdThrive uses a revenue share model where you get paid 75% of ad revenue generated on your website.
It's among the best paying CPM ad networks because the earning potential is huge. Publishers posting blog income report an average of $20 per thousand visits in revenue.
They pay using Tipalti via PayPal, direct transfer, check, and wire transfer. That's good news for international publishers. If you'd like to save fees receiving your payments via Wise or Payoneer, just email Adthrive and they'll enable that payout option for you.
Have more than 100,000 monthly pageviews? Sign up with AdThrive here.
You get paid a month earnings 45 days after its end.
3.- Mediavine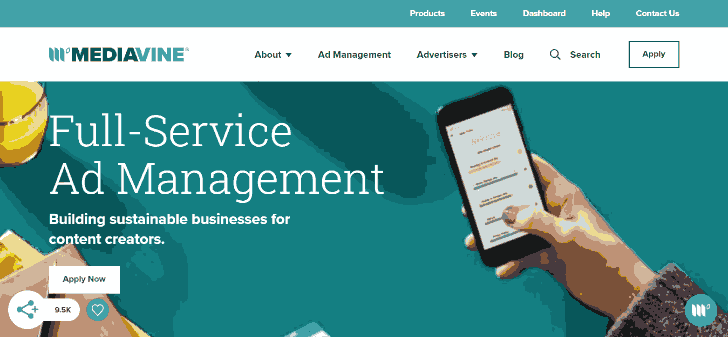 Mediavine is another premium ad monetization platform where you earn from high paying ads. They accept websites that generate 50,000 monthly sessions recorded in Google Analytics for the last 30 days.
They don't accept sites banned by adsense even if they won't use Adsense. They use Adx which is a Google ad product.
Like Ezoic and Adthrive, Mediavine allows you to host and monetize videos on your blog.
They pay via PayPal, wire, check, direct transfer using Tipalti.
If you have 10,000+ monthly blog visits, I recommend you to use one of the three above ad companies. Otherwise, the following programs are your best options. They don't have traffic volume requirements.
4.- Media.net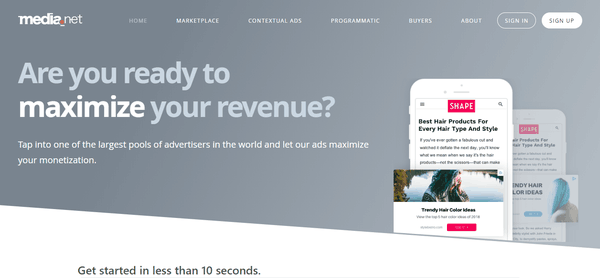 Media.net is a contextual ad networks created by Yahoo & Bing.
What's interesting is that their technology is mostly based on context or words on the page not cookies. So, it's easier then to deal with GDPR, CCPA, or other privacy regulations.
They accept new sites with decent content.
What I like with Media.net are their native ads. The ads blend with your blog design, you can also request an ad landing page that looks like your website and you can opt to get ads open in a new tab.
Media.net has high CPM & High CPM ads.
My complaint is that it's not guaranteed you'll earn daily. Sometimes it shows only ads where users have to click twice. Otherwise, you won't earn money. On the other hand, It's a high earning ad network on your good days.
Also, I received an email that media.net stopped supporting publishers in my country, I had to close my account with them.
If you're in a media.net approved country, Sign up for media.net here and get 10% additional income your first 3 months.
They pay via Payoneer or wire. The minimum payout is $100 and they pay on Net-30 (monthly).
5.- Google Adsense
Adsense is the most popular ad network used by bloggers. There's no minimum traffic requirement.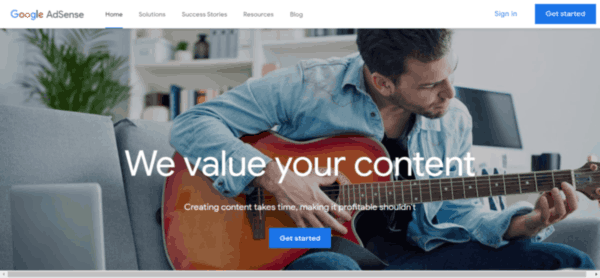 All first three mentioned premium ad management platforms will earn you up to 300% more than Adsense.
However, when your blog has not enough traffic, Google adsense is your best option.
It is a good practice to use Adsense + Media.net to maximize your earnings.
The payment threshold for Google Adsense is $100 and payment options varies by country.
The most commons are direct transfer and check.
Alternatives to programmatic display ads
Making money with ads is the easiest way to make money blogging. But while it is the easiest blog monetization method, it's not the best.
Programmatic ads do slow down your website. You have no control over which ad will be shown. Your revenue is limited to how much traffic you receive.
The alternatives?
Sell affiliate products.
This is the primary blog monetization method I recommend. You don't need a ton of traffic to make money with affiliate marketing. You just need the right person to see your affiliate offers.
The problem is that it's not easy to convince people to buy from you when they don't trust you. Affiliate marketing requires copywriting skills you can acquire by practicing and the competition for search traffic with buyer-intent is fierce.
Interested in affiliate marketing? Here are some recommended posts:
When you promote affiliate offers, you don't have to create products, doing shipping and delivery, customer care, employer management, etc… Still, you can make an average of 50% on digital product sales revenue.
For example, check out this review of the Shopify affiliate program, it is an affiliate program where you can make an average of $59 but up to $2000 per sale.
Sell your own product
You can promote your own product on your website in lieu of programmatic display ads. Ads may distract your readers from your opt-in forms.
You'd convert the prospect ready to buy and build a list of potential buyers to nurture them. The earning potential is much more higher.
The problem with affiliate and product offerings is that you have to up your marketing skills to get sales nowadays. In addition to that, It's possible that following a change in your market, your product becomes obsolete or a merchant shut down your most profitable affiliate offer.
Fortunately, it's not that hard to become good at selling and you can promote alternatives if those not so commo things happen.
More good news
If you earn enough from ads (Let's say $15 RPM), you don't have to choose only one among display ads, affiliate marketing, and selling your own product. You can make money with all three methods combined.
When you make money with ads, you have more freedom to write about anything that you want. You do your best to stay within your niche but don't care much about buying intent and sales funnels all the time. You know that every visit counts.
However, when you publish a blog post with high buying intent, you disable ads on these pages to get the focus to your product or affiliate offers. It's way more money than ad revenue.
What about the debate about using or not using ads?
The best you can do is to experiment. Some people swear by ads and it's mostly 100% of their earnings. Some people would argue that you should not use programmatic ads at all.
See what's work for you and stick to it. But do never prioritize ads over user experience. Even if you use the best ad networks to monetize your blog, keep the reading experience pleasant for your readers.
For example, on AskEustache, I add ads only before an h2, h3, or h4. I don't add ads between paragraph. I also have plan to reduce ads or completely remove them when my internal affiliate ad system is ready.
For now, I am happily using Ezoic, one of the best high paying ad networks.