Newor Media is a premium ad management platform.
It means that its primary goal is to find the best-paying ads to display on your site so you make more money per visit.
While all programmatic ad partners promise high-paying premium ads, only a handful of companies fulfill that promise without damaging the user experience on your site…
So…
is Newor Media a good company to partner with?
Is it going to make you more money if you join?
Will your site pass core web vitals while using Newor Media?
We'll answer these questions and many others in this Newor Media review.
Quick note: I got many emails from companies that, even with the best intentions, I often forget to reply to. But Newor Media caught my attention long enough for me to check them out and engage in a conversation. I looked for reviews on Reddit, visited sites running Newor Media ads, etc… And I end up loving the platform. I've actually tested Newor Media on AskEustache.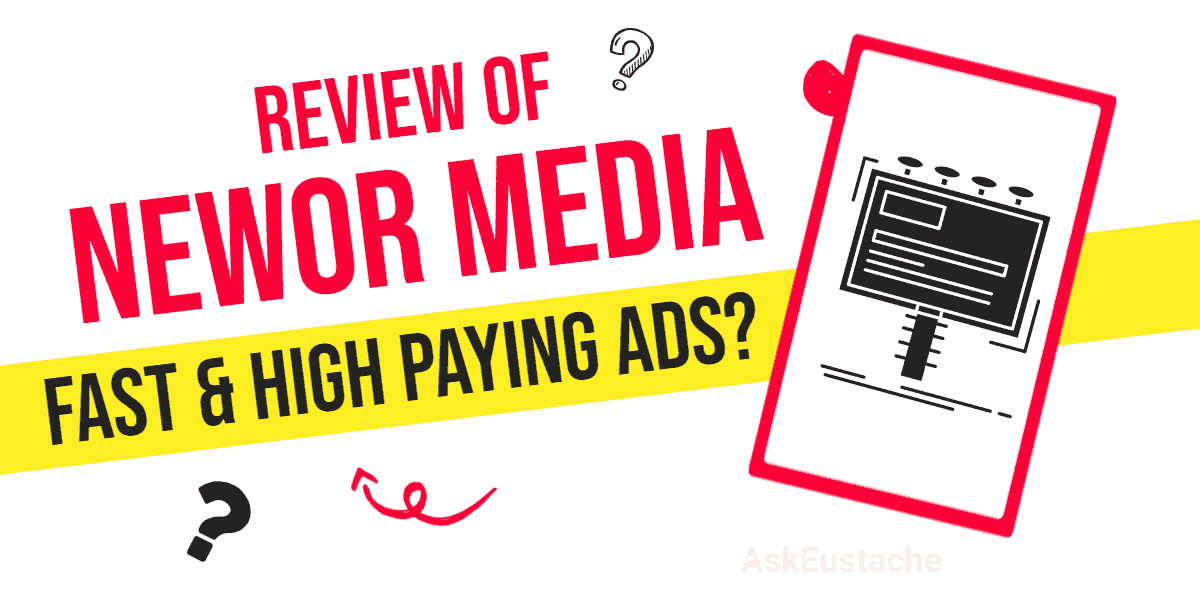 Newor Media In A Nutshell! Is it Trustworthy?
Newor Media is one of the best Google-approved ad partners and Adsense alternatives.
Your website gets accepted if it receives at least 30,000 monthly unique visitors. Also, Newor Media requires that you display at least two banner ads.
Another positive point is that payment is guaranteed. You don't have to worry about advertisers going bankrupt. You get paid on Net30 via Payoneer, PayPal, or bank transfer.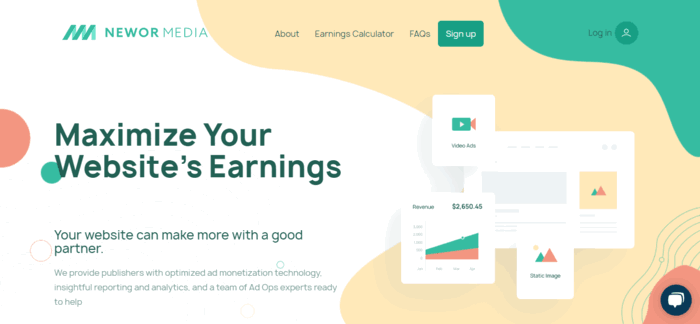 Newor Media uses AI, programmatic ads, and real-time bidding to display high paying ads in high-impact places on your website.
Requirements:

30,000 monthly unique visitors.
Display minimum two ads.

Ad Types:
IAB standard ad sizes, sticky, video ads.
Payment Methods:
PayPal, Payoneer, Bank Transfer.
Minimum Payouts:

$50 via PayPal.
$100 via Payoneer.
$250 via ACH/wire transfer

Payment Terms:
Net30
Start with NeworMedia for free
It takes only 2 to 4 days for Newor Media to review your application.
Ready to start and grow your business?
Start a website, run email marketing, sell online courses, all in one place.
For a limited time, get 15% off 12 months of paid plans
My Earnings with Newor Media
I swicthed to Newor Media from Ezoic for testing. I'll further note situation where I recommend Ezoic and when I recommend Newor Media.
After a week, here's a screenshot of my earnings for the seventh day on selected pages.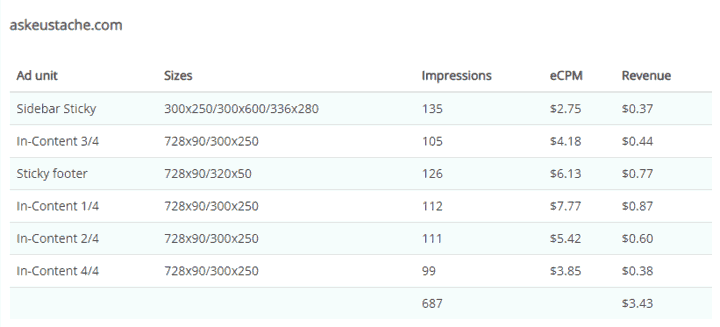 When I asked Newor Media if they can make me more money than Ezoic, they replied with a 100% confidence. I like Newor Media. It's only 6 ad units. My site passes Core Web Vitals using it.
But the ad impression is way lower than my actual traffic. Less than half, actually.
I was using Newor Media as a complementary network to Adsense. I used only two Newor Media ad units within the content.
Overall: I highly recommend Newor Media for affiliate sites with 30,000+ monthly visits. You'll diversify how you monetize your traffic with limited amount of ads which won't affect your conversion by a lot.
Is it possible to use Newor Media ads and pass web core vitals?
Newor Media helps deliver ads while keeping your site fast.
It's true. All ads slow sites down a bit. But it's not an excuse for ad management platforms to deliver ads with unoptimized codes.
In fact, site speed helps to get higher search rankings, better conversions, and even higher paying ads.
I know a lot of sites using Newor Media that pass core web vitals.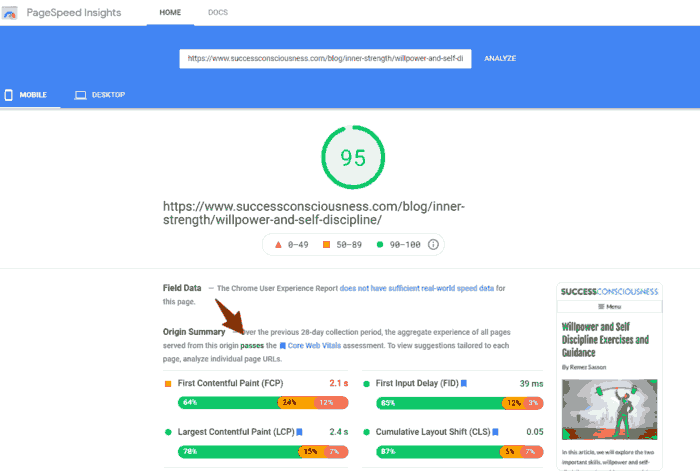 As an example, success consciousness dot com uses Newor Media to display ads and pass Core Web Vitals for both mobile and desktop.
AskEustache did pass Core Web Vitals while running Adsense and Newor Media ads.
Besides ads, plenty of other factors can affect your site performance. But it's good to know if you get them right, ads won't necessarily slow everything down despite all your efforts.
Newor Media Unique Selling Points
Here are some features that make Newor Media different than some other platforms.
Only 2 ads required: while most ad platforms require at least 6 ads, Newor Media only requires two. In fact, they recommend that you don't place a lot of ads on your pages.
eCPM in analytics: you can see the effective revenue earned per thousand ad impressions in Newor media reporting. I like this feature because most platforms only show you RPM because they bloat your site with ads. Reporting per ad impression would be too low.
Ad block solutions: Newor Media helps you to earn some money with users blocking ads.
Newor Media vs Ezoic
I love both Ezoic and Newor Media. With recent updates, Ezoic is trying to fix one of their biggest weaknesses: speed. Also, they now accept sites below 10,000 monthly visits. Still…
Why would you choose Newor Media over Ezoic?
Ezoic is not compatible with some technologies you'd like to use such as Cloudflare full-page cache which speeds up websites.
DNS or Cloudflare integrations often result in errors costing you search traffic.
You don't like Ezoic inlining 50+ KB of Javascript codes on each of your pages.
Newor Media gives you reporting about clicks, refreshes, eCPM, and more. You get access to some of these reports only when you pay for Ezoic premium or Ezoic plus. But the free analytics tools of Ezoic will help you better with other aspects of your website for growth.
However, Ezoic is more popular than Newor Media and has fewer requirements to join. Both programs will help you make money with high-paying ads.
What I missed moving from Ezoic to Newor Media was the SEO optimized free video player. Now, I am using Ezoic again for that reason primarily.
NeworMedia vs Adsense
Newor Media will make you more money than Adsense in many cases. Also, while you can't run Newor Media ads with other header bidding ad tech, you can use it alongside Adsense.
So, if you have more than 30,000 monthly visits and using Adsense, you should try Newor Media.
Also, unlike Google Adsense, you have someone to reach out to if you need help.
In short, here, Newor Media is a clear winner and a good network companion to Adsense.
Now, you can run a sticky sidebar ad on Desktop devices with Adsense. Test to see which network brings in more income for you.
NeworMedia vs Mediaviane vs Adthrive
Mediavine and Adthrive are among the best in the industry of programmatic advertising. I did not test these networks but did read a lot of first-hand reviews about them.
Why would you choose Newormedia over Mediavine or Adthrive, then?
Only 30,000 unique visits are required while Mediavine and Adthrive requirements are respectively 50,000 monthly sessions and 10,000 monthly page views.
You don't have to get the majority of your traffic from the US, unlike with Mediavine or Adthrive.
Faster payments: Newor Media pays on the NET-30 schedule. Mediavine: Net-60. AdThrive: Net-45.
Newor Media Review: Do I Recommend it?
Newor Media will help you make more money with high-paying ads. You have detailed analytics about the performance of your display and video ads.
Also, it's not required to have the majority of your traffic from the U.S.

Newor Media Pros:
Friendly support team who replies quickly with helpful info.
Detailed analytics will help you take better decisions to grow your revenue. You can see the number of clicks, RPM, CPM, ad impressions, and revenue per ad size.
Google certified partner to resell Ad exchange demand. You need thousands of monthly visits to get access to Google Adx without a reseller.
Newor Media Cons:
Ad unit creation limited: you have to ask the team when you want to display a new ad unit on your site so they can create it. I'd like more control over this.
Signed contract required: you must sign an insertion order agreement on acceptance. Unlike other platforms which require exclusivity, with a 30 or 60 days contract, Newor Media just asks for a one-day notice before you remove the ads. Not that bad, but I'll prefer no contract at all.
Not optimized for viewability yet: Newor Media is working on it but they are not yet optimized for viewability. They may load and refresh ad units that are out of view. This will impact the value of placements in the eyes of advertisers over time.
So, considering the pros and cons, I highly recommend Newor Media for making money with display ads.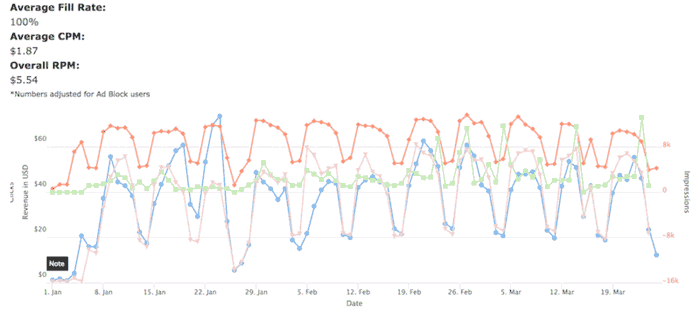 In some way, all ad partners use the same sources for ad auctions.
At the end of the day, here are the criteria you should pay attention to:
Is the company doing its best to optimize its codes to reduce ads' impact on my page speed?
Are there direct deals that will increase ad rates compared to regular ad stacks available anywhere else?
Can I rely on this support team to help me grow revenue with ads?
Newor Media is a good Google approved partner to grow your blog income with display ads.
By the way, they have a referral program where you earn 5% of publishers' fees.
When it comes to making money blogging, I prefer affiliate marketing. Still programmatic ad display is a great ways to earn passive income as well from your traffic.