Berush, the SEMrush affiliate program is one of the best and highest paying affiliate programs.
It's an SEO affiliate program where you get paid up to $199.5 per referral monthly in recurring commissions.
Hence, in today's post, I'll review Berush, the affiliate program of SEMrush, and show you how to promote it.
commissions start at 40% but go up to 50% based on performance.
you can get free year access to SEMrush guru (valued at $1,999) or SEMrush business (valued at $3,999) by bringing in customers. More on that below.
It is a business tool that fixes a real problem that your audience (and you) will happily use.
Moreover, It's free to sign up but by invitation only. Create your Berush account here.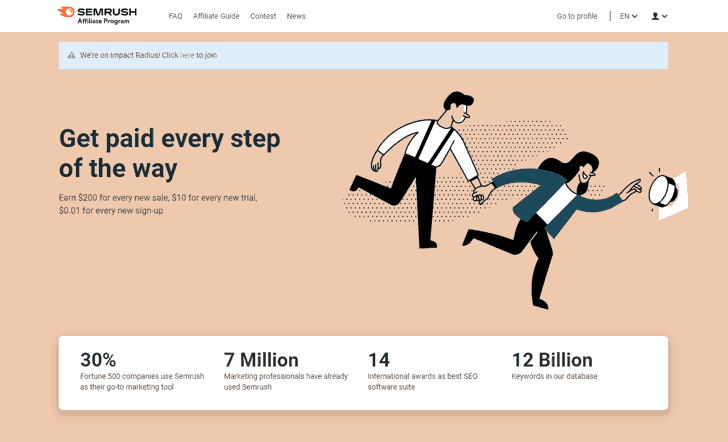 On October 1st, 2020, SEMrush made changes to its affiliate program. The primary way to join the SEMrush affiliate program is through Impact (my preferred affiliate network).
So, I'll also compare Berush, the SEMrush in-house affiliate program, versus Impact hosted affiliate program for SEMrush.
I am with the SEMrush partner program since 2010. I'll also teach you what I've learned and show you proof of payments.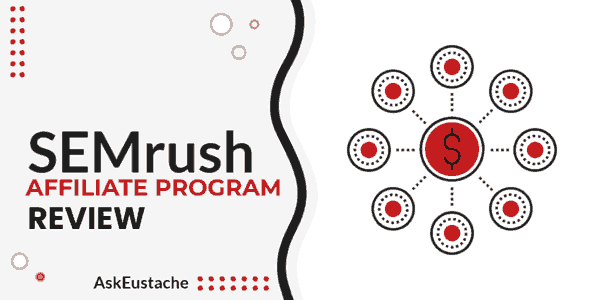 What can you do with SEMrush? What's the targeted audience?
SEMrush is an all-in-one marketing tool. It can help you boost search traffic and social media reach. Use it to:
Find keywords to rank on Google, Yahoo, and Bing.
Discover successful strategies your competitors use, their backlink profile, and keywords they rank for to level up.
Keep your site on top of Google searches by finding toxic backlinks and remove them.
Find and fix SEO issues hurting your site and boost your rankings.
Find social mentions, track competitors, and schedule posts to your profiles.
and dozens of other things…
Learn how you can skyrocket your blog with SEMrush and how it can help your audience: Click here to get 14-day free extended access to SEMrush Pro (worth $99.95).
SEMrush is a powerful tool used by Bloggers, SEO agencies, or anyone who wants their business to be found either through organic search traffic, social media, or ads.
Related Posts:
As a SEMrush affiliate at BeRush, you get paid up to 50% in monthly recurring commissions. You can win a free year of SEMrush by bringing referrals + more perks.
Berush Review: The Semrush Affiliate Program Pros & Cons
In this section, you'll learn what I like and what I don't like about the SEMrush affiliate program. I'll review and compare their in-house affiliate program at Berush and the SEMrush partner program hosted on Impact.
Overall:
I highly recommend the SEMrush partner program to affiliates. Here are my reasons:
Earn up to 50% in recurring commissions per paid referral (or up to $200 fixed commissions)
As it is common with SEO affiliate programs, you can make recurring commission per sale. The standard commission rate of SEMrush at Berush is 40% when you start. When you refer more customers, you level up your partner level and commissions go up to 50% or $199.5 per referral monthly.
Here's an overview of what you earn per referral based on the chosen plan:
Keep in mind that it's potential earnings by one referral. 5 referrals (3 Pro, 1 Guru, and 1 Business) would be $359.9 to $449.85 per month in residual earnings. It adds up.
SEMrush in-house vs Impact Hosted Affiliate Program For Earnings
Unlike on Berush, earn up to $200 per paid conversions with the SEMrush affiliate program hosted on Impact (one-time commission). You also earn up to $10 per free trial on Impact vs $0 on Berush.
Another advantage of the new SEMrush affiliate program is that it uses a last-click attribution model. You'll make more money with your bottom of funnel (BOFU) content.
The new program hosted at Impact Radius is the default program to join starting October 1st, 2020. Berush is available upon invitation only.
Free Incentives, perks, and contests (only for partners at Berush)
When you sign up for the SEMrush partner program, you get incentives for better performance.
We saw earlier that you get an increase in commissions. But you can also try the SEMrush guru plan for free. Just email the Berush support team and ask for it.
When you refer subscribers, you earn 1 point for pro, 2 points for the guru, 4 points for the business plan. If for the past 6 months, you earned 26 points, you'll get free access to SEMrush guru for one year (worth $1,999).
Learn more on SEMrush partner level page.
You can take part in contests and earn prizes up to $1000.
Bi-weekly payouts via PayPal or Wire transfer
You receive your SEMrush affiliate earnings on Berush twice a month via PayPal or wire transfer. The minimum payout via PayPal is $50. The payment threshold via wire transfer is $1000.
Once you fill the tax-form, you'll get paid automatically when you have earned enough to reach the payment threshold for your chosen payout method.
Here's why it's a good thing:
When you join an individual affiliate program, it's easy to forget about it. With the SEMrush affiliate program bi-weekly payment terms, it won't happen.
Also with the SEMrush's affiliate program hosted on Impact, you get paid via Payoneer, direct deposit, or cheque monthly. The minimum payout is $50.
Effective support team
If you have any questions, just email the Berush support team and they will be happy to help you.
They will also contact you if they see a problem with your account or to help you earn more.
They once contacted me because one of my links weren't working. You'll love the level of support that you receive… even if you won't use it as often, it's great to know they are here.
Same level of support both on the Impact hosted and in-house SEMrush affiliate program.
Berush, SEMrush's affiliate program cons vs Impact hosted affiliate program cons
With Berush, the SEMrush affiliate program, the first cookie wins. It means that the first person who sent the user to SEMrush gets paid.
For me, the first touch cookie is not ideal. If you craft a persuasive content that convinces someone to buy, if that person clicked on any SEMrush affiliate link before, you won't get paid.
Then, paid plans start at $99.95 per month. You'll miss bloggers on a tight budget. (This is not a real con as high-quality SEO software are not cheap.)
It is a con from an affiliate standpoint as it affects conversion. I'd prefer a lower plan with incentives for upgrades.
For now, the fix is to send people to try SEMrush free trial. They'll stick if they like it because it worth the investment. It's your job then to pre-sell the software by teaching how to use it.
On the other hand, the SEMrush affiliate program hosted on Impact offers a last-click attribution model. It means that you get the commission if you're the one who convinces someone to try SEMrush; and the last affiliate link he clicked is yours.
However, you won't get the recurring commission you get with Beruh. You'll earn a one-time $100 up to $200 per sale.
As a reminder, the program hosted at Impact is the default program for new affiliates. The legacy program on Berush is still open, but affiliates there can migrate to Impact too.
Should you join the SEMrush affiliate program?
If your audience has problems SEMrush can solve, YES!
SEMrush is a reputed SEO software that can help in finding profitable keywords ideas, discover sites to get backlinks from and so on.
Furthermore, SEMrush gives you a free trial to share with your audience. They can test it before they buy.
Above all, you'll promote an all-in-one marketing tool that will save your audience time and money while making you up to $200 per month (or per sale on Impact) for each referred subscription.
Is SEMrush affiliate program legit? Do they really pay?
Yes, they are. I am reviewing more the SEMrush in-house affiliate program there which pays up to 50% in recurring commissions. But I am also an affiliate on Impact where they pay up to $200 per referral. They pay on both programs.
I prefer their in-house partner program because it's recurring commissions.
Here's a screenshot for a payment I received as a SEMrush affiliate: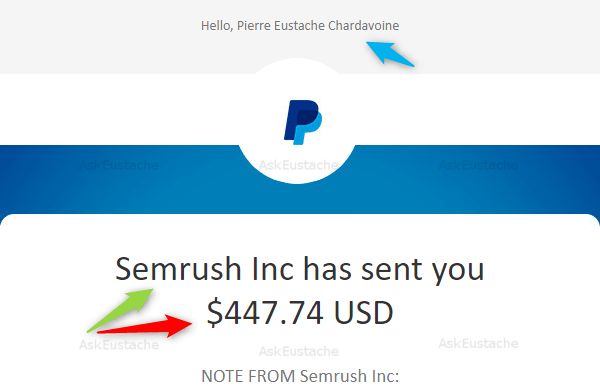 How SEMrush track sales (Cookie Policy).
As far as I know, the tracking system is reliable.
On berush, you have access to reports updated daily. You can use the countries where the referral come from and the page where they found your SEMrush affiliate link.
It's easy to create deep-link to high converting pages such as features, blog posts, news page. You can add affiliate parameters to track your affiliate links and see the top-performing ones.
Indeed, the results of your marketing efforts last. You get paid for someone who upgrades for a paid account years after a free sign up.
On Impact, the affiliate link is ITP compliant. It means that you're more likely to get credit for sales occurring on devices with strict cookies policies. You get near-instant updates about your sales and trial sign-ups. Also, the lifetime of the cookie is 120 days.
How and when do you get paid by the SEMrush affiliate program?
You get paid twice a month with BeRush the 10th and the 25th days via PayPal or Wire Transfer.
To get paid via PayPal, you must have accrued $50 minimum in your account balance.  The minimum payment threshold by wire transfer is $1000.
On Impact, the minimum payout is $50 via Payoneer, cheque, and direct transfer. You get paid monthly.
How to promote SEMrush?
Learn more about SEMrush and how it works. You can sign up for an extended 14-day free trial here. (You'll need a credit card to start the SEMrush free trial).
If you opt for SEMrush for your business, consider yearly payments to save up to $800.
Then,
Promote SEMrush through free courses.
Create SEMrush tutorials and reviews.
Compare SEMrush with alternatives to help your audience pick the right tool.
Share SEMrush blog posts with clear CTA.
Create videos around SEMrush and share them on YouTube.
Mention SEMrush in high converting pages such as tool pages or list of SEO tools.
The SEMrush affiliate program Reviewed
I highly recommend the SEMrush affiliate program to bloggers and SEO specialists.
It is available at Berush and Impact.
I compared both programs and they fix the cons of each other. However, you have to pick one.
I hope my SEMrush affiliate program review helped you in some way. I also hope SEMrush moves all the pros to one program.
Do you want recurring commissions (even if you'll miss sales due to the first attribution cookie)?: Join the SEMrush affiliate program at Berush.com (by invitation only).
Do you want to get credit for your sales with last-click attribution cookies (even if it's a flat commission)?: Join the SEMrush affiliate program at Impact.
Enjoyed this article? Please share it.
Share on: