You can make up to $150 per sale with Fiverr affiliate program. Also, you can opt to receive 10% in recurring income per referred customer for one year.
In fact, Fiverr is a freelance marketplace. You can sign up for:
Fiverr marketplace to buy and sell freelance services.
Fiverr Workspace for time tracking, invoicing, and other freelance tasks management.
Fiverr Learn to buy and sell courses online.
With Fiverr affiliate program, you can make up to $150 per sale with the option to earn additional recurring income per referral.
Sign up for Fiverr affiliate program
You can learn more about Fiverr partner program on this page.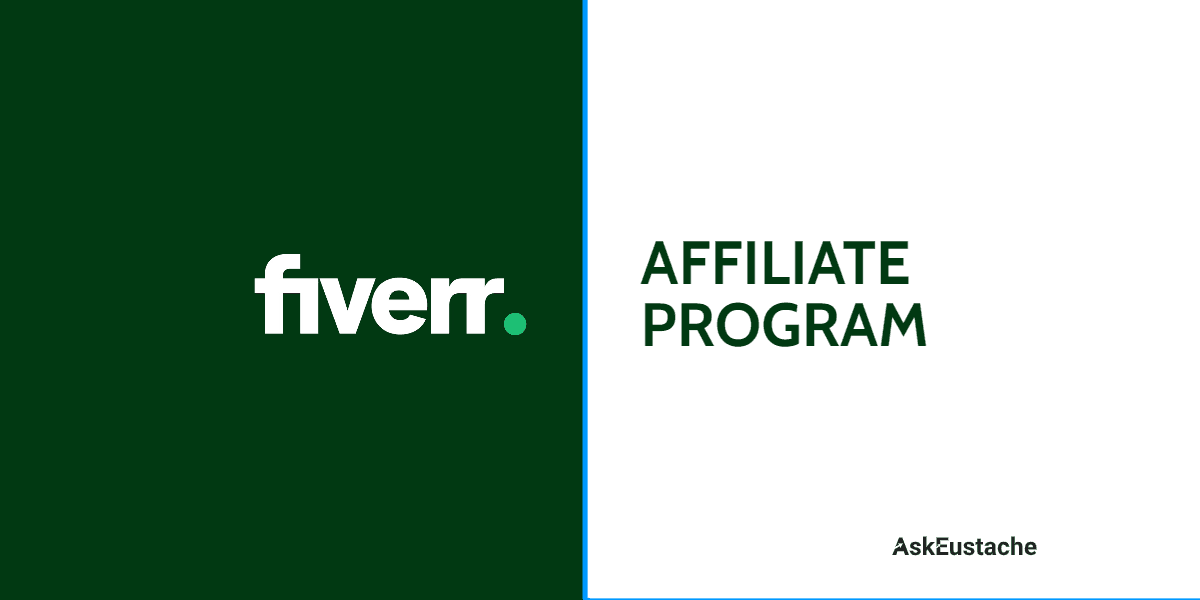 Details about Fiverr Affiliate Program
Affiliate Niches: Freelancing, online learning.
Affiliate Commission: $15-$150 CPA or $10 + 10% recurring.
Cookie Duration: 30 Days.
Payment Methods: PayPal, Payoneer, ACH, Wire.
Minimum Payout: $150.
Affiliate Software: In-house.
You can also find Fiverr affiliate program on FlexOffers, Commission Junction (CJ), Linkshare. However, with their in-house affiliate program, you can recruit other affiliates and get paid 10% of your earnings (from Fiverr revenue).
Ad by
Fiverr Affiliate Program Commission Structure
Fiverr affiliate program pays per cost per action (dynamic CPA) and hybrid (fixed CPA + 10% recurring commission for one year).
You select the form of payment that you want when you select the links in your affiliate dashboard.
Here are the details about Fiverr affiliate program commission:
Fiverr Services
Commission
Fiverr Workspace
50% (up to $120 in commission).
Fiverr Business

$100 CPA + 10% recurring revenue for one year.
$150 per sale with the CPA model

Fiverr Learn
30% of every course purchased.
Fiverr Freelance Services

$150 on Fiverr Pro sales.
$50 on Programming, design, and e-commerce services.
$30 on videos, SEO, writing, and financial services
$15 on all other categories

2nd-tier program
Earn 10% of referred affiliate's earnings.
Fiverr Affiliate Program Review
Sign up for Fiverr affiliate program and earn money promoting freelance services. It's one of the best high paying affiliate programs. Their pages are already ready to convert traffic you send to them.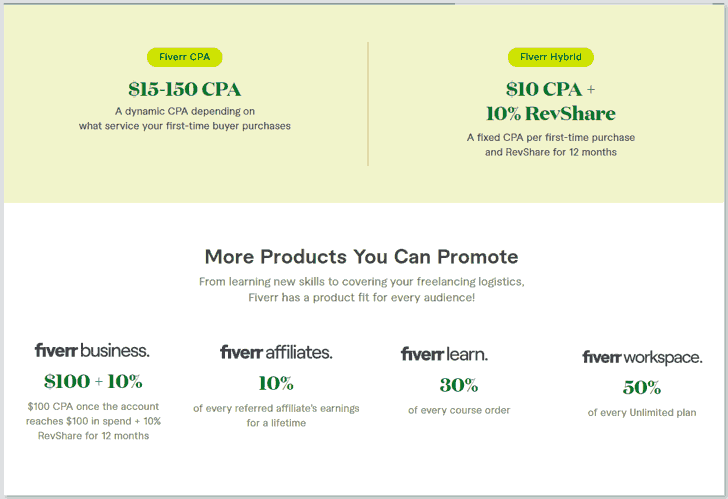 Pros
Cons
The payment threshold is high: $100.
You have to request payment manually and get paid on Net 30.
Sign up to be a Fiverr Affiliate
Share on: