I've used SiteGround WordPress hosting for AskEustache, this site you're on, for 3 years.
Now, I am using the free hosting plan on Netlify. I also moved from WordPress CMS to Hugo.
TLDR? I recommend Cloudways over Siteground for hosting. It's faster, cheaper, 3-day free trial, and pay as you go pricing model.
Still, in this post, I'll answer the following questions: Is Siteground good? Is Siteground fast?
And, I'll tell you why I hosted my blog on Siteground instead of the thousands web hosts available, and why I switched hosting provider.
In summary:
Siteground is one of the best shared hosting. You get highly optimized servers, built-in caching, skilled technicians you can interact with via chat, phone or email.
The service is initially affordable and the quality is premium. I manage to get my site loads under one second without ads.
It is one of the best hosting recommended by WordPress. They host more than 1,800,000 domains and still deliver quality results.
My ratings:
Overall rating: 4/5
Pros: The CPanel is easy to use; your website loads fast; your site stays up with 99.99% server uptime reliability; you get free Let's encrypt and wildcard SSL; fast and knowledgeable support; and affordable pricing.
Cons: less storage space than competitors at the same price.
Get Siteground Hosting at 70% OFF here
Let's go to the details.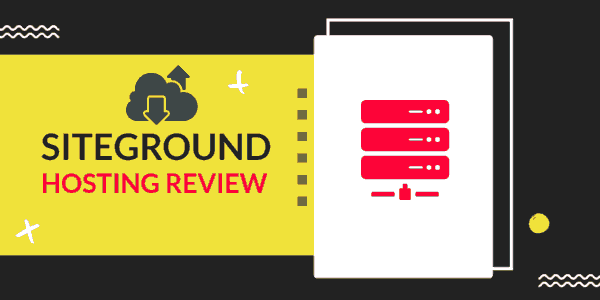 About Siteground
Siteground is an established hosting company founded in 2004. They offer shared, Cloud, and dedicated hosting services.
They can host different types of apps but focus on WordPress and Joomla.
It is an independant hosting company.
Now, time to review what makes its strength.
Siteground Review: The Pros of Siteground Hosting
I found Siteground in December 2010. I signed up for an account in november 2018.
I signed up using a special deal for 3 years.
But at the end, many website owners, including myself, choose Siteground for their advantages. Which are:
High Speed / Performance For Your Hosted Site
Siteground uses latest technologies for speed and performance. They use:
linux servers with NGINX, PHP 8, HTTP/2 technology
data centers choice in 3 continents to store your pages near the country with most visits.
SSD drives which is 1000 times faster than regular drives.
NGINX server technology to speed up the load of static content
"Supercacher" In-house caching plugin for faster pages.
Free CDN via CloudFlare integration.
From my tests, my site loaded fast. TTFB is the time to send and receive the first byte of information for the server. It includes the time to resolve DNS (nameserver or CloudFlare), the time for the application to generate the page (WordPress and plugins) plus the time it takes for your server to support these works. It involves a lot of parties, not just Siteground.
However, my website TTFB, normally, is under 200ms.
It changes from time to time with external requests. With Ezoic, an ad management network making me up to $40 EPMV (effective earning per 1000 visitors), the TTFB is often under 400ms.
This is one of the fastest for well established hosting companies.
Security against common online threats
Siteground uses secure isolated accounts on shared servers. It means that if a customer site hosted on the same server is infected, yours will not.
In addition to that, Siteground stores automated backups of your website daily and store them for 30 days.
They have built-in anti-robot AI to stop brute-force attempts.
And, Siteground partners with CloudFlare so you can integrate it easily and protect your sites against some bots and attacks.
Hosting security measures is just one of the required steps to secure your blog. But it is a common breach. Siteground secures your blog at that level.
Responsive and knowledgeable Support
Siteground claims to process 1500+ tickets, 1000+ phone calls and 3000+ chat requests per day.
Still, their chat support is excellent. They offer support via email too and their knowledge base is full of solutions for problems a blog owner may encounter.
In my experiences, support were fast. And the support team knows how WordPress and hosting works.
I had better support when I first started with them. Now that I left, try the chat support before you join.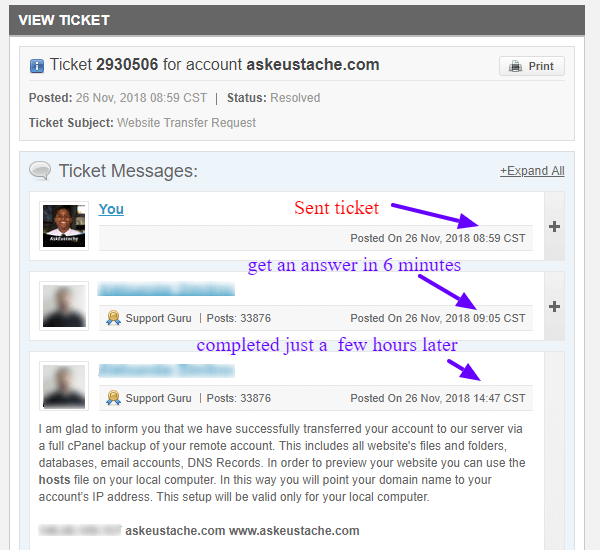 I got an email answer within 6 minutes, actually.
But chat requests were almost instantly.
99.99% Uptime guarantee
They use Linux Containers technology to handle traffic spikes and guarantee uptime of 99.99%.
They monitor their servers to prevent and fix issues.
Nobody needs a website down when you should make money from it instead because you're going viral. Siteground can handle if you get viral on Pinterest, Facebook, Reddit or if you get mentioned on a high traffic site such as medium.
One caveat: Siteground will notice you, then make your site unavailable if go further you plan limits.
Free Migration
With Siteground plans, except on StartUp, you get free website transfer. Or you can use their plugin to do it yourself.
It is good if your website have been hosted somewhere else and you want to move to Siteground. I got my website moved without hassle or downtime.
1 click undo website mistakes + automatic backups
Siteground automatically generated a backup for your website once each day. It stores it for 30 days.
But, you can also create up to 5 back p on demand when you make significant changes to your website.
You don't have to pay for a separate backup service. WIth GoGeek plan, you get it for free. Options are limited in plans with fewer privileges.
Ready For E-Commerce
Siteground GoGeek plan has PCI compliance, exactly what you need to process credit card payment online.
If you plan to start an online store, Siteground is ready for e-commerce.
Affordable Pricing
Siteground starts at $3.95 per month for starter plan; $5.95 per month for GrowBig; $11.95 for GoGeek. You can use that pricing for up to 36 months.
Then, on renewal, you'll pay $11.95 per month for startup plan, $19.95 per month for GrowBig plan and $34.95 on GoGeek plan.
I recommend you to pay for 36 years to get more discount.
I paid $430.2 for 3 years while the regular rates would cost $1236.6 for 3 years or $412.2 per year. I saved $806.4 and I don't have to worry for that bill for the next 36 months following the billing.
I was willing to pay the hosting fees. It's required. A month hosting costs less than what my blog earned in one day. So, I was just happy with the discounted prices.
Go to Siteground to learn more.
Free Let's Encrypt SSL
You need SSL to add another level of security to your website. But you need it to speed up your site and tracking affiliate performance too.
You'll prevent malicious scripts from redirecting your traffic to someone else site. You'll retrieve the referrer for your affiliates links if you were using Flexible SSL from CloudFlare (you'll change it to full). You'll get a faster loading site with resources loading at the same time without blocking rendering of pages.
I try to explain it without using technical terms; but it means a lot in terms of performance. Plus, Google slightly favors website using HTTPS.
You get normal SSL and wildcard SSL if you're using subdomains.
Siteground Cons
Siteground setup is free, unless you pay for a month only. In that case, you'll pay a setup fee. I don't recommend paying for a single month anyway. You get 30 days money back guarantee. So, there is no risk paying for 12 up to 36 months.
Resources are limited on shared hosting plans. Which is good. It prevents abuse and keep Siteground awesome as it it. But I had to learn how to optimize WordPress for less CPU usage.
Siteground FAQ and Note
Does Siteground set limits on how much visits you can receive?
No. To be transparent, Siteground states that each plan is suitable for a certain amount of traffic:
StartUp is suitable for ~10,000 visits
GrowBig is suitable for ~25,000 visits
GoGeek is suitable for ~100,000 visits.
It is not limit on how much visits you can receive. But an estimation of how many visits will consume your allowed server resources.
The table below includes programs executions and CPU seconds limit per plan.
To handle more traffic (up to 5 times the estimation), use the free Siteground SuperCacher plugin, serve pages via free Cloudflare and stop attacks on dynamic pages such as wp-admin.
The best option is to deliver static cached pages using CloudFlare or Ezoic. No resources used for those visits as CloudFlare or Ezoic deliver stored pages without contacting your server.
It took me 8 years to do proper research on that and finally sign up for a Siteground account.
What if one of my website go viral?
Siteground can handle surge in traffic.
If you go above the limits in resources, you'll get an email with steps to take to fix the issues. Maybe to upgrade or optimize your website.
Then after two notices, if you don't fix the problem, your site will be locked until next billing cycle.
So, no surprise there.
Note
These are things I cannot list as con. They are not bad. But they are things you must be aware of before you join. I talked about some of them briefly earlier.
renewal pricing is higher. The first payment is a discounted price. However, they are transparent and list first charge and renewals for you.
limits on CPU usage, account executions (server side processing languages) and inodes (files and folders). This is normal as it is technically impossible for a server to function without limits. You'll find this info on comparison page. However up to 40,000 executions a day and up to 800,000 executions a month is enough for any website that should be on a shared server.
they offer only linux hosting.
Siteground Review Verdict: Do I recommend them?
Now, for the final verdict, I recommend Cloudways over Siteground.
Yes, Siteground is good, like I said. However, Cloudways is more performant and cheaper on the long run.
With Siteground, you get shared server, with Cloudways, you get cloud hosting.
If you need help starting a blog, I have a tutorial on how to install and configure WordPress.
Share on: