In this guide, I'll show you how I find profitable keywords for more affiliate sales.
But first, why is keyword research important for affiliate sites?
Keyword research is the backbone of SEO. You can find keywords that get traffic and know the intention of the searcher beforehand to write content that answer their queries.
When your optimized articles get ranked, you get thousands of targeted traffic 24/7 and a high conversion rate.
For affiliate marketing, it means identifying prospects' language and creating content they will find when they search for solutions. Landing on your pages exactly when they want to buy and clicking your affiliate links to do so, you earn affiliate commissions passively.
In addition to that, keyword research is everywhere in the SEO workflow:
creating content
building backlinks
site architecture,
etc…
So, by doing keyword research the right way, you'll:
learn problems your potential customers face and the words they are using when they look for a solution.
uncover related terms you would not think of to reach more people.
find content ideas to attract an audience that will buy from you over and over again.
Takeaway: When you craft high-converting affiliate posts based on those keywords and rank, you'll see profits coming in month after month.
After all, search engines are good sources of high converting and evergreen traffic. It's the right move for creating long-lasting income sources.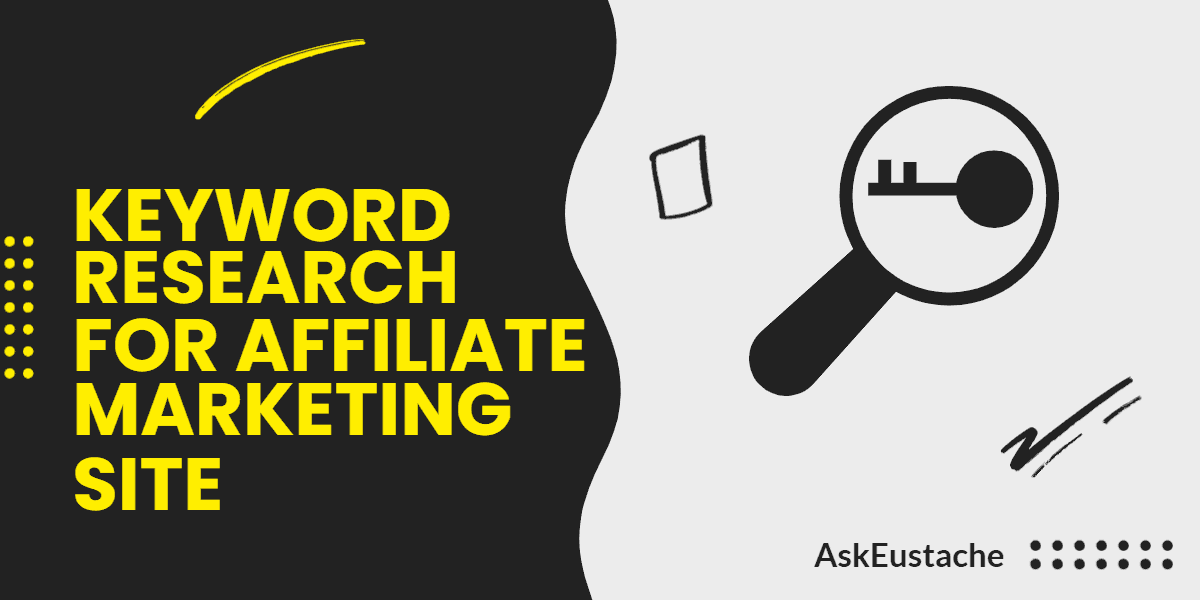 Table Of Contents
How to find keywords to get buying-intent traffic and drive affiliate sales?
When you do keyword research for affiliate marketing, you want to rank for the most searched terms used by potential buyers.

However, what's most important in the analysis process is the search intent behind those keywords. In other words, what the user typing these words wants to do or learn.
You want know where they are in their buying journey to make more sales with marketing funnels.
So…
Short tail or long-tail keywords for affiliate marketing?
Long tail keywords is what you want to focus on in a competitive affiliate marketing world.
Here's why…
Short tail keywords are those keywords with one to three words. They are generally high traffic keywords.
But they are mostly highly competitive keywords dominated by big brands with big budgets. Also, it's hard to find the intent behind those keywords.
For example, if someone type keyword research into a search bar. You don't know what that person is looking for exactly. Is she looking for techniques, tools, general information about keyword research?
On the other hand, you have long tail keywords. These keywords contains four or more words generally. Most of them are low traffic keywords. But they have clear intent and therefore is goldmine for affiliate conversion.
For example, a keyword like "best paid keyword tools" has a clear intent.
Don't underestimate the power of long tail keywords for affiliate marketing. It's one of the best ways to refer and earn with precise targeting.

Their traffic volume is underreported. It is reported as estimated search volume and often you look at results for a single country.
Moreover, a single article can rank for thousands of related keyphrases. Emphasis is on writing articles for topic or intent nowadays, not on a single keyword.
I wrote an article around a keyword with 270 research volume reported, but this article gets more than 2,000 visits a month. It's huge considering most searchers won't click on my site in SERP, I am not even ranking number 1.
In this article, I'll show you how to do long-tail keyword research for affiliate marketing. You'll learn how to map your keyword analysis to your buyers' journey and get them to convert.
Being as smart as we are, the goal is to maximize impact with recurring affiliate programs.
Ready?
Let's uncover commercial intent keywords you would not thing of using the methods below.
Affiliate Marketing Guide to Long Tail Keyword Research
You need SEO tools to research keywords for affiliate marketing. You can use SEMrush, AHrefs, KWFinder, or any other performing SEO tool to do so.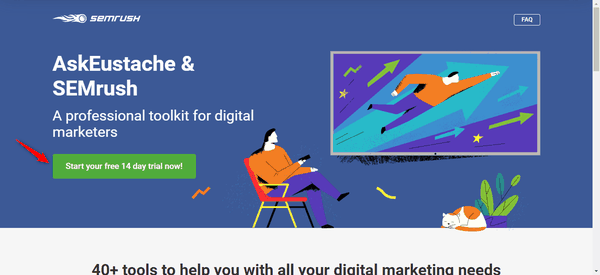 I'll use SEMrush for keyword research in this article. Its standing features will prove themself useful. To follow along, get 14-Day free access of SEMrush pro trial using this link here (worth $99).
It costs $99.99 per month. It's an awesome all-in-one marketing tool. You can also use the free tools I recommend below. Either way, you can try SEMrush free for 14 days.
I wrote this article primarily for AskEustache subscribers enrolled in the "Enhanced Blogging for Monthly Recurring Revenue" email course.
Please subscribe to get other lessons which are not shared publicly. (Upcoming).
Step 1: Find profitable long tail key phrases in keyword databases
The first step is to discover popular key phrases used by potential buyers stored in keyword databases.
(I have a list of affiliate marketing keyword research tools listed further in this article). However…
You don't have to jump from tools to tools. SEMrush has 19+ billions of keywords in its databases. It will save you tons of time.
I'll show you how to use its features to save time and uncover money keywords.
Log into SEMrush (or similar tools) and enter your keyword in the top search bar.
(Don't have a SEMrush account yet? Get a free trial now. [worth $99.99])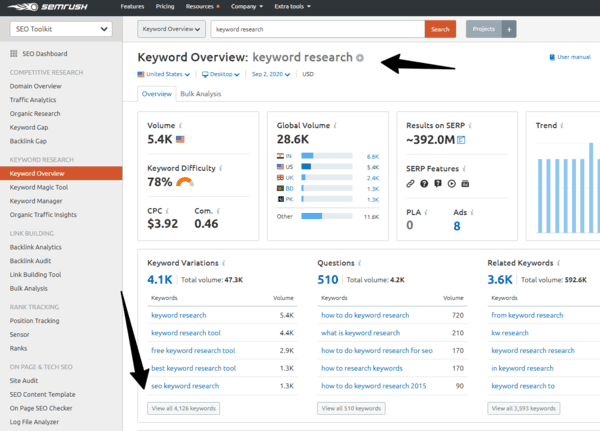 In the main view, Keyword overview, you'll see keyword volume, countries where this keyword is popular, SERP features, sites ranking in top 10 search results, and plenty of related keyword ideas.
Now, let's use some techniques to find the right keywords to focus on for affiliate marketing.
Look for related keywords
SEMrush shows you:
keyword variations
Questions
Related keywords
Clicking on the "view all" link will send you to the SEMrush keyword magic tool for keyword analysis.
Pro tip: Make a smart use of Keyword List.
When doing keyword analysis, search for different long-tail keywords with the same intent. Click their checkbox and add them to a list. This will save you hours of spreadsheets filtering.
You'll find related long-tail keywords with different intent. Just add them to a different list and keep doing your keyword analysis. That way, you'll stay focused and productive. You discover new keywords for more articles, but you don't spread too thin.
SEMrush allows you to build up to 50 list with up to 1000 keywords each.
Pick long tail keywords and questions with high commercial intent.
Find long keywords that fit different stages in the buyer journey.
Your buyer's journey goes as follow:
Unaware: The prospect experiences a problem or doesn't know existing solutions. In this stage, you focus on keywords that define the problem. Ex: WordPress is slow.
Problem Aware: The prospect knows the problem and doesn't know how to fix it. In this stage, you focus on keywords like "how to", "how do I", or similar to help and convert those users. Ex: How do I load WordPress fast?
Solution Aware: The prospect knows the problem and the options to fix the problem. She wants to choose the best solution. In this stage, some useful keywords are "product + review", "[Product X] vs [Product Y]", "best of [product type]" and similar.
It is sometimes defined as: unaware > Consideration > Decision.
Your goal is to find search queries and satisfy the intent to get the buyer at its stage to convert.
There are the commercial intent keywords people use when they are ready to buy. You can find these buyer-intent keywords looking for modifiers like:
best of, vs, top-rated, comparison, compare
cheap, bargain, discount, trial
review, reviews
Ranking for these keywords mean:
more buyers clicking on your affiliate links.
higher affiliate conversion rate.
more affiliate commissions with free organic traffic.
Another way to find long tail keywords for affiliate marketing that buyers use is to look at questions.
Write answers to these questions to overcome their fears, objections and let them know how the affiliate product fixes the related problems.
SEMrush makes it easy to list all keywords typed as questions. You just have to click on the "questions" button.
Apply filters in SEMrush to find buyers keywords you can rank for.
Now that you have a huge list of search terms, filter that list to find keywords people use when they are ready to buy.
It is easy within SEMrush.
Remember the list of modifiers I showed you earlier? You can apply them as filters to find search terms with buying intent. You can also use a bunch of other options to find easy to rank keywords.
Click the "Advanced Filters" dropdown menu. You can filter keywords by word count, volume, CPC, Serps features, etc…
One example is that you can filter all keywords with a video in search result pages. Or, you can look for keywords without featured snippets.
In the field "Include keywords", filter the list of keywords used by buyers.
Here's a short list: review, best of, top, get rid of, alternatives, pricing.
To be fair, you'll find such features in other paid SEO tools such as AHrefs or KWFinder as well.
Do Keyword analysis and make a list of keywords grouped by intent
One of my most loved features of SEMrush for keyword research is the "keyword manager" module.
Use it to create lists of keywords with the same intent.
By looking at long tail keywords, you can find ideas for dozens of posts. Using the checkbox next the keywords, you can easily gather ideas for new posts while staying focused on your current task.
Step 2: Spy on your competitors
Find even more long tail keywords by looking at your competitors. It's one of the best way to find synonyms you could miss just looking at related keywords containing words you have in mind.
Enter your targeted keyword in the top search bar at SEMrush in Keyword Overview.
Scroll down to the list of top-ranked pages.
Click the top three results. It will show you the keywords this single page is ranking for.
Add new found keywords to your list.
Step 3: Leverage the work of your merchants
We, smart affiliates, don't try to create a new audience for the affiliate products we're promoting. We know the product will fit the audience it was created for by the merchant.
These people are the ones that will pay subscriptions for products that fix intended problems. Those people are the prospects that will make you monthly passive and recurring affiliate commissions. Those people aren't the ones that will request a refund because the product doesn't fit their needs.
Thankfully, you can get these persons to your affiliate links using keyword research.
Here's how… (We'll use SEMrush again).
1.- Go to SEMrush and type the domain of your merchant.
SEMrush is smart enough to show you the report in Domain Overview. What interests us is the keywords the merchant is targeting organically or through paid advertising. SEMrush can help us find both.
In domain overview, look for the top keywords the merchant is targeting. Go to advertising toolkit to find the keywords
Obviously, the merchant does not pay you to become competition but to send customers he would not reach otherwise.
So, find long-tail keyword based on the head keywords you found.
2.- Go back to Keyword Magic and find keywords targeting the ideal customers
Use the keywords you found as seed keywords to find more keyword ideas to target for your affiliate posts.
Repeat the above process to find long tail keywords with low competition.
Step 4: Find Low-Hanging Fruits money keywords Google loves you for
Remember when I told you that keyword research was not a one-time task in the content creation process?
You can find more keywords for your affiliate posts even after you get them published. You can do that with SEMrush or Google Console.
With SEMrush, enter your domain name in the search bar. Go to the reports showing the keywords you rank for. Filter for keywords you rank for at the 11th to 100th place in SERP.
Check if there are keywords you did not target but still rank for. If the keyword has a different intent, write a new post about it. Google already "think" you have authority in that niche to rank you for an unoptimized post. You have a higher chance to rank on the first page with an SEO optimized article for that keyword.
Best keyword research tools for affiliate marketing
Boost productivity by using the best tools when researching keywords for affiliate marketing.
1.- SEMrush : All-in-one Marketing Tool
I did everything in SEMrush in this tutorial. It is an all-in-one digital marketing tool you can use for SEO, SEM, PR, and social media marketing.
Try SEMrush free for 14 days using this exclusive link.
($99.95 of value. You need to enter your credit card but won't be billed for the first 14 days. You don't like it? You cancel before the trial ends).
It saves you hours on SEO, SMM, and SEM tasks. While I highly recommend it, it's not the only tool you can use. The keyword research tools below are free or cheaper alternatives.
Caveat: you won't get the speed and quality results you get in SEMrush. You'll have to jump among tools or you'll miss opportunities.
Alternatives to SEMrush: AHrefs, KWFinder.
2.- Google Search
Google search itself is a good tool to find keyword ideas. Find search terms when Google autocomplete while you're typing. You'll find more keywords when you look at related keywords below the search results or questions in the section called "People also ask".
You can use search operators to get even more keywords. It is effective but time-consuming and keyword analysis is difficult. You don't know if the keywords have enough search volume or low competition.
To get some help, you can install SurferSEO free browser extension. It will show you the keyword volume and related long-tail key phrases.
3.- Google Console
Google Console, formerly Google Webmasters Tools, is useful at discovering keywords your website actually listed for.
I use it to find how my website is doing in search results pages. If I find keywords I did not target but still rank for, I optimize my posts for these keywords or create a new post optimized to rank for these keywords.
It is a great tool to find keywords for existing sites.
4.- TwinWords
This is one of my favorite keyword tool which has free options.
You can find hundred of keywords grouped for easy and quick analysis. You can also filter keywords by intent to get keywords that bring in affiliate sales.
You can try it free without creating an account. However, you get more data with a free plan and even more with a paid plan.
You do keyword research for affiliate marketing. Now what?
Mind The Buyer Journey: Once you have a list of keywords, think about the person typing those keywords. The buyer's journey usually goes as follow:
Unaware (Sense a problem and search about it).
Consideration (Search for products to fix the problem).
Decision (Comparing the products found to pick the best).
Takeaway: at each stage in this journey, the buyer will look to use a different type of keyword to find a specific type of content. Try to create content for each stage that aims for conversion.
Build Affiliate Sales Funnels: You can add prospects into sales funnels to show them your affiliate link when they're ready to buy.
A marketing funnels for affiliate marketing is simple.
You collect the user email on your posts or via a bridge page. Then you educate the user about the problem and the solutions with email automation. You help the prospect move from unaware to decision.
Please note: Mind the buyer stage, you want to give a user ready to buy the additional info needed and a link to buy. But you'll eventually spend emails nurturing cold subscribers to develop an interest in the product to become a happy customer.
Craft Highly converting blog post: read our tutorial about writing affiliate posts that get search traffic and convert. Getting that buyer traffic is good only if you can convert them once they land on your website.
Follow copywriting practices to get them to buy from you.
Then, rinse and repeat with more keywords suitable for affiliate posts