My goal in this post is to help you find the best pay-per-lead affiliate programs.
I'll list 10+ affiliate programs that pay per free signup. To end this post, I'll highlight two ways to find more (300+) affiliate sites that pay per lead.
In fact…
There are programs that pay just $1 per free sign-up. But some high-paying affiliate programs pay up to $100 per free lead.
When those leads convert into paying customers, most programs give additional sale commissions of up to $150.
Related Posts:
Back to pay-per-lead affiliate programs. Let's dive in.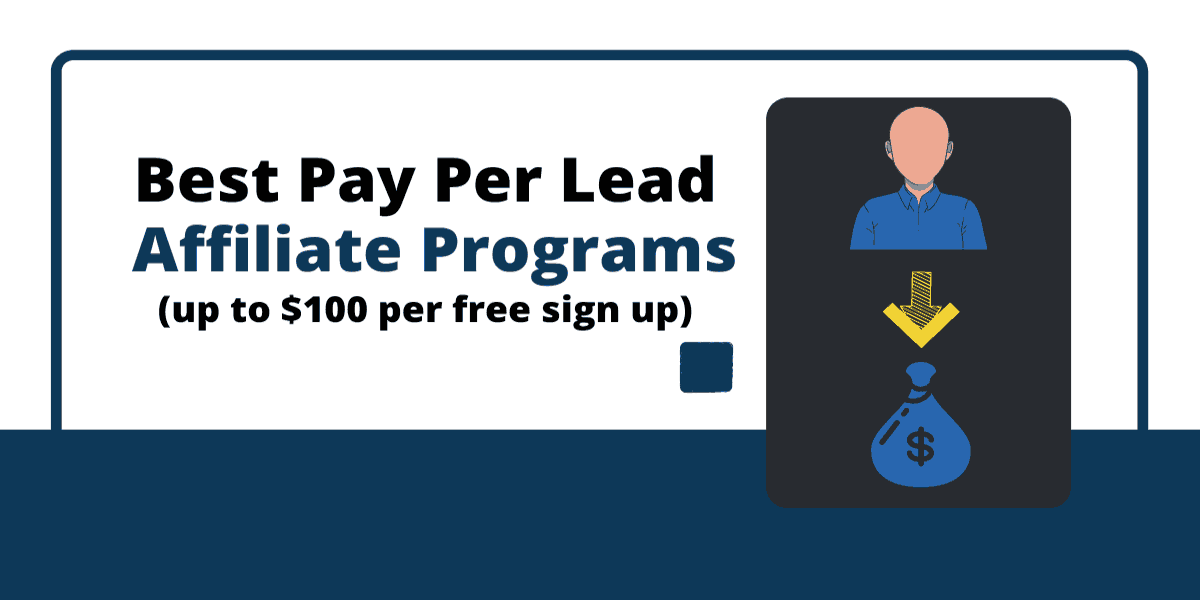 Table Of Contents
Best Pay Per Lead Affiliate Programs
You've learned how to make money with affiliate marketing. You're considering promoting affiliate sites that pay per lead.
Good move! I have a good list of PPL affiliate programs for you.
You can make huge affiliate commissions with the best pay-per-lead affiliate programs. When the lead converts into sales, you can earn up to $188 in monthly recurring commissions with the programs listed below.
I'll list the programs by blog niche. Under each niche or category, I'll talk about the highest-paying lead affiliate programs first.
1.- Online Marketing Programs that pay per free lead
SEMrush - All-in-One SEO Suite: $10 per free trial
SEMrush is one of my favorite SEO tools. I use it to find keywords for my articles, spot and fix SEO issues, get keyword suggestions as I write using their add-ons, etc…
You can sign up for a free trial of SEMrush here. (Credit card required)
Sign up for the SEMrush affiliate program on Impact Radius. SEMrush will pay you $0.01 per free sign-up, $10 per free trial, and $200 per sale.
BigCommerce - E-Commerce Software
You can earn up $1500 per sale with the BigCommerce affiliate program. But you also make money per free lead that you bring:
Get paid $1.50 per free signup.
Get paid $40 per enterprise lead.
What you'll like about BigCommerce when you use it to sell online is that you don't need tons of plugins. Most features are already integrated.
National Debt Relief: $27.50 per lead
This New-York based accredited business helps you reduce debts. It helps you to deal with high rate interests.
Their team deals with your creditors to get your debts reduce by up to 50%.
If you have at least $7500 in debts and need some help, you can apply today.
When you promote that program as an affiliate, you get paid $27.50 per qualified consultation lead.
Promote it to people who need free debt analysis.
ShareASale: $30 per lead
ShareASale is the affiliate network where most of the following programs are hosted. You get paid $30 for referring affiliates to that network. You earn $150 if you refer a merchant.
ShareASale network includes health & Fitness, web hosting, e-learning, travel, fashion, home decor affiliate programs. It's one of the best place to look for affiliate programs to make money.
Your referral sign up for free. You get paid $30 when she makes $20 in affiliate earnings. If you refer a merchant, you earn $150 when that merchant earn ShareASale $100 in fees or is active for 6 months.
They pay via ACH, Check or Payoneer when you reach $50 in affiliate commissions from the affiliate programs that you promote.
Join ShareASale affiliate network
ClickFunnels: $1 per lead + residual commissions per sale
ClickFunnels is an excellent software to build sales funnels. It gives you everything you need to build landing pages, collect email subscribers, send follow up emails, receive payments, and recruiting affiliates for your products.
As a sales funnels tool, it pays affiliates to send leads to its high converting pages.
You get paid $1 for every free book that your referral order. The marketing book is free; the referral just need to pay shipping fees.
Some of those books are:
CopywritingSecrets: Free book where you learn how to write emails, ads, and blog posts that sell. You get 31 copywriting formulas to write better and more persuasive copy.
DotComSecrets: This book teaches marketing strategies to grow traffic, conversion, and sales online.
ExpertsSecrets: In this book, it is about how to turn your knowledge into profit like successful business owners are doing.
It has a free 30-Day challenge called One Funnel Away. I went personally to that training and it's one of my best investment. In 30 days, you learn the skill you need to sell and build a business in 30 days. I highly recommend it.
Students have to pay $100 to get the program materials shipped to their home address. ClickFunnels gives you, the affiliate, 100% affiliate commissions. You'll make $100 per sale.
In addition to that, you get paid 30 up to 40% recurring commissions if that person buys a ClickFunnels membership. It's 24.10 to $118.80 per month for each active referral who upgrades to a paid plan.
It's one of the best affiliate programs that I promote.
To promote these offers, sign up for ClickFunnels affiliate program free at whatyourdreamcar.com.
Quick and Important note: All kind of online businesses need sales funnels. To learn how ClickFunnels can help a business in any way, complete the following steps:
Step 1: Try out ClickFunnels free for 14 days. You'll get plenty of sign-up bonuses. It's risk-free. You can downgrade, upgrade or cancel anytime. You'll get reminders 2 or 3 days before the trial ends. However, you're unlikely to cancel the subscription. Here's what you'll get: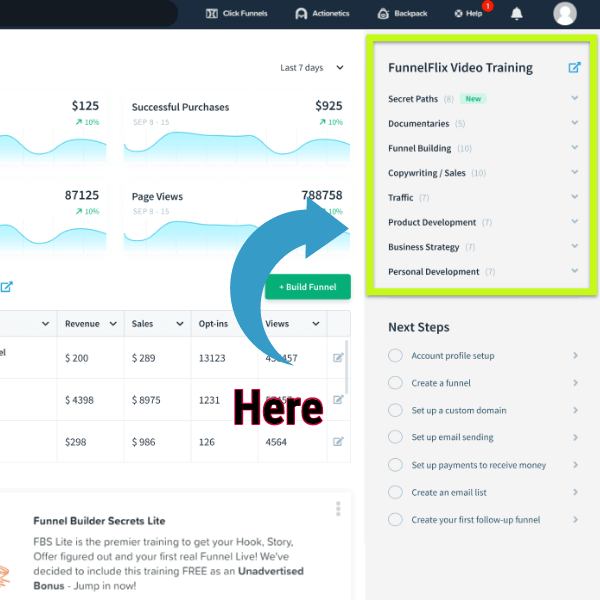 Free courses under FunnelFlix videos. (Location referenced in image above)
Software to make money while building your list, membership platform to sell your courses, one-click upsell, order bump, and one-time offer to make more money per sale, etc…
Inside FunnelFlix, you'll get free courses to learn:
How sales funnels work and how to build them. (One Funnel Away Challenge).
How to get sales while building your email list. (One Funnel Away Challenge).
How to craft irresistible offers and get traffic to them. (One Funnel Away Challenge).
How to set up a YouTube channel and make strategic videos that make affiliate sales. (Affiliate Bootcamp).
How to get buyer traffic from Google and YouTube for passive income. (Affiliate Bootcamp).
Yep, I just reference less than 5% of what you'll from two courses: One Funnel Away Challenge and Affiliate Bootcamp. But FunnelFlix have 30+ more courses including courses about Copywriting, YouTube Traffic Secrets, Money mindset, Business strategies, etc…
You get access to all of this with your free trial. It's their way to keep you on board so you figure out how to make profit with the software in your business. Start your 14-day free trial now.
Step 2: Join the affiliate program, called whatYourDreamCar. You get paid 30-40% recurring commissions ($24.10 to $118.80 per month per customer). They also help you pay your dream car if you bring at least 100 active customers.
2.- Pay Per Lead Affiliate Programs for Affiliate Bloggers
Get paid per lead referring merchants or affiliates.
Affiliate Manager: $1 per lead
Affiliate manager takes care of your affiliate program. They recruit affiliates, manage relationship so you can focus on other aspects of your business.
It pays $1 per lead and $150 per sale.
3.- Financial Affiliate Programs that pay per lead
Finance is one of the highest paying niche for a blogger. It has:
high paying CPC keywords (up to $210 per click)
big commissions per affiliate sales
and high-paying lead affiliate sites
Here are some finance affiliate programs that pay per lead:
Personal Capital: $100 per qualified lead
This personal finance tracking tool pays $100 per valid sign up.
This is a free financial tool to track all your finances (income, expenses, budgeting, net worth). You can link and manage all your accounts in one place for free. When you promote Personal Capital, the referral must link at least $100,000 in investable assets to earn you the $100 lead commission.
Their affiliate program is hosted on FlexOffers. I highly recommend you to sign up for an FlexOffers account now. It is an affiliate network with lots of pay per lead and high paying affiliate programs.
Paribus: $2.50 per free lead
Paribus is a free saving tool for online shoppers. It helps you find stores that owe you a refund when the price drops or get you compensation for late delivery.
It means, if the price of a product that you bought on a supported marketplace drops, the app manages to get you the difference back. It works with stores like Amazon, Walmart, Home Depot, etc…
As an affiliate on FlexOffers, you earn $2.50 per free sign up. The Paribus site has a link to their main affiliate program too when you sign up and look at footer menu
4) Survey sites
Most survey sites affiliate programs pay per lead. And it's good!
As an affiliate, it is easier to refer someone to make money online rather than buying something.
Some survey sites that pay per lead.
Survey Junkie: $1.25 per lead
Survey Junkie is one of the most popular survey site for the U.S, Canada, and Australia. If you're in one of these countries, sign up to get paid for your opinions.
You can sign up to promote this affiliate program that pay per lead on ShareASale. get paid $1.25 for referring users.
You're in the U.S, Canada, or Australia? Sign up for SurveyJunkie to take surveys.
Log into ShareASale to look for the affiliate program.
SwagBucks: $3 per free referral signup
Make money watching videos, completing surveys and searching the web. The program is available for people located in the U.S, Canada, Australia, Ireland and UK. You earn $5 signup bonus. You can cashout via PayPal or Amazon gift card.
Swagbucks pays affiliate $3 per lead. You can join the affiliate program even if you're not in the five countries listed above. The affiliate program is hosted on ImpactRadius and FlexOffers.
Sign up for free on SwagBucks (Get $5 sign up bonus)
To join the affiliate program on ImpactRadius, sign up and make a search. I can't give a direct link. You have to search for it; but it is usually featured on the account dashboard.
Mr Rebates: $1 per lead
Save money when you make a purchase online. Earn cash back when you shop on sites like Amazon, Ebay, Dells, etc…
Mr Rebates has a referral program when you earn $1 per free sign ups. Help your friends save money and make money in the process.
5) SEO
I've listed some high paying SEO affiliate programs recently. You needed a sale to make money. Now, we just need a free signup to make affiliate commission.
6) Education
It is easy to learn a skill online or to make money selling online courses. In addition, you can make affiliate commissions with free online courses sign-ups.
CreativeLive: $1 per lead
CreativeLive has paid courses. But they have free courses every week. You can signup to take those free courses. Just clik RSVP next to the course.
If you promote CreativeLive, you make $1 per free sign up. If the referred user make a purchase, you earn 40%.
How to find more pay per lead affiliate programs?
There's more pay per lead affiliate programs that pay well. You'll hardly find them using Google search. You'll find just a few of the programs listed above.
Fortunately, we can use affiliate networks to find them.
Method 1: Look for PPL programs in affiliate networks with search filter
I'll take ShareASale as example.
You can list 25 pay per lead affiliate programs as a guest on that page. But if you sign-in (or signup), you can go to merchants > search for merchants > pay per lead.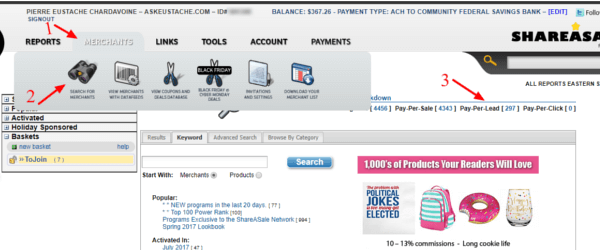 There are 297+ affiliate programs that pay per lead there.
Do the same thing with other affiliate networks to find more PPL affiliate programs.. FlexOffers is one I high recommend.
Method 2: Dig into CPA affiliate network methods
The beauty of CPA affiliate networks is that most programs pay per lead. It can be a sale but mostly, they pay per free signup, email submit, etc…
I'll take Peerfly as example
When you signup, on the left side, choose offers. Click on 'advanced search'. You can filter by category to find the ones within your blogging niche.
You can earn money while your referrals do not invest money yet. Most programs pay you a percentage of generated sales after your lead commission.
So, I hope those programs will help you increase your affiliate commissions.
Do you think that this post can help someone else? Share it with your networks.