Want to get better at blogging?
How do blogs get more readers and earn more money?
There are small tweaks and good habits that can help you grow your blog traffic faster. In the same way, with these techniques, you can squeeze out more money from your traffic.
Are you a new blogger? Or, are you an experienced blogger?
In this post, I'll share my best tips on blogging and link to detailed articles on blogging tips that work in 2023.
Best Blogging Tips and Tricks in 2023
More Blogging Tips
Let's dive in.
Table Of Contents
Best Blogging Tips and Tricks In 2023
Here are some of the best tips on how to blog effectively in 2023:
Fix Your Audience's Biggest Pains and Stay on Topic
Build Your Blog To Convert
Start an Email List From Day One
Leverage Automation on Your Blog
Write Optimized Blog Posts Consistently
Diversify Traffic and Income Sources
Optimize For SEO from Day One
Have an Effective Promotion Plan
Fix SEO Issues Regularly
Set up an Effective Weekly Workflow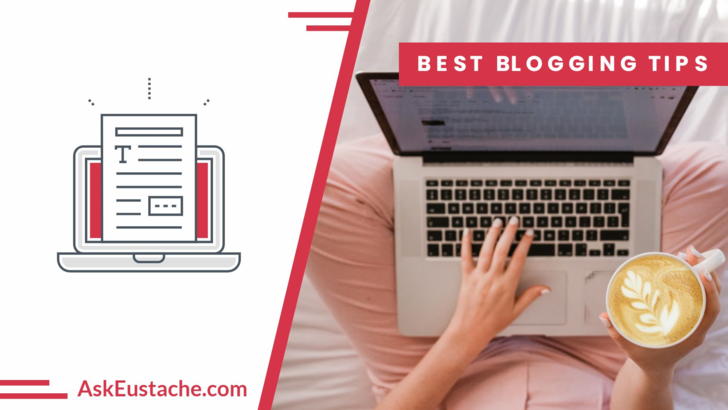 Now, let's deeply talk about each of these blogging tips and techniques.
Ready to start and grow your business?
Start a website, run email marketing, sell online courses, all in one place.
For a limited time, get 15% off 12 months of paid plans
1.- Fix Your Audience's Biggest Pains and Stay on Topic
You grow a successful blog by being useful to your readers. You either help them fix their problems or feed their curiosity.
Get to know the problems your readers are facing by:
Then, create content that helps them fix those problems. These are my best blogging tips for writers to grow their blogs faster.
First, this method will help you write about subjects your readers have an interest in.
Also, solution-oriented content will help you build an audience faster, get people to share your content, follow your recommendations to buy products, and more.
When you stay on topic, users will understand that you know about the subject and trust you more. Search engines will also give your posts a boost in search rankings as you give a better user experience.
2.- Build A Blog For Conversion
Traffic is a vanity metric unless it converts. You can make $0 with a blog that gets 3,000 visits a day.
It's not that traffic is bad. You can't make money without traffic either. What matters is traffic that converts.
What is the goal of your blog? Do you want to sell more products, and reach a boarder audience?
You can build a blog that converts when you:
remove distractions and spotlight your calls to action.
speed up your website loading. A slow site frustrates visitors and they leave to go to alternatives.
When you have a high-converting website, you can make money with low-competition/high-intent keywords.
Let's talk about another important blogging tip for success.
3.- Collect Email Addresses From Day 1
An email list is one of your biggest assets. One of the most direct ways to contact your readers and build trust.
Fortunately, now, you can start building an email list for free.
Here are my recommendations (Pick the best for you):
SendingBlue: free with automation for up to 900 subscribers.
Aweber: Free for up to 1000 subscribers. Automation included. Affiliate friendly. Paid plans start at $19.
Convertkit: Free for up to 1000 subscribers. No email automation in the free plan. But automation starts in the paid plan at $9 per month.
Visitors who land on your website may never come back unless you have a point of contact. Furthermore, a subscriber who trusts you is more likely to buy from you and recommend your website via social shares or backlinks.
Also if Google releases an algorithm update right before the shopping season that hits your site, your email list may help you save sales.
Don't wait. Start building an email list from day 1.
4.- Leverage Automation For Your Blog
Blogging is a lot of work. But, fortunately, a lot of those tasks can be automated to a certain extent. In fact, there are parts of the process that is best automated.
So, leverage automation wherever it is genuine.
Here's what to automate:
sales process: build sales funnels and email autoresponders series that guide prospects to buy from you. This automation can work 24/7 and help you grow your blog effectively.
recurring social shares: Automate the promotion of your posts with effective social media automation tools. I use Publer to schedule posts on Twitter, TikTok, Pinterest, LinkedIn, Facebook, and Instagram.
Discovery of growth opportunities: Use tools that will help you find topic ideas, interlink opportunities, monetization strategies, etc…
Find out the parts of the work to set on autopilot to boost your blog growth.
5.- Write Optimized Posts Consistently
Quality is more important than quantity in blogging.
Still, the hard truth is that not all your published blog posts will be a success.
There are a lot of things out of your control such as the competition, algorithm changes, user behavior, etc…
So, the key to most successful blogs is consistency. More content, more opportunities to get traffic.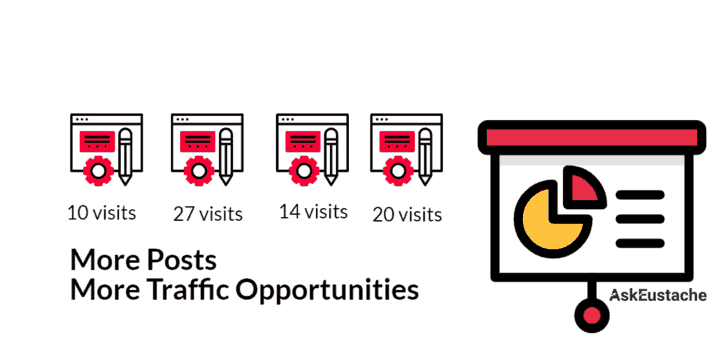 But there are more reasons to do so.
When you produce content consistently on topic, you improve topical authority which increases search rankings for all your articles.
Users interested in this particular topic will be more inclined to sign up for your niche email list.
6.- Diversify Traffic And Revenue Sources
Don't rely on a single source for traffic or income.
If you use display ads to monetize your website, complement it with affiliate promotions.
If you make money blogging solely with affiliate marketing, use different affiliate programs and networks.
You can sell your own products for more revenue in addition to display ad revenue and affiliate commissions.
Do the same for web traffic. Don't rely on a single source of traffic.
Truth is…
Ads prices fluctuate throughout the year; affiliate merchants may close programs; traffic sources can gain or lose popularity at any time.
If you want to save yourself unnecessary stress from changes out of your control, diversify your sources of traffic and income.
7.- Optimize for SEO from Day 1
Search engines won't wait. If web crawlers visit your website unoptimized, it will stay like this in their databases for a while. Sometimes, it may be a clear signal to not visit your website in a near future for updates.
So, optimize your website for SEO from Day 1.
Here are some quick SEO tips for your pages:
use targeted keywords and synonyms in headings and paragraphs so it is clear to web crawlers what your page is about.
add descriptive alt text to all your images.
write blog posts that are longer than 1000+ words for keywords with moderate competition.
Build a content hub to get topical authority when you write multiple posts related to close topics.
Use Concise headline people will click on when they appear in search results or social feeds.
SEO is a long-term game. But you have to play by the rules from Day 1.
8.- Have an Effective Promotion Plan
You need to promote each of your published blog posts to maximize traffic.
While some posts will attract SEO traffic regardless of promotion, early promo will greatly help you:
you may get backlinks, especially for posts on trending topics.
So, it is important to promote your blog. But it gets better with an effective promotion plan.
With an effective promotion plan, you spend less time thinking about your move, so, less procrastination. And you know what marketing channels work best for overtime to focus on.
9.- Fix SEO Issues Regularly
Fixing SEO issues is not a job you can do once and be done. They'll appear anytime and will impact your site's organic traffic if not fixed.
They may appear when you apply changes to your site. But also when other websites talk about you and link to your site.
Use an SEO tool to find and fix SEO issues on your blog.
I usually fix non-important issues at the beginning of each month. It is convenient because I get monthly reports. Find the schedule that works for you. Important issues need to be addressed right away.
10.- Set up an Effective Weekly Workflow
As I said earlier, blogging is a lot of tasks. One of the side effects is that you can spend too much time thinking and not really taking action.
It's easy to feel overwhelmed by all the blogging tasks. (think keyword research, content writing, backlink building, content update, social media management, etc…)
One of the best pieces of blogging advice I can give you is to set up a workflow for blogging tasks.
When you set up an effective weekly workflow, you can go through all blogging tasks without the overwhelm. Also, you can set aside shiny objects or tasks that don't bring actual results.
I focus on content creation/update for 2 hours a day, 1 hour on promotion, and 1 hour on research or administrative tasks. This is how I schedule blogging tasks for a 4-hour/day of work.
Before my workflow, I was spending all day in front of my computer. And so many times, I did not get many things done really. I was not organized and procrastinated a lot.
More Blogging Tips For New and Experienced Bloggers
Create a backup of your website in case of unexpected events (site hacked, hosting crash, etc…).
Set up analytics to measure performance and apply changes objectively.
Make your site fast by using a lightweight theme, and a fast host, and optimize your images.
Optimize your most visited pages to capture emails or make you more money via ads or affiliate marketing.
Use visuals to convey your message better and get more social and SEO traffic.
Recap: How to Get Better at Blogging?
Getting better at blogging means you're more focused on tasks that bring results and you're getting better at completing those tasks.
Also, you use tools at your disposal better to automate part of the process. The most important are:
Write content your audience is searching for that fixes their problems.
Set up a schedule for blogging tasks such as keyword research, content writing, updating old posts, content promo, etc…
Build an email list and automate sales via email sequences.
update old posts and re-promote them so they keep bringing traffic with newly published ones.
If you keep track of your blog results, you'll discover more ways to get better at blogging over time.