You can make money online selling people's products. Actually, I am referring to methods ways beyond direct sales.
And I am also referring to getting paid to sell either physical or digital products.
In many cases, you don't have to:
spend time to create a product.
manage inventory.
dealing with customer's complaints and fixing problems.
Still, you can make up to 200% per sale when it is a digital product. Also, I'll show you products to promote where companies pay over $500 per sale.
In this post, we'll talk about 5 ways to make money selling products for companies.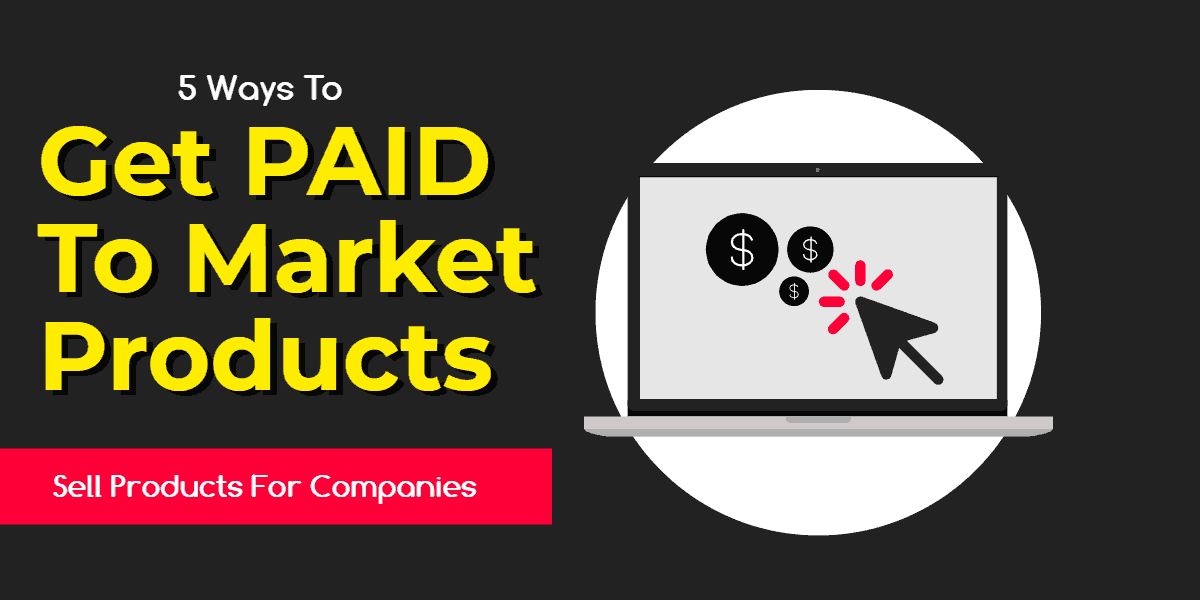 5 ways to sell Products For Companies And Get Paid
To sell products and earn a profit, companies need to reach the right audience.
They could spend a lot of money on digital advertising, it won't replace the human part of marketing; the trust. So, they need you. You'll get paid to market their products to their target audience.
It's simple: refer and earn per sale.
Indeed, it is beneficial to them because they are paying only when they make a sale.
But it's a win-win situation.
You don't have to spend time nor efforts creating products.
You won't lose sleep when a product launch fails.
You don't have to deal with customer care, shipping for some of the methods described below.
Furthermore, you can build a solid business with a base of customers… without creating products.
Let's dive right in.
Ad by
1) Affiliate Marketing - Get Paid to Market Products
The first way to get paid to market products I'll talk about is affiliate marketing.
It is also one of the best business model you can start without investment.
With affiliate marketing, you don't have to manage inventory, nor doing customer care, or delivery.
In fact, you're not selling, you're pre-selling. Your role is to get prospects to know, trust, and buy the product.
When you're promoting digital products, you can make up to 200% per sale.
Here are some list of the best affiliate products:
Make Passive Income Promoting Affiliate Offers
Affiliate marketing is one of the few methods where you can make passive income selling other companies' products.
You promote your affiliate links and get paid when someone buys they product following your links. with recurring affiliate programs, you earn according to the term or as along as the user is active.
You can also drive organic traffic to your affiliate funnels. With proper keyword research for affiliate site, you can drive on-going traffic that will generate passive income for you.
I share some of my best affiliate marketing strategies so you can build a list of prospects, get eyeballs to your affiliate links, and increase affiliate conversions.
2) Print On Demand - Sell People's Product Like you Owned it
You get paid to promote products with print-on-demand companies. One of many advantages is that you set the price that you want.
How it works?
The company has physical products ready to sell such as t-shirts, mugs, etc… You come and upload your designs and add text to be placed on these products.
You can make designs about your brand, cause, or activities. Then, you market the product with the designs you created. When someone buys the product, the company print and ship it. You get paid the amount you specified for your designs.
You can sell your designs on apparels at Teespring or SpreadShirt.
These companies allows you to start your own store online for free… with a custom domain.
You can also sell physical books on Amazon. They are printed from digital books you can write using an text editor on your computer or phone.
What P-O-D you can sell?
You can sell designs printed on t-shirts, mugs, caps, pants, hoodies, etc…
You can sell printed books on Amazon.
Pros:
You can start a branded online store without investment.
You don't have to keep inventory, nor doing shipping.
You can set your price for products on your store.
Cons:
However, if you take time to do proper keyword research, you can turn this business model into a passive income source.
Learn how to sell t-shirt designs with organic traffic here.
Affiliate marketing and print on demand business models require no investment. But the following three methods require investments to start.
3) Get Paid For Selling Products with Dropshipping
With dropshipping, you buys products at a lower price and resell them. Here's how it works:
You start an online store.
You request approbation from vendors and list their products on your store.
When someone buys the product from you, you order that product from the vendor. They will ship it to the address of the customer that you have to provide.
The first benefit of that method is that you don't need to manage any inventory.
You list the products on your website, in your store. When a customer request the product, you order it from the vendor who ship it on your behalf.
To start, you need an online store. I recommend you to start a shop on Shopify.
You also have to contact a wholesaler. Once they approve you, you'll find products to list on your store.
Pros:
You can start a dropshipping business from anywhere in the world.
You can start with few dollars invested.
You don't have to manage inventory nor fulfilling products.
You build your brand and customers buys directly from your store.
Cons:
You don't have control over inventory. Customers may order products that are out of stock.
You don't have control over shipping. Still, you have to deal with customer complaints about product quality or product not delivered.
You have to carefully choose vendors that won't let you down or deliver low-quality products.
Also, you can sell products for others companies via dropshipping on your website or Amazon.
4) Direct Sales (Avon, Amway, Stella&dot,)
With direct sales marketing, you reach people in person for promotion. Unlike dropshiping and wholesale, that we'll cover soon, you don't sell in stores primarily.
Often, the company makes purchase available only through resellers. So, customers will buy from you or another retailer.
These companies are somehow similar to wholesale and drop shipping. They often give you access to a personal website where you can sell.
The one I am most familiar with is Amway. You sign up for a fee and buy products you'll resell at a higher price.
Pros:
You can buy stuff for yourself at a low price.
You can earn more by climbing tiers.
Cons:
It is mostly a multi-level network marketing. You need to recruit people to get higher revenue.
It's a risky investment.
You'll need to spend time in meetings to promote the companies and their products.
Overall: I don't recommend Direct Sales to anyone who don't have a sure way to resell products, such as a store or friends who'll buy.
What are the best companies to sell products for via direct sales?
You'll invest your money in these programs. So, make deep research before joining.
Amway: health, wellness, beauty
Avon: beauty, clothing, jewelry.
Stella & Dot: clothing, bags, jewelry, skin care, accessories.
5) Wholesale
As an wholesaler, you buy products at a discounted price from vendor then resell at a higher price.
It is different than dropshipping because you have to manage inventory and ship products.
With wholesale business model, you have direct relationship with manufacturers to sell online and in physical stores.
Pros:
You can decrease competition by selling in your town.
Cons:
Finding a manufacturer you can trust and that trust you is not easy.
You need more legal basis than other methods.
Share on: