There are dozens of secure and professional website hosting companies with a free plan.
Finding them among the bad ones is the real deal.
In this post, I'll talk about the best hosting companies where you can host your business for free:
no small bandwidth limit.
ad-free hosting.
add custom domains for free.
99.99% uptime guarantee.
without lots of restrictions.
The platform you choose to host your website on is critical for your success.
So, this is not a list of all available free web hosting platforms available today. I'll review only the best providers and answer a few questions about them.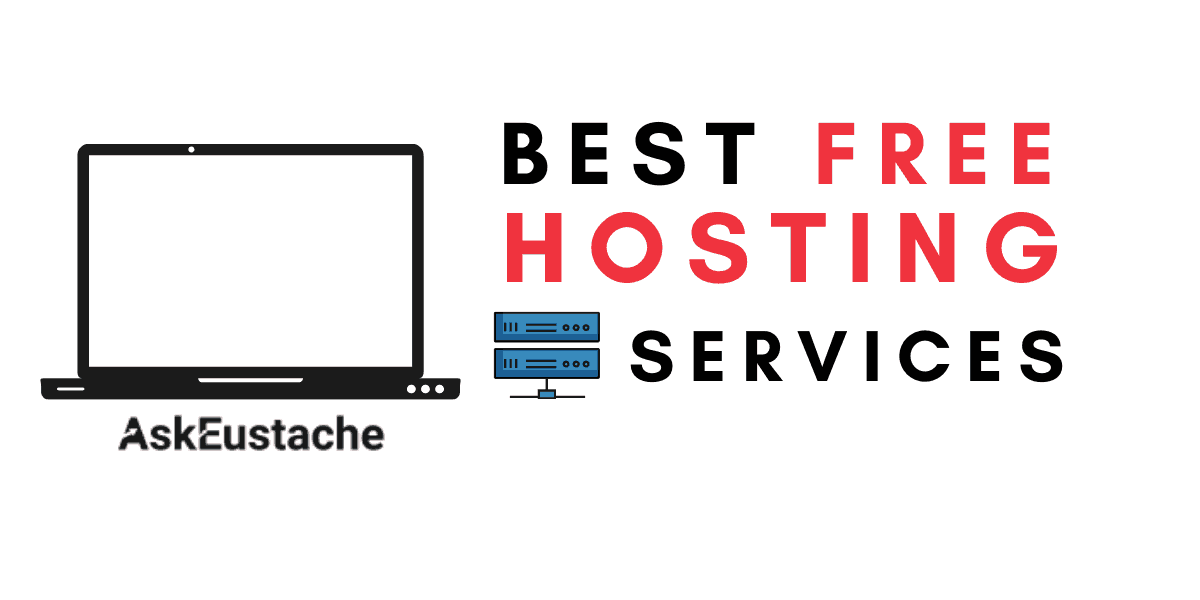 Table Of Contents
Is Free Hosting Good?
Yes! You can build a sustainable blog with free hosting sites. With Static site builders and WordPress API, you can run a fast and secure website using free hosts.
In fact, the following hosting platforms are used for high-traffic and e-commerce sites as well.
As an example, AskEustache was once hosted for free on Netlify using Hugo's static site builder. It was running on WordPress and previously hosted on Siteground. Then, I moved to Ezoic free hosting and WordPress. Now, it is built with Hugo and hosted on Cloudflare Pages.
So, yes! Free hosting platforms can help you with your professional sites. However, beware of bad providers. In this post, I'll list the best free web hosting sites I recommend and their use case.
Ready to start and grow your business?
Start a website, run email marketing, sell online courses, all in one place.
For a limited time, get 15% off 12 months of paid plans
Best Free Hosting Platforms (No Ads)
Let's talk about the best hosting sites for headless CMS and static sites.
They are legit hosting sites with fully functional free plans for starters and small businesses.
So, let me address this question quickly: why is it not used by everyone if it is so good and free?
It's because they are primarily accessible to developers who can skip WYSIWYG and drag-and-drop editors. You'll likely have to set up three or more programs. However, while teaching you how to set up such sites is not the scope of this article, it is not difficult to learn.
They won't fit every scenario. You'll see use cases where I recommend traditional hosting instead.
By the way, I use Typora software which is a WYSIWYG markdown editor for my posts, GitHub Desktop to sync changes, and Cloudflare Pages for hosting. A no-code workflow to maintain my blog using a free hosting service. Once set up, anyone can use static site builders or headless CMS.
Here are the best free web hosting providers for your WordPress or Static website:
1.- Cloudflare Workers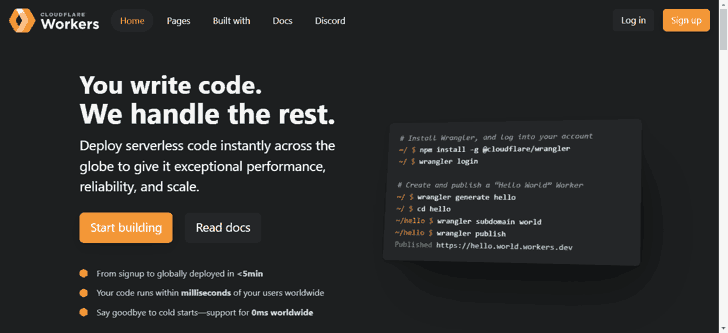 You can use Cloudflare Workers to host headless WordPress sites.
With headless CMS, you can have your public content and admin dashboard separate. The content can be available online while the back end is hosted somewhere else or even locally.
It removes many security risks as the dashboard, databases, and PHP functions are not publicly available.
You can still use the convenience of a WordPress dashboard for writing, and use the flexibility of the website builder of your choice for the front end. Site builders and frameworks such as Hugo, Vue, and Jekyll can be used to build sites on their own or as a front-end builders for WordPress.
Cloudways Workers Specifications:
Traffic limit: first 100,000 requests are free each day.
Infrastructure: 250+ network locations, SSL, DDOS protection.
Built for speed: serverless for fast code execution.
Pros
advertisement-free $0 hosting.
edge storage and execution for super fast sites.
Cons
You'll likely need a developer to set up the website for you if you don't code. Or you'll need to go through several tutorials.
Cloudflare Workers can be used for more than headless CMS. On AskEustache, I use Cloudflare workers to redirect affiliate links.
2.- Cloudflare Pages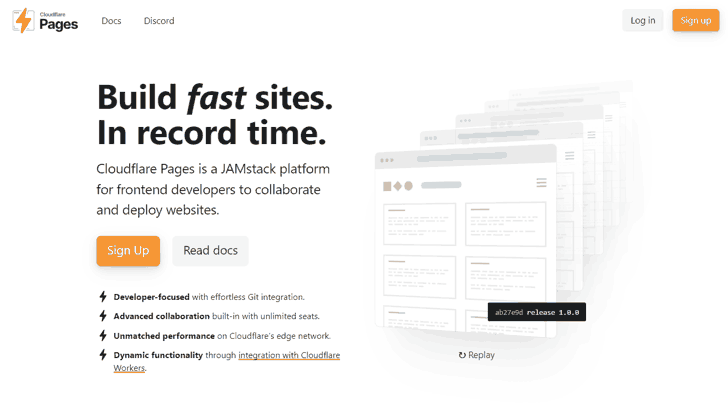 With Cloudflare Pages, you can host HTML or build websites using site generators such as Hugo, Jekyll, Gatsby, React, Vue, etc…
You get access to features you'd pay Cloudflare for otherwise such as image compression. Your website is updated automatically using Git. Your site is hosted on the powerful Cloudflare Edge network for a secure and fast site.
Why would you choose Cloudflare Pages over other free hosting sites? With Cloudflare Pages, you get unlimited sites, unlimited bandwidth, and protection against attacks. It's a promising platform with features added progressively.
Cloudflare Pages Specifications:
Infrastructure: serverless, global edge network.
bandwidth: unlimited.
SSL: Free
Integrations: Github, Gitlab
Storage: up to 20,000 files.
Pros:
Free hosting with no advertisement.
Attach custom domains.
continuous development. Your website is updated automatically using Github, Gitlab, or functions.
works seamlessly with Cloudflare Workers.
unlimited sites and requests on your free plan.
Free built-in web analytics.
Cons:
Not as intuitive to set up as a self-hosted WordPress Site. But plenty of easy-to-follow tutorials are available.
Cloudflare Pages is the best free hosting for static sites that I recommend.
I use Ezoic to monetize my site with ads and the integration (via nameservers or Cloudfare) did not work well with CF Pages. But, fortunately, it works with JS standalone integration.
So, if you're monetizing a blog with Ezoic, you can still use Cloudflare Pages for free hosting.
3.- Netlify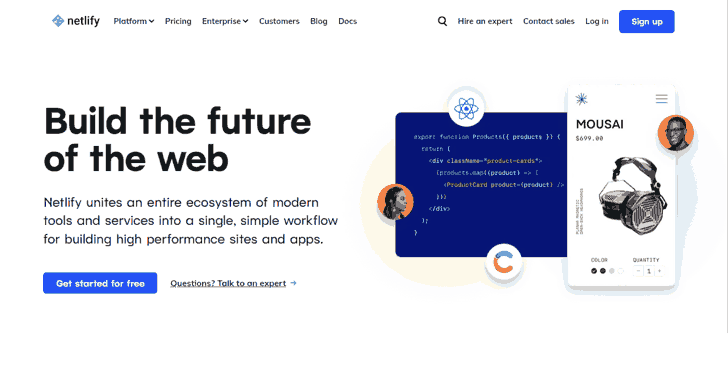 Netlify is one of the first platforms that offered professional free hosting services for static sites. You can also use them to host headless e-commerce platforms.
Netlify is robust. You can set up headers, redirects, and custom functions executed at the EDGE. But it is also simple for beginners if you know how static site builders work.
I've used Netlify Static web hosting services to host AskEustache before moving to Cloudflare Pages.
Netlify Free Plan Specifications
Infrastructure: serverless platform, high-performance Edge
bandwidth: 100 GB free monthly
add-ons: analytics, Edge function, members.
Pros:
Mature product.
Generous free bandwidth per month.
You can add your custom domain to the free plan.
Integrations with CMS, static site builders, GitHub, and custom API.
Cons:
Limited statistics for bandwidth.
Tied with the first con, when it's time to upgrade, pay-as-you-go pricing may come with surprises.
charges per feature such as forms, analytics, etc… separately.
The reasons to choose Netlify over alternatives include more features from a mature product and static sites with contact forms.
4.- Digital Ocean App
![Build and host up to 3 sites free with Digital Ocean App Platform](/images/digitalocean-app-platform-to-build-and host-site.png)
Digital Ocean is one of the most popular cloud hosting providers. With their service, Digital Ocean App, you can host up to three static sites for free.
Their service is different because, with their paid plan starting at $5 a month, you can also build dynamic apps using PHP and databases.
Pros:
Free static hosting for up to three sites.
Connect your custom domain.
Continuous development with Git repository.
Cons:
1 GB bandwidth on the free plan.
5.- Blogger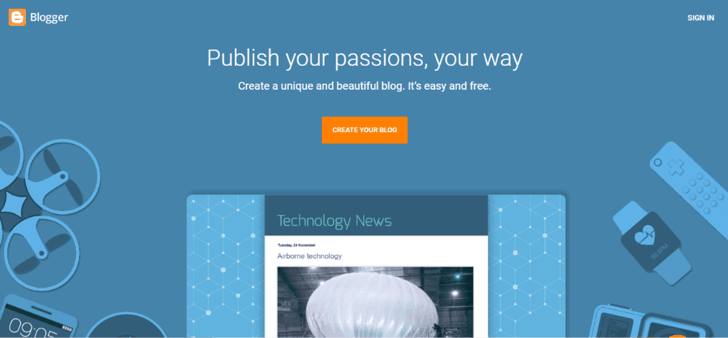 Another free option to host a blog is Blogger from Google.
I've used Blogger, also known as Blogspot, for two of my websites before moving them to WordPress. You can add a custom domain and remove blogger branding. There is no limit on bandwidth.
Pros:
It's free and easy to use.
ad-free hosting.
Google-owned and Adsense partner to monetize the blog with ads.
Cons:
Permalink structure limited: your blog post URLs will have a published date and end with .html and you have no option to remove them.
Google can delete your website without warnings: I got a website disabled because of a badly coded theme I found online. I did not receive a warning to fix the issues.
Blogspot is the least recommended on that list and Cloudflare Pages is my #1 recommendation.
Still, I know a lot of websites making money that use Blogspot.
Should you use free web hosts with CPanel?
I don't recommend free hosting platforms with Cpanel and PHP. That kind of setup requires expensive resources which makes you expect a catch with free plans. Also, those platforms come and go, there's no guarantee for your website. The server performance and security is often poor.
Based on my experience, I only recommend free website hosting for static sites or headless CMS. Headless CMS allow you to still use WordPress. You can expect high-quality services for as low as $0.
Is Free Hosting Safe?
Yes, free hosting is safe for static websites. Headless WordPress and static site hostings are mostly free HTML hosting. They do not process server-side rendering or require plugins to function. Hence, they are generally safer than hosting dynamic websites.
Also, some of them are specialized in web security or use such platforms.
What you should read next?