I created an account on Tailwind back in December 2018.
Since then I've used it to save time while scheduling pins to be posted at the right time. But even if I paid Tailwind for pin scheduling, I did not use the tool to its full capacity.
In fact, I struggled to find time for pin image creation way before fresh pins were a thing. Now that Pinterest wants content creators to share new/fresh pins. This hardens the day of non-designer Pinterest marketers.
Thus, when I first heard about the Tailwind Create beta release, I was so excited to try it.
This new tool by Tailwind was about to fix problems I struggled with for so long.
Tailwind Create generates beautiful personalized pins with a simple process… easy even for non-designers. You don't need to be a designer or hire a designer to get high-quality pin images.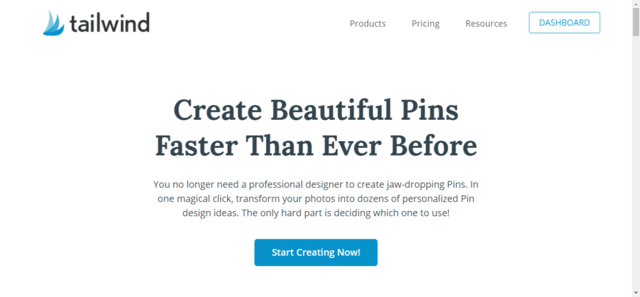 You add your URL, add images or get suggestions, and Tailwind Create generates high-quality pin images for you to share on Pinterest in minutes. You can schedule these newly created pins directly with Tailwind to be posted at the right time for engagement.
More good news, It's part of all Tailwind plans, even the free one. Start a free trial now.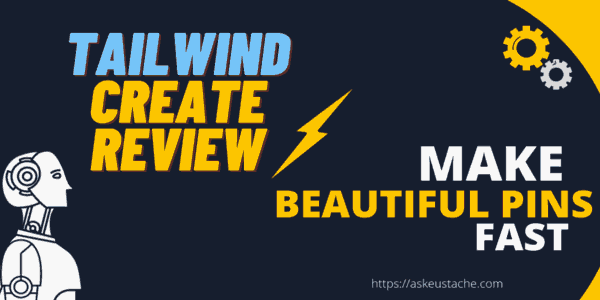 How to try Tailwind Create now for free?
You need a Tailwind account first. You can start a free trial and your first 100 pins scheduled are free. (no credit card required).
You'll be granted access to additional add-ons such as:
Tailwind Create: Generate high-quality pin designs in minutes.
Tailwind Communities: Share pins and get people in your niche to share your pins on Pinterest.
Tailwind Smartloop: Loop evergreen and seasonal pins on autopilot. Get recommendations for genuine pinning to avoid Pinterest suspension for spam-like activities.
Ready to start and grow your business?
Start a website, run email marketing, sell online courses, all in one place.
For a limited time, get 15% off 12 months of paid plans
Tailwind Create Tutorial & Review
Lately, Pinterest changed its algorithm to display fresh pins to its users more frequently. Users repining the same images won't reach their audience as before; thus won't get lots of traffic.
With the need for fresh pins to win on Pinterest, do you ever feel like you're wasting time designing pins? It should not take the majority of your working time.
Is there something faster than templates to create beautiful and unique images really quickly?
For so long, I found that Pinterest marketing involved too much work.
First, I am not a graphic designer… yet. But when I finally created pin images and download them, I often forgot to upload and post or schedule them. **time wasted**
Can you relate?
Fortunately, this is a problem Tailwind Create fixes.
Introducing Tailwind Create. Who is it for?
Generate pins in minutes with Tailwind Create. You first give the tool the title and images to use. Then it generates high-quality visuals for you to share on Pinterest.
It works well with the other solutions provided by Tailwind. So, the Pinterest marketing workflow is greatly simplified.
Tailwind Create is for you if:
you promote your business on Pinterest and want to reach more people by creating fresh pins the algorithm will favor.
you're not a designer but you want to save money but still use high-quality graphics for Pinterest.
How to create pin designs fast with Tailwind Create?
To access Tailwind Create, anywhere in the Tailwind dashboard, click the paintbrush icon (sidebar menu). If you're on the publisher tab, you'll also find a button at the top to go to the tool.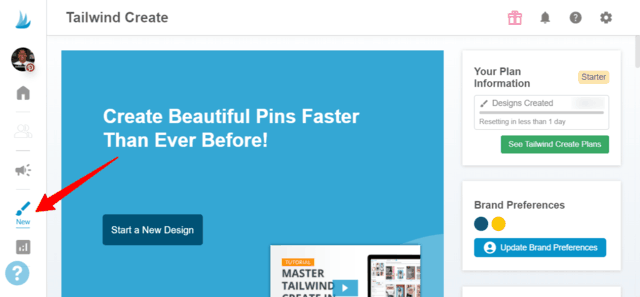 Remember. You will use the tool to auto-generate pin images for you. So, when you go to Tailwind Create for the first time, it'll ask you to enter brand preferences. It'll use these details such as logo, preferred fonts, site name, brand colors, etc… to generate personalized pin images for you.
I was really surprised by the quality of the pins generated by Tailwind Create.
What I really like is that you still keep control. You can customize everything to your liking.
The process usually goes as follows:
Step 1: Click the "Start a New Design" Button.
Step 2: Enter information for the pins such as destination link, pin title, and photos.
You'll be able to change the text, fonts, colors, and photos later for each generated pin if you want.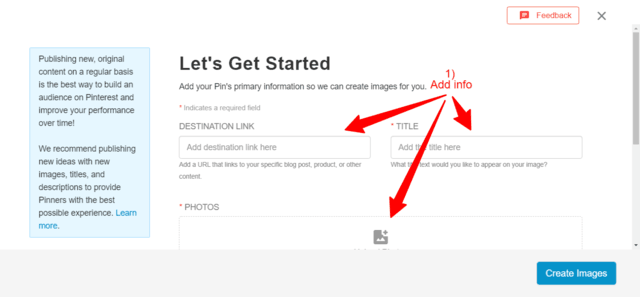 If you don't have a specific photo you'd like to use, just enter your keywords in the stock photos tab. Tailwind Create will pull free photos from Pixabay and pexels you can use commercially. They'll also suggest premium photos available for users on the Tailwind Create Advanced plan.
Then, click the "Create Images" button.
Step 3: Select all the designs that you like. Customize as needed. Then click "review your selection". Once reviewed, click on "Go Schedule".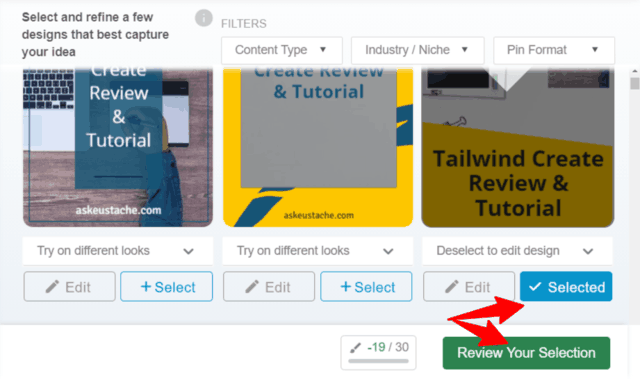 The pin images will go to the Tailwind publisher tab. You just have to pick boards, add unique descriptions, and schedule your images to be pinned at optimal times.
We'll talk about the different settings in Design Gallery later.
Want to know a simple but powerful feature in Tailwind Create?
Create Pin Templates for your blog and brand
If you find a design that you'd like to re-use, just click the heart icon at the top of that design.
It'll turn it into a template and add it to your favorite designs. This is one of the best features I found on Tailwind Create.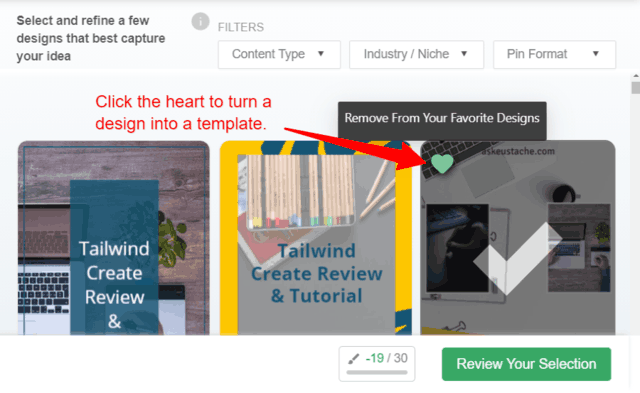 The next time you generate new pins with a new URL, go to the favorite designs tab. Tailwind Create will change the text, photos, and destination link and uses the templates to create new branded pins automatically.
This will save you a lot of time. It's faster than drag and drop or any other template you modify manually.
Make Unique Pin Designs with drag and drop
You and I want UNIQUE pins; not the same pins already everywhere on Pinterest.
Fortunately, it's easy to create unique pins with Tailwind Create. You could upload custom images to have unique designs. And each pin is generated using your brand color or a color palette that you choose.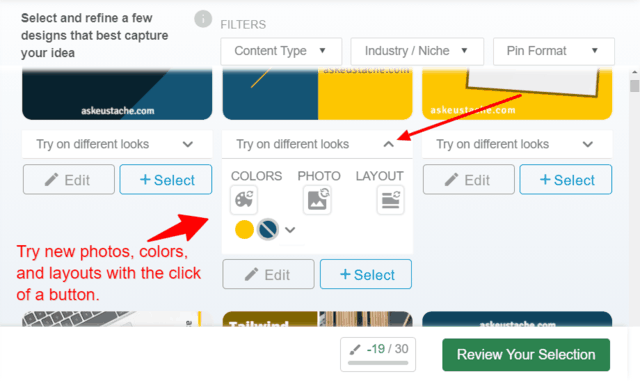 However, even with the popular images used by everyone, you can create unique pin designs with Tailwind Create. Click on any of the generated designs and you'll see that you can resize and move the background with your computer mouse.
If you click the edit button under each generated pin design, you can add text, change font family, font color, transparency, add shadows, etc…
You can upload new photos or decorative assets such as arrows, rectangle, hearts, and call to action.
If you'd like to reuse a design, click the heart icon to turn it into a template. Make more unique graphics for your brand and save time on customization.
In the sidebar, you can change the color palette, add a new line of text, show different logos or branding text on images, etc…
Smart Pinning Process Simplified
Tailwind Create simplifies how you market your business on Pinterest. Now, with one tool, you can:
create your pin designs with more than drag and drop. Get them auto-generated for you.
schedule your pins to be published at an interval at the right time for more engagement.
Measure your results with analytics inside Tailwind.
No need to download the design to save it on Pinterest later. No more waiting for a designer. You save time and you achieve more. At least, that's how I feel when I compare my new way of doing things with Tailwind Create.
Tailwind Create Pros & Cons
Tailwind Create Pros:
High-quality pins generated in minutes. You don't need to be a designer and even designers will save time with the tool.
Personalized pins with further customization. Get unique pins with your brand colors.
Integration with all Tailwind tools to reach a wider audience and save time on Pinterest Marketing.
Dynamic yet customizable templates to generate new pins automatically that are unique to you.
Tailwind Create Cons:
You can't change the size of the pin images to be generated by Tailwind Create. I'd like to generate long pins too; not just the standard size recommended by Pinterest.
It's not a standalone tool. You need a Tailwind account to use Tailwind Create.
Bugs:
The tool is not fully responsive when I use it on a Windows 10/Microsoft Edge browser with a screen resolution of 1366 X 768 pixels.
I was there in the early days of Tailwind Create. So I expect bugs to be fixed shortly after being reported.
Tailwind Create Review Verdict
I highly recommend Tailwind Create for pin creation. The tool will not generate ugly pins that don't get attention; but beautiful pins that drive traffic to your blog.
Furthermore, you can always edit the pins generated by Tailwind Create to better suit your needs.
I also like the easy way you can create templates for branding.
To use Tailwind Create, you need a Tailwind account. Start a free trial of Tailwind now. (Your first 100 pins are free and it will not upgrade automatically).
Best Way to Use Tailwind Create to Get More Pinterest Traffic
The best way to use Tailwind Create is to batch pin creation for the same post that target different audience. Let me explain.
1.- Go to Pinterest or your favorite keyword research tool. Look for different terms searchers use for the same topic.
ex: Pin design tools / Pinterest Graphic Templates
2.- Go to Tailwind Create and generate pins as usual.
Now, you can create different designs for different audiences or different Pinterest searches in one session.
3.- Design a version of your pin. Then click the "select" button below that image.
Because you select it, it won't be affected by future changes.
Now, go to the sidebar to change and/or add new text/CTA, etc…
Rinse and repeat.
When you're done, go schedule these designs with great intervals.
Your pins will appear in different searches for Pinterest users with the same search intent but using different terms.
Tailwind also suggest to use this technique for niches. Ex: Graphic tools for bloggers… non designers… etc…
Just make sure your landing page is really about the subject. You don't want your account to be marked as spam for misleading pins.
So, all title variations should have the same intent.
The following image is made with Tailwind Create. Please, share it on Pinterest.