Social media can help you get a load of free traffic overnight.
Young and aged people are using social media to connect to their family, friends, and topics of interest. Nowadays, without a doubt, your audience is on a social network.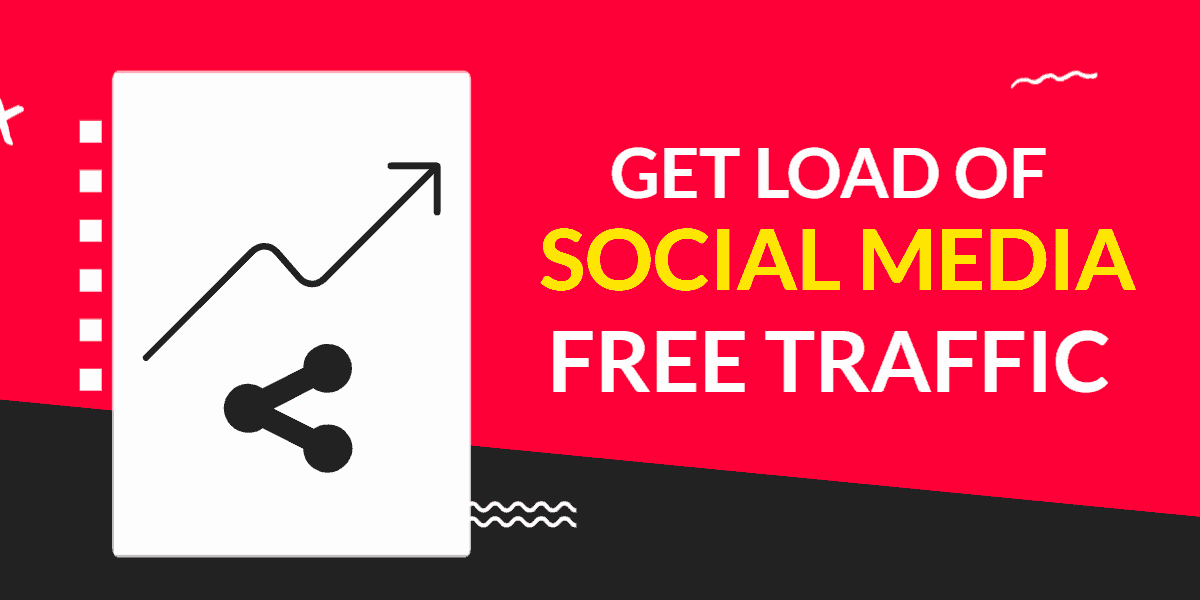 How to Get Load of Free Traffic From Social Media
With or without a huge following, you can grow your blog traffic with social media. In this post, I'll show you:
how to post on social media to get visitors to your site.
how to stay focused even without the help of a social media manager.
how to increase the likeliness to go viral.
Let's start with the best strategies to get traffic from social media.
Set up your Profile to Convert
You need to pay attention to your profile page to get social media traffic.
When someone wants to know more about you on social media, they'll visit your profile. Let them know about your website.
On social platforms such as Instagram and Tik Tok, it's often the only opportunity you get to drop a link to your website. You don't want to miss that opportunity.
Also, you can appear in searches with an optimized profile on most social media sites. It's a great way to get warm leads. It's always a good idea to set up your profile to convert into traffic.
So,
Optimized your profile for search when you use your brand name and add keywords in your description.
In your bio, show your audience how you can help them and lead them to your freebies, best-converting page, or lead magnet. Make your description about them and qualify yourself to help.
If enabled, pin a post on your profile that showcase your best posts. It's possible on platforms such as Twitter, Facebook, etc…
Catch Attention with Visual Content
The attention span on social media is short. Text only won't get you far. You need visuals that catch attention.
Nowadays, you can add visual effects to your profile and posts using emoticons, images, or videos. You can also use line breaks and punctuation to your advantages.
To add visuals to your social media contents, you can either upload visuals manually or set them in your og meta tags on your pages.
The latter helps a lot when others are sharing your posts.
Write Headlines and Copy to Create Curiosity
Follow the same copywriting techniques you use on your blog on social media to trigger emotions.
Add headlines that pick curiosity and craft copy using copywriting formulas. AIDA formulas is great for social media.
Here's an example:
Attention + **Interest **: I doubled my website traffic without writing new content.

Desire: And I was able to join ad networks with premium ad rates.

Action: See the simple methods and tools I used. –> Link
Post Consistently and solve problems
Consistency is key to get traffic on social media.
For social media sites where the lifespan of your posts is short, you need to post consistently to reach more users. But even on social platforms where your posts last longer, their algorithm favor users who post consistently.
To save your sanity while posting consistently, use a social media scheduling tool. I use Publer which is really awesome. I can do a lot such as adding links to Instagram posts in link bio, re-schedule posts after a specific time, set up categories to mix up my sharings, etc… on autopilot. It has a free plan.
You also need to post on topics your following are interested into. Social media algorithms will show your posts to more users when they get engagement.
So, solve your audience problems by posting:
about solutions that fix their problems.
on the latest news on topics, they are passionate about.
Make it Easy For Readers to Share Your content
Sometimes, it's not what you post on your profile that brings you social traffic. It's when your readers like and share your posts on their social media profiles.
Make it easy for them to share your post by adding social share buttons on your pages. You can add custom descriptions and optimized photos for social media using open graph tags.
Reach out to influencers in your niche
Your posts can be shared by dozens of influencers if just one influencer shares them.
Sometimes, you have to reach out to them to let them know that your post exists.
One of the best social networks for outreach is twitter.
If you're proud of the quality of your post, start a conversation with an influencer. It's best if it's someone you follow. You already their position on certain topics. Also, you don't ask for anything. They'll share it if they like it.
Best Social Media Sites to Get Traffic From
It is really important to focus on efforts on social media sites that drive traffic to your blog or online shop.
If you try to master every social media platforms, you'll end up mastering none. Anyway, you want to be on all social media platforms.
First, you need to secure your brand name. I want a profile like twitter.com/AskEustache/ to be about AskEustache.
Then, you can promote on all social media platforms with the help of social automation tools or a social manager.
Pinterest
Pinterest is the #1 Social media platform I recommend to bloggers for social media traffic.
You don't need a huge following to get traffic. In fact, it is a visual discovery platform. Pins you share can drive traffic to your website months later.
Pinterest helps users with their purchase decision. So, it's likely you'll get traffic from users with intent to buy. It is great either you sell online, do affiliate marketing, or make money via display ads.
YouTube
YouTube is primarily a video hosting platform. It is also used as a social media platforms with features such as comments, like, live events, etc…
A video on YouTube can drive traffic to your website long after it was posted.
It takes more time to create a video and the competition is fierce. But there's more opportunities to get targeted traffic using YouTube. It is the #1 search engine for videos.
Facebook
Facebook is awesome for both friendly, professional connections and marketing!
It is faster to get traffic from Facebook groups than Facebook pages. You need to join relevant groups and play by the rules by helping genuinely.
Once you've built enough reputation, you'll see people visiting your profile. If you optimized your profile for traffic, you can get a lot of people from Facebook to your website.
Some groups allow you to post links. This is another way to get people to visit your blog or store.
You can share links on a Facebook page that you own as well. It is less effective than sharing on groups but traffic adds up.
Twitter
You share share posts with more than 280 characters on X, formerly Twitter, now. A tweet won't last long but it has potential to go viral.
Twitter is best for posts about sports, news, etc…
You can also use this platform to start conversation with influencers.
LinkedIn
LinkedIn is one of the best social media sites for professional connections.
It is a platform for business owner to connect with employees, customers, etc… It is also a world wide social media site of 238 millions+ users in total, and 1.5 million of active discussions groups where you can boost your site traffic effectively.
More social media to promote your blog
Instagram: Good for branding. With its integration with various selling platforms, you can use it to sell your products. You can add links to your profile.
TikTok: You don't need a following to get hundreds of views on your videos. It is also good for branding. When you share a sneak peek of your products, you can drive a lot of traffic to your website.
Quora: Primarily a question-and-answer website. You can create communities where you share answers to popular questions about a topic.