Summary: Porkbun is one of the cheapest domain registrar. You can buy domains there at wholesale price + $1. You get numerous security and privacy features such as DNSSEC and WHOIS protection free.
Porkbun is one of the top domain registrars. It's a company based in the U.S., accredited by ICANN, which sells domain names at an affordable price.
Some web hosting companies offer free domains when you purchase a plan. One of these fast and reliable hosting offerings is GreenGeeks.
But sometimes, you want to buy the domain and hosting from different companies. Also, when compared, renewals can be higher with some registrars and you want to transfer your domain name. That's why it's worth reviewing Porkbun domain registrar services.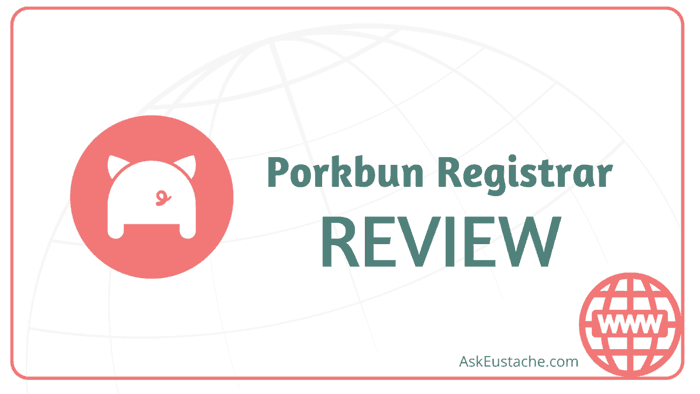 Table Of Contents
Let's dive in.
Porkbun registrar review - low price and high-quality services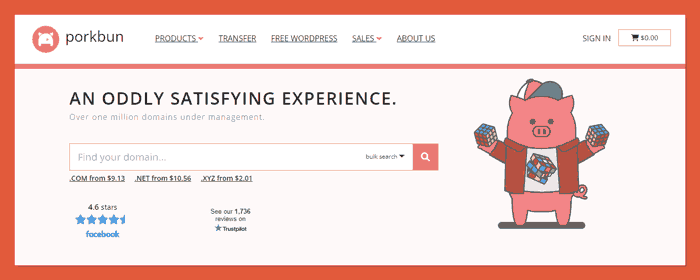 Porkbun is a good and safe ICANN-accredited domain registrar where you can register domain names at a low price.
Porkbun registrar pros
| Pros | Rating | Description |
| --- | --- | --- |
| Privacy | 5/5 | Free Whois management to retract your personal info from public data. |
| Pricing | 5/5 | Get domain name at a low price: wholesale + $1.88 including ICANN yearly fee. Domain renew at the same price each year. |
| Support | 5/5 | You can reach out to support via phone or email every day at working hours. |
| Security | 5/5 | Free SSL certificates by Let's Encrypt. Free DNSSEC. |
| Ease of use | 5/5 | With intuitive interface, Porkbun domain management services make it easy to buy and manage your domains in one place. |
Porkbun registrar cons:
| Drawbacks | Rating | Description |
| --- | --- | --- |
| Hosting | 3/5 | If you need to use their hosting services, you need to get your domain name with them. |
Ready to start and grow your business?
Start a website, run email marketing, sell online courses, all in one place.
For a limited time, get 15% off 12 months of paid plans
Porkbun Pricing
Porkbun pricing is transparent. You pay the same rate for domain registration and renewals for most top-level domains. Also, domain names are cheap with the cost being $1 on top of wholesale pricing.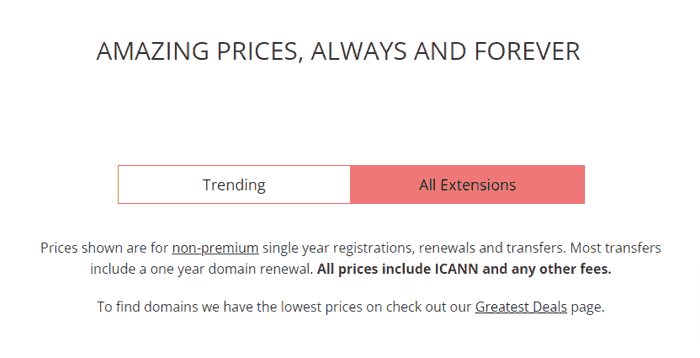 Also, at check-out, you won't find useless pre-checked boxes and surprise fees.
But make sure you check out renewal prices for each TLD. Some of them are discounted for the first years and won't renew at the same rate.
Porkbun Privacy Features
When the registry, the company managing the Top-level domain, allows it, Porkbun offers WHOIS privacy for free.
The WHOIS is your personal data to prove ownership of the domain. They are required when transferring domains, however, in all other cases, the best choice is to hide them.
That way, you'll retract your home address, phone number, and email address from your public profile.
Porkbun registrar security reviewed
One way to protect your domain name is to protect your account at the registrar. Beyond a strong password that you must choose, Porkbun enables two-factor authentication to keep your account safe.
It is another measure to protect your account from unauthorized access.
Another point of failure is the DNS configuration. To prevent redirection of your traffic with misconfiguration of your domain name server cached settings, enable DNSSEC for free at Porkbun.
In addition to that, you get free SSL certificates for your domains powered by Let's Encrypt. This will encrypt your traffic and provide a certain level of protection during data transfer.
You don't have to renew these certificates manually because Porkbun will do that automatically.
Fast and helpful support
You won't need a lot of support from a registrar. They do a basic job. However, it's good to know there's someone to reach out to when in need.
Porkbun offers awesome support via phone and email during working hours.
If you read their marketing copy and reply to reviews, you'll see their good sense of humor. But also they are technical persons who can help you fix problems related to your domains.
Is Porkbun a reliable registrar?
Yes, Porkbun is a reliable registrar. Is it a legit and one of the cheapest domain registrars?
Porkbun also offers free hosting services
Besides domain registrar services, you get free hosting at Porkbun but it is ad-supported. If you need hosting without a Porkbun ad, paid plans start at $24 per year.
I did not try Porkbun hosting services personally. I am using free hosting from Netlify instead because I run AskEustache on Hugo and not WordPress.
Porkbun shared hosting is for small websites. You can use it to host static sites, WordPress-powered blogs, and sites built with their site builder.
You can't use Porkbun hosting with a domain that is not on Porkbun.
Porkbun Review Recap & Alternatives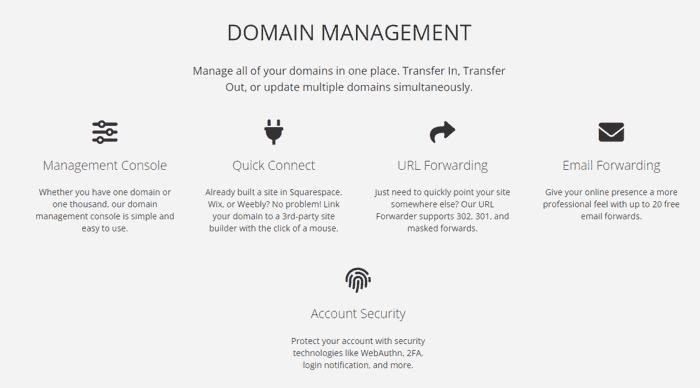 Porkbun is trustworthy and cheap. You get the most popular domain names at wholesale price + $1. Porkbun includes free DNNSEC and whois privacy protection with registered domains. It is also easy to transfer domains to or from Porkbun.
Alternatives to the Porkbun registrar are:
Cloudflare Registrar: You get domain names at wholesale pricing at Cloudflare. Like Porkbun, you get email forwarding, account security, and privacy. I use Cloudflare for my domains. You can't change nameservers when Cloudflare is your registrar. So, it is a good alternative to Porkbun only if you will use other Cloudflare services or connect websites with A or Cname records.
Namecheap registrar: Namecheap is a good platform to get discounts on the first year of a domain subscription. You also get free WHOIS privacy protection. Unlike Cloudflare and Porkbun, renewal prices are higher than the initial rate.