Eventually, you want to get more blog traffic that converts from Twitter.
It's all this post is about.
It seems to be so easy on the surface. You write less than 280 characters and you send people to your website.
The truth is that a tweet is as easy to get lost as it is easy to write.
Still, Twitter can drive traffic to your blog. You guess that, probably, there's a right way and a wrong way to promote your business on Twitter.
Let's talk about 10 proven twitter traffic strategies that works?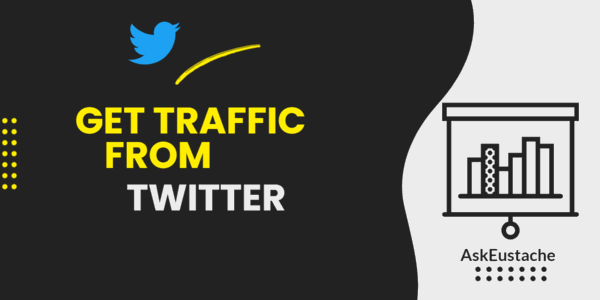 How to Get Blog Traffic From Twitter?
To get traffic from Twitter, you need to format your tweet with a conversational tone.
Truth is, Twitter is one of the best social media sites to get traffic and sales from. But as people notice that their first attempts fail, they gave up on trying to get twitter traffic.
It can be a great source of traffic, specifically for news and sport sites.
Thousands of tweeps are tweeting at the same time. It is hard to be seen when you blindly send out tweets to your followers.
So, you need a marketing strategy for twitter to get more traffic to your website or more sales. You need to know how to use twitter to increase traffic, sales and engagement.
The following ten effective tips will boost your conversion rate on twitter. They are ten free methods plus free tools to level up your engagement on twitter.
1.- Optimize your profile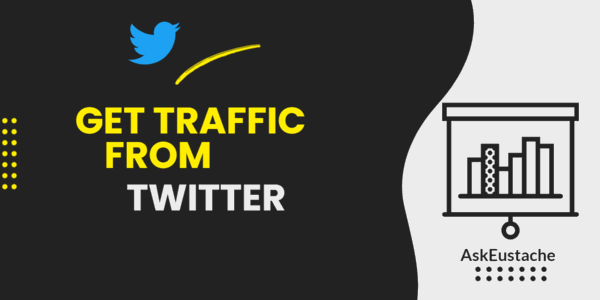 An optimized profile can drive you more than 30% of your twitter traffic.
While you try to get the focus of anyone using the tweet streams, you already have the focus of someone browsing your profile.
But to be highly visible, it must be optimized. Here's a few steps to optimize your profile:
add a photo: a photo identify you in the feed; it adds you trust (who trust egg twitter profile?). The new twitter profile photo size is 400px X 400px; enough to show you in your best side.
add a cover photo: A cover photo can catch the attention of your profile visitors; Then, they can give a deeper look to your profile info and notice your site link. The twitter cover photo dimensions are 1500px X 500px.
Optimize your bio: Your Bio is the place that makes your profile engaging. It is the place to be the most well optimized to increase conversion. It is 160 characters you must use to call to action, talk about your profile and use hashtags and add your link. Hashtags will make you searchable, info will make you followed, call to action plus your link will drive you twitter traffic.
add a link to your website: There's a field for your website URL and it is shown next to your location, under your bio; there's nothing to say ;), don't forget to add it.
2.- Pin your best tweet
You can pin your best tweet on your profile. It will be the first message your profile visitors will see in your feed.
So, your twitter profile, when it is well optimized, can drive a lot of traffic. It is recommended that the featured tweet call to action and use rich snippets as schema markups are shown by default on pinned tweet.
3.- Use schema markup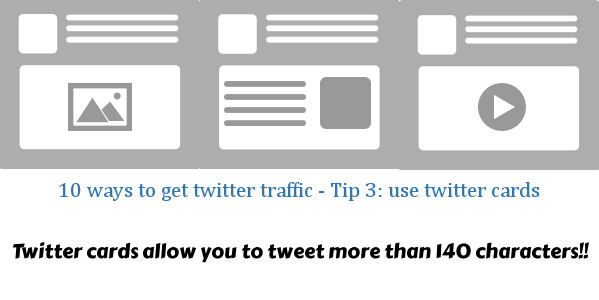 You can increase engagement by enabling rich snippets on your website. Schemas markup allow you to send tweets with more than 140 characters. Twitter allow you to add more data to your updates with twitter cards which fallback to open graph; but to get it on your tweet, you need to activate it here. It supports summary for articles, photo and gallery for image posts, app, player and product cards.
You can get video views and call to action with additional information in your tweets. Give twitter users the necessary information that lead them on your website or promoting pages.
4.- Get more engaging followers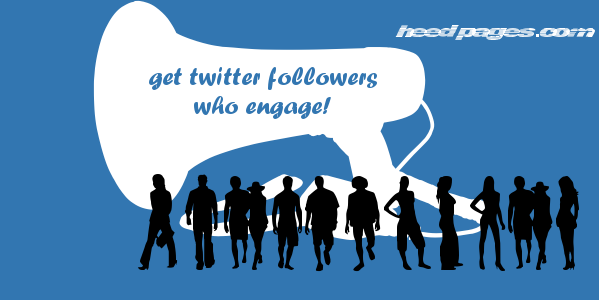 The key to engagement on twitter is not the larger number of followers, it is the larger of engaged audience. You get engaging twitter followers by getting people who share the same interests as you as followers.
The way twitter make it possible is through twitter content and hashtags. Make a search on twitter and it shows you people who tweet that word or who add these words or hashtags in their profile description. So, a well optimized twitter profile still help.
There are tools that help us find similar people and mix them with factors like "is following back?", "is active?", etc… You can also use similar features from twitter and its search engine.
twellow: this twitter tool show you people similar to you by location, by bio or by tweets.
twiends: follow people and get points that allow people to follow you. You can get followed without points if account is similar to what users are looking for (follow back in less than 24 hours, about social media, etc…). You can also promote your tweets to connected users and reach more people.
5.- Post well formatted tweets
Another way to get engagement from twitter and drive traffic to you website is to optimize tweet. If you are looking for a perfect tweet that promote your link or product, consider that:
Keep it short: If you think that 140 characters are not enough, know that the perfect tweet need less. You must leave room for retweet and say more with less.
Add link at middle or end: Your link need to be easy to be found. Add it the in the middle or at the end of the tweet. It is better to have only one link in your tweet; you ask exactly for what you need.
call to action: Call to action and let users know what to do and why they need to do it.
6.- Post at the right hours
Another twitter fact is that the timeline is different then lifetime. Your tweet is available for a short time only to your followers naturally; sometimes, when you send a tweet, there are more then 500 new tweets to be shown. So, it is necessary to tweet at the right time to be seen.
The right time can be hours where your your followers are online, when most twitter users are online or when most people from a specific country are online.
It is important to tweet when your followers are online, it is the first audience to target; they will automatically see your tweet. But also, if you expect to be retweeted, you may want to tweet when most users are online on twitter; or, if you target a specific country, you may want to tweet when people from that country are on twitter. You may want help from some free tools:
tweetwhen: This tool from hubspot allow you enter your twitter username and see which hours your tweet got retweeted.
manageflitter: this application allow you to unfollow people who unfollow you, to find time people from a country, your followers and top 100 followers are online. You can also schedule recurring tweets. You can also schedule post Facebook profile, Facebook fan pages or LinkedIn.
buffer: there's no introduction for buffer. Connect twitter, Google+, LinkedIn and schedule post to these networks. If you are busy during the peek hours, schedule and tweet while you are offline.
HootSuite: This tool allow you to schedule tweets; to manage multiple social media accounts in one dashboard; to send automatically messages to more than 50 Facebook groups, LinkedIn groups, twitter accounts, etc… Free account is limited to 5 accounts, you can manage easier up to 5 twitter accounts. You can add from 50 to unlimited socials with premium plans starting at $9.99 per month.
7.- Get re-tweeted
get people to share your tweets to their audience. You just get more traffic to your website from twitter by reaching more people. To get retweeted, here's a few tips that help established and professional twitter users to get retweets.
ask for retweet: You can directly ask for retweets online. people use "Please retweet" and "#RT please" and record double engagement and more retweets. If you ask an influencer who accept to share your news, you will be promoted to thousands of twitter users.
post awesome piece: You can get shared on social media by sharing interesting things. Even it is through handy social buttons you add on your website or through twitter itself.
use professional social sharing programs: there's professional services that help you get retweeted. There are people who are willing to share your news; but they don't know if your site exist. Let them know using programs such as justretweet and  viralcontentbuzz.
8.- Follow twitter success posting  4/2 formula
Each network works differently; the way twitter work is simply around timeline. Everybody can post and the tweet are shown according to the line of time. When you send your tweet, there's no guarantee that it was widely seen. You can then double check by following 4/2 formula.
If you want to promote an article, you send it first, you send two others messages and then you resend the same promotion by changing words. For 4 tweets, you send two promotional ones. You can use the others tweets to send regular tweet with no link or someone you found interesting.
9.- Use hashtags effectively
Hashtags can help you reach more people. You can read our articles: "Increase social engagement through proper use of hashtags". Twitter is one of the social networks that make the best use of hashtags.
10.- Share What twitter user love
To drive people to your website, you must try to send them to what they love. Studies shown that twitter users love list of 10 elements, statistics and unique contents.
Do you like what you've read? Use these ways to get twitter traffic and sales. Please, share this on social media.
Hootsuite is a social media tools that allow you to manage multiple social media accounts and engage in one dashboard. You can use it to ease the process if you manage multiple accounts and multiply R.O.I.
Share on: