In our post "Top methods to drive traffic to a website", we listed forum traffic as one of the best methods; this post will show you, with details, how you can _boost your site traffic through smart forum use.
The opportunities given by forum are limitless. You can use a forum to lead thousands of daily visitors to your website. You can increase sales, get downloads, new sign-ups, readers, and even more through simple forum posts.
But generally, forums are not oriented toward marketing. The first meaning of a forum community is mutual help. So, it is not the best place for someone who just wants to promote his products.
Marketers who think advert first, using the wrong methods, got labeled as spammers and banned from most promising forums.
How to use the right methods and drive lots of traffic to your web pages and products? Let's understand forums first to use its best sides; that way, even an advert-first thinking marketer will succeed!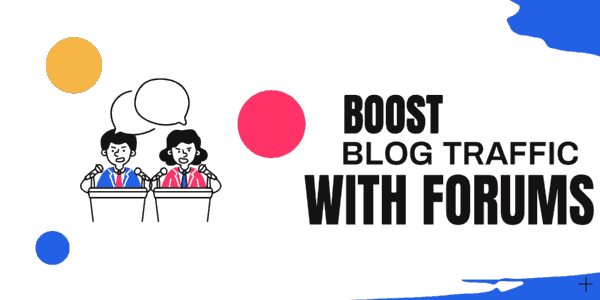 How to master forums and why drive traffic through forums?
The first thing to keep in mind is that there is a forum about almost any topic. Whether you own websites around free online schools, gaming, finance, webmasters, fitness, or something else, an existing forum is already dedicated to that!
Forums are here for discussions; people talk about their interests, ask for help and help others.
They are connected to the topic they are talking about or need real help. You can expect a high CTR, above 60%, on your link shared on forum posts!
As forum posts appears in search results, you get seen by world wide web searchers. Also, high traffic volume forums get thousands of active users daily. With a few optimizations, you can lead most of the forum users to your website. So, can we miss a so powerful and so simple opportunity to boost our site traffic free?
Forums are not difficult to master. The second thing to keep in mind is that forums differ in rules. It is always recommended to read forum rules before posting. You will prevent your account to be banned because of unknown rules broken.
That said, you just need to know about the forum niche to take part in the discussion normally. I've said that forum opportunities are limitless. They can drive unlimited traffic to a site web.
It still works as a traffic source generator even if you are no more active or are banned from the forum. The following rules, when followed, will help you to boost your site traffic and drive unlimited traffic to your website.
5 rules to boost your site traffic through smart forum use
These rules are simple to follow but their results are amazingly profitable.
My #1 recommend forums to get traffic and engagement are Quora and Reddit.
The following rules apply to them and any other forum that is highly moderated. But also, if you want to get potential clients to your blog, the forums you join matter.
Let's start.
Rule 1: Join closely related niche forums
The success of forum marketing is closely related to niche discussion.
You get engagement because users are interested in the same things as you.
So, to ensure traffic for your website, join only forums that are closely related to your site niche. Thus, you are not limited to a single forum for your products.
It is even recommended to join a forum for each of your products categories. To find the best-related forums, you can use the following query:
inurl: forum "keyword"
It will return websites that have a forum and the keyword you wrote in their URL. Such forums are most likely to be contextual and around a forum. But some popular and active websites don't use regular URL structures and have good search rankings. You can use the following query to search for them:
[keyword | topic ] forum
[keyword | topic ] discussions
talk [keyword | topic]
Replace [keyword | topic] with your chosen keyword or topic.
Rule 2: Join high-ranked and active forums
Don't fall into categories of marketers who post on dead forums. It will be a time-consuming task with no tangible outcome.
Even if a website is highly ranked, it doesn't mean it is an active forum. Still, the opposite is not necessarily true. The best method should be to join forums that are both highly ranked on search engines and are active.
A high-ranking forum will help you grab traffic from searches engines users; an active forum will guarantee daily traffic from your sticky content and activities! Visit a forum statistics found on search engines to get most of your promotion with less effort!
Rule 3: Use a call to action in signature
Call users to interact with your signature to increase your traffic.
The good part of forum signature is that you can promote without spamming. It is the most recommended method to boost your site traffic on forums.
Adding your links in 50% + of your posts will make you look like a spammer. Links can be removed and accounts banned. But, with a forum signature, you have a link back to your site and products on each and every reply your make and thread you open.
With a call to action in the signature, you will grab user attention and increase engagement that drives traffic. When it is allowed, format your text and add text color.
Rule 4: Dedicate a thread to your cause
Get special attention with a dedicated thread.
Each time someone opens that thread, he will find a topic about your website.
To interact, he needs to know about your website; so, he must visit your site first. It is an awesome method to drive traffic. Thus, you are limited by one or a few threads by the forum and you need to modify the same thread for multiple forums.
Rule 5: Don't use too many forums
The rule number five is simple: don't use too many forums.
Why?
Spamming forum is a common action. So, actions are being taken to prevent this practice.
Each time you sign up on a forum, the registration is recorded and checked. Some forums will automatically reject registration from users with too many forum accounts (it looks unnatural to stay active on multiple forums)!
So, to ensure that you will be accepted in high-quality forums, stop registering on low-quality discussions board.
Rule 6: Build community trust around you
On a forum, trusted members get most interactions. If you use to share meaningfully, you build trust around you.
When you share a link, users expect useful resources while following your links. Once build, keep your reputation up with the quality of what you publish!
And, the more you post, the more you are seen, the more engagement you'll get! These simple rules will help you boost your site traffic free through smart forum use.
That said, you drive traffic simply by posting on forums with an optimized signature. To continue driving traffic, you need to keep your posts visible.
Either you create sticky and hot topics or you keep posting daily!