Summary: Cloudflare registrar is good for its low domain price and security features. You only pay wholesale price and it stay the same at renewals. You get enterprise level security for your domain name. However, you can't change nameservers.
4.5/5
Features 4/5 Support 4/5 Ease of Use 5/5 Pricing 5/5
Free WHOIS Protection.
Affordable
You get Cloudflare security services.
You can't change nameservers.
When Cloudflare started its registrar services, you could only transfer existing domains. Now you can register new domains and transfer existing ones as well.
Let's see why it is one of the best places to do so.
Cloudflare Registrar Review - Best For Security & Price
Cloudflare registrar pros:
| Advantages | Rating | Description |
| --- | --- | --- |
| Privacy | 5/5 | Unless forbidden by registry, Cloudflare provides WHOIS redaction of your personal data for free. You won't have to pay for WHOIS or Domain Privacy. |
| Cost | 5/5 | Wholesale domain registration pricing + $0.18 ICANN fee and renewals at the same price. |
| Security | 5/5 | Cloudflare is a company specialized in cyber security. They have top-notch security measures in place to protect domain names. |
| Email Forwarding | 4/5 | You can create business email addresses where emails get forwarded to another mailbox. |
| Auto-renewal | 5/5 | Cloudflare will renew your domain name or remind you if you disable auto-renewal so you don't forget and lose the domain ownership. |
Cloudflare registrar cons:
| Drawbacks | Rating | Description |
| --- | --- | --- |
| Limited DNS change | 3/5 | Unless you're on premium plan, you can't change nameservers. However, you can add DNS records to host your site anywhere. |
Ready to start and grow your business?
Start a website, run email marketing, sell online courses, all in one place.
For a limited time, get 15% off 12 months of paid plans
Cloudflare Registrar security features
While it's your responsibility to choose a strong password to protect your account, Cloudflare offers security measures that protect your domain names further:
DNSSEC to prevent unauthorized redirection of your traffic at the DNS level.

Two-factor and registrar locking to ensure you're the one doing manual actions such as domain transfer, changing DNS records, etc…

WHOIS protection protects you from unsolicited emails.

Custom domain protection for enterprises, like, you can set up multiple passcodes before a change is approved.
With these security measures, Cloudflare is one of the best domain registrars you can choose from.
Cloudflare Registrar Costs
Cloudflare only charges the registry fee for your domain name. The price is dependent on the Top Level Domain (TLD) that you choose + the yearly ICANN fee.
How much does it cost to transfer a domain to Cloudflare? You'll pay the yearly price charged by the registry for the domain and you'll get that year added to your remaining subscription time.
Wait! Cloudflare lets you register domain names at wholesale prices without added profit.
What is the catch?
It is just a marketing move so you start using Cloudflare. They expect that maybe you'll like their features, which are awesome by the way and upgrade for security and CDN services.
Also, registering a domain name is not something that incurs fees for them; they can afford that.
Can I Change Nameservers with Cloudflare Registrar?
For now, you can't change nameservers when Cloudflare is the domain registrar. It is clearly specified in their domain registration agreement.
It should not be a problem if you're gonna use Cloudflare services or will connect hosting services via A records or Cname.
However, if you really need to change nameservers, you must register the domain with another platform or transfer it to a third-party registrar more open.
It's the single thing that I don't like about Cloudflare as a registrar.
Frequently Asked Questions
Is Cloudflare a good registrar?
Cloudflare is a good domain registrar for your domain if you will use other Cloudflare services. The domains are affordable and renew at the same price. You get security features such as DNSSEC, two-factors, and privacy features.
What TLDs are supported by Cloudflare?
Cloudflare supports hundred of Top Level Domains or domain name extensions. You can buy domain with extension such as .com, .net, .us, .io, .info, .co.uk, .cash, and hundred others, including highly regulated TLDs.
Cloudflare Registrar Review - In summary…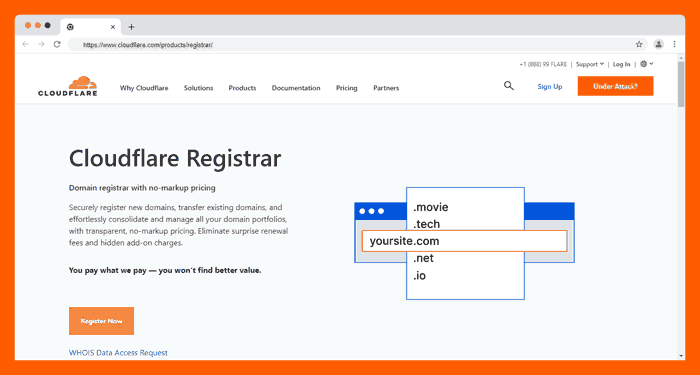 Cloudflare is one of the top domain registrars because you get domain names at wholesale prices. You also get your domain name secured with DNSSEC and WHOIS protection free.
I use and recommend Cloudflare as a registrar if you don't need to change nameservers.
Alternatives to Cloudflare registrar
While Cloudflare is one of the best domain registrars, there are use cases when alternatives are better.
An example is when you need to change nameservers while Cloudflare doesn't allow it. Let's see how competitors compare to Cloudflare.
Porkbun: This registrar allows you to change nameservers at will, unlike Cloudflare. Like Cloudflare, you get DNSSEC and Whois domain privacy for free. They are also cheap. You pay wholesale domain price + ICANN yearly fee of $0.18 + $1.
Namecheap: You can buy domain names at a discounted price at Namecheap. However, to cover the deficit of the first year, domains renew at a much higher price. You get DNSSEC and Whois privacy for free. Like Porkbun, you can change your nameservers anytime.
If you're gonna use Cloudflare services and won't change nameservers, I highly recommend Cloudflare. It is also one of the best sites offering free hosting for static sites and has a generous free plan for security and CDN features.