Looking for the best email marketing software to build your tribe? We'll compare two of the best email services: ConvertKit vs MailerLite.
I've tried both MailerLite and Convertkit. Get 1-Month of Convertkit for free here.
Let's sync. Why is it important to pick among the best email providers?
First, your email list is important for your blog business.
It's the best way to build a loyal following. About 70% of your visitors will never come back to your website. Unless you ask them for their email and convince them they need to revisit your blog because it adds value.
It cut the noise. You can talk one-one with your subscribers; you get all their attention with well-written emails. Unlike social media, it's a channel where your message is seen.
You earn their trust. Assuming your emails are valuable, they trust you to buy your products. They trust you to purchase several solutions based on your recommendations. Result: It turns your blog into a profitable business while you solve people's problems.
Second, email marketing is a half strategy/half technology
you need the best email marketing services for infrastructure to reach subscribers' inboxes and not their spam folders.
then, the best email campaign services allow you to segment your subscribers to send them only messages they are interested in.
So, to build a profitable blogging business, you can not host your email list anywhere, you need to use the best email service provider.
While several email marketing solutions have awesome features; I found two email providers that fulfill bloggers' needs.
Another thing…
Have a business mindset about email marketing
For three years, I did not take my email list seriously. For three years, while making money blogging, I struggled to build an engaged audience. All because I did not have a business mindset.
There's one thing I wasn't clear about. Is email marketing worth the investment?
Now I know: it does. For a lot of reasons.
Email marketing opens opportunities for multiple sales. One person could visit your website, read an article, and leave; or buy a product and leave. But with email marketing, you can get that person to buy multiple products from you.
On average, an email subscriber is worth $1 per year. It looks small. An email list of 5000 persons costs you $79 per month on Convertkit; $30 per month on MailerLite. So, $360 to $948 per year. But the return on investment would be $5000 if you do email marketing well. (Think product launch, ad revenue from return visits, affiliate promotion).
Your subscribers deserve business considerations: You need to deliver on the promise. Or they'll unsubscribe; mark your emails as spam; or you'll pay and see no return on investment. When you see it as a business asset, it helps to do what it takes to nurture your email list.
We're synced. Let's do that comparison.
Ready to start and grow your business?
Start a website, run email marketing, sell online courses, all in one place.
For a limited time, get 15% off 12 months of paid plans
Best Email Marketing Services For Bloggers
I'll start by removing the confusion and looking at only two email marketing software: Convertkit (Get 30-day free trial here) and MailerLite.
They have everything you look for in an email marketing program.
They give you tools to get email subscribers like opt-in forms and hosted landing pages.
They have tools to stay compliant with regulations such as GDPR.
They have recaptcha to prevent fake signups.
They offer automation, analytics, and broadcast services.
You can't go wrong as a blogger.
Why would you choose one over the other? Let's see.
Convertkit: Email Marketing Software For Creators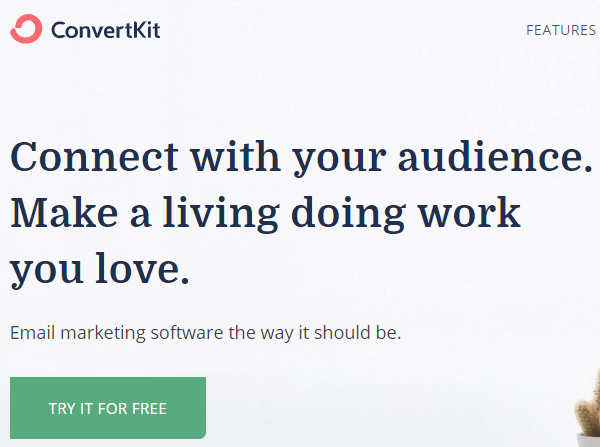 Convertkit email marketing software is designed to make it easy to grow your audience and make a profit. It gets your emails delivered to your subscribers' inboxes. You can send unlimited emails with each plan. And you get fast support via email and chat.
Why would you choose Convertkit?
Convertkit is the ideal email service for bloggers if you can afford it. I was sold when I first signed up for a free 30-day trial (no credit card required).
Integrations: Convertkit is already integrated into most programs a blogger would use to sell online such as teachable and Thinkific free plan (to sell online courses), and Gumroad (to sell PDF and music).
It syncs sales to emails.
Without those integrations, you'd have to manually add subscribers to a segment of people who already bought your product, or you would send product promo to existing customers.
Content upgrades: Convertkit makes it easy to attract subscribers with freebies. They host your free files and deliver them by email. You can set a different free item for each opt-in form.
Free migration: If you have a list of 5,000+ subscribers and want to switch to Convertkit, they'll migrate your list for free to your new paid Convertkit plan.
Advanced automation: You can build advanced automation with Convertkit and it looks so easy. You can segment subscribers based on interactions, opt-in forms, and visited pages, and send autoresponders with complex logic.
Convertkit plans start at $29 for 1000 subscribers.
Cons:
Convertkit Free plan comes without automation. Paid plans are a little bit expensive. only text-based emails.
Verdict:
I recommend Convertkit to bloggers who want advanced segmentation and automation implemented easily; built-in integrations with top-selling platforms; and to bloggers who can afford it.
MailerLite: Best Free Email Service

MailerLite is the best free email service I ever test. And I tested enough to say this. (MailChimp, Emma, etc…)
You can start building your mailing list for free for up to 1000 subscribers. Beyond 1000 subscribers, mailerLite is still a cheap email marketing solution.
Why would you choose mailerLite?
Drag and Drop Email and Form builder: In addition to text emails, MailerLite allows you to compose emails and create opt-in forms with drag and drop.
Email Automation even on the free plan: You have automation available on the free plan. You can test and improve your autoresponder series conversion before you ever spend a single cent on MailerLite.
E-commerce and WordPress integration: MailerLite is mostly integrated with an e-commerce platform like Shopify or WooCommerce. Elementor, the most popular WordPress drag-and-drop page builder, introduced MailerLite integration; it opens the door for WordPress users to countless business opportunities.
Cons:
Limited integrations. automation is not so intuitive.
Verdict:
I recommend MailerLite to bloggers who would like to start building a mailing for free. For those who don't need integration with popular course selling and webinar platforms.
MailerLite Vs Convertkit
MailerLite beats ConvertKit on price. ConvertKit beats mailerLite on ease to use the features.
| MailerLite | Convertkit |
| --- | --- |
| $10 / 1,000 subscribers | $29 / 1,000 subscribers |
| $50 / 10,000 subscribers | $119 / 10,000 subscribers |
| X | Form Specific incentives |
| Video blocks | X |
| Built-in survey | Survey integration with third party |
Any of these two email marketing software will help you build a list, segment your subscribers, send emails, and track performance to make more profit.
If you plan on selling online courses and want powerful automation to look easy, choose ConvertKit.
If you want cheap email marketing solutions with drag-and-drop email campaigns, choose MailerLite.
I recently moved from MailerLite to Convertkit. I wanted more flexibility for automation and better deliverability. Get 1st month of Convertkit free here (no credit card required).
But, what about you?
Which one better suits your needs?