Where to buy domain names?
One crucial step when buying a domain name is to choose a good domain registrar.
Why?
While all registrar offer the same base service which is connecting you to a registry to reserve your domain name, their quality of services differs.
In the same vein, you don't have to go through dozens of domain registrar and spend your valuable time looking for the perfect one. In this post, we'll show you the best 3 domain registrars and scenarios to pick the best one for your case.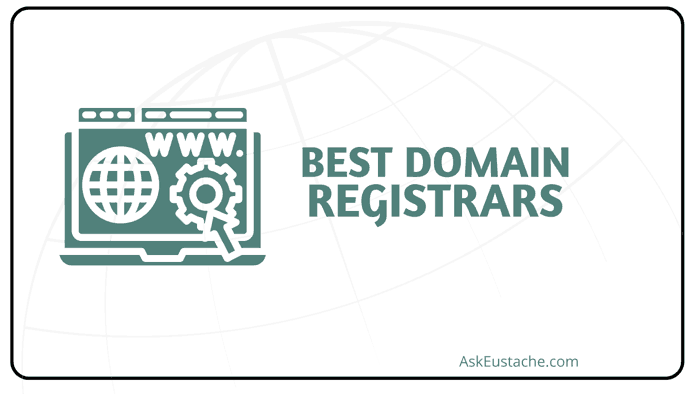 Does it matter which domain registrar you use?
Yes! It matters because while all registrar allows you to register a domain name, they differs in offered security, price, TLDs available (.com, .us, etc.), and privacy features.
Also, you need a registrar that is ICANN accredited. ICANN, which is short for Internet Corporation for Assigned Names and Numbers, is a corporation which responsibility is to manage domain name system (DNS) and assign IP.
Each Top Level Domain (TLD) or domain name extension, such as .com or .net, is administered by a registry. So, the registrar connect you, the buyer, with the registry.
It's all regulated. Here are what you should look for in a registrar.
Ad by
Domain Registrar Security
You need a domain registrar with free DNSSEC (Domain Name System Security Extensions) which prevent unauthorized redirections of your traffic with attack on DNS cached settings.
Also, to prevent domain theft, you need a safe registrar with two-factor and others security measures to protect your account.
Domain Name Registrar Privacy
To prove ownership of the domain, you need to give information such as your home address, email address and phone number.
Those required information will be displayed on the WHOIS page of your domain unless your domain registry have WhoisGuard privacy enabled.
While these info needs to be public when you're transferring domains from one registrar to another, they don't need to the rest of the time.
You need a registrar that will retract your personal info from the public records.
Registrar Domain Pricing Structure
To choose the best domain registrar, you need to consider the pricing structure and check if there ain't hidden fees.
Domain renewals price can be ten times the initial price using some registrars. Some options are offered for free with a certain registrar while you need to pay for it using another.
Also, some registrar may lock your domain for transfer until you pay a fee.
We'll review the pricing structure of 3 of the best registrar below.
The Best Domain Registrars Compared (2023)
Often, people buy a domain name when purchasing a hosting plan. With the following domain registrar, you can own a domain without hosting.
Some people like to buy domain name and web hosting from different companies. Sometimes, you need to park a domain name to make money with ads or to sell premium domains.
Here a list of domain registrars where to buy domains and get great services.
Cloudflare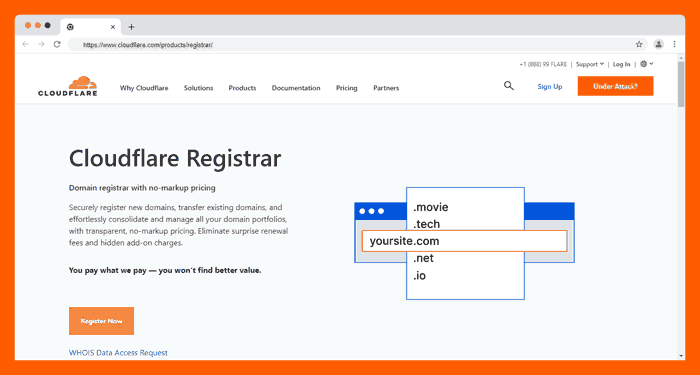 With Cloudflare DNS registrar, you pay registry wholesale price without hidden fees. So, it's the cheapest domain registration company you can use.
You can set up DNSSEC free to prevent unauthorized redirection of your traffic.
You also get WHOIS management to protect your email and home address privacy.
Cloudflare supports hundred of domain extensions such as .cc, .tv, .us, .com, .info, .co.uk, .io, etc…
See cloudflare registrar review
Porkbun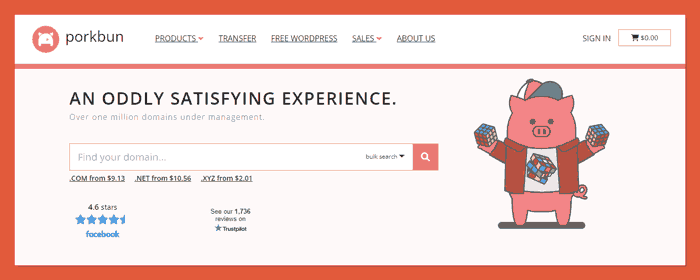 Porkbun is one of the best domain name registrars because it is affordable, you pay wholsale price + $1 and renew at the same price; you get Whois domain privacy free.
Free WhoisGuard domain privacy
affordable pricing. Initial price same as renewals.
DNSSEC support.
Free Email Forwarding
NameCheap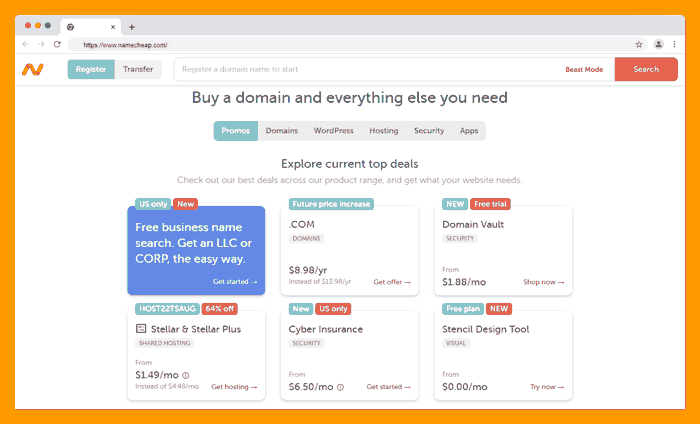 I bought AskEustache on Namecheap before moving to Cloudflare registrar.
Namecheap is reputed for awesome deals where you pay the first at a really low price. They also sell web hosting services.
Free Whois Privacy
virtual email addresses
Expiration grace period
Cons:
Renewals at NameCheap is not cheap.
How to pick the best domain registrar?
The following considerations will help you to choose the best domain registrar:
Pricing: consider the initial and renewal prices. Is there hidden fees? Is there huge increase in renewal prices?
Security measures: your domain name is the online address of your business. What security measures are in place at the domain registrar to protect it?
Privacy: You are required to disclose ownership data for the domain with info such as name and email. You can protect your privacy with WHOIS protection. Is it available for free at the registrar or do you have to buy it as a service?
TLDs available: Is the domain name extension that you want to register available at this registrar?
Watch out for pre-checked addons: With some registrar, add-on are prechecked to upsell you other services. Pay attention to the checkout phase.
Recap…
What a registrar do is registering you as the owner of a domain name if it's available. They are the middle man between you and the registry, the entity managing domain name extensions (.com, .co.uk, etc…).
However, you need to choose the best registrar for your domain name. You need one that is accredited by ICANN, affordable, and with security measures to protect your address.
Share on: