If you take your blog seriously, you need to install those 5 WordPress plugins.
No shortcut.
I know. To make your WordPress blog load fast, it is a must to install only a few WP plugins.
In fact, it is recommended that you don't install more than 30. The scripts, the CSSs, and the database calls will slow down your website if you use too many plugins.
However, you need plugins to extend the functionality of your WordPress blog. You need to choose carefully and install only the required ones.
What are the must-have WordPress plugins that your blog needs?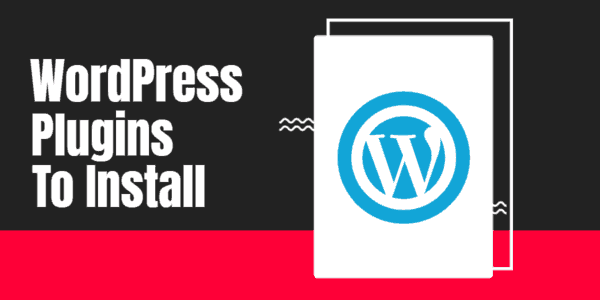 Must-Use WordPress Plugins For Serious Bloggers
Let's talk about the categories. It is really a must. You need a plugin for these tasks.
Then, I'll recommend the WordPress plugins that millions of bloggers and I use.
Don't worry, they are plugins you can use for free.
Other posts in this series about launching a blog:
WordPress SEO Plugin
WordPress has a solid foundation for SEO. You can add a meta description, and alt tag to images, and you can manage links with ease.
However, to rank on search engines such as Google, Bing, or Yahoo, you need a WordPress SEO plugin.
The most popular ones are Yoast SEO and Rank Math. I am using the latter now.
Yoast SEO is the WordPress SEO plugin I recommend for that task. It makes it easy to optimize meta titles and meta descriptions.
Rank Math is flexible and has more features for free.
With it, you can create also SEO files such as a dynamic sitemap, HTAccess, and robot.txt!
It helps you optimize your post with a checklist each time you write a new entry.
So, it's the plugin you need for technical SEO and on-page SEO optimization.
I tried alternatives but I like this tool. It makes the job well. Because it is one of the most popular WordPress SEO plugins, it comes with easy integration into other plugins like WooCommerce or Advanced Custom Fields.
Social Media Sharing Button
Make it easy for your readers to share your post. Most of the social traffic that you'll get will come from the shares others do. Not yours.
But social media buttons and API calls may slow down your blog. You need a social sharing plugin that loads fast.
Social Warfare Share Plugin is the solution that you're looking for.
It loads fast. It caches the social share counts so it does not have to request them on each page load.
You can create a 'click to tweet' button or quotes to increase sharing on Twitter.
You can recover your lost share counts if you switch domain names or moved from HTTP to HTTPS. (the feature that makes me go to premium).
And it does a lot more like:
ability to add custom images and descriptions for social media like Pinterest, Twitter, or Facebook.
tracking of social sharing links you can monitor on Google Analytics.
You can get the plugin for free via the WordPress repository. Or you can use the premium version which has more features.
I used warfare to display the social sharing buttons on my pages for a long time before moving from WordPress to Hugo. I am back to WordPress and love custom-coded buttons.
URL Redirection Plugin
It happens that you need to change the URLs of your posts. It could lead to a 404 not found error page which affects search rankings. But fortunately, redirection exists.
In your blogging life, there's a lot of situation when you'll want to move your URLs and keep traffic of both URLs on your working one.
you change the domain name.
you edit a post, a page, or a category slug.
You'll need a redirection plugin.
Redirection will help you with that task. It makes it easy to redirect from one URL to another on the same domain or a completely new URL.
However, if you use the WordPress SEO plugin called "Rank Math&", it has a redirection module built in. You just have to turn it ON.
It automatically creates new redirects for you when you change the slug of your posts. And it tracks the visits of your redirected URLs to give you a statistic of your redirection.
WordPress Caching plugin
To speed up your WordPress blog, you need to cache resources. It will make your blog loads fast. And as site speed is a light ranking factor, it may give you a boost over your competitor on search listings.
W3 Total Cache is one of the most rated and feature-rich caching plugin for WordPress. You can use it for free.
It caches common database queries, static files such as CSS and images. It compresses your HTML and JavaScript files.
So, it does a lot of tasks that make your site load faster.
I use CloudFlare through it which is a CDN that makes your website load faster whenever your visitor is located on the planet.
You need these plugins to level up your blog.
These plugins will help you get a higher ranking with an SEO optimized WordPress blog. You'll get better user engagement with a site that loads fast.
It will be easier for your readers to share your posts on social media. Viral traffic is just one step away.
Best WordPress Plugins for general bloggers
Do you think there is another plugin every WordPress user should install regardless of how they use the platform? Feel free to suggest us that plugin using the comment form below.
Is there a way the mentioned plugins helped your blog you would like to share with us. Let us know.
These must-have plugins should be installed on every WordPress install. In fact, it can be an alternative to the mentioned plugin; but a plugin that does the same job.
I use other plugins for specific tasks on my blog. But they are not mandatory for every blog like these ones. As an example, you can use:
Never forget that plugins impact the performance of your WordPress blog. Use only a few. Choose them carefully.
It's always my pleasure to help.
Some posts that may help you further:
[How to write headlines that increase traffic and search rankings(/write-catchy-headline-increase-traffic/)