Every smart online writer wants to write magnetic headlines?
It's no surprise.
To get the traffic you want from your target audience, you need that kind of headline that catch their attention within few seconds.
Here's why…
For a blogger making money online, traffic is crucial. No traffic means no revenue.
You use online promotion channels such as:
search engines
social media sites
online communities
They help you to get noticed and get people to read your blog.
But, your headline is the first thing, and perhaps the ONLY thing, that your potential readers see when you reach to them.
If you want to maximize their impact, you need to craft them to catch attention.
So, your headline or title is an important factor to increase traffic and click through rate whenever your blog appears.
It works for your articles and blog posts, videos, slide show presentations, photos texts and more.
(Hint: below we'll stress how it helps to get more search traffic too.)
It's no doubt. A headline that grabs attention is crucial to perform well on the internet.
PS: I wrote about writing a blog posts that make you money. If you want to convert your visitors, this post worth your consideration. But as it will redirect you here for headline, I suggest you to keep reading…
In all cases, the first thing people will see is your title or headline. That headline calls the user to read the description and then to go to the full article page.
Enhance your title somehow it resumes article, call to action, promise solution to a specific problem. It is the simple improvement that gets you hundred of affiliate sales when done properly.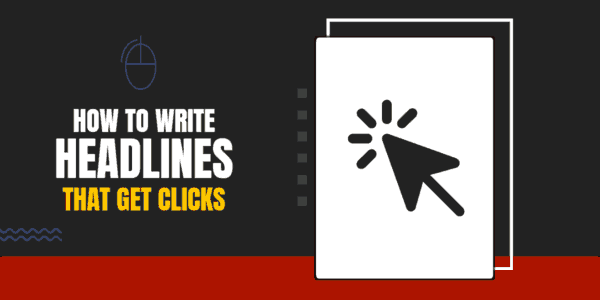 Simple Ways To Write Catchy Headline And Get Massive Traffic
I can't stress enough how important an attractive headline is.
It helps when you write a blog post. But also when you title your videos, presentations and illustrate your visual content.
It will help you, affiliate marketers, to get more traffic that converts into sales. Because we don't just want traffic but traffic that converts. Here are some effective ways to achieve three goals in one step:
Getting more traffic to your blog
Making your title makes you more affiliate commissions.
increase your search engine ranking for traffic that matters.
You can read the articles on SEOPowerSuite where data shows that headline matters to SEO traffic.
How Can You Increase Search Engine Traffic With Magnetic Headlines
User experience matters a lot to Google to rank websites.
Google expects a certain traffic for each listing according to their position. 33+ % for first spot.
If more people than expected visit your website from Google searches, it tells Google that you deserve to be at a better spot.
Get your visitors attracted by your headlines and give more pageviews/visit with related posts. Google will understand that your website is valuable. It will trust you more and rank your blog higher.
The opposite is also true. A headline that does not attract viewers will lose its place and be replaced by the ones that perform better.
Writing a catchy headline that attracts readers like a magnet can get your blog in front of thousand of potential buyers each month. And this, passively through search results.
Here we go…
1) Use long tail/commercial intent keyword in title
To increase click through rate on search engine listings, you must first appear in the list of results.
It's not an easy task with tough competition against the same places in the list…
…unless you target a keyword that is easy to rank for.
And fortunately, these keywords are the keywords buyers use. Often, people search for them a few time per month. (They search when they want to buy).
But when they add up, you get a lot of traffic to your articles over months.
How to use buyer-intent keywords in your headline?
Google now use Latent Semantic Indexing to rank synonym keywords. But exact keywords still get better ranking when your content body is well optimized for synonyms.
Search engines can drive long term traffic to your website. If your headline is optimized to rank for commercial intent keywords, you get long-term and passive income with affiliate marketing or display ads.
A commercial intent keyword is a keyword someone use when she is in the buying mode. They are often advertised with high CPC bid. If advertisers are willing to pay high, it is because that keyword converts and because customers pay well.
But how to improve your website for long tail and commercial intent affiliate keywords?
You can use these keywords with any headline template you downloaded online. By example:
1- [keywords : how to achieve something important]
ex: "Commercial Intent Keywords : Make More Money With Less Traffic?"
2- [keywords : tantalizing question/reviews]
ex: "Email Marketing Software: Which one is best for affiliate marketers?"
You can add your target keywords anywhere in your title like:
How to rank higher for commercial intent keywords?
Top 5 email marketing software for affiliate marketers.
These tools can help you find such keywords:
Google Adwords Keyword Tools: A free keyword research tool. It gives less detail on competition and paid ads than SemRush. It can help you find head keywords to use in other tools to find long tail keywords.
SemRush: Use this online tool to search for profitable keywords and spy on your competitors. Discover commercial intent and long-term keywords you can target and add to your title. You can make up to 10 free searches per day until you create a free account.
SEO Power Suite: Complete SEO tools for keyword research and site audit. So, it helps you spy on your competitor keywords, and backlinks; it helps you discover keywords for your headlines. You can download it for free. It is compatible with Windows, Linux, and Mac OS.
When you mix long tail keywords with keyword intent keywords, you get less competitors and more opportunities to rank high.
The more your headline is oriented problem/solution, the more valuable it is.
Step 2 dig dipper.
2) Let Your Audience Know You Solve Their Most Important Problems
Another proven tip to get more traffic and sales is to let your audience know you solve their problems.
It works even if you sell your product, promote affiliate services or earn through display advertising.
This is exactly what most successful affiliate marketers do to earn more affiliate commissions.
When you solve someone's problem with a tool, that person is likely to buy that tool from your suggestion and make you more income.
One simple way to do it is to add the key word "resolved" to your title. By example:
How To Write The Headlines That Get You 1 000 Daily Unique Visits? [resolved]
That title may drive a lot of traffic for searches like:
how to get 1 000 daily unique visitors?
how to write the great headlines
and so on;
You can use such headline when you talk about a product feature but you focus on the pain/solution instead of reviewing a product.
3) Add Number + Superlatives To Boost Traffic And Revenue
Adding numbers to an article headline increase trusts, pick curiosity.
Imagine that you write a title like 50+ High-Paying Affiliate Programs You Should Use.
It increases trust.
You've searched and perhaps tested different affiliate programs. These 50 affiliate networks are picked from a biggest list.
It picks curiosity too.
Are they the programs that you already use? Why does the author pick those programs?
Imagine that you write such articles for tools that you promote as an affiliate.
You don't over promote. But you can make money from each program within that list. Just make sure you target customers, not just promoters.
Small lists get more attentions when someone lands on your page. But large lists get more shares, it picks more curiosity. People just don't investigate the whole list.
4) Guide - Tuto - Step by Step: Keys to Traffic.
Another kinds of web article that attract readers are guide and tutorials.
Do you master something and want to write about it?
Don't hesitate to write a headline that clearly defines how much it worths.
Include words like "guide", "tutorials". Let people know they can achieve big goals in simple ways with words like beginner guide and similar.
"How to" is the kind of keyword that get the highest volume of traffic for low competition. You can use it to turn a regular user into customers.
5) Make subject controversial
Make a tilt in your readers mind with a controversial article.
That kind of article attracts a lot of readers because humans are curious. We can take as an example:
How To Keep Writing Articles and Get Less Than 10 Visits Per Month? Or Not.

Simple Steps to Get Your Sites Banned on Search Engines!
Those kinds of article relate facts, warning, and information that help to prevent a bad situation or to move to a better way.
Make those 5 headline improvements and increase traffic to your website and click through rate on search engines, social bookmarks, and listing places.
TL;DR
Your headline is important. It is often the only thing someone sees when:
Your page appears on search results.
Your articles are listed on social networks and social bookmarks.
Your article or blog post is listed on the category and tags pages.
Your article is shown in RSS and the email newsletter.
An article is listed on your site as the newest, related, or popular.
Your article is published on content discovery and blog community tools.
and even more…
So, make sure you apply the above tips and increase engagement with your posts.
Feel free to share on social media and subscribe to the mailing list!