You can get a lot of traffic to your post shortly after you hit publish.
It's possible if you use online communities for promoting your content. It's one of the best ways to promote your blog post, because:
you get targeted traffic.
niche-related bloggers will share your post.
and more benefits that we'll cover further in this post.
Let's start with these benefits.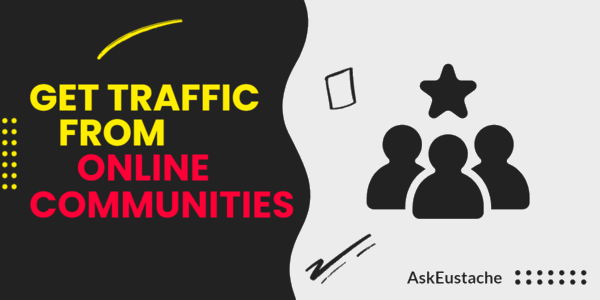 Why use online communities for promotion?
One of the biggest benefits when using online communities to promote your content is that you get high-quality and targeted traffic.
An online community is a group of people interested in a specific topic. So, the traffic that you get is from your ideal customers or advocates.
When your content resonates with the community, it opens opportunities for your content to:
go viral,
get backlinks,
get comments and social shares.
This can serve both on short and long term.
They will also share their feedback which can help you improve your content.
How to promote your content on online communities?
Always remember that the communities are full of people passionate about a topic. They'll know when you're here just for self-promotion. Also, each community has its own set of rules you need to follow.
So, my first piece of advice is to spend time to understand the community and its rules. Look at what's being posted and how people react to it. Then…
Share content that solves problems.
Stay on topic and add context when you share your links.
Share fresh content.
Best Communities to promote your content on
Get to know the best online communities related to your niche.
I make a list of the best online communities by topic to share your contents. If a community set a day when it allows self-promotion, I put it to test. If it's effective at driving traffic, I add it to a the list of my daily tasks on Trello (to stay organized).
So, I'll list the general and niche-based communities below.
1.- Facebook Groups
Facebook is one of the most visited websites. While Facebook page reach are declined, you can still reach people in groups.
You can create your Facebook group if you have the time to manage it. You can also hire someone to manage your Facebook community. Or you can join existing Facebook groups where you can promote your blog post.
Always promote on Facebook niche-focused and active groups. When you engage with other group members, the algorithm will show your posts to these users.
Some groups set a day for self-promotion. Otherwise, provide value to the community to get traffic to your posts.
2.- BizSugar
You can share your content on Bizsugar if it's related to:
Marketing
Finance
Management
Startups
Technology
So, it's one of the best online communities where you can share content about different niches. People can upvote your submissions. At the end of the week, the most upvoted posts are featured in Bizsugar email newsletter for more exposure and more traffic.
3.- Zest
Zest is a community where members can set Zest shared posts as their homepage or default view on new opened tab.
It accepts posts related to the marketing niche. They'll review each submission.
With your post visible in the browser of each community members, you can drive a lot of traffic sharing your contents on Zest.
4.- LinkedIn Groups
Another place where there are communities with active members is LinkedIn. You can create a group or join existing groups.
You can also join similar groups to reach more people and get more shares.
People will comment and go your website to your article if it interests them.
5.- Quora
You can answer questions on Quora to drive traffic to your website. People are searching on Quora for answers. But Quora also rank well on search engine.
Furthermore, you can join create a Quora community where you curate the best contents for Quora users. This is a great way to promote your blog posts.
6.- Reddit
Reddit, also called "the front page of internet", is an online community for discussions and sharing. As the front page of the internet, it is one of the best sources for large audience and traffic acquisition.
Reddit works simple. It is an open source online board where anyone can create categories called subreddit to submit links and posts. Submissions will be upvoted or downvoted by the community; and the algorithm will calculate the hot submissions to hit the front page.
Each user has a different front page based on his subreddit subscriptions; there are also a standard front page which is shown to new users and non registered visitors.
So, reaching the front page of reddit is potentially thousands of people to check out your pages, reply to your questions, and so on…
7.- Tailwind Communities
You need a TailwindApp account to use Tailwind communities.
You share your visual content, an image optimized for Pinterest, and other members in this community share your content. Some communities require that you share 1 or 2 images for each image that you add.
Pinterest is a great source of free traffic. When you join niche-specific communities, your pins get shared on relevant boards which increase your pin opportunities to get picked by Pinterest algorithm to go viral.
8.- Scoop-it
Scoop.it is a free content curating tool where you can save your favorite pages, promote them and email them to your followers.
It is an awesome tool to stay in touch with your favorites blogs or to promote your posts to a wider audience.
How Scoop.it works?
Scoop.it works a simple way. You search for awesome web content and you make it a scoop.
They have a free plan where you can create 1 board, post content on it and get people to follow that board. When you add a new post, your followers get notified.
You can also suggest your content to owners of popular boards in your niche.
As a content curator, you add sources such as Google search, twitter, Facebook, and RSS feeds. Each time you keywords are found or when a new post is posted on a feed, you get suggested to scoop the content. You can also submit a post directly by URL.
Each board you create is public and can be followed. Your board subscribers can opt to receive your news daily or weekly. Users can submit your scoop to social media if they like it and re-scoop it to their board; it open door to more and more audience via social media and scoop.it.