You can make real money online with online micro-jobs.
Hint: see my payment proofs below! 🙂
With simple tasks such as sending tweets, writing forum posts, you can earn a huge income at home.
But how does micro job work?
Where can you find free and the best micro jobs online?
Are these jobs legit?
Just hold on. I provide answers to all these questions in this post.
Table Of Contents
What is a micro job?
Micro jobs are small tasks that you can complete on the Internet and get paid to do so. Jobs' price ranges from $0.10 to $500.
So, you earn money with everything. You get paid for even a single tweet you send, a page you like or a logo you design.
The best part: it is available for both beginners and professionals!
Ready to start and grow your business?
Start a website, run email marketing, sell online courses, all in one place.
For a limited time, get 15% off 12 months of paid plans
How online micro jobs work?
You can earn two different ways with Micro online jobs.
Either you post your skills online waiting for the potential buyer or you bid on buyer job posts.
As I said before, micro jobs don't mean necessarily small revenues; a gig may worth up to $500. It all depends on what you have to offer and how you value your offer.
The steps are simple:
sign up for a legit online micro job site.
optimize your profile to build trust!
create and publish gigs that match your skills.
complete small gigs and get paid.
How does a micro job look like?
Earning money with online micro freelance jobs is simple. Your skills, available time, and imagination are the limits.
You earn money from sending a simple tweet to building a complex system.
A micro work at home job looks really simple and limitless. Just some simple examples so you can figure out how much it's true:
I can send a tweet to my 30,000+ followers about your products twice a day during a week for $80
or
I can make 15 posts on your forum for $2 ( I made more than $150 doing this)
or
I will develop a custom search engine optimization plugin for your WordPress sites to dominate the SERPs and get dynamic editor to write well-written content for $250!
or
My team and I will rank your website on first page Google for 3 keywords for $500.
It is all about what you can do and how much you value your skills. You earn money doing almost anything. It is wise to fix a price business owners are willing to pay.
When I first started, I listed my posting service selling 20 forum posts for $1. People bought it.
I got a reputation and increase the price to 10 forum posts for $1. I still got sales and more reputation for doing great works.
Now, the price is 10 posts for $2. And people still buy it. (update: I stop doing this to give more focus to my blog where I can help people and make more money blogging).

So, it is all about how much you think your services worth. But set up a price people can afford when they don't know you.
Some people earn cash just taking pictures of a specific place, create promo videos, promote on social networks, blogging, entering data, etc…
You know how it works. But why should you do it?
Why micro freelance jobs?
Micro online jobs are small tasks. You earn even if you are a pro or a beginner.
As you complete micro-tasks, it is easier to complete them on time. It will guarantee you a reputable profile from past jobs completed; quickly done and reviewed.
Also, because online jobs allow you to set low revenue per task, the minimum payment threshold is often low. For example, the minimum payout for small tasks is around $1 to $20, and you can expect payment to be made daily or weekly or monthly.
It is really what you need if you're looking for job opportunities online where you get daily payments.
What are the benefits of using micro job sites?
Micro jobs marketplace helps you add some ease and security in your online micro freelance career!
A job marketplace: With online micro jobs, you get a buyer to come to your profile and buy your services with few to no effort.
The site is already reputed to list skilled micro freelancers. And employers can see your reputation and trust you.
Buyers just have to browse categories to find a potential good worker. You don't have to search for jobs because employers are looking for you.
A secure payment method: A micro job site saves you from dealing with a buyer yourself. It secures the payment process as an intermediary between the freelance and the employer.
Even before you start the job, once accepted, the money is uploaded to the system. You are sure that your money is ready and you work quietly.
You can receive your money when you complete the job only or it is returned to the buyer otherwise. So it secures the money for both workers and employers.
A worker portfolio: It helps you to build an online portfolio. Naturally, buyers will hire faster a worker with reputable past works.
This portfolio will help you find online micro jobs by showcasing your successful past works.
Bad reviews are also visible. So, start a good online career as a micro freelance. Deliver quality work.
A flexible payment system: It adds flexibility to online transactions. With peer-to-peer freelancing, you need to own the same payment options as your employers. With the online micro job marketplace, you get jobs from employers with any online payment methods.
Whatever it is PayPal, Web Money, Payoneer, Skrill, or something else, as long as the marketplace itself accepts the payment processor, you're ready to go.
The only common downfall is that a fee is taken on each job; up to 20% fee. But it helps to keep the system running and stay legit! Otherwise, it would be a scam system with no benefit to owners.
Are online micro jobs legit?
Each kind of way to earn money online is to use with caution.
Some people try to fool people everywhere. And a micro job is no exception.
So, online micro jobs are legit as long as you use reputed and legit micro job sites.
I use SeoClerks, Fiverr, and PPH. I keep earning money completing small tasks and get paid at the payment request!
I also earn small bucks with referral programs as an affiliate. Here is an online micro jobs site revenue tease, my own earning from SEOCLERKS!
Free and best online micro jobs sites
To make sure you get paid for the work that you do, you have to join the best online micro job sites. I made a micro online job site list to guide you.
Here are the best micro job sites to start your career and earn an income completing tasks about what you love.
I am familiar with them.
Those programs do not require a mailing letter to get paid. You don't lose your money because your home address can't be verified. After all, the letter is lost. Once the withdrawal threshold is reached, get paid via your most convenient way.
They pay international micro freelancers via money transfer, Payoneer, Skrill, and PayPal.
Here we go for the list of best micro jobs websites.
1) SEOclerks: It is a nice marketplace to make money online with micro-jobs. The minimum payout is $5 through Paypal, $20 through Payoneer, and $100 via Western Union.
This marketplace is well-known for micro SEO tasks such as link building, posting, and analysis.
You get paid when you complete jobs. You get paid when you refer your friends. You earn 10% of their lifetime earning or expenses.
Here's a screen capture showing my affiliate earnings.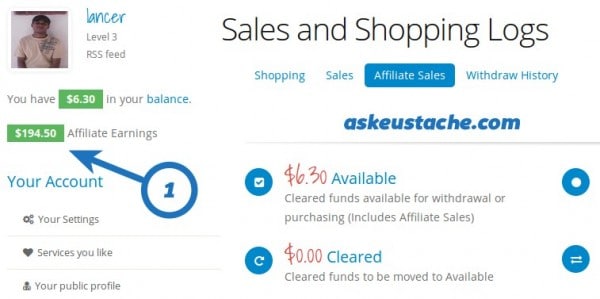 2) Fiverr: Fiverr is one of the pioneers in the online jobs marketplace. You list your services and get it bought; you complete projects and get paid! They pay through Payoneer and PayPal.
It is a well-known place if you want a logo for your website, voice-over for your videos, and similar.
3) people per hour: create hourly jobs on People Per Hour micro freelancing marketplace. You can create jobs you can do for $10 minimum. You can hire online micro freelancers to complete your tasks for you.
They are the only micro jobs marketplace where most tasks cost more than $50. You have to upload documents sometimes for skills you're learned. What makes it a trusted marketplace for buyers.
I use and got paid from PPH. Here's my proof of payment.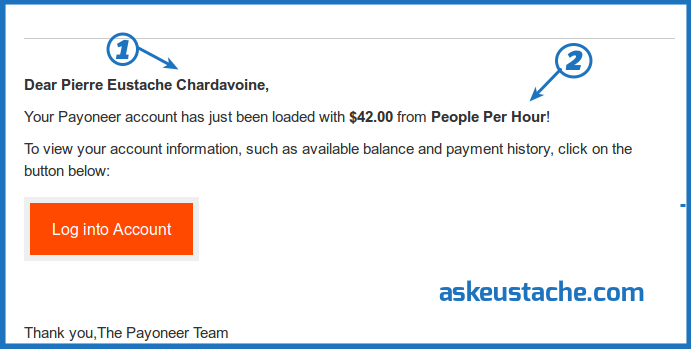 So, it is a kind of higher-level for micro jobs online. It looks more professional too.
You know that AskEustache is about referral/affiliate sales. It is a pleasure to tell you that PPH has a referral program. So, refer your friends and earn $50 each when he spends or receives $75.
Get paid via Payoneer, PayPal, Skrill, Payoneer, and bank transfer. Create your account for a job or hire someone today.
4) Freelancer.com micro marketplace: Freelancer is a standard freelance marketplace, but it also includes a small task marketplace. Thus, this service requires a listing fee because you don't pay freelancers' normal job fees.
Make use of these micro job websites online, make money online without investment. As I said it, your skills, your time and creativity is the limit. Monetize everything and start your online career as a micro freelancer.
Some helpful resources:
Like this post? Share it with your peers!