You can make money with translation jobs online.
This is a huge opportunity to earn extra cash working at home.
How people consume content nowadays is far from what it was like a decade ago. They go paperless reading websites, PDF documents, and so on… Several applications exist to save pages to read on mobile platforms.
It makes the world smaller and more connected, and everyone's device is a portable library.
But as people speak different languages, it is hard to find somewhere it is convenient for everybody to confidently read what's posted.
To fix that, readers and publishers call heroes like you. They call freelance translators.
A freelance translator completes online translation jobs and gets paid per word translated.
Would you like to get paid to translate online? In this post, you'll learn:
how to get paid with freelance translation jobs,
and where to find translation jobs.
Get Paid To Translate Jobs
Imagine that you wrote an article, an e-book, or created a video.
You just do it in your native language. But, you'd like people all around the world to understand your content. Maybe it's a masterpiece that will make you money.
Your first idea could be to use "online translator apps"! But these automated tools don't always use the right terminology. Perhaps, It makes you look unprofessional; and you can't verify the translation.
You'd better hire someone who speaks your spoken language and your targeted language. It is a one-time investment that'll make your readers confident and make you more revenue and earn you more trust.
This is where translation jobs online come into the game.
Because more and more brands and individuals want to translate their content, YOU can earn money with translation jobs online.
Ready to start and grow your business?
Start a website, run email marketing, sell online courses, all in one place.
For a limited time, get 15% off 12 months of paid plans
Why do you get paid to translate?
When a document is available in different languages, it is just available to a wider audience.
Depending on the publishers' goals, it means:
awareness
more sales.
more money.
more shares…
Content producers are willing to pay you. You just need to deliver quality and professional work.
You can make money online with translation jobs completing tasks like:
translating articles
translating websites
translating books
transcribing videos!
etc…
Once you master at least two languages, you can start applying for such jobs and make money working at home with translation jobs.
Or even if you can speak only one language, you can always earn transcribing speeches.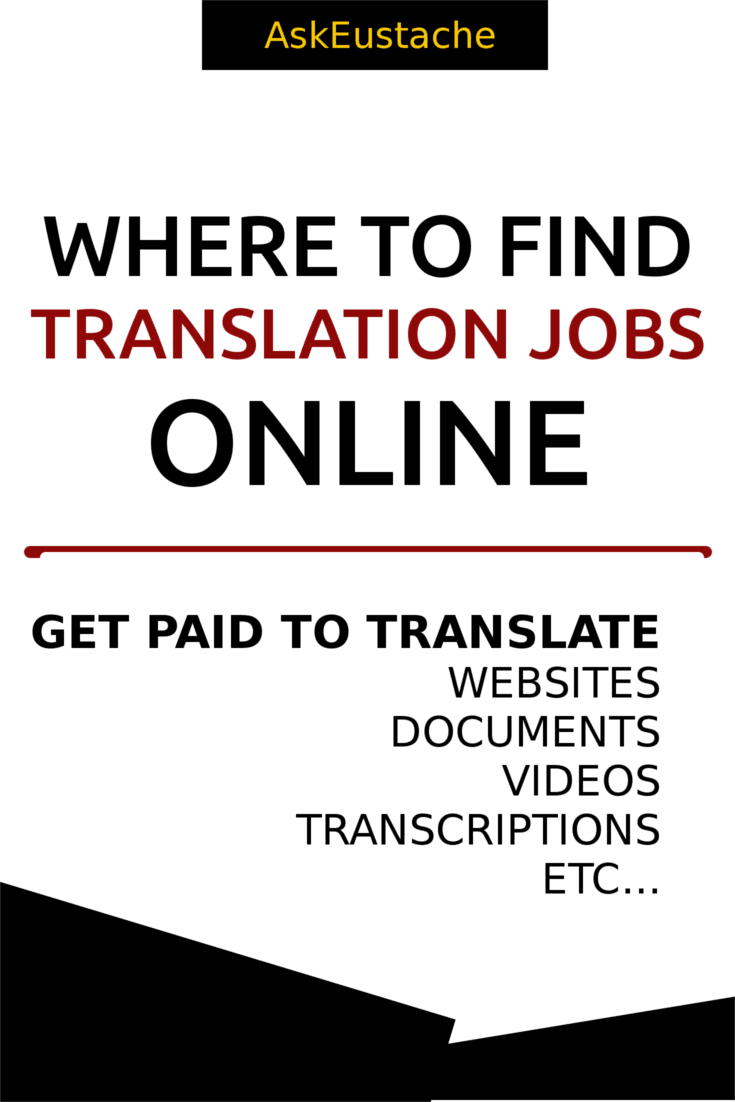 Where to find online translation jobs?
Are you looking for the best translation companies to work for?
The general freelance marketplaces have a dedicated section for translation jobs. We'll talk about the best freelance websites for translators soon.
You'll find the best translation companies to work for as well. They are freelance translator websites where you get translation jobs only.
Among the best I could find, here are 5 places where you can work from home as a freelance translator.
OneHourTranslation: Make money with home based translation jobs. There are jobs available in 77+ languages. Get paid up to $0.09 per word translated.
You'll need to prove that you understand the language source and the target language you want to translate.
Get paid through Payoneer and PayPal.
Freelancer.com: Freelancer.com is a general freelance marketplace. It has a dedicated section to freelance jobs.
Get paid through Payoneer, PayPal, Skrill and check twice a week at $30 minimum.
I wrote a more detailed article about how to make money with freelancer.com where I shared proof of payment and different methods to earn with the site.

Upwork.com: Formerly Odesk, UpWork is a freelance platform that has a section especially for translation jobs too.
They bought Elance freelance marketplace andgrow further.
I've been a translator there when I was actively freelancing. I translated English to French or to Haitian Creole.
If you want to make money with translation online jobs, just sign up and bid for projects. Payments are made daily at a $1 minimum through PayPal and Skrill and a $20 minimum through Payoneer.
TranslatorsBase: get paid up to $0.15 per word.You earn translating, recording voice, proofreading, revision, etc… Payment is made through PayPal once a month if your revenue is equal or greater than $40.
Go Making Money With Online Translation Jobs
Use your writing, speaking skills to make money with translator online jobs from home.
You can make as much money as you like. There's competition when you start as you have to convince with no past work. But once you're established as an expert translator, you can win bid easier. And you can request more money on projects.