Teachable is one of the best all-in-one platforms to sell courses and coaching services online.
Normally Teachable costs $39 per month. Get it now for as low as $19 per month for one year.
Get started with Teachable today.
Discount: 35% OFF.
Last BFCM Deal Date: November 16, 2022 - November 28, 2022.
Get Teachable for as low as $19 per month. + You have a 30-Day money-back guarantee.
Teachable Black Friday & Cyber Monday Offer for 2022
Teachable is a popular platform to host and sell online courses. You can start using it without technical expertise.
It is easy to organize course content with drag and drop or bulk upload. You have detailed analytics
So, Teachable offered you all of this for up to 35% OFF discounted annual plan. Now you can join Teachable and get educational resources.
Best Features of Teachable For Selling Online
Why should you avail of Teachable Black Friday Deal this year?
Teachable is a Learning Management Platform (LMS) with features that will save you time, help your students learn comfortably, and make you money.
Drip course content to personalize the experience for each student.
drag and drop functions to build a course with ease.
Sell Digital Downloads easily.
Private community for students: to help them reach their goals.
instant payouts so you don't have to wait when you make a sale.
integrated payment processing to sell online when you don't have access to Stripe.
unlimited video hosting, courses, and students.
How to Avail Teachable Black Friday Sale
To get Teachable Black Friday offer, you don't need a special discount code. The offer is already applied when you click this link.
It's as simple as that. Then you can start create online courses with Teachable. The discount also applies to existing Teachable free users who want to upgrade.
Teachable Plans
Teachable has a free plan, a basic plan, a pro plan, and a business plan.
All plans include:
unlimited video hosting/bandwidth.
unlimited courses and students.
integrating shopping cart (no separate account needed).
VAT taxes for EU management.
Paid plans have specific added features and lower transaction fees. Starting on Pro plan, it's 0% transaction fees.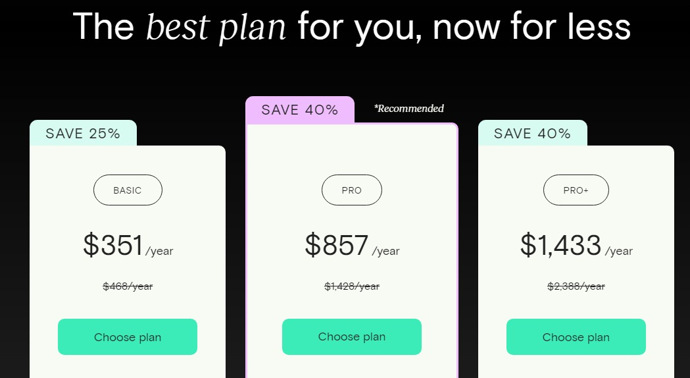 For 2022 Black Friday and Cyber Monday, Teachable offers:
35% Off of annual plans for the first year.
25% Off of monthly plans for the first 3 months.
Here's a table with Teachable BFCM discounts per plan.
| Teachable Plans (yearly) | Teachable Black Friday Deal | Link |
| --- | --- | --- |
| Basic Regular Price: $348/year | BFCM Discount: $121.80 OFF | Get Deal |
| Pro Regular Price: $1188/year | BFCM Dicount: $415.80 OFF | Get Deal |
So, with Teachable BFCM 2022, you can start selling online courses for as low as $19/month. Now waiting for 2023 deal.
Alternatives to Teachable BFCM Deal 2022
I love Teachable because it allows you to sell online courses with just a PayPal account. You can still accept payment from PayPal and Credit cards with Teachable integrated payment processing.
However, you can consider Teachable alternatives during Cyber week for the following reasons: lower fees, better customization.
Thinkific BFCM Deal 2022: Thinkific allows you to sell online courses with 0% transaction fees. You need PayPal and Stripe. You get paid instantly. For this Black Friday, Thinkific gives discounts and free resources (worth $3824) to get started. Get Thinkific Deal.
Podia BFCM Deal 2022: Podia makes it easy to sell online courses and digital downloads. Via this affiliate link, get Podia for online courses for 15% off for one year.
Samcart BFCM Deal 2022: Samcart is reputed for high-converting sales pages made easy with templates and drag and drop modules. But they released Samcart courses added free to Samcart regular plans. Get free educational resources from Samcart this Black Friday.
Other Recommended BFCM Deals
Summary of Teachable Black Friday/Cyber Monday Deal 2022
More and more people are learning online. You can use Teachable to sell online courses and one-to-once coaching.
I highly recommend Teachable to market and sell online courses. With the pro plan, there's no transaction fees.
Join 100,000 creators who use Teachable to sell online.
Get up to 35% OFF with Teachable Black Friday / Cyber Monday Sale.